Few things make at-home car repair or garage tasks more uncomfortable than a freezing chilly workspace—which is exactly why garage heater sales soar this time of year.
There are several heater options to think about when you need efficient heat and comfort for your garage, shed, outdoor shelter, or wherever else you could be working on a repair or project. Check out the top 10 best garage heaters and go over the advantages and disadvantages of each.
#1 Farenheat FUH54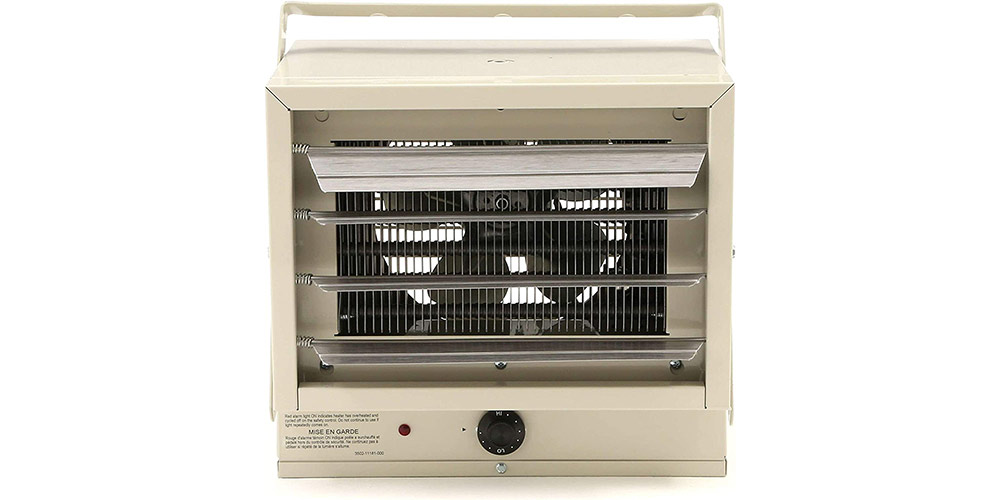 Brand: Fahrenheat
The Fahrenheat FUH54 is a highly-popular unit, as seen in its Amazon reviews. This product is designed for permanent, hard-wired installation. It can serve as a great option for your garage. It has an all-metal build for durability and long life. It also features a built-in thermostat plus adjustable louvers for directing heat to the location you need it most.
The Fahrenheat FUH54 can run from 45-135 degrees Fahrenheit. It can be mounted to the ceiling or the wall as it comes with a built-in bracket that can handle both horizontal and vertical layouts. Being compaction size, it only takes up one cubic foot of your garage's space. According to users, it's easy to install and use. Its adjustable power draw can be configured using built-in jumpers, but it would be best to consult a licensed electrician for installation.
#2 Dimplex 4000-Watt Heater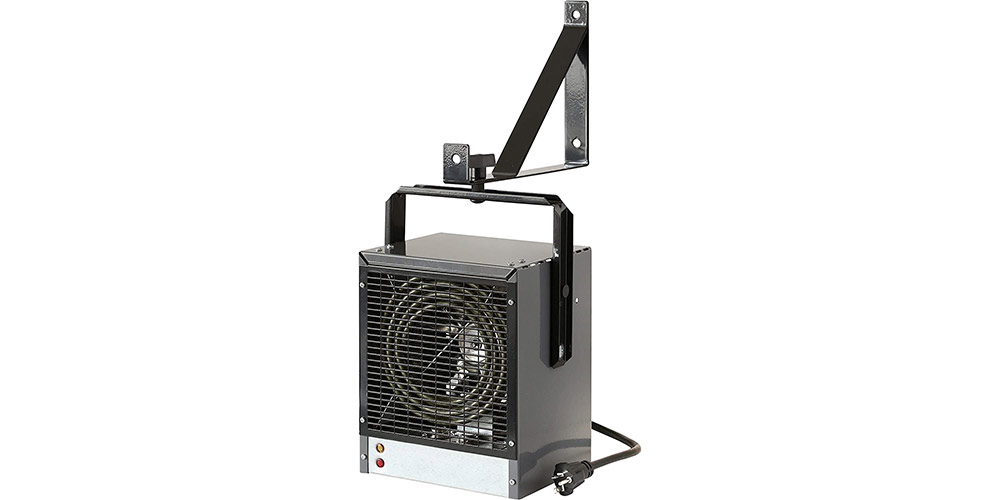 Brand:  DIMPLEX
For the budget-conscious customer who does not want to sacrifice performance, this compact garage heater combines performance and value. This heater has automatic temperature control between 45 and 77 degrees Fahrenheit, 4000 watts of power, and 13,640 available BTUs. It also has additional circuitry for safety improvements and economical performance. With the mount that is included, attach it to a wall or ceiling. Rotate the heater's body to direct heat in the desired direction.
The unit is made of all metal and powder coated to prevent corrosion and provide a long and lasting life.
#3 Mr. Heater Big Maxx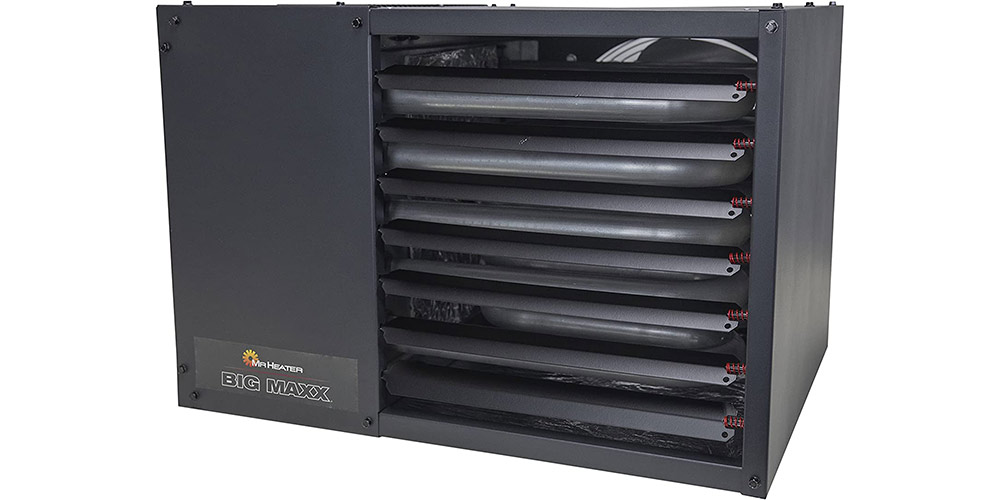 Brand: Mr. Heater
With an output of 80,000 BTU per hour, this device heats spaces up to 2,000 square feet and includes a powered exhaust system that allows for vertical or horizontal venting to the exterior. The Big Maxx is also easy to service, with quick access to its thermostat and terminals.
The unit only requires 115 volts of energy to drive its electronics and high-velocity fan, giving installers a wide range of mounting clearance options. As a gas-fired heater, take note that professional installation is necessary.
#4  Dr. Heater Commercial Heater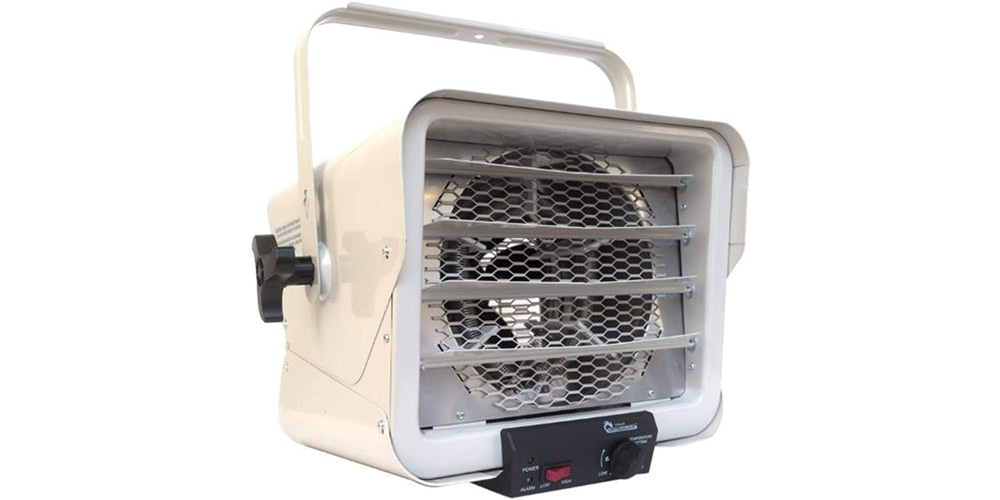 Brand: Dr Infrared Heater
This heavy-duty commercial heater is suitable for larger garages or cold-weather regions—a hardwired heater with a voltage of 240 volts and dimensions of 14.5 by 13 by 14.5 inches.
A total of 5 adjustable louvers allow you to direct airflow, and an adjustable thermostat with low and high settings provides some flexibility. Electric heating elements with spiral steel metal sheaths and low sheath temperatures are used in the DR966 to deliver consistent heat and a long service lifespan.
#5 Mr. Heater Propane Radiant Heater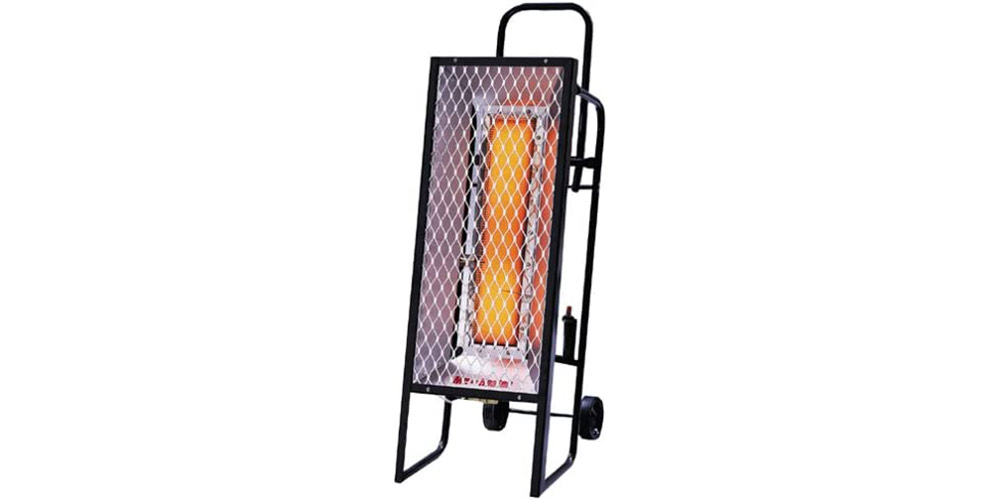 Brand: Mr. Heater
This popular type is easily transported from site to site because it is mounted to a cart with a folding handle and wheels. It is simple to keep the heat where you need it and away from areas you don't need it because efficient radiant heat radiates only in one direction from the heater.
This product does not require any external ventilation or electricity, and it has built-in safety features such as a mesh guard over the heating element and a built-in tip-over sensor that cuts off the gas supply quickly if the unit is tipped over.
#6 Dura Heat Tank Top Heater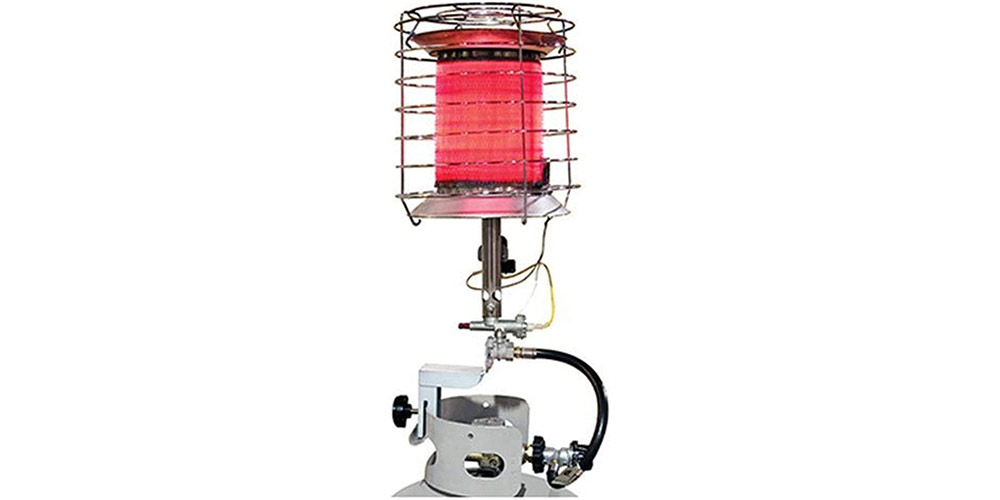 Brand: Dura Heat
This Tank Top heater from Dura Heat makes heating any outdoor or well-ventilated workspace portable, cheap, and hassle-free.
A built-in tip-over sensor cuts the gas supply if the heater and tank are pushed over, and a quick-connect gas connection makes installation and uses easier. For a long lifespan, look for rust-resistant coatings and corrosion-protected components. This one is portable and can heat spaces up to 1,000 square feet.
#7 Avenger Portable Propane Heater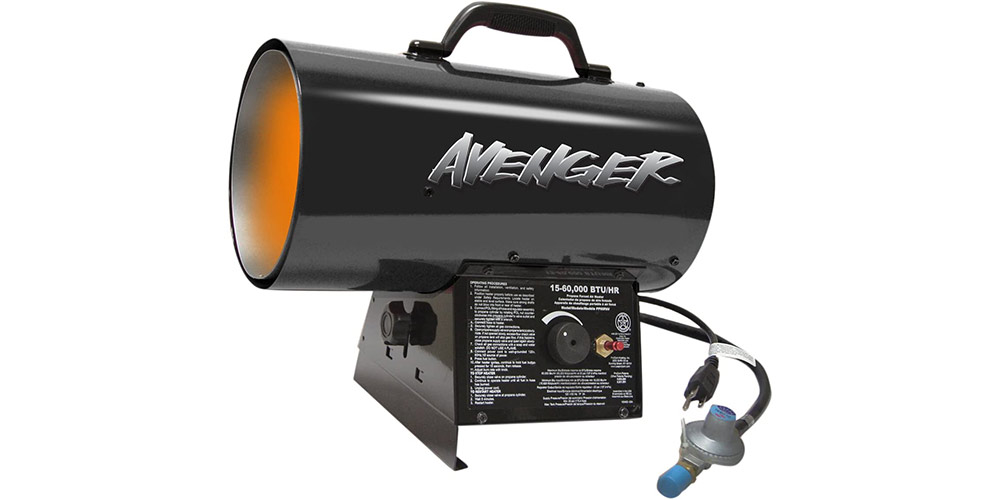 Brand: Avenger
A built-in handle and an adjustable foot allow the Avenger Portable Propane Heater, which weighs only 16 pounds, to be easily transported from one location to another.
Adjustable heat settings give you complete control over the temperature of your workspace. This heater is less likely to tip over accidentally because it is on the floor. 
#8 King Electric 4000-watt Garage Heater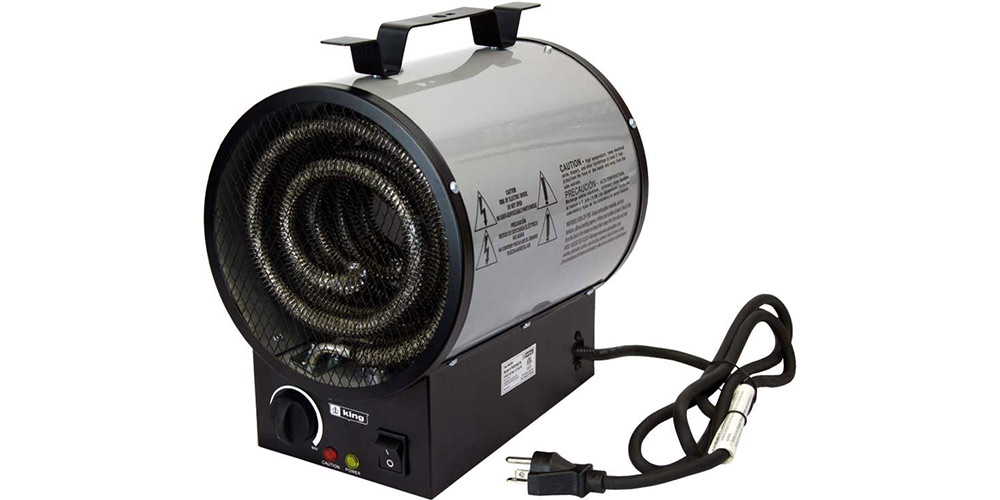 Brand: KING ELECTRIC
This heater from King Electric is compact, potent, portable, and easy to use. The installation options for this compact but effective heater are greatly expanded by its cylindrical body, flat base, and integrated handle and bracket. It is also quite portable. The heater's integrated handle doubles as a mounting bracket that may be used to hang it from a ceiling or carry it around.
A built-in fan circulates the air to distribute heat evenly across the room. Safety is improved with a high-temperature shutoff feature.
#9 Broan Wall Heater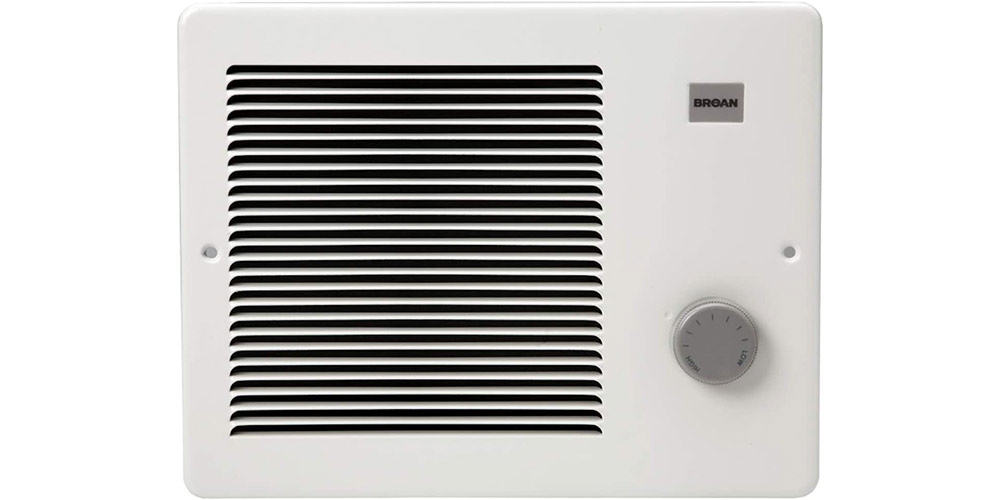 Brand: Broan-NuTone
The Broan Wall Heater is ideal for neat installation in small spaces where floor space is at a premium, as it fits cleanly, flush with the wall, and is hardwired for permanent use. The heat is easily controlled thanks to an all-metal design and a temperature control dial on the front, and a particular, high-efficiency heating element helps keep electrical use to a minimum.
Notably, the entire heater component is easily detachable from its metal shell for simple cleaning and maintenance.
#10 Lasko High-Velocity Floor Fan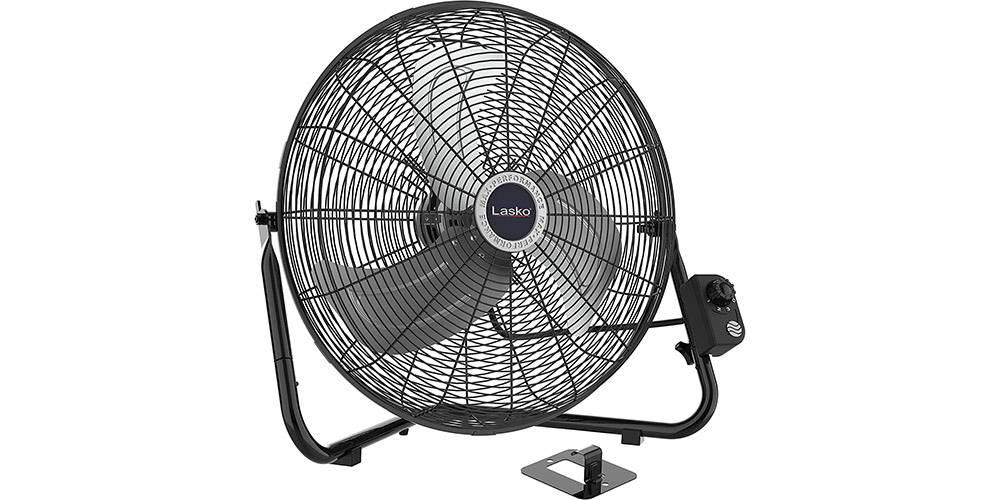 Brand: Lasko
This isn't a heater, but it's an excellent addition to any heater to help it perform better and more efficiently in your workstation. This floor fan has a 20-inch blade and high-velocity performance to keep the air moving and circulating in your workspace—all while creating very little noise. It also has a safety-shield cage, changeable fan settings, and a lightweight design.
When used in conjunction with radiant heaters, this floor fan is great for distributing heat from your heater to every corner of the store. The kit is completed with a built-in carrying handle and wall-mounting ability.