You have probably used hose clamps if you have ever repaired any plumbing in your home.
But if you're working on a car's fuel delivery, brake, or engine cooling systems, you might see spring clamps holding flexible hoses to metal tubing. A spring clamp is an easy tool, but it can be difficult to use because it is made to hold tightly until two tabs are squeezed to release it for installation or removal.
To help you repair damaged fuel, brake, or coolant hoses, we've put together a list of the best hose clamp pliers.
#1 BETOOLL 9-Piece Hose Clamp Pliers Set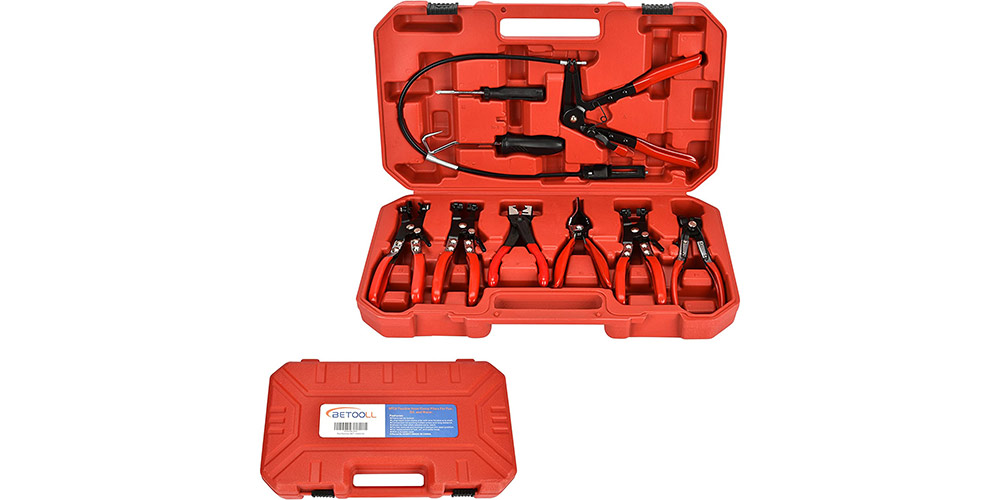 Brand: BETOOLL
This BETOOLL 9-piece kit was called after the fact that it will equip your garage for almost any maintenance operation that requires you to remove hose clamps.
Inside the sturdy-looking case are six pairs of conventional pliers, including swivel jaw and cross-slotted jaw fittings, a set designed to operate with click clamps so you can reuse the clamps, and one with handles at a 45-degree angle for reaching tight spots.

#2 GAO HOU Angled Hose Clamp Pliers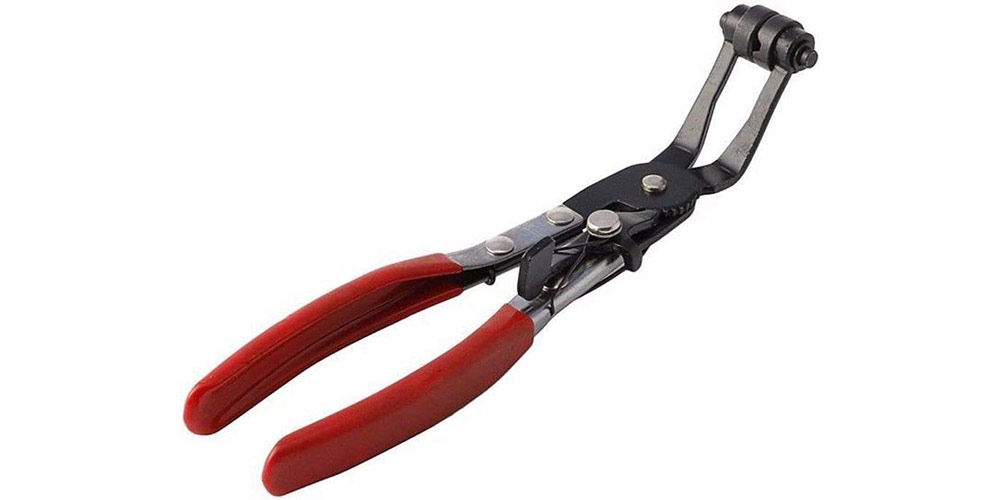 Brand: GAO HOU
These pliers should be able to remove clamps from engine cooling and fuel lines without the need for the somewhat more expensive angled tool.
The pliers' rotating jaws allow you to position them to work at any desired angle, and they are engineered to open exceptionally wide to accommodate both large and small clamps. In order to free up both of your hands for other tasks, there is a locking ratchet mechanism that holds the pliers in place.

#3 Swpeet 4-Piece Hose Clamp Plier Set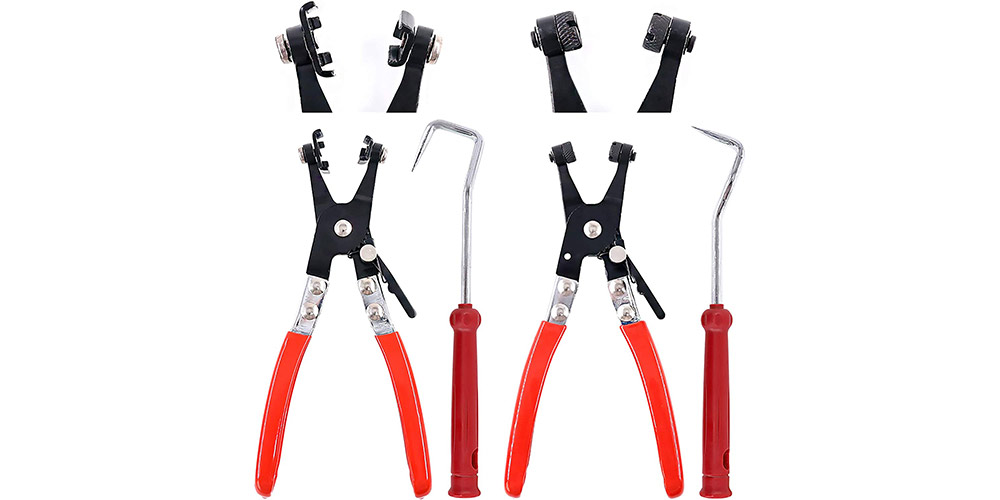 Brand: Swpeet 
The 4-piece plier set from Swpeet is a simpler kit made to accommodate your home mechanic needs that are more uncomplicated. These tools may be used on any clamp, from the tiny ones that keep vacuum lines in place to the bigger variety found on radiator hoses.
The set comes with two sets of pliers, one with swiveling cross-slotted jaws so you can use them at any angle and the other made to grip flat band clamps.

#4 Orion Motor Tech 9-Piece Hose Clamp Plier Set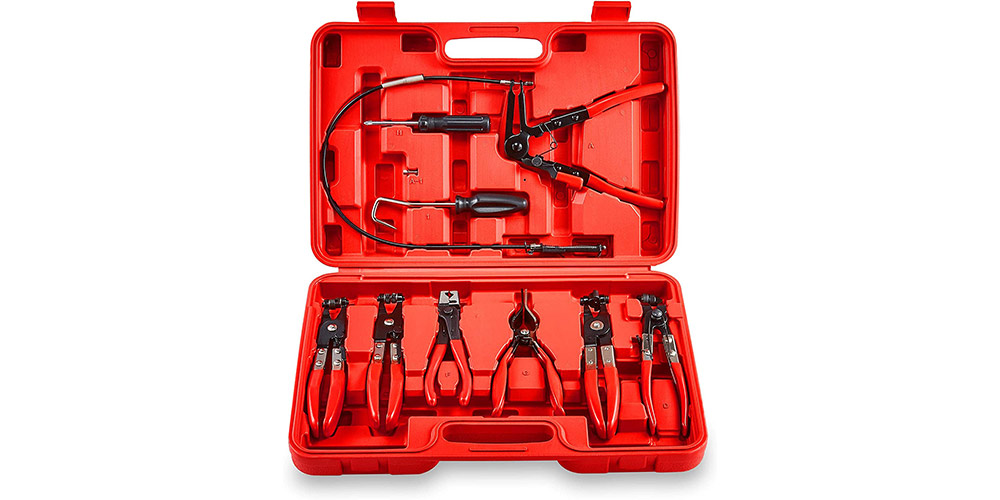 Brand: Orion Motor
It contains instructions on how to use each variety of pliers. You don't have to rely on guesswork to determine whether this set is suitable for the task you're performing because its pliers can handle clamps that range in size from 11/16 inch to 2-1/2 inch.
The bright orange case contains two hose removal tools, a double-headed screwdriver, cross-slotted, and swivel jaw flexible hose pliers, angled and cable-operated flexible hose pliers, and pliers for collar and flat band hose clamps.

#5 Renekton Long-Reach Hose Clamp Pliers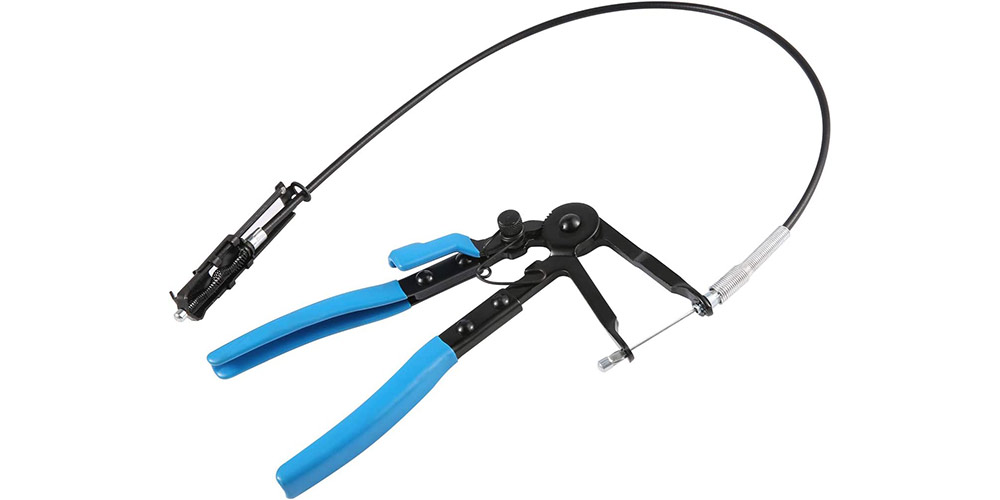 Brand: Renekton
These pliers can be used to tighten clamps holding fuel, coolant, and oil hoses with diameters ranging from 11/16 inch to 2-1/2 inch, which is a very typical range for this kind of instrument.
The 24-inch cable, meanwhile, enables you to remotely service clamps in difficult-to-reach places or in places where there isn't enough room for the full tool, handles, and all.

#6 Astro Pneumatic 9409A Hose Clamp Pliers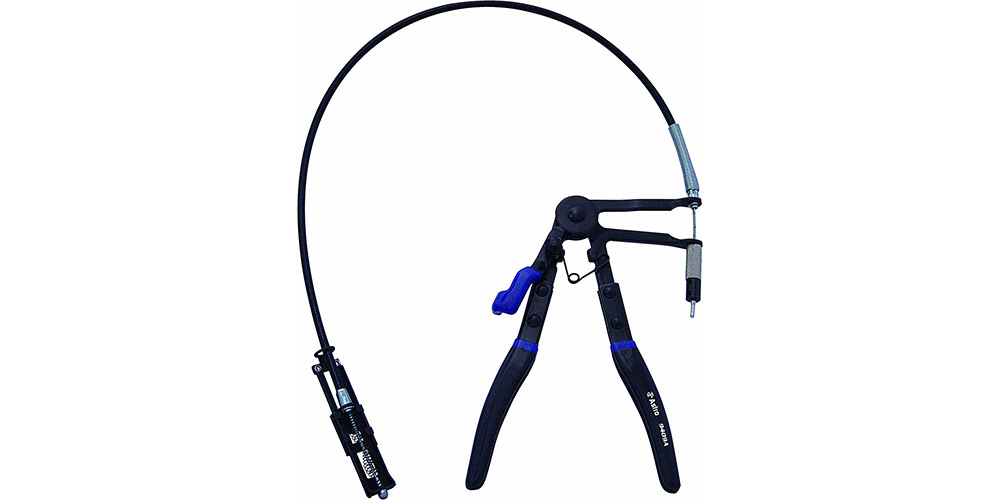 Brand: Astro Pneumatic
When using long-reach pliers, you may grip clamps in spaces that are too small for the handles or your hands. These pliers work with clamps with a diameter ranging from 11/16 inch to 2-1/2 inch, and the cable end may be modified to fit clamps with a diameter ranging from those two measurements. These pliers' cable, spring, and lock are all easily replaceable, so you can do so instead of purchasing a completely new tool.

#7 Drake Off Road Hose Clamp Pliers Set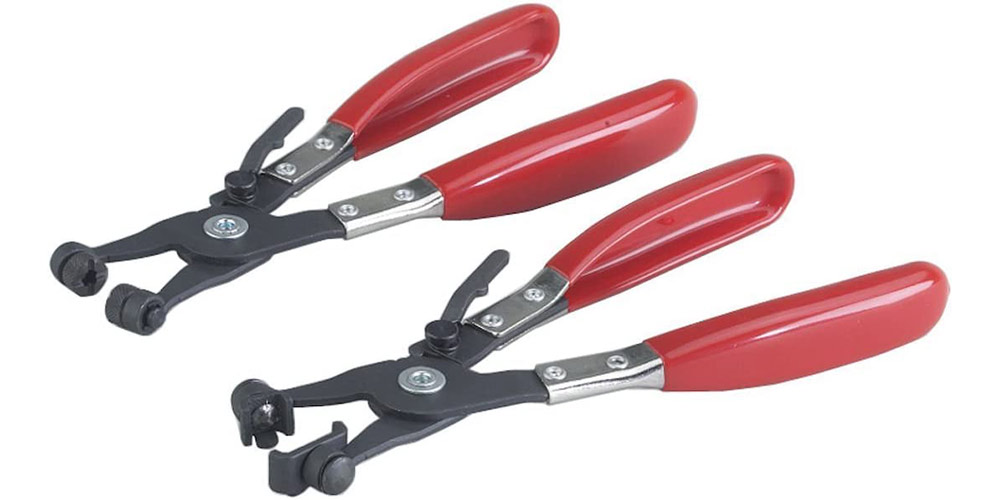 Brand: OTC
This 2-piece plier set comprises one with cross-slotted jaws and another with flat band clamp jaws. In both cases, the jaws spin to accommodate any angle, and its pliers will work with most ring-type or flat-band clamps.
These pliers open to a maximum of 3-1/4 inches, so if you're working with huge hoses and clamps, these may be the tools to choose from. Black-coated metal is used for the jaws and hinges, which are riveted to silver handles with rubberized grips.

#8 ARES 71106 Angled Flat Band Hose Clamp Pliers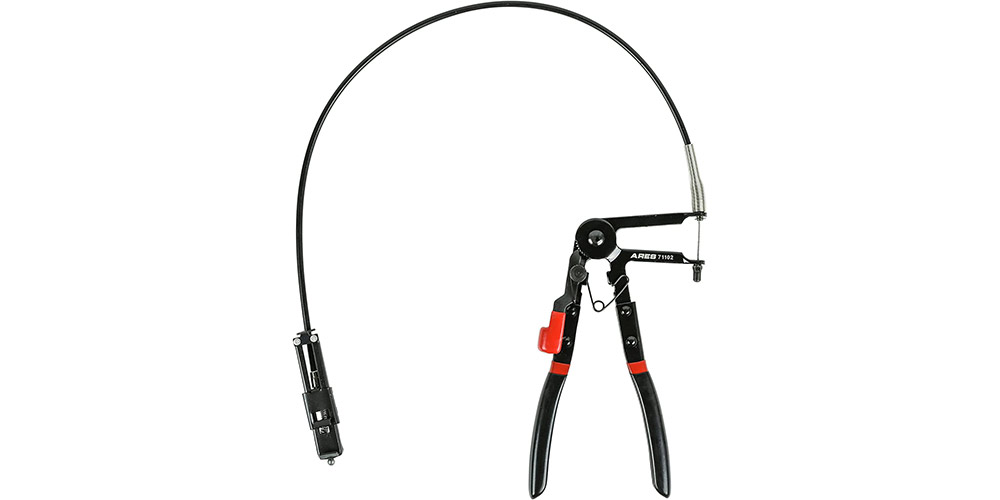 Brand: ARES
This single pair of pliers is intended to assist you in working with a single type of clamp at a price comparable to some of the multi-tool sets featured here.
Flat band hose clamps with a diameter up to 2-1/8 inches can be used with 71106 pliers. These pliers are typically composed of drop-forged steel with a manganese phosphate coating to prevent rust. The PVC-coated handles on the pliers' jaws are glued together to give grip and lessen hand fatigue during more demanding tasks.

#9 Cangzhou Qianwei Locking Hose Clamp Pliers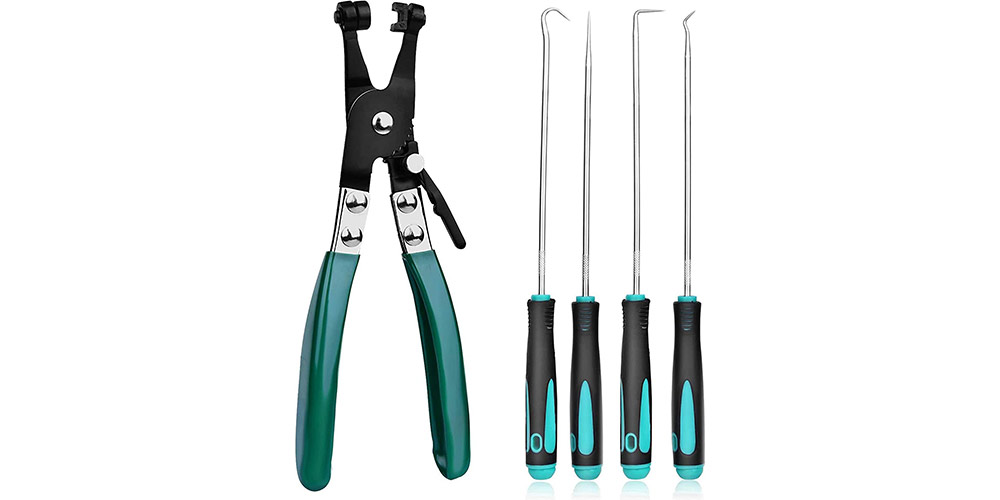 Brand: Cangzhou
These pliers are less adaptable than some of the other tools on our list because they can only open to a maximum of 1-3/4 inch. However, they need to function for the majority of the clamps holding the hoses that transport essential fluids through the engine of your car.
These pliers are composed of manganese phosphate-coated high carbon steel, which prevents rust. The release of a ratcheting lock mechanism is triggered by a thumb lever. The pliers and pick/handles hooks are covered with non-slip rubber.

#10 BaFu Hose Clamp Pliers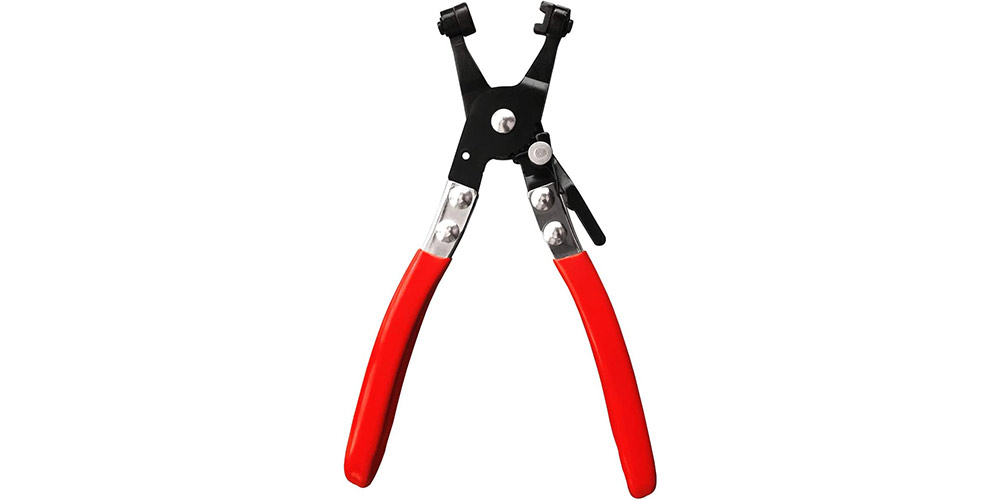 Brand: BaFu
These pliers are designed to open flat-band and ring-type clamps and hold them open as you move them onto or off of a hose or fitting.
These pliers' jaws expand to a maximum of 1-3/4 inches, which is wide enough to accommodate most clamp diameters. Additionally, they swivel, allowing you to position the pliers in relation to the clamp you need to remove or replace at any angle. Due to their adaptability, these pliers can be used on gasoline, oil, and coolant lines.
You may miss having angled pliers or being able to open clamps that require cross-slotted jaws, but at this price, you could definitely afford to buy another set for whatever job you need to complete.