Want to start performing your own oil changes and cutting costs? You can change the oil in most cars in the comfort of your garage or driveway with a little time and effort. You'll need a floor jack, jack stands, an oil drain pan, and an oil filter wrench, among other things, to change your own oil. While most oil filters can be removed with just your hands, it will be much simpler if you spend a few dollars on an oil filter wrench. Depending on where it is positioned on your car, certain oil filters have a slick texture and may be difficult to hold.
Numerous businesses sell oil filter wrenches that are made specifically for each type of car and are sized to fit that vehicle's oil filter. These are also excellent choices if you require an oil filter wrench for a specific car. But in this post, we'll focus on universal oil filter wrenches, which may be altered to fit different oil filter sizes.
You'll see that there are several oil filter wrench designs, and for many people, the best one will depend on personal preference. While some mechanics choose band-style wrenches, others discover that adjustable, three-jaw wrenches make it simpler to remove oil filters. From the list of several wrenches described on this page, select the wrench that best meets your needs. You might even get
#1 TEKTON Oil Filter Pliers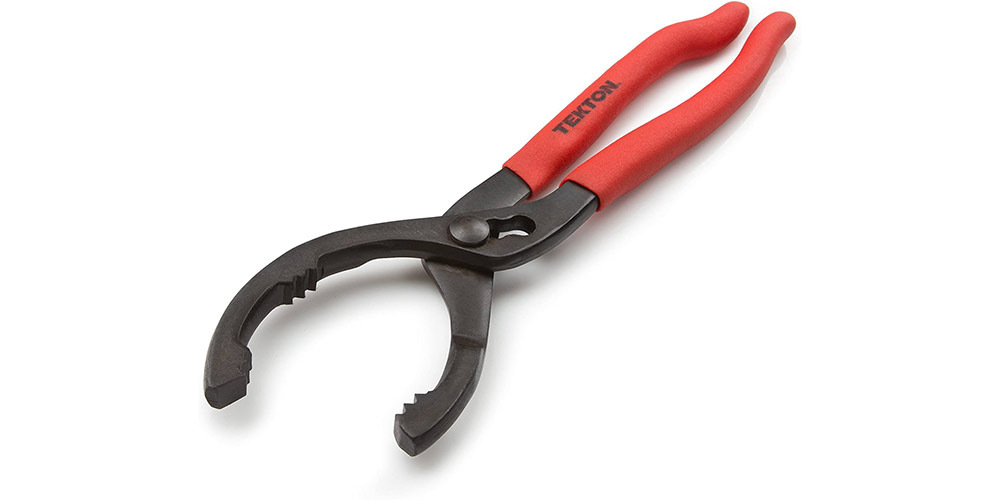 Brand: TEKTON
TEKTON makes oil filter pliers in sizes 12″ and 16″; the 12″ wrench can accommodate oil filters up to 4.5″ in diameter, while the 16″ wrench can handle oil filters up to 5.5″. The three-position slip joint design on both wrenches makes it simple to change them to fit the size of the oil filter. Additionally, they have broad teeth that are positioned at a right angle to the jaw so that they may bite in either direction to grasp the oil filter firmly. These wrenches have long handles made of plush, non-slip material for a secure grip.
#2 Craftsman 2-Piece Rubber Strap Wrench Set
Brand: Craftsman
A Craftsman item would be necessary for every list of tools. For a reasonable price, you can purchase a two-piece wrench set with the larger wrench handling oil filters up to 6.375 inches in diameter and the smaller wrench handling oil filters up to 4 inches in diameter. The grip on Craftsman oil filter wrenches is a robust, reinforced rubber strap. Wrap the straps around the filter, tighten them until they are securely fastened, then turn to use the wrenches.
#3 Neiko Two-Way Adjustable Oil Filter Wrench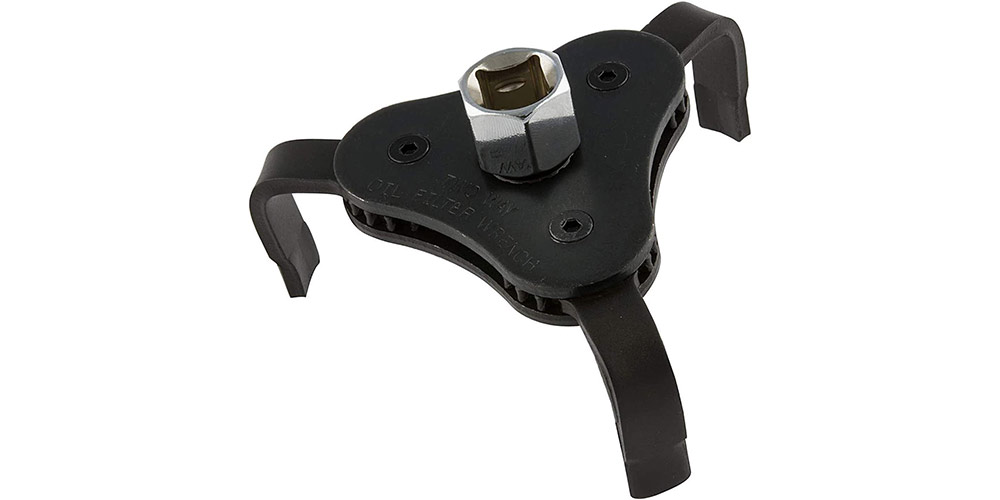 Brand:  Neiko
This Neiko oil filter wrench has a patented three-jaw design. This two-way adjustable oil filter wrench, which was created to make it simpler to remove oil filters, will fit oil filters ranging in size from 2.5′′ to 4′′ and will work on most automobiles. Any ratchet or breaker bar with a 3/8″ or 1/2″ drive, as well as any 13/16″ wrench, can be used with this simple oil filter wrench. It also has a low-profile design that enables you to work in spaces with little clearance. There is a 3/8′′ to 1/2′′ converter socket provided by Neiko.
#4 Motivx Tools Adjustable Oil Filter Wrench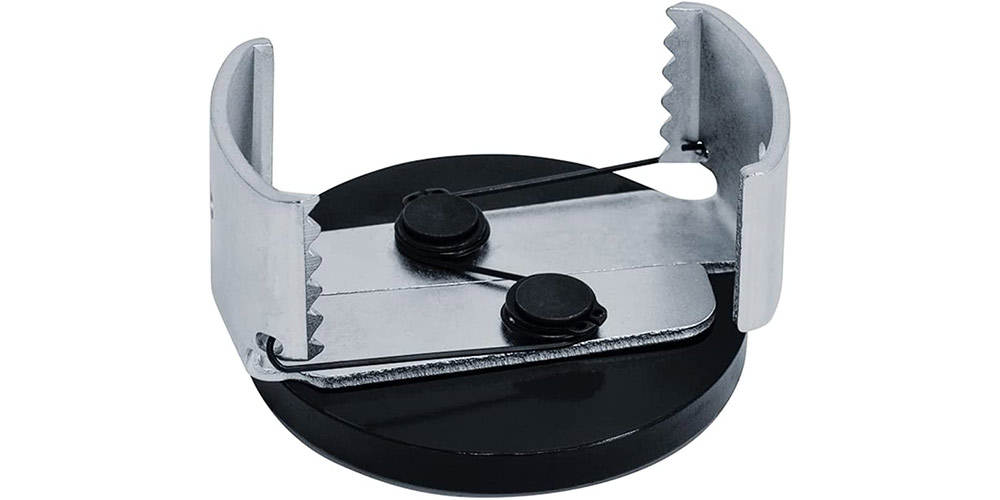 Brand: Motivx
Two separate adjustable oil filter wrenches are available from Motivx Tools; the smaller wrench fits filters with a diameter of 2.5′′ to 3.25′′, while the larger wrench fits filters with a diameter of 3.15′′ to 4.15′′. Both wrenches can be used to remove conventional spin-off oil filters, but neither one is recommended for replacing an existing filter. Additionally, they shouldn't be applied to oil filters with chrome plating or cartridge-style filters, which need the removal of a plastic or metal cap to reveal the filter element.
#5 Innovant Adjustable 3-Jaw Oil Filter Wrench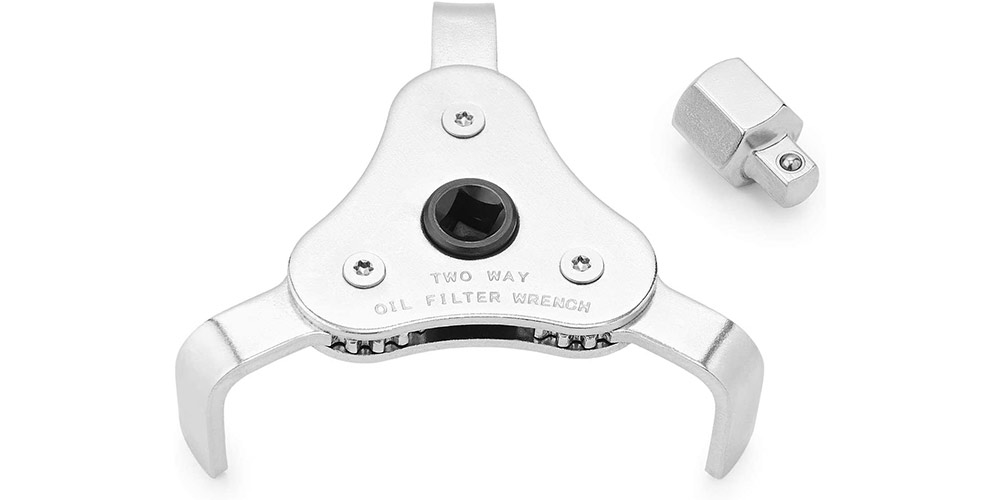 Brand:  Innovant
Another well-liked choice is this adjustable 3-jaw oil filter wrench from Innovant. It works with either 3/8′′ or 1/2′′ drive ratchets and accommodates oil filters ranging in size from 2.125′′ to 4.5′′. A pleasant addition from Innovant Tools is the inclusion of several pairs of big black nitrile rubber gloves and a 1/2′′ to 3/8′′ socket adaptor. This oil filter wrench works wonders on tight filters thanks to its three metal prongs that are gear-driven. Compared to strap- or chain-type wrenches, it is simpler to use in limited locations due to its small shape.
#6 Channellock 9″ Oil Filter & PVC Pliers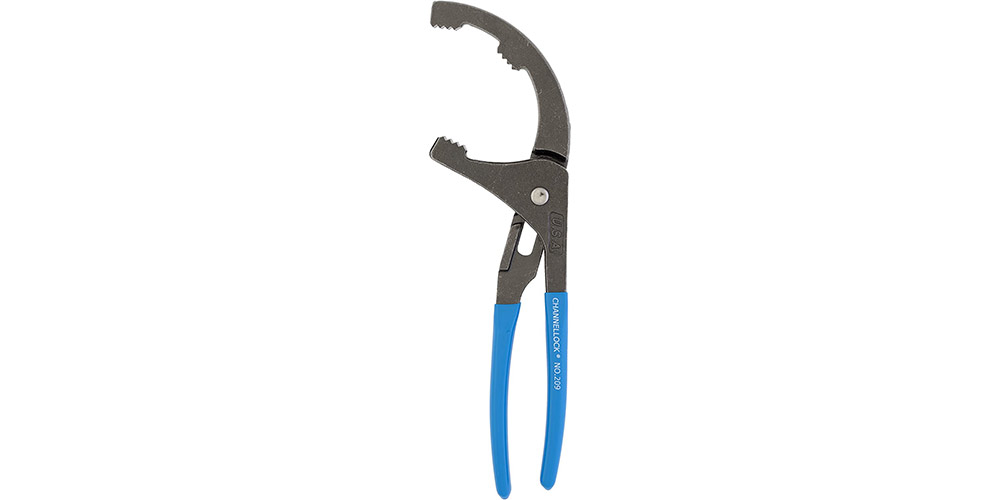 Brand: Channellock
Another well-known manufacturer among mechanics is Channellock, which sells oil filter pliers that are 9 inches long. These pliers have a jaw capacity of 1.75′′ to 3.5′′ and are made to fit most common size vehicles and small engine filters.
#7 GEARWRENCH Heavy Duty Oil Filter Wrench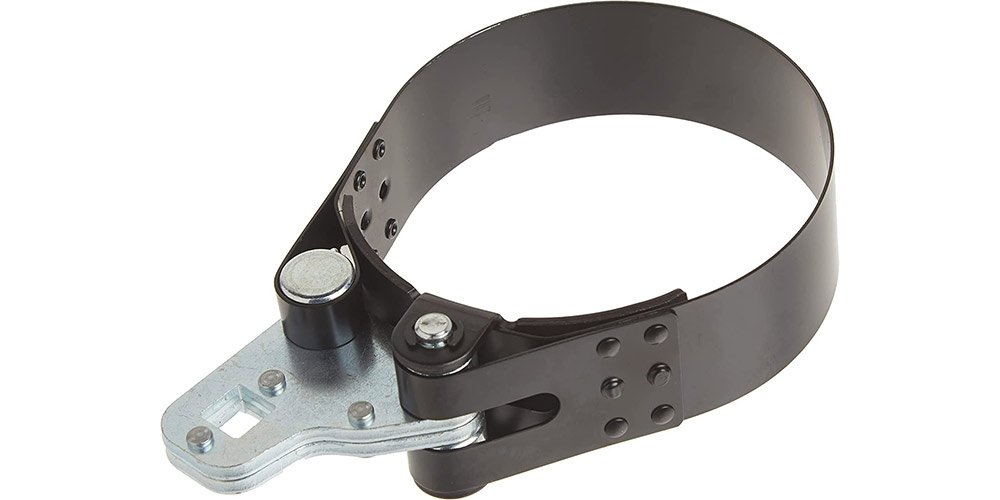 Brand: GEARWRENCH
Oil filter wrenches are available from GEARWRENCH in two different styles: band-style and strap-style. The band-type wrench has a broader band for improved grip and fits filters between 3.75″ and 4.5″. This wrench, which is made for high torque demands, uses a sturdy anchor plate to assist in removing your car's excessively tight filters.
#8 Lisle Oil Filter Swivel Wrench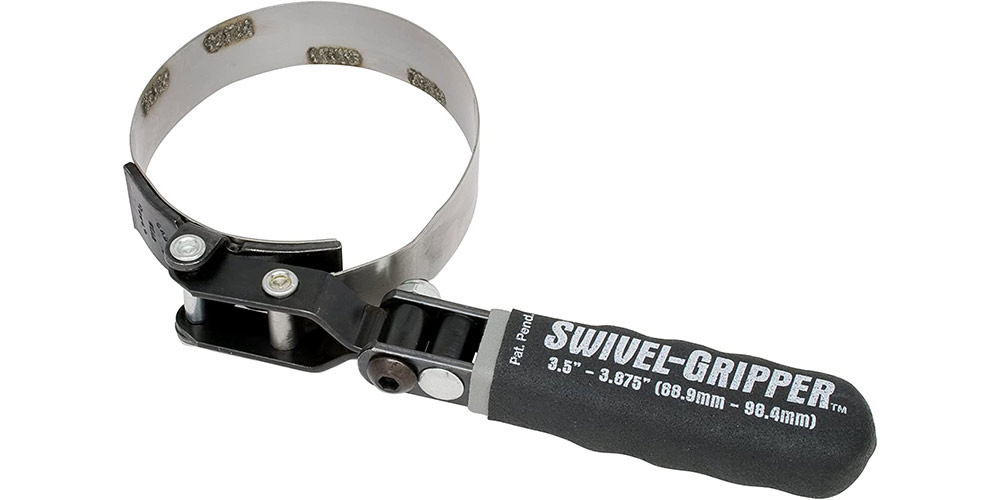 Brand: Lisle
The oil filter wrench is more conventional with this band-style design. It comes from Lisle and has a stainless steel band with a grip-enhancing, permanently bonded textured coating on the handle. It is compatible with filters 3.5′′ to 3.875′′ in size. Therefore it will suit the majority of common 3.625′′ filters.
#9 TuffMan Tools Oil Filter Wrench Set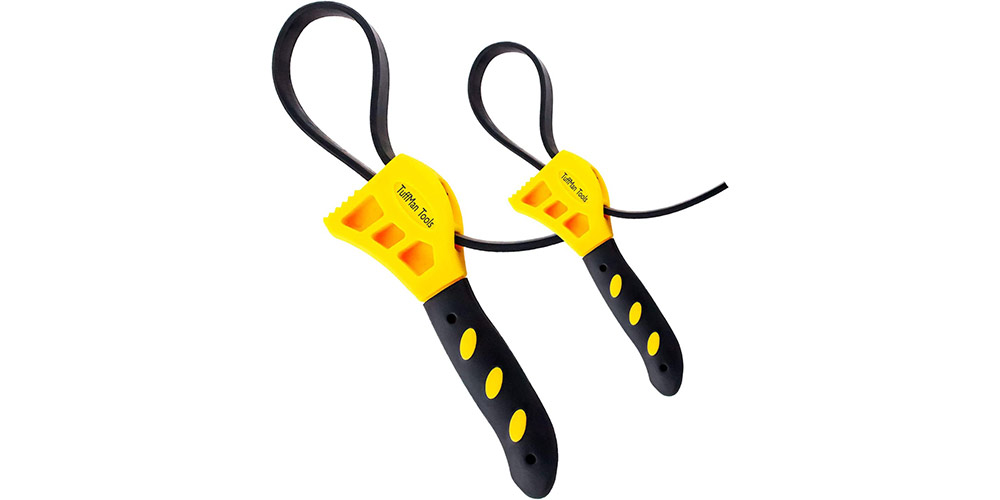 Brand: TuffMan
A 2-pack is available at TuffMan Tools for a reasonable price. The smaller wrench can be adjusted to a diameter of 4 inches, while the larger wrench can be set to a diameter of 6 inches. Each wrench has a strong, non-slip grip that is made possible by the adjustable and flexible rubber straps that it utilizes to hold the oil filter in place.
#10 OEMTOOLS Adjustable Magnetic Oil Filter Wrench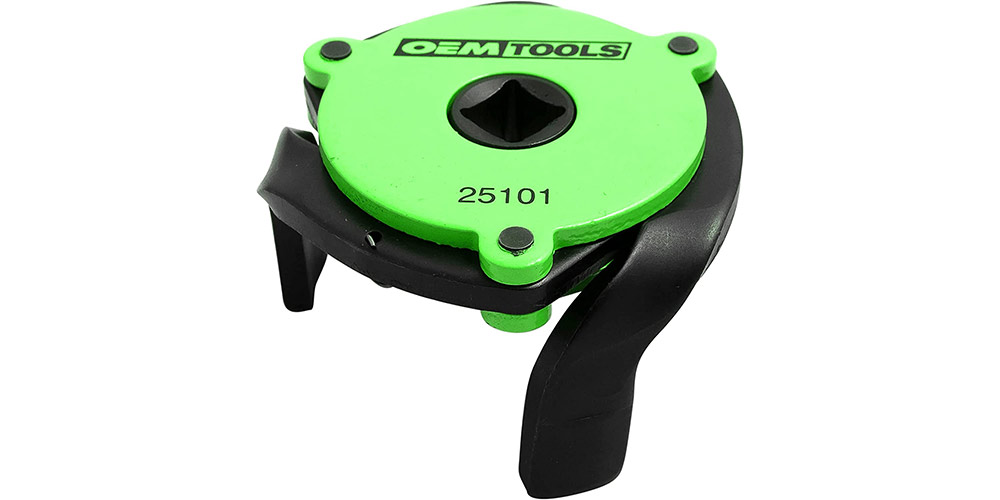 Brand: OEMTOOLS
This adjustable magnetic oil filter wrench features a 3-jaw design and a vibrant green finish. It contains a 3/8″ to 1/2″ drive adaptor and accommodates oil filters that range in size from 2.4″ to 3.6″. Along with its magnetic base attachment, the filter's spring-loaded legs give it a firm grip. As long as your filter size is under 3.6″, it's a very cost-effective and flexible solution.