It takes more than just securing a trailer or camper to your car and driving off to tow one safely. The likelihood is that you will need to purchase a set of towing mirrors if you frequently tow a trailer behind your car.
Several state regulations require the use of towing mirrors on your vehicle to guarantee that you can see your surroundings while driving safely. Blind spots are a common problem with stock mirrors, and they get worse when you're pulling a trailer or camper.
When towing, it's wise to make sure that you can view the full length of the trailer and also the traffic behind it because standard side mirrors probably don't provide sufficient vision.
For instance, if you've got a trailer attached, several states, including Georgia and Illinois, mandate mirrors that provide a view at a minimum of 200 feet in the rear.
Check out our comprehensive list of the top 10 best towing mirrors available today.
#1 Auto Dynasty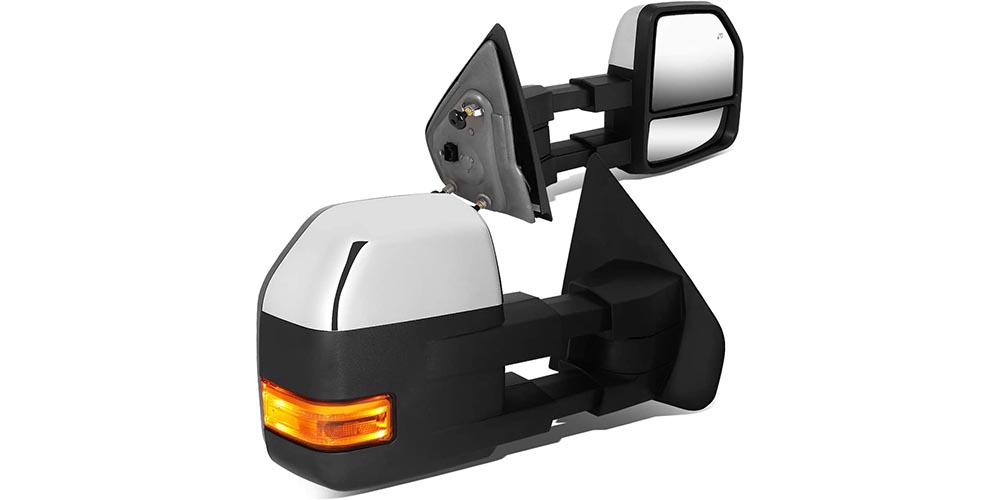 Auto Dynasty is a company that offers a wide variety of inexpensive mirrors, from motorized models with heated glass to manual telescopic models. Additionally, the business sells single mirrors for some uses rather than selling a pair and has mirrors with built-in turn signals.
The strengthening brackets on these mirrors avoid vibration when driving. It's essential to keep in mind that some mirrors with turn signals built-in might need to be reflashed for the turn signals to function.
For a variety of different vehicles, including the Chevrolet Tahoe, Chevrolet Silverado, Dodge Ram, GMC Sierra, Ford F-Series, GMC Sierra,  Toyota Tacoma, GMC Yukon, and more, Auto Dynasty mirrors are available.
#2 CIPA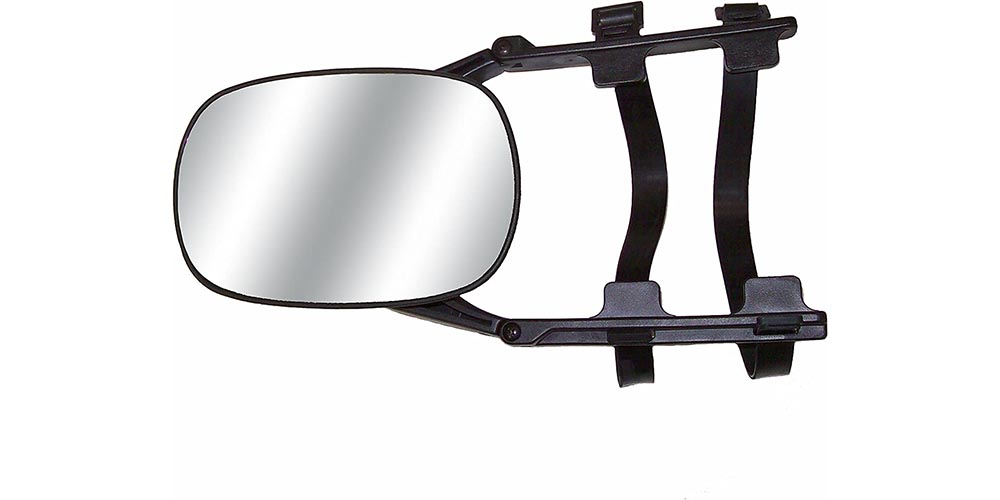 CIPA provides a variety of vehicle-specific towing mirrors in addition to a universal clip-on towing mirror. No matter how frequently you tow, some versions are the perfect substitute because they come in manual, power, heated power, and extendable forms.
Additionally, the business sells mirrors that are tool-free extensions of the OEM side mirrors, enhancing towing visibility. If you need an add-on type mirror that does not detract from the appearance of your car like some clip-on mirrors do, this is a perfect option.
Chevrolet Suburban, Cadillac Escalade,  Chevrolet Tahoe, Chevrolet Silverado,  Chevrolet Tahoe, Ford F-Series, Dodge Ram, Ford Expedition,  GMC Yukon, GMC Sierra, and Jeep Cherokee are just a few of the makes and models that CIPA offers products for.
#3 DEDC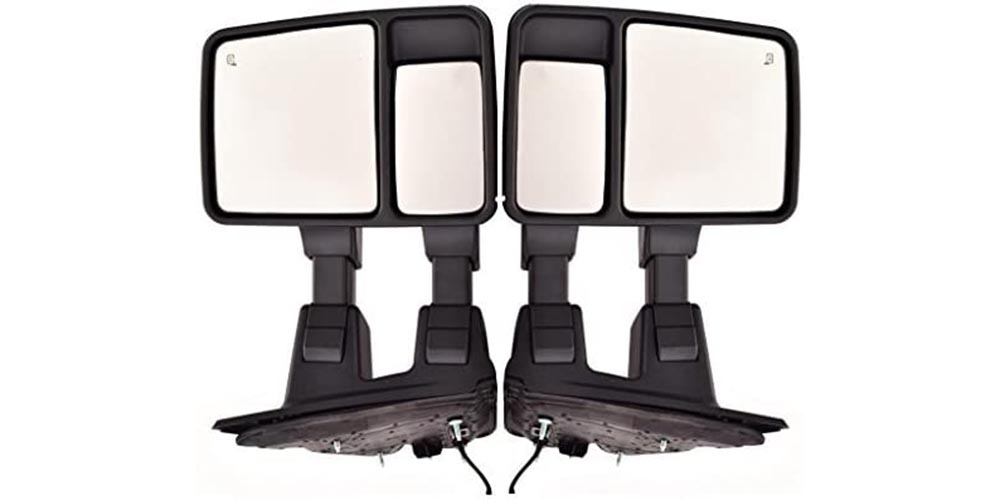 DEDC, a company that specializes in applications for specific vehicles, offers more reasonably priced mirror choices. If you're searching for only a driver-side or passenger-side mirror, the company also offers mirrors separately, making it a great option.
Power and heated mirrors with integrated turn signals are some of its more expensive additions, supplied at a lesser cost than some of DEDC's rivals. If DEDC has a towing mirror for your particular car, it's a wonderful option and more affordable.
Ford F-Series, GMC Sierra,  Dodge Ram, Chevrolet Silverado, and Toyota Tundra are among the models of vehicles that DEDC can provide towing mirrors.
#4 Fit System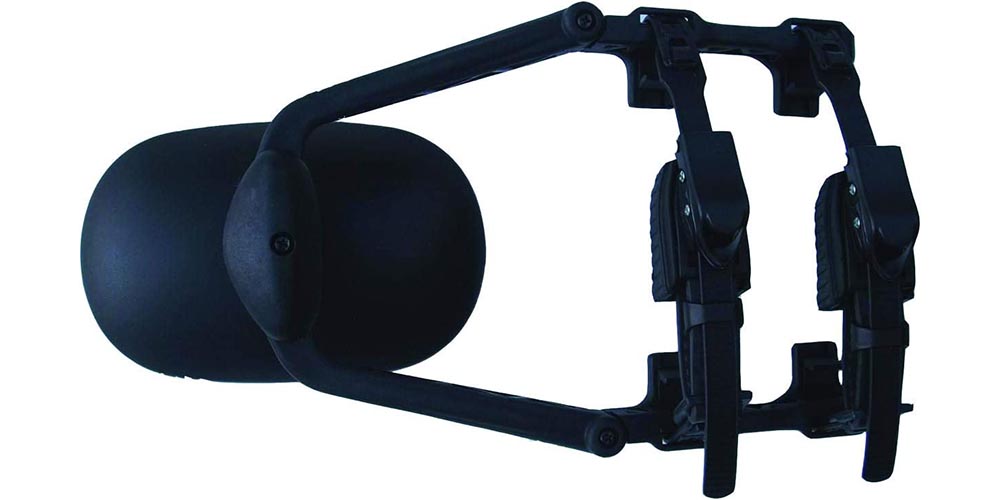 Fit System has one of the more popular universal clip-on mirrors on Amazon, despite having fewer uses than CIPA. Additionally, the business sells snap-on mirrors that attach to your factory mirrors and enhance your field of vision without the use of any tools.
Fit System offers extensible pieces that are heated and feature built-in turn signals, as well as manual and power towing mirrors for some applications. Similar to the most costly mirrors offered by CIPA, these can be quite pricey.
Dodge Ram, Chevrolet Silverado, Ford Excursion, Ford F-Series,  and GMC Sierra are among the vehicles for which Fit System is used.
#5 APS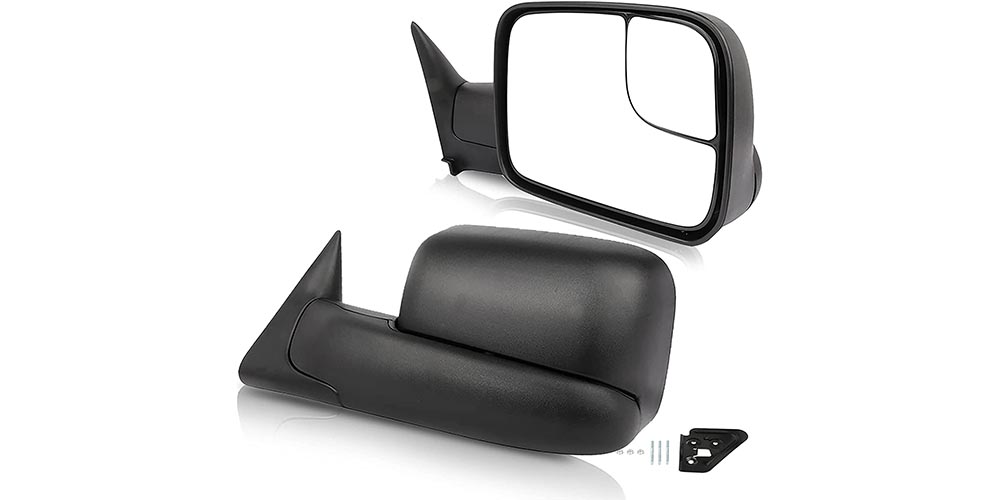 If you're looking for a low-cost solution, APS mirrors, a smaller firm with fewer products, are the best choice, provided they have a model for your vehicle.
Some of its mirrors are heated and telescoping, while others have LED turn signals. Although this company has some of the most affordable things on Amazon, they aren't perfect. Some users say that the power mirrors are difficult to adjust, while others cite vibration and distortion problems.
The products from APS might be adequate for your needs if you just occasionally tow and want to get a set of replacement mirrors without needing to spend a lot of money. Check user reviews once again for your particular application before adding items to your cart and proceeding to the checkout.
GMC Sierra, Dodge Ram, and Chevrolet Silverado are just a few of the models that APS has towing mirrors.
#6 ECCPP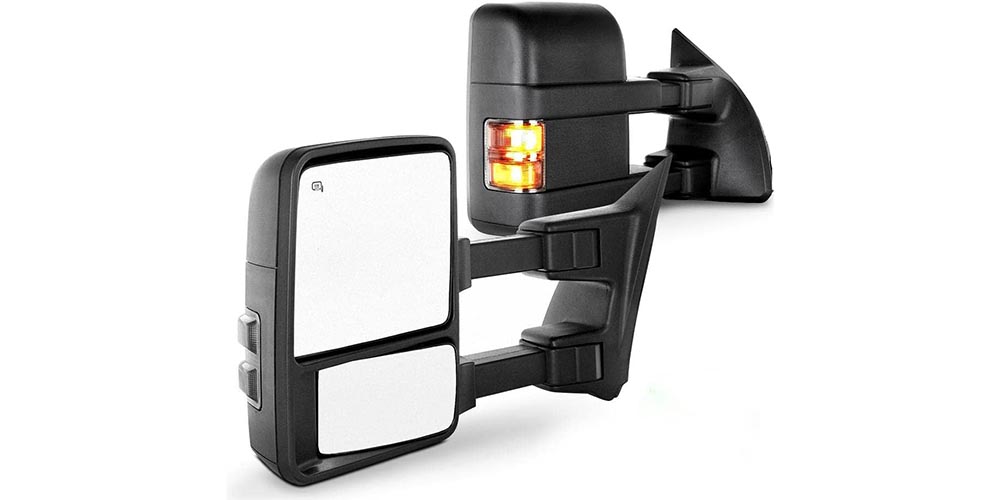 ECCPP offers a large selection of reasonably priced mirrors for a wide range of vehicles. Its selection of mirrors includes manual, electric, heated, turn signal-equipped, extended, and even foldable models. However, it should be noted that the lower cost entails some trade-offs.
Users have expressed concerns about potential clarity issues with the mirrors' glass as well as vibration problems on some fitments. Additionally, depending on the vehicle, some of the mirrors that contain blinker and puddle lights might need a reflash from the dealership.
Prior to buying one of ECCPP's mirrors, make sure to conduct adequate research to determine whether any consumers have encountered a specific problem. Although the majority of customers are happy with their purchases, some vehicle applications seem to have problems.
Chevrolet Avalanche, Chevrolet Tahoe, Chevrolet Silverado, Dodge Ram, GMC Sierra, GMC Yukon, Ford F-Series, and other models are a few of the vehicles for which ECCPP provides mirrors.
#7 SCITOO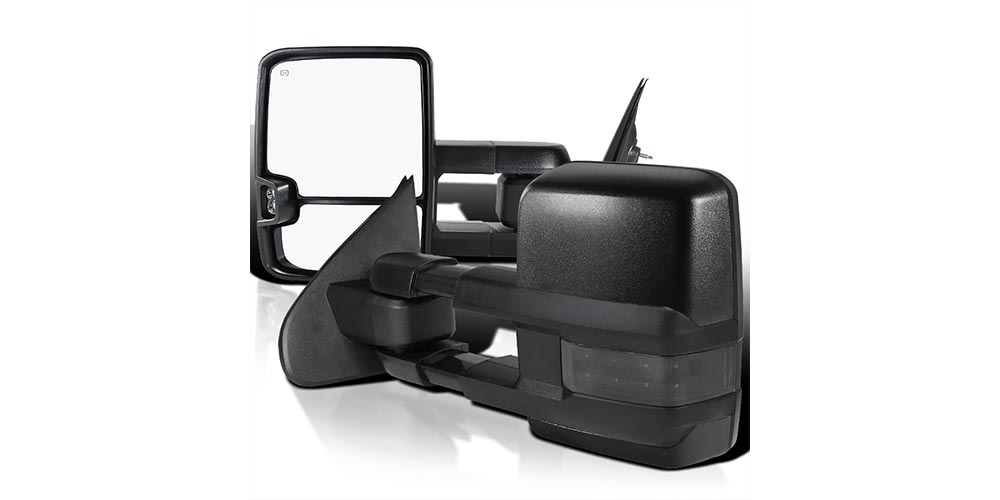 Similar to ECCPP's offerings, SCITOO's mirror lineup includes a variety of applications and types. If you're buying on a tight budget, this is a desirable option because the pricing is more reasonable than that of some of the market rivals.
Some users of specific applications do express concerns regarding vibration and mirror distortion, while other users claim that the application does not fit their particular vehicle well.
Once more, check user reviews before buying to be sure the new mirrors won't cause any problems with your particular vehicle.
A large number of the mirrors that SCITOO sells have power, heating, and signal lighting. For some trucks, like the Toyota Tundra, there are also manual extending versions that are more reasonably priced.
Chevrolet Blazer, Chevrolet Silverado, Dodge Ram, Ford Ranger, Ford F-Series, GMC Sierra, GMC Jimmy, GMC Sierra, Toyota Tundra, Jeep Wrangler, and more vehicles are among those that SCITOO's towing mirrors are compatible with.
#8 Spec-D Tuning
The portfolio of mirrors from Spec-D Tuning is quite reasonably priced and offers heated and integrated signal lights in addition to manual and motorized folding choices.
Though some users have noted a slight tremor in specific applications, these mirrors deliver excellent performance for the money. If you tow occasionally and are looking for a less expensive set of towing mirrors similar to APS, you might want to take a closer look at Spec-D Tuning's mirrors.
Chevrolet Suburban, Chevrolet C10,  Chevrolet Silverado, Chevrolet Tahoe, Chevrolet Silverado, Dodge Ram, GMC Sierra, Ford F-Series, Nissan NV Cargo, Toyota Tundra, and Toyota Tacoma are just a few of the vehicles that can use one of the applications.
#9 Trail Ridge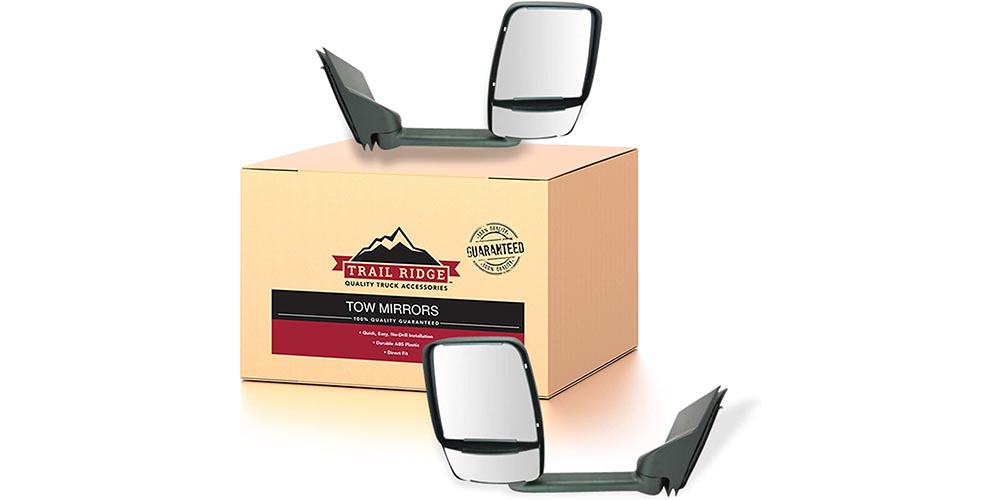 Trail Ridge provides more premium options, namely motorized and heated mirrors for various makes and models. There are some applications that do include manual mirrors and integrated turn signals.
Although the mirrors from Trail Ridge aren't cheap, they have some of the best reviews on Amazon and have few complaints about vibration or mirror distortion. Additionally, they have a lifetime warranty, which is uncommon in the market.
Ford F-Series, Dodge Ram, Chevrolet Silverado, Dodge Ram, Ford Expedition, GMC Sierra, Toyota Tacoma, Nissan Titan, and Toyota Tundra are among the vehicles for which Trail Ridge has applications.
#10 AUTOANDART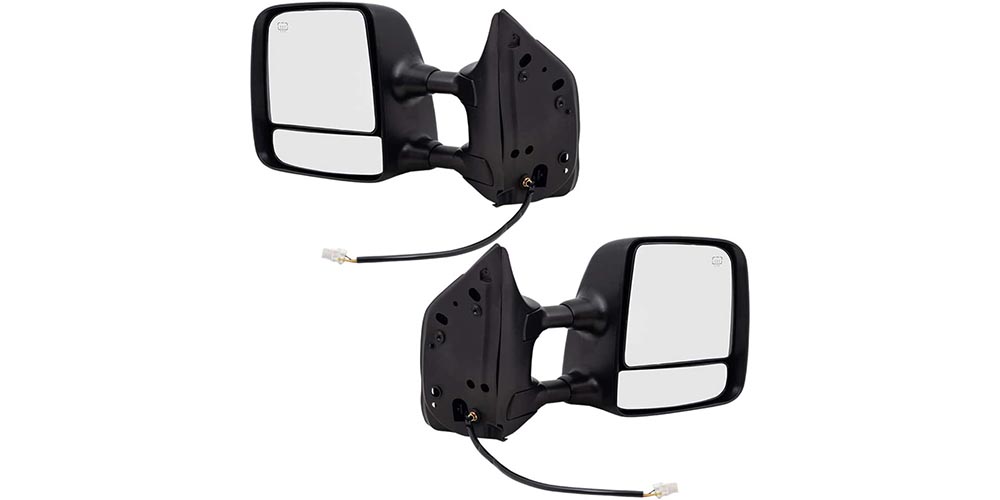 AUTOANDART is another business that sells single mirrors. Affordable choices with fitments for numerous makes and models are available in telescopic, power, manual, heated, and turn signal-equipped varieties. These mirrors have a one-year warranty and are made to match the original mirror on your car.
Sadly, some of the company's products aren't the year, make, or model-specific, so be sure to get in touch with the vendor prior to purchasing a product. Instead, a broad range of applications, including the Dodge pickup truck, are specified for the mirrors.
However, if you can find the part number for the mirrors you're replacing, you can pick the appropriate mirror for your particular vehicle. Although some customers do complain about vibration problems with the glass, this could be because the device is not a perfect fit for them.