Windshield wipers are a frequently forgotten maintenance item on your car, but they're crucial for safety. You don't want to wait until you're trapped in a storm to realize your wipers need to be replaced, as poor wipers might impact vision in bad weather.
To make your purchasing experience more effective and convenient, we've put together a list of the top ten windshield wipers available. Finding the best silicone and rubber wipers and comparing their costs is made simple by windshield wiper reviews.
#1 Bosch ICON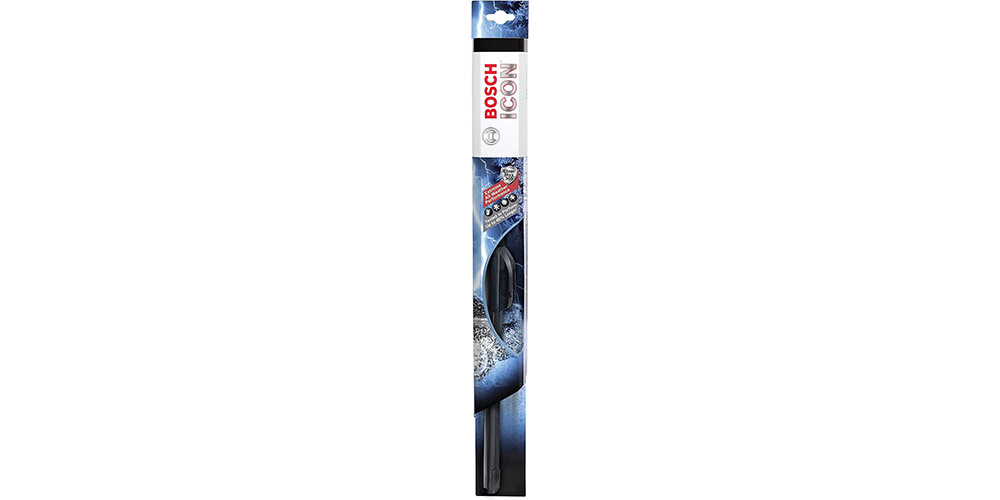 Brand: Bosch Automotive
The bracketless Bosch ICON beam-style wiper blade has tension springs that keep the blade flexible while delivering exceptional performance in all weather conditions. It has a unique asymmetrical flexible spoiler design for effortless and quiet wiping. It also features an Original Equipment-Quality Hook Adapter and an Easy Installation (Hook Arm 9X3 & 9X4)
#2 ANCO 31-Series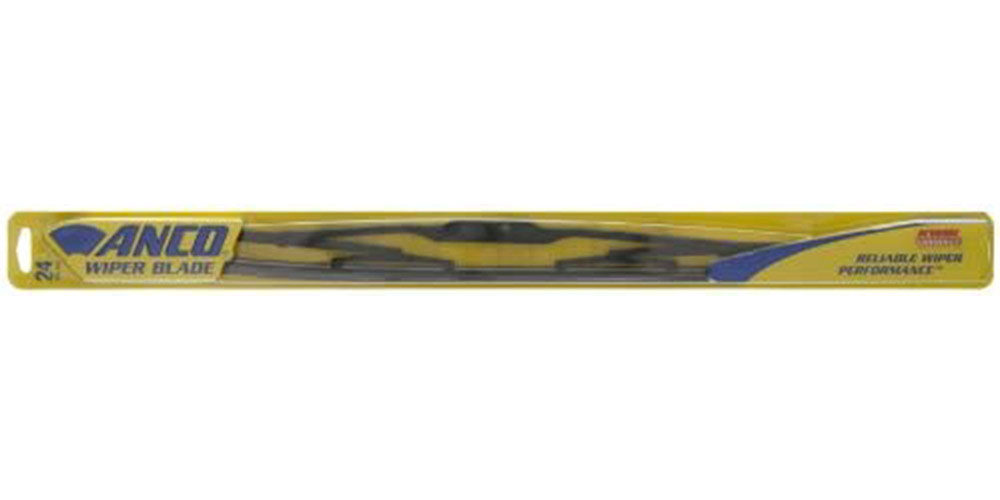 Brand: Anco
The ANCO 31-Series is the best option if you're searching for a reasonably priced conventional wiper blade, especially if you live somewhere that doesn't get a lot of rain or snow.
The 31-Series is available in a variety of sizes ranging from 10 inches to 28 inches, nearly ensuring that it will fit your car.
These blades are suggested for drivers who need conventional blades and experience seasonal moderate precipitation. They will not perform as well as a hybrid or beam-style blade and will not endure bad weather conditions as well as competitors.
#3 Michelin Stealth Ultra Wiper Blade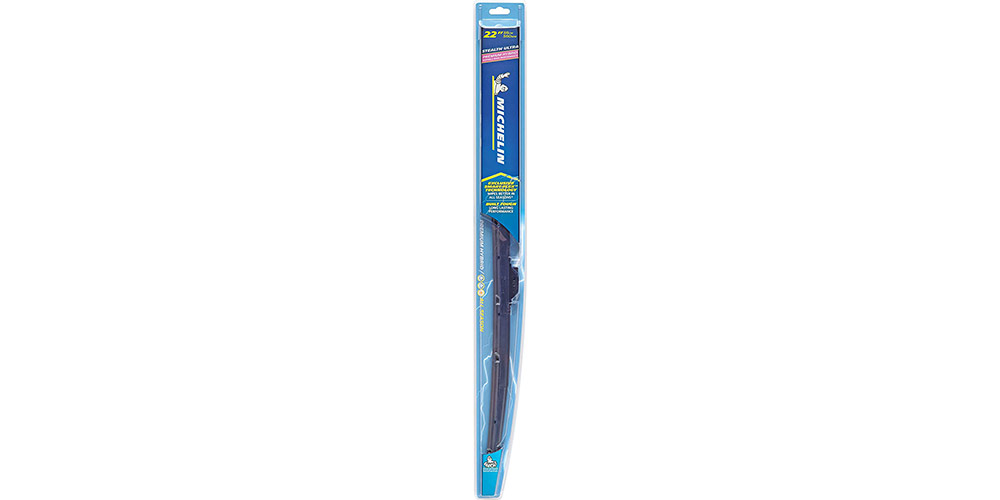 Brand: Michelin Stealth Ultra Wiper Blade
If you're looking for a hybrid wiper blade, the Michelin Stealth Ultra is a popular option. It has a special patented design with exclusive "Smart-Flex" technology that adapts to the curve of a windshield for better wipes and increases vision.
Given that the segmented hardcover beam design helps prevent the blade from clogging with road debris, ice, and snow, these blades are highly recommended for drivers who frequently encounter ice and snow.
#4 Aero Premium All-Season Wipers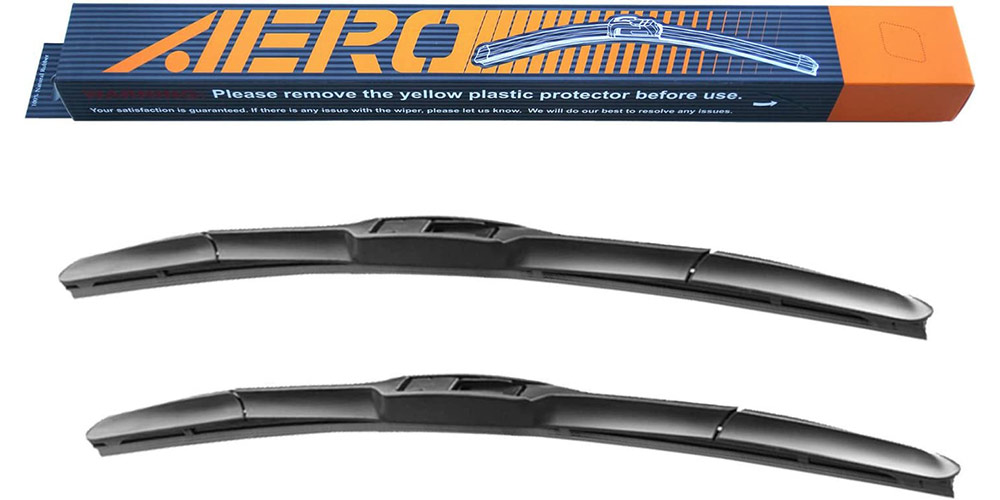 Brand: AERO
The Aero Premium All-Season wipers have a flexible spine design that is intended to better suit the windscreen for optimum windshield contact.
Aero's replacement wiper blades are more affordable than some of the other wiper blades on the market as they are sold in pairs in a variety of size sets. Since they are less expensive, don't anticipate them to perform as well as their more expensive competitors.
They also include replacement refill edges, and because they are so inexpensive, it would be sensible to buy an extra box and have it in the car in case of emergencies. When selecting the best blade for the job, always consider the weather conditions in your area.
#5 Bosch OE Specialty AeroTwin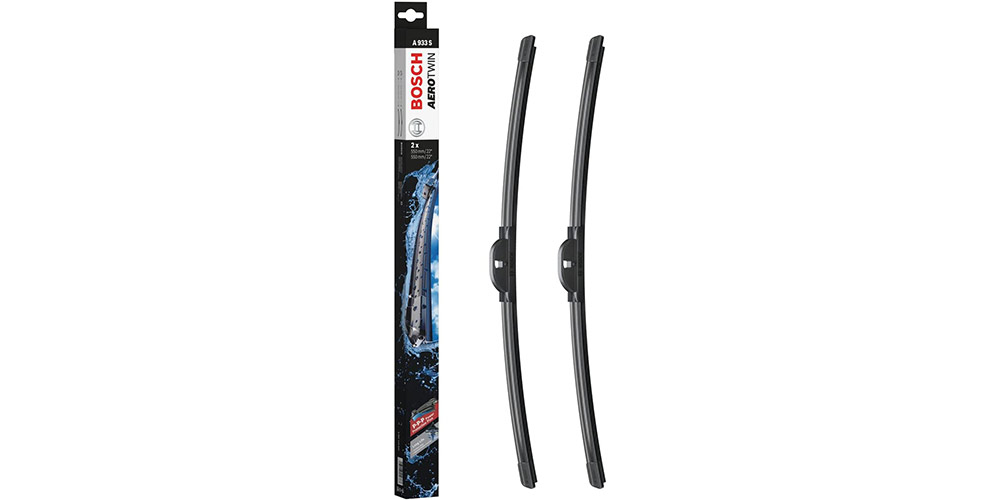 Brand: Bosch Automotive
The aerodynamic, all-steel frame of the AeroTwin wipers is protected by a dual rubber blend with a graphite coating for long life. For improved windshield contact, the beam-style blades also have an asymmetrical wind spoiler.
The Bosch AeroTwin comes with a vehicle-specific pre-mounted adapter that is said to be a perfect match for original equipment for simple installation. The AeroTwin blades are an excellent mid-range option that is affordable, has high performance, and is available in a variety of sizes. Their replacement blades are quite affordable and function well.
#6 Valeo 900 Ultimate Series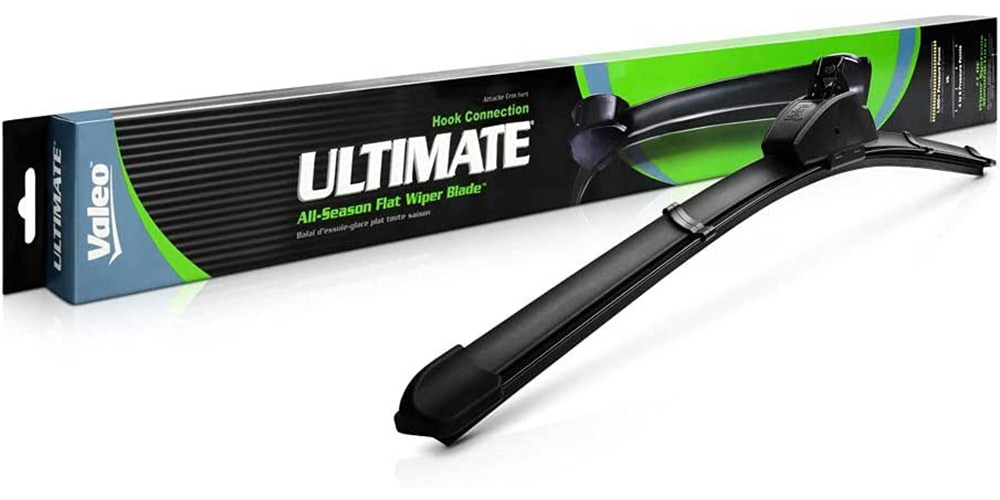 Brand: Valeo
The 900 Ultimate Series wipers are claimed to offer best-in-class aerodynamics due to an integrated spoiler, as well as increased aero-acoustics that minimize wind noise by up to 3dB for a quieter ride in bad weather.
With "Tec3" advanced rubber technology, the wiper's beam-style blade provides a smoother and quieter wiping performance. It is a fantastic option for an all-season wiper as well. The Valeo 900 blades have integrated flexors, delivering over 1,500 pressure points for even blade-to-windshield pressure.
#7 PIAA Silicone Wipers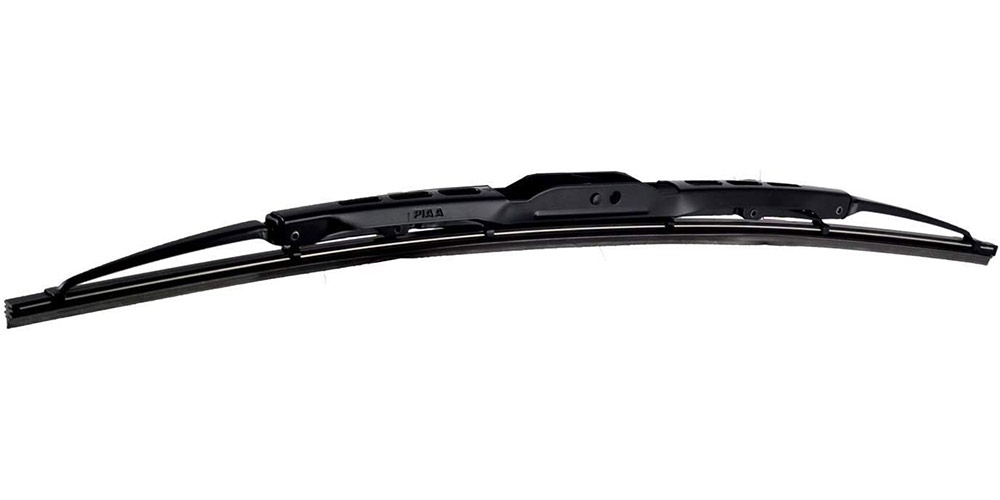 Brand: Piaa
PIAA sells silicone wiper blades, which they market as being twice as durable as traditional blades. The silicone compound promises to improve sight by facilitating continuous water beading in adverse weather by covering the windshield with silicone.
The three silicone wiper versions that PIAA offers are Aero Vogue, Super Silicone, and Si-Tech. If you're comfortable with refills, using Silicone refills with the Aero Vogue and Super Silicone wipers could ultimately save you money.
#8 Rain-X Latitude Water Repellency 2-n-1 Wiper Blades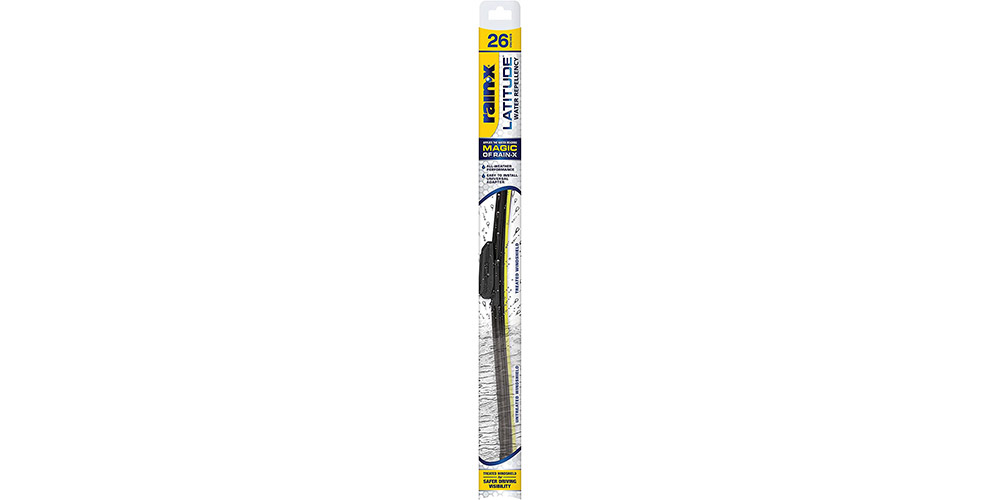 Brand: Rain-X
The windshield treatment Rain-X is transferred from the wiper squeegee to the windshield during the initial use of the Latitude Water Repellency 2-In-1 wiper blade.
The wiper blades already have a universal adapter pre-installed to facilitate installation; the adapter is compatible with 96% of all vehicles on the road. The blade itself has a synthetic-blend rubber squeegee with a premium graphite coating for increased endurance in rain and sleet, and it curves to the shape of the windshield.
#9 SilBlade Premium Silicone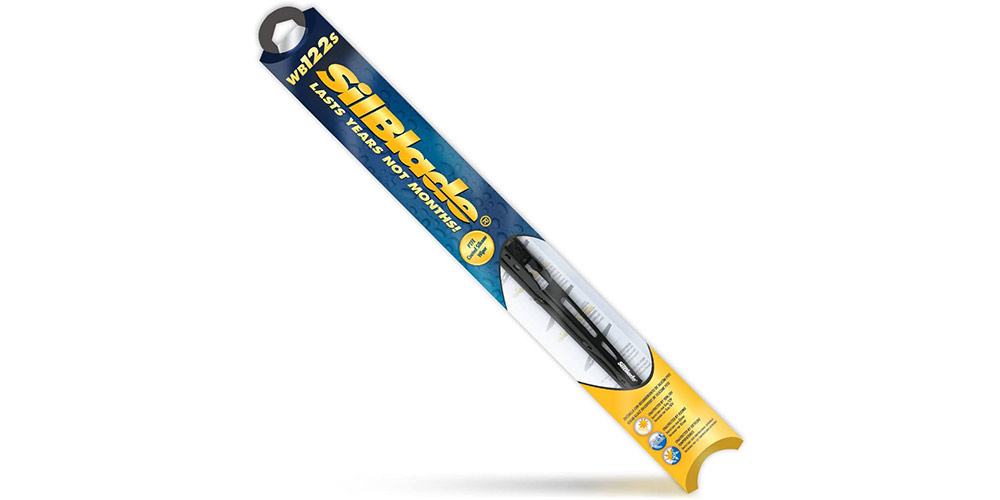 Brand: Silblade
The SilBlade Premium Silicone has a high steel gauge powder coating with long-lasting paint intended to withstand harsh weather. It uses a unique silicone wiper blade with graphite and PTFE for great performance, smooth operation, and superior visibility.
Modern curved windshields are compatible with the blades' one-of-a-kind curved frameless wiper design. They come with a unique adaptor that is already installed and made to fit the majority of automobiles. SilBlade Premium Silicone blades are available in a wider range of sizes than others, ranging from 11 to 28 inches.
#10 TRICO Extreme Weather Winter Windshield Wiper Blades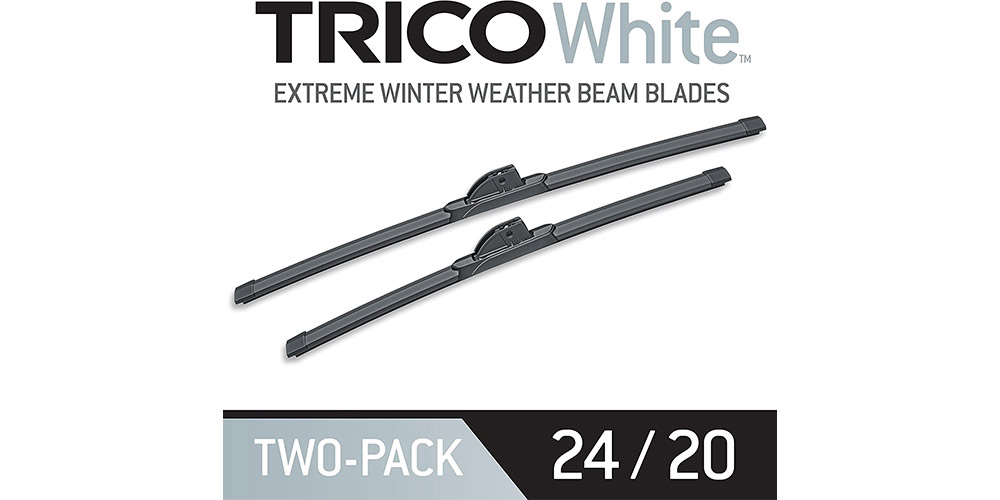 Brand: Trico
TRICO's White extreme weather winter wiper blades are one of the few premium wipers specifically built to endure winter conditions. These beam winter wiper blades are made to be sturdy enough to prevent tearing or breaking even in extremely low temperatures while still remaining flexible and soft when they contact ice buildup on your windshield.
Trico's rubber wiper blades are available in vehicle-specific twin packs in environmentally friendly recycled packaging that fits your car. These winter weather wiper blades come in sizes ranging from 13 inches to a massive 28 inches and are made with increased flexibility and curvature to meet modern windshield shapes.