Over time, car lifts have moved from workshops into people's homes. You'll likely see one of those home garage car lifts at a car enthusiast's house, so we would like to talk about all the options available out there.
Many would say it's a thing of luxury owning such a lift, while others wouldn't agree with it, however, it all depends on the lift type.
Let's say a certain dad needs to fix his daughter's hanging hose, he can probably get the job done with a regular hydraulic jack. But a gearhead would probably rather choose something like a Powerbuilt Jack lift. So, depending on the need, available space, and of course finances, there's a broad spectrum of car lifts to choose from.
In this article, we'll cover a few of the most popular choices out there, but first, let's start with the basics.
What is a Car Lift?
It's difficult to go under your car, especially if all you have is one car jack. Also, the poor lighting conditions and the chance that you'll get either stuck or hit with something are greater the less experienced you are in working on cars. This makes a car lift a crucial piece of equipment to have if you have a garage, whether you are a knock-out enthusiast or a do-it-at-home type of person. The car lift is a piece of machinery that generates pulling force whenever a car needs to be raised vertically from the ground.
Let's run through some of the best home garage car lifts.
The Cat Lift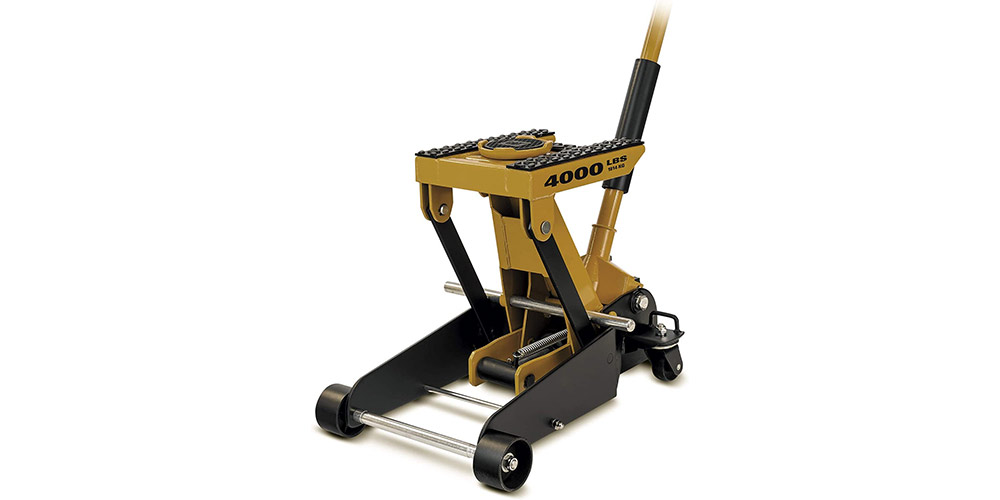 Our first choice comes from a very well-known company that makes construction equipment. All of their products have been proven to be sturdy, strong, and enduring.
The ground-breaking Cat Jack 3-in-1 has a proprietary design that raises and supports vehicles including motorbikes, ATVs, cars, trucks, and even heavy parts such as transmissions and differentials. Its maximum height is 17.5in. Both a retractable lift saddle and cushioned lift rails are part of the patented design. In addition to unibody cars and SUVs, this adaptable design works with a variety of vehicle types and frames.
Once the car is lifted, a locking safety bar keeps the lift in place, saving you the trouble of using jack supports to support the car. Cars can be quickly and easily secured in position for increased stability using the built-in tie-down loops. This is probably the only jack you'll ever need, no matter what you need to lift, because of its well-thought-out design.

The Omega Lift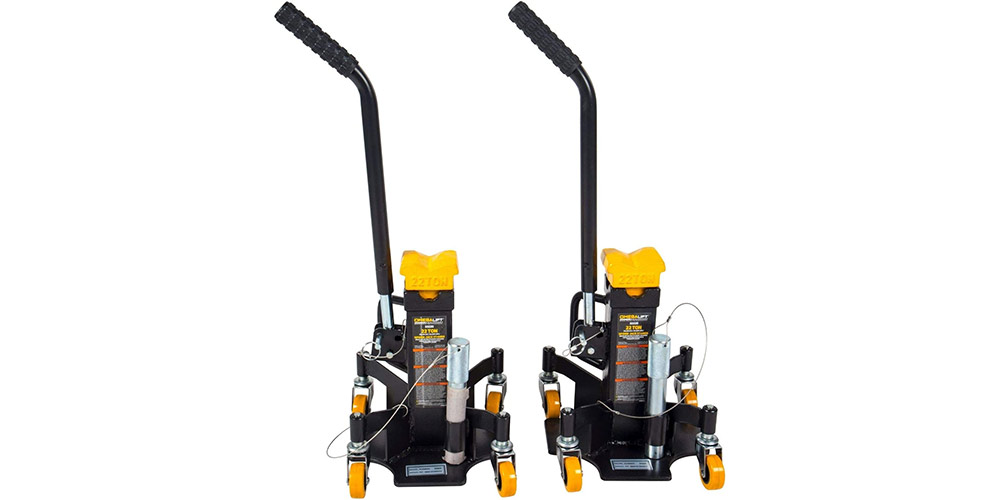 Our second choice of car lifts is one by Omega Lift. This 22-ton jack stand is made to hold your car steadily and firmly after a floor jack lifts it. In order to strengthen its balance and durability, it was designed with a wide base. The Omega lift's reinforced steel body was created for greater protection and strength.
Mobility that can be quickly unloaded is provided by four spring-loaded casters. With the help of the handle, you can easily and safely place the lift under the car.
This lift has a maximum height of 20-1/16 inches and the lowest one of 12-5/8 inches. The steel frame of this lift's heavy-duty gauge aids in preventing distortion and twisting. It can also sustain a load of 44,000 lbs.

The APlusLift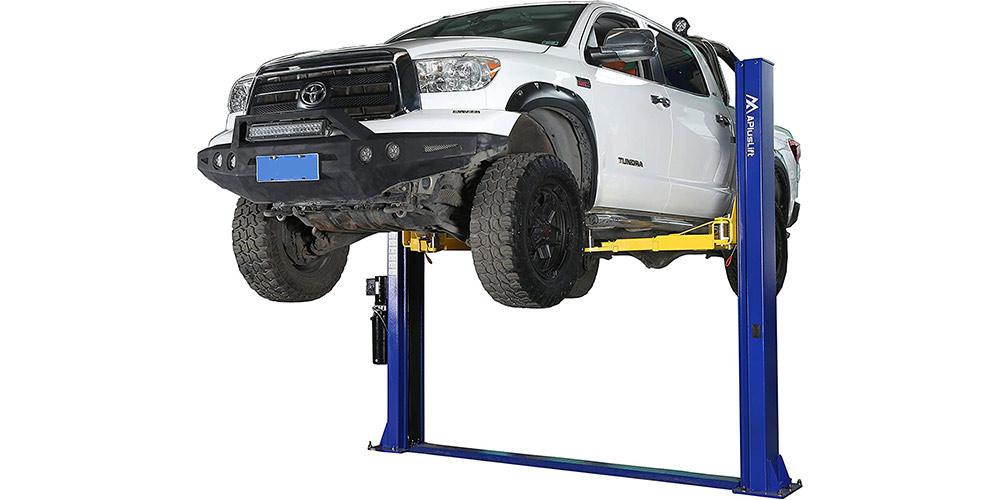 Our third choice is quite different than the previous two types of lifts. This one is bigger, better for operating, and quite popular.
This power unit is often referred to as extremely durable because it is made of sturdy Q355 steel and has a powder coat finish. It can withstand a whooping 10,000lbs!
The APlusLift HW-10KBP full-rise 2-post lift provides for a maximum raise of approximately 6 feet and 9 inches, which makes it very simple to repair cars. This 2-post lift is very adaptable and can be used on almost any vehicle courtesy of the truck adapters and screw pads that are included.
Unlike the other lifts mentioned, this one needs a little bit more space.
The APlusLift 2-post lift gives the safety and durability that 2-post lifts should provide to safeguard you as well as your vehicle.
It's crucial to note that the liftgate can't be used to unload anything. In order to remove the lift from the freight truck, the customer must have a forklift or other similar machines. Installation of the APlustLift lift is complex and requires a certified technician.

The QuickJack Lift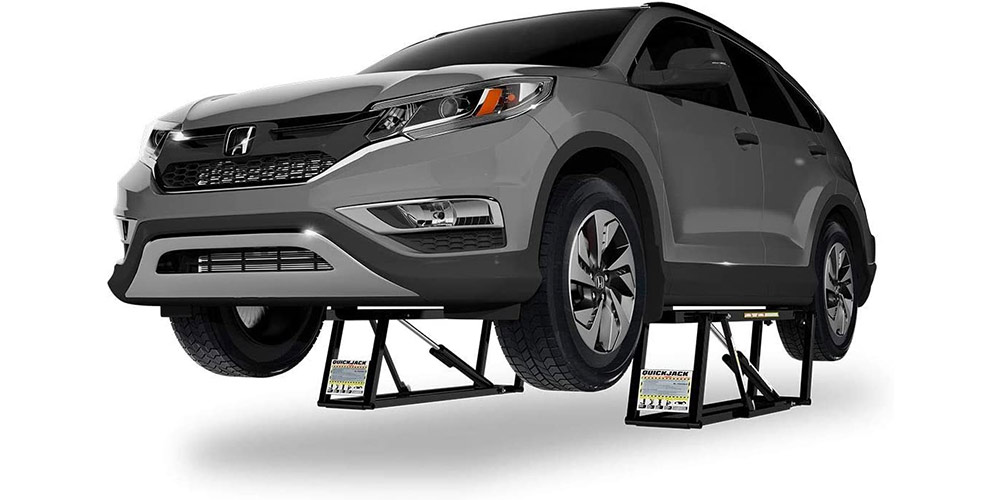 The fourth best choice for a garage car lift is the QuickJack BL-7000SLX lift. It's very easy to park your vehicle on this portable lift.
With a minimum height of 3 inches, this car lift is compact and can be conveniently packed and put up underneath vehicles with a lower ride height. This lift is a good option for major work as well because the machine can raise the vehicle up to 21 inches, making minor tasks on your car easier. An important plus is just how simple it was to set up and use the lift.
This secure car jack is ideal whether you handle all the work on the cars and trucks in your family or simply work in a smaller workshop on vehicles of all kinds.
This list includes portable lifts and two post lifts, and although we listed only 4 products, rest assured that these car lifts are the best that you will find on the market! They will cover all the needs one might have. For all the mechanics and car enthusiasts out there, this is a fantastic purchase you will surely need even once in your life.
This list includes recognized companies with a proven track record of delivering high-quality, trustworthy goods. This article concentrated on garage car lifts that are ideal for cars, but some can be used for a range of vehicles.