When it comes to the middleweight class of motorcycles, one of the best choices to make would be choosing the Honda CBR600RR.
Manufactured since 2003, the 2020 version of this bike is a 599cc championship type of sportbike that has a liquid-cooled dual overhead camshaft four-cylinder engine that has tremendous power of 113HP and a torque of 48.7lb-ft. Pretty impressive for a middleweight sports bike.
The Honda CBR600RR has won multiple awards for its weight, making it a literal middleweight champion in the world of super sports bike. What this means is getting your hands on one of these bikes will be a thrill of a lifetime.
It has a body big enough for an average American to ride comfortably in, a well-calibrated throttle response system, and a 5-gallon fuel tank.
One of the issues with the Honda CBR600RR is its sound – it's not just loud enough for a superbike. The good thing is that it can be easily solved by replacing the stock exhaust system with a new one.
We've listed down the best Honda CBR600RR exhausts that you can get to spice up your ride and give you the ultimate riding experience. The list is not in specific order or ranking, so feel free to choose whatever exhaust you want to purchase and install for your Honda CBR600RR.
What are you waiting for? Hop on and let's get right on to it!
#1 Toce Performance T-Slash Slip On Exhaust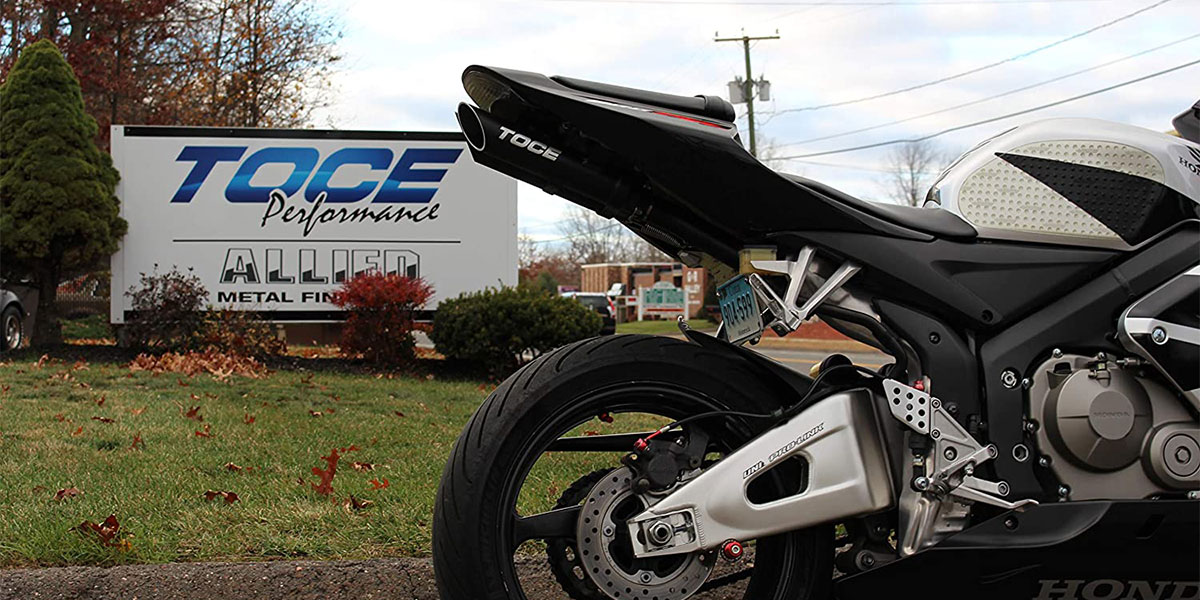 The first one on our list is the T-Slash Slip-On Exhaust from Toce Performance.
Toce Performance is an exhaust manufacturer stationed in Central Connecticut and is currently moving its products around that area. Price-wise, they parallel with the price of Akrapovic exhaust, which is a great tell that it's a premium quality exhaust.
This particular exhaust is available for Honda CBR600RR models that fall under the years 2007 to 2020.
What you get from the T-Slash Slip-On is an exhaust made from aerospace-grade aluminum, baffles made from 304 stainless steel (durable and highly resistant to corrosion), and a mid-pipe made from mandrel-bent stainless steel.
Aside from that, the T-Slash style offers a MotoGP inspired look that gives your CBR600RR an aesthetic edge. It also has a custom shaped filler body panel that goes well with a lower fairing body.
What's cool about this slip-on exhaust is the sound it emits. When we say loud, we mean LOUD. A lot of previous customers who want a loud sounding exhaust are extremely pleased with this one.
It's not just the sound, but the improvement in performance that it gives to the CBR600RR that makes the customers happy. And look at that minimalistic design too!

#2 Yoshimura RS-5 Slip-On Exhaust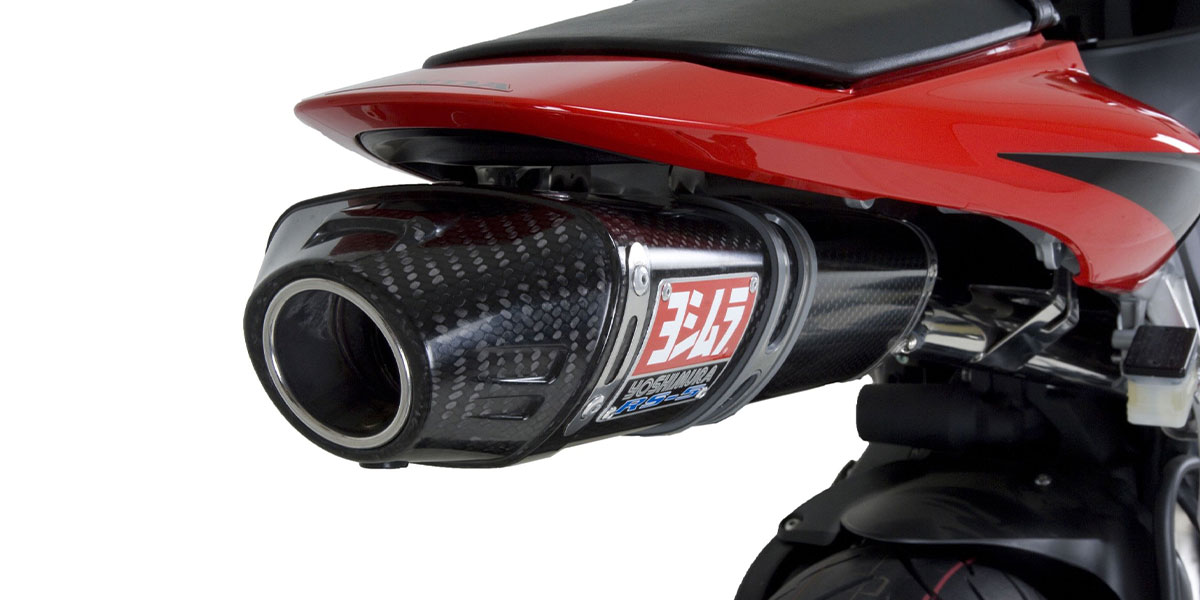 Next up is the Yoshimura, the King of exhausts for metric motorcycles. If you came to this guide looking for great-looking exhausts that amps up the aggression level of your Honda CBR600RR, then Yoshimura has something to show you.
Behold, the Yoshimura RS-5 Slip-On Exhaust, available 2008 to 2009 models.
Yoshimura's R&D made sure that their product is top of the line when it comes to looks and performance. What you see here is a Yoshimura RS-5 Slip-On Exhaust that comes on either Street or Stainless Steel finish.
It has a trapezoidal-shaped canister which captures the essence of street racing, a straight baffle, removable insert to lower the volume the exhaust emits, and an endcap made from carbon-fiber.
The RS-5 Series of slip-on is intended for racing, and that's what you're gonna get – significant weight reduction, increase in power, and an aggressive-looking exhaust that will bite anything it gets near with.
The RS-5 Series is designed to have nothing but power in mind. Reviews about this are pretty great, cementing the fact that Pops Yoshimura left a pretty great legacy for the exhaust system market.

#3 Hotbodies Racing MGP Exhaust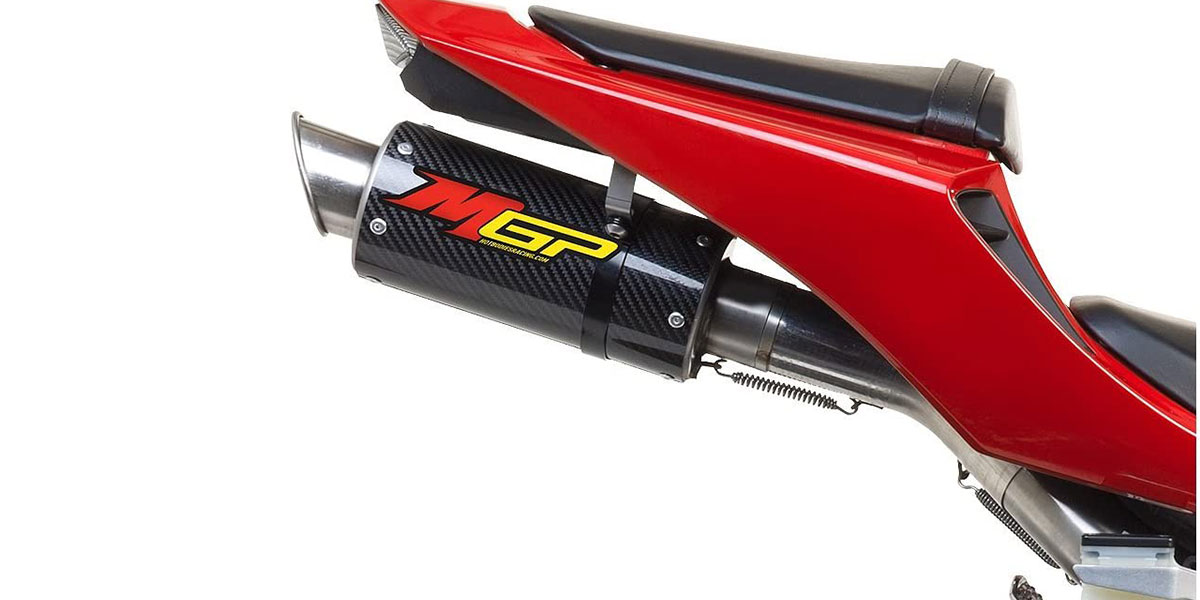 The third slot goes to the Hotbodies Racing and their MGP Exhaust, available for 2007 to 2016 models. Hotbodies Racing offers a product that will significantly improve your Honda CBR600RR's style, performance, and sound without actually tearing a hole in your wallet.
They are pretty famous for manufacturing race-quality exhaust that delivers great results. Hey, they're called Hotbodies Racing for a reason.
What's with the MGP Exhaust? Aside from the fact that it's made from carbon fiber, the end cap is made from stainless steel. Carbon fiber is known to be one of the most durable light materials, so keep in mind that this exhaust gives significant weight reduction.
It comes with all the additional hardware you need to install the bike, so you can install it yourself if you can.
This Italian made exhaust requires no modification to be done on your Honda CBR600RR, no direct replacement for the OEM, and no need for re-jetting. Reviews are pretty great, with many previous customers claiming that it produces a gnarly, loud, and savage sound.
A great buy indeed if you ask the previous customers. It looks awesome, it sounds awesome, and it's relatively cheap.

#4 Radiant Cycles Shorty GP Exhaust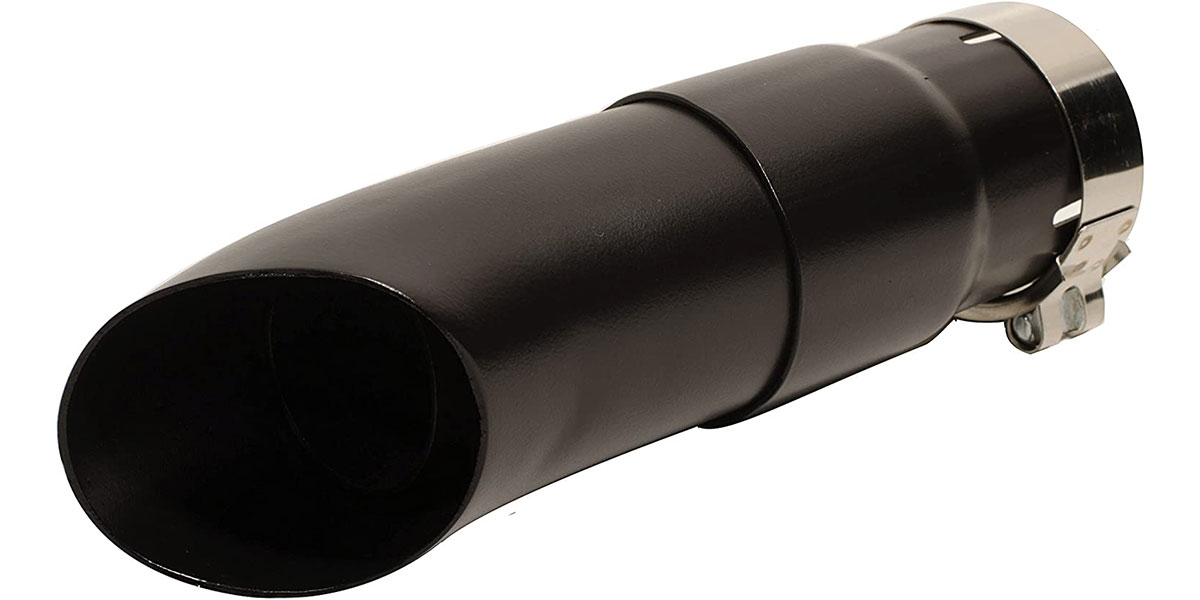 And last but certainly not the least, we have the Radiant Cycles with their Shorty GP exhaust, available for the 2007 to 2012 models of the Honda CBR600RR. If you're just interested in making your bike sound as loud as possible without being obnoxious, then the Shorty GP Exhaust is the right exhaust for you.
When we say cheap, it's ridiculously cheap. But don't worry though: it serves its purpose. Radiant Cycle shorties are manufactured to be loud, durable, lightweight, and easy to install. It's got a black finish and a high-flow baffle to assist the exhaust gas flow for maximum engine efficiency.
What's so great about the Radiant Cycles Shorty GP Exhaust is that they are extremely easy to install. This slip-on is designed to directly fit into your OEM headers. With a perfect fitting exhaust available for a very low price, what more can you ask for?
Just be warned though, this shorty exhaust is really loud. We warned you!