Even if you frequently clean your car's interior and exterior, there's a considerable possibility that you don't also clean the engine. Because the filth and grime in the engine bay are frequently far more difficult to remove than anything that builds up on the body or the interior carpets, many people don't even try to do it. An engine degreaser can be useful in this situation.
It requires a specific product designed to eat through the dirt and oil mixture that has been baked at really high temperatures for a long time to remove the gunk from your engine. A highly formulated engine degreaser that will break down and loosen under-hood dirt is required to remove gunk like that.
If you have a cleaning obsession and are aware that the engine compartment needs a certain cleaner, you might be confused about which to pick. We want to make finding the best engine degreaser a little bit simpler for you in this article so you can start cleaning that dirty engine bay.
#1 Chemical Guys Signature Series Orange Degreaser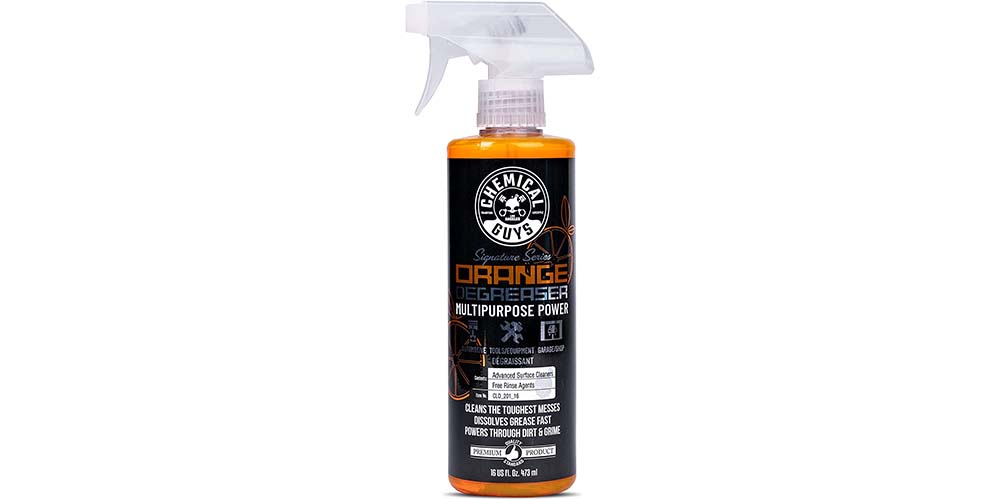 Brand: Chemical Guys
The Chemical Guys Signature Series Orange Degreaser contains a citrus-based compound that removes grease, filth, dirt, and other debris from your engine compartment. It is intended to be used to dissolve baked-on combinations of dirt and different lubricants, and it may also be used to remove filth from your car's wheels and undercarriage. You can even use it on your garage floor or tools, which can all accumulate debris comparable to that found in an engine compartment.
The Orange Degreaser from the Chemical Guys Signature Series is easy to use. You apply it to the affected region and then wipe it away. You might need to use a bit of extra elbow grease in areas with thicker filth. You can apply a thick layer of Chemical Guys Signature Series Orange Degreaser to areas that are safe to do so, such as the wheel wells or certain areas near the engine bay, let it soak for a while, and then rinse it off with water.
The Orange Degreaser removes difficult filth and leaves behind a delightful orange scent.
#2 Gunk Original Engine Bright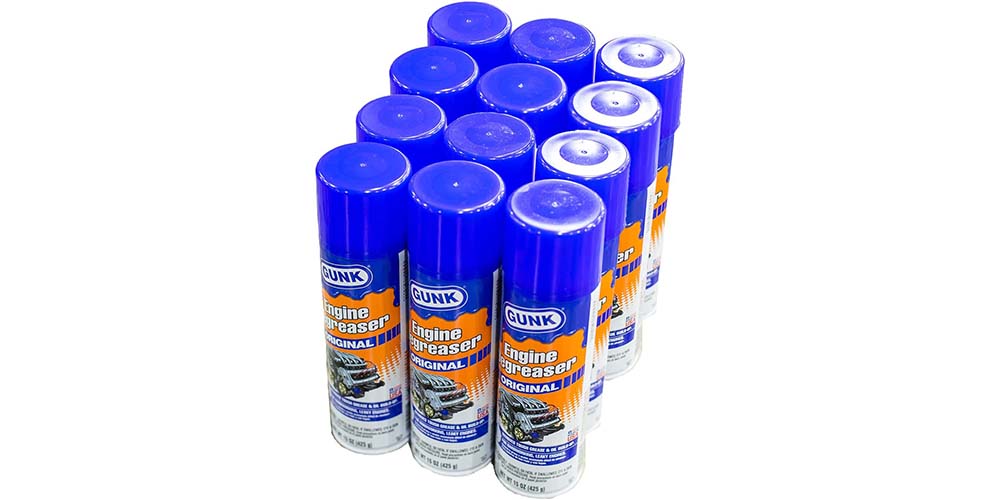 Brand: Gunk Original
Gunk Original Engine Bright is undoubtedly the best product for removing engine gunk. One of the well-known brands in the market is Gunk, and one of its top-selling items is the Original Engine Bright. It is designed specifically to remove difficult grease and oil buildup from older engines, especially in cases where the vehicles have experienced fluid leaks.
The toughest engine bay messes may be cleared up with Gunk Original Engine Bright, and it does it without any scrubbing. Spray the Original Engine Bright on the desired area, then wait ten to fifteen minutes. During that time, the baked-on dirt is eaten away by the Gunk spray, which then lifts it off the various surfaces. When you wipe the engine down with water after 15 minutes, the filth is removed.
#3 Griot's Garage Engine Cleaner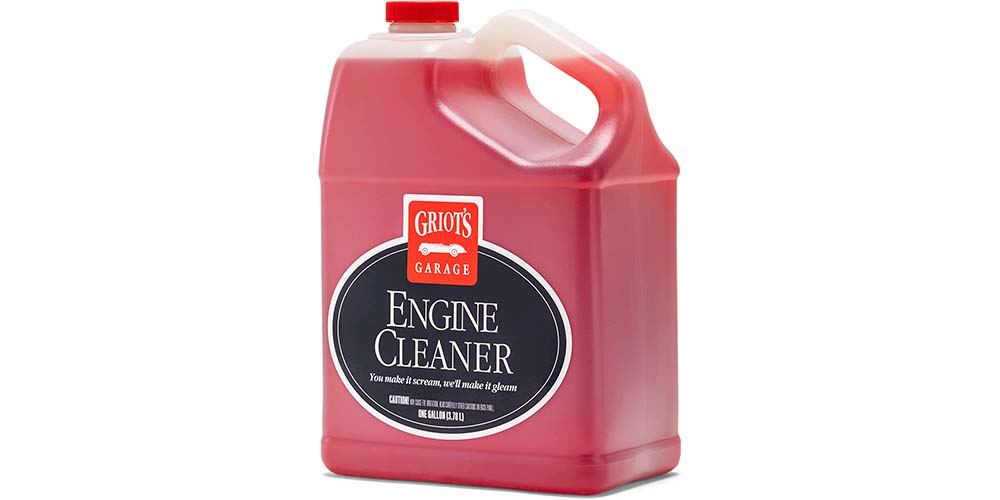 Brand: Griot's Garage
Griot's Garage Engine Cleaner is the right product for you if regularly detailing your car includes cleaning the engine bay. The dirt that accumulates on the engine during the routine drive is made loose and removed. If your hood has heat extractors or a hood scoop, you might notice that driving in the rain causes the engine to become very dusty. This cleaner is made to get rid of the grime without using any harsh chemicals, leaving your engine gleaming for the next auto show.
Spray the dirty area with this item, then use a microfiber towel to assist break up any lingering solids. Once everything is loose, a short rinse gets rid of the cleaner and the dirt, and a quick dry wipe will get rid of any water stains.
This recommendation is one of the priciest engine degreasers on this list, but if you clean your engine bay frequently, you'll probably find it works the best for you.
#4 Sonax Engine Degreaser and Cleaner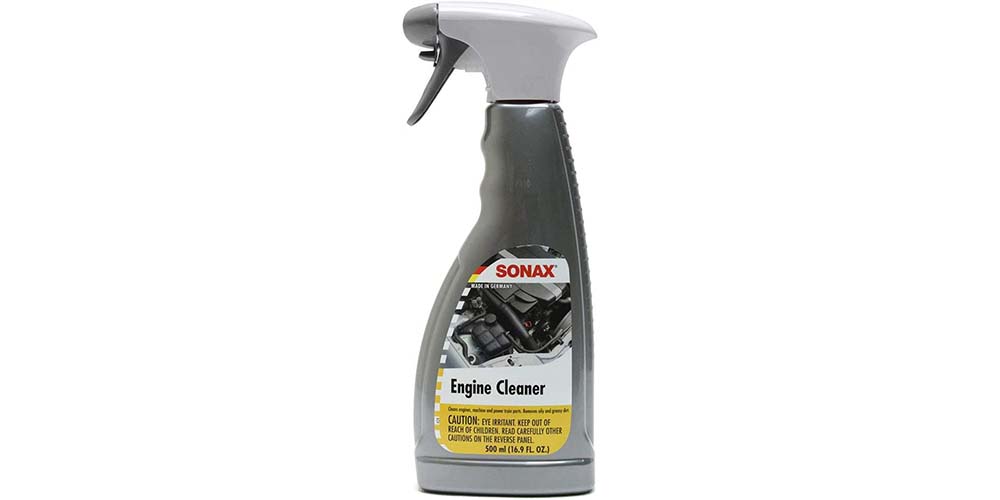 Brand: Sonax
Sonax Engine Degreaser and Cleaner are made to get rid of grease, filth, oil, and other Gunk from your car's engine. The spray bottle gets the potent cleaner into awkward places where it soaks into unseen filth and aids in cleaning the engine compartment of all remaining Gunk. Despite being phosphate-, solvent-, and acid-free, it is nonetheless designed to remove engine sludge effectively.
Even though Sonax Engine Degreaser and Cleaner is intended for no-touch use, the dirtiest engines might require a little scrubbing. You start by spraying the places where you wish to get rid of engine filth, then waiting three to five minutes before proceeding on. The dirt, oil, and debris are subsequently washed away using a powerful water jet. If there is still dirt present, you might need to apply a little more cleaning solution to the area before giving it a brief scrub with a scrub brush. You then rinse the mess away and enjoy your sparkling-clean engine.
Avoid placing electronic components in the engine compartment, and only apply the cleaner to a cool engine that is not exposed to direct sunlight. When used on a warm engine, the substance may dry too quickly, obstructing cleaning and leaving stains on black plastics.
#5 WD-40 Specialist Machine & Engine Degreaser Foaming Spray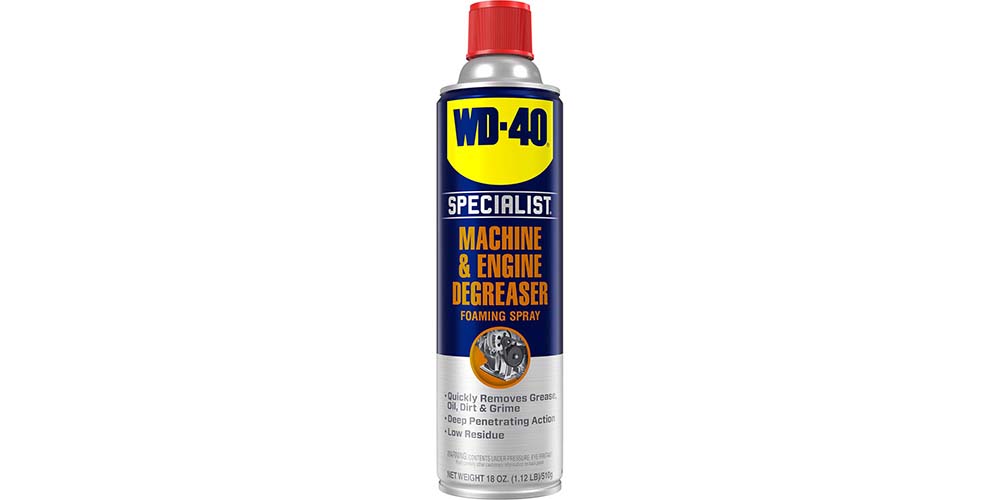 Brand: WD-40 
You've probably heard of WD-40 for removing rust and loosening bolts, but WD-40 Specialist Machine & Engine Degreaser Foaming Spray is designed to remove baked-on filth from your vehicle's engine. The aerosol can be sprayed up to five feet, applicable you to attack grime in hard-to-reach spots, with the water-based foam chipping away at engine bay gunk.
Spray this product onto the grimy portions of your engine. The foam sticks to such areas and swells into small spaces, dissolving the oil, grease, and other contaminants, dirt, and the filth beneath it. After washing, wipe away the dust. That does not harm rubber or plastic because it is water-based, and unlike many harsh chemical cleaners, it is non-toxic. It does not harm rubber or plastic because it is water-based, and unlike many harsh chemical cleaners, it has no strong odor. A more foamy spray may be necessary for some circumstances to remove any leftover material.