A home garage lift is exactly as it sounds; a mechanical device that allows your vehicle to be raised to provide extra space to service your car right in the comfort of your own home garage.
These handy pieces of equipment can provide you the opportunity to service your car while giving you extra space to properly work on your vehicle and in some cases, provide extra storage as well.
Rather than a standard jack, a home garage lift is more stable, safe, and secure than the old-school method of jacking up one side of your vehicle at a time.
If you are a mechanic or just someone who enjoys working on vehicles, a home garage lift could be just the item you need to further your hobby or provide mechanic services yourself right out of your own garage.
A home garage lift can also be beneficial if you need to park your vehicle for extended periods of time since a lift helps reduce pressure off of tires during long periods of your vehicle being in storage.
In addition, you can often stack vehicles and park one on top of the other in order to maximize garage space.
These crucial pieces of the mechanics trade are a smart investment to anyone who loves to work on their own car, or is looking to learn how.
Why wait? Check out our best home garage lifts and see what you have been missing out on!
1. APlusLift HW-10KOH Two Post Lift
The APlusLift HW-10KOH Two Post Lift is a top-rated home garage lift that can fit all your needs perfectly.
This lift has a 4.7-star rating on Amazon and comes with a 24 month part warranty so you can rest assured knowing you are covered if anything does arise.
The APlusLift HW-10KOH is a CE-certified Lift Structure and Hydraulic System as well as having a heavy-duty design to secure your vehicle's safety and more so your own safety while you are working on your vehicle.
Some added benefits for the APlusLift HW-10KOH are its dual hydraulic cylinder chain drive and symmetrical/asymmetrical arm assembly for ultra-stable lifting on a variety of vehicle lift points.
Safety is a priority and this home garage lift boasts these top of the line features:
Double point safety lock release
Automatic arm lock restraints
Relief valve
Built-in power pump to prevent overloading
Up-limit switch to protect cylinders
Heavy-duty pulley that reduces stress and increases cable life.
These safety enhancements ensure that you can feel safe and secure while your home garage lift is being used. The APlusLift HW-10KOH is also easily operated with an easy access lift-up button and a manual lowering operation.
This home garage lift is perfect for most home mechanics' needs and is a great investment to further your mechanical career or enhance your hobby.
Name: APlusLift HW-10KOH
Brand: APlusLift
Max Weight: 10,000LBS
How Many Posts?: Two Posts
Where To Buy: On Amazon
Is It Portable?: No
2. Bendpak MD-6XP Mid Rise Scissor Lift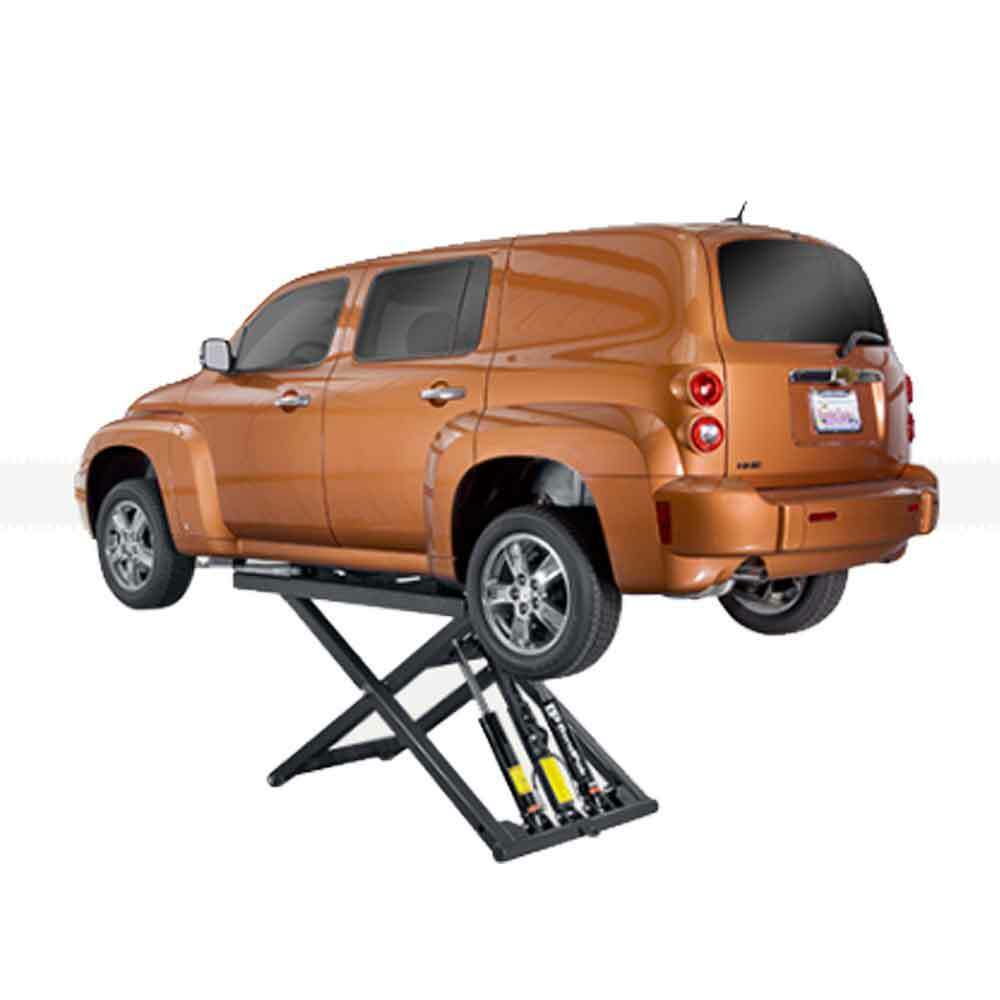 The Bendpak MD-6XP Mid Rise Scissor Lift is a perfect home garage lift for those who want a portable home garage lift that also uses less space.
With a 6,000 LB lifting capacity, you can utilize this home garage lift to lift even larger vehicles with ease, as well as have the ability to move the lift to various spaces. Four solid steel support bars make this the strongest lift in the portable lift class.
You can feel safe while using this lift as it not only has solid steel support bars it also has powerful safety lock bars to make any safety failures near impossible.
This home garage lift offers multiple locking positions to give you the ability to work in various working heights, which allows for less frustration and less fatigue.
The Bendpak MD-6XP offers a dual master hydraulic cylinder which ensures an even rise as well as an even descent which creates an equal balance of pressure to prevent tipping of your vehicle and to assure equal weight is applied across the structure.
The Bendpak MD-6XP also packs in an industry-leading warranty:
Two Years (24 Months) Warranty on the lift structure
One Year (12 Months) Warranty on the hydraulic cylinder(s) and power unit
One Year (12 Months) Warranty on operating components
One Year (12 Months) Warranty on electrical components (excluding power unit)
One Year (12 Months) Labor Warranty on-site or at factory
One Year (12 Months) Free Shipping on ground‐freight charges related to warranty performance
This home garage lift is guaranteed to be a great investment for those looking to maximize space and get a lift from one of the industry's top manufacturers.
Name: Bendpak MD-6XP Mid Rise Scissor Lift
Brand: BendPak
Max Weight: 6,000 LBS
How Many Posts?: 0
Where To Buy: On eBay
Is It Portable?: Yes
3. Triumph NT9FP 2 Post Lift
The Triumph NT 9 FP is a great home garage lift for those that want a sturdy, heavy-duty, garage lift mounted into the concrete of their garage. This heavy-duty machine can lift up 9,000 lbs and offers handy features that make lifting a variety of vehicles in a variety of garage sizes quick and easy:
Three-stage front arms that can handle a variety of vehicle pick up points
Floor plate to cover cables and hoses
Fits under a low ceiling
This heavy-duty lift has a 4.3-star review with generally positive feedback from customers. With 16 different locking positions, mechanics will have a variety of height options to work on their vehicles and a sturdy frame that creates a safe environment to prevent accidents.
The Triumph NT 9FP home garage lift is recommended to be mounted on a concrete floor to give you a safe, and efficient working space while the sleek, powder coating finish will create a clean look to any garage.
Name: Triumph NT9FP
Brand: Triumph
Max Weight: 9,000LBS
How Many Posts?: Two Posts
Where To Buy: On Amazon
Is It Portable?: No
4. QuickJack BL-5000SLX Portable Lift
If you are in the market for a top-of-the-line, fully portable home garage lift then the QuickJack BL-5000SLX could be exactly what you're looking for.
Safety is always a top concern for vehicle lifts and this portable lift delivers. It utilizes automatic safety locks to give you ease while working and dual-position automatic safety locks that securely glide into place as the frame rises and will disengage with a simple switch of the lock bar.
QuickJack shaved off 3 inches from one end to the other making it easier to stow in small spaces, as well as being able to work on vehicles with narrow wheelbases.
They've also improved the lift point access with the minimum lift point reach now two inches less than before, which gives mechanics the opportunity to accommodate smaller vehicles with much more ease.
Operation on this portable home garage lift is incredibly simple. The patented one-handed operation lets you control the lift with the pendant control in one hand while your other hand is completely free.
In fact, the easy operation on the QuickJack BL – 5000SLX creates a smoother workflow and is the key selling point for this home garage lift.
If easy, efficient, safe, and space-saving is what you're looking for in a home garage lift, then the QuickJack BL-5000SLX is exactly what you're looking for.
Name: QuickJack BL-5000SLX
Brand: QuickJack
Max Weight: 5,000LBS
How Many Posts?: 0
Where To Buy: On Amazon
Is It Portable?: Yes
5. Bendpak XPR-10AXLS
For a home garage lift with extra height and a 10,0000 lifting capacity, the BendPak XPR-10A XLS is the ideal home garage lift for you if you are looking for a true, heavy-duty home lift.
This beefy home garage lift gives added lift capacity for taller technicians and will give you the opportunity to fully look at your work area while providing ultimate safety. The BendPak XPR-10AXLS home garage lift has an added overhead safety shutoff bar to protect you as well as your vehicle against harm.
For increased versatility, the Bendpak XPR-10AXLS offers double telescoping screw pads to offer more convenience while working on challenging pick-up points.
Bendpak's "tru-metric" arm design for more arm positioning and columns that rotate at 30 degrees. These rotating columns offer improvement with door opening clearance, making for easier access to the vehicle's interior while on the lift.
With a clear floor design, you are receiving an obstructed workspace to help accommodate equipment as well as provide safety and security while you are working on your vehicle.
If you're looking for a professional style, heavy-duty garage lift to perform your job then this may be the home garage lift you are looking for.
Name: Bendpak XPR-10A XLS
Brand: BendPak
Max Weight: 10,000 LB
How Many Posts?: 2 Posts
Where To Buy: On Amazon
Is It Portable?: No
Is Home Garage Lift Right For You?
Whether you are looking for a way to further your mechanic career, or you are a DIY semi-pro that loves to work on their own vehicles, then a home garage lift is the perfect choice for you. You can have added space and more room to provide service to your car with safety and convenience that a standard jack cannot provide.
Choosing between a mounted home garage lift and a portable home garage will give you many options to choose from. This is a great investment for all mechanics out there.
A standard jack can create safety issues as well as not properly allowing you to service your vehicle as you cannot fully see everything that needs to be done. In addition, some jobs (such as working on the oil pan, or suspension) are simply not possible on a traditional jack.
Don't wait, go out and get a home garage lift today, you will not regret it!