Installing one of the top garage parking aids isn't simply practical; it can also help you save money and your vehicle. We were unable to locate statistics for daily drivers. However, for collector cars, incidents that occur when the cars are parked in the garage account for the majority of insurance claims. Every day, people lower their garage doors onto car hoods and roofs, slam doors, crash into walls, and drop objects onto their vehicles. Common sense can prevent an overcrowded shelf from sliding onto a parked car, but we've parked in dark garages where one door could hardly open, and a parking aid would have made our life so much simpler and safer.
Consider your available space, whether parking in your garage will be well-lit, and if you like to back in or park nose-in when selecting a parking aid. Parking aids that are floor-mounted may be in the way while your car isn't there or when you're working on it, while those installed on the ceiling will need to maneuver past overhead doors as well as light fixtures. None of them are particularly pricey, but a lot of them require some setup time, particularly the ones that need to be installed on the ceiling and using a ladder.
If you are looking to purchase a garage aid, we came up with a reliable list of the top 5 best parking garage aids available today. Check it out below.
#1 Maxsa Park Right Mat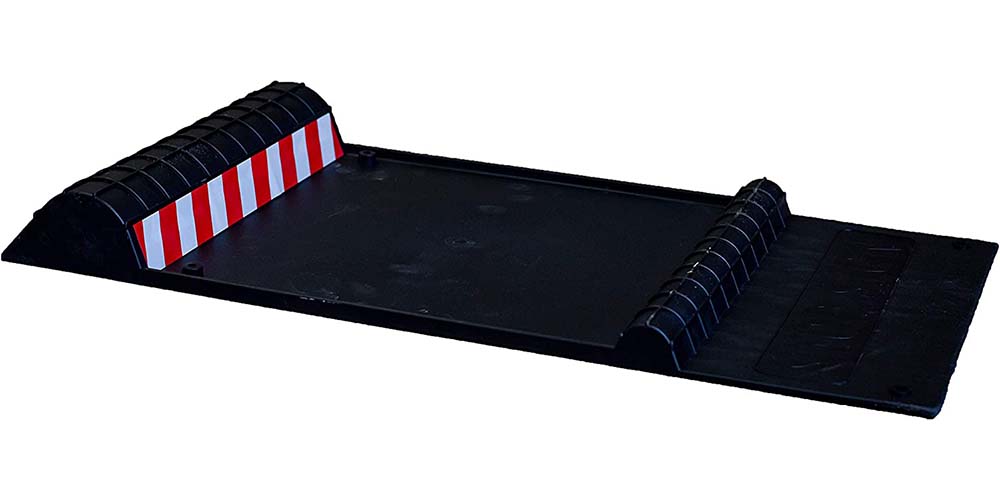 For many people, the Maxsa Park Right parking mat is the top pick. When backing up, in dark garages, or with tinted windows, it can be difficult to notice visual parking aids like the tennis balls or even the Fosmon laser system below. There's no mistaking the feel of this parking mat, but they can be beneficial, particularly if you're working in your garage and can't have anything on your floor.
There are red and yellow versions for enhanced visibility, but we'd advise against using the double-sided tape that it comes with to fix it semi-permanently. Placing an inch-high lump on the garage floor is a serious trip hazard. There were no issues with it sliding around without the tape because it isn't particularly heavy but is sticky. Once it was in the desired location, we stenciled two corners using spray paint so that we could return it there whenever we desired.
Although there is a raised lip to capture drips off your tires, this feature is more of a gimmick unless you purchase four of them. The second bump stops you even if you have large wheels and tires; even if you are lined up properly, you might not feel the first bump. Sadly, it's really only 11 inches wide, making it a small, challenging target, particularly if you're backing up. If it were closer to 18 inches wide, we'd prefer it better.
#2 PAUTO-P Double Garage Parking Aid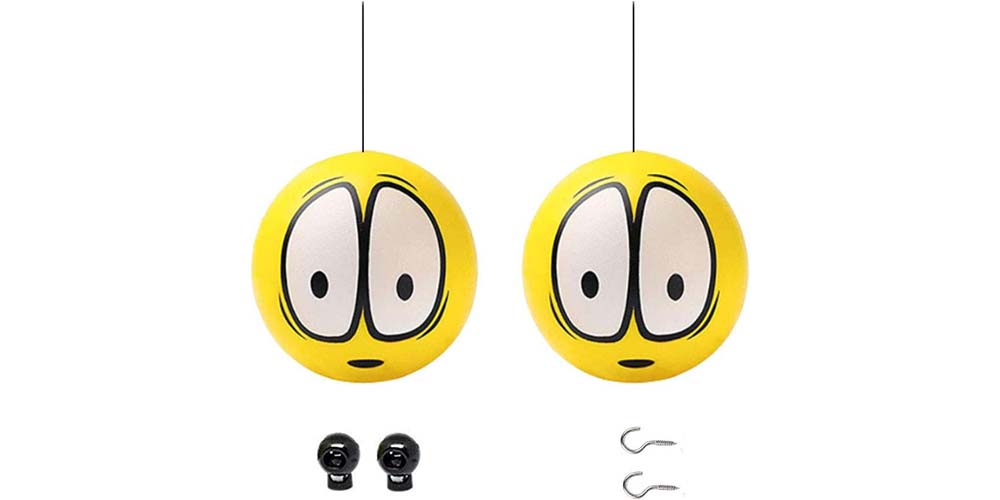 Tennis-ball-on-a-string comes in a wide variety of options, so we decided to try out one of the best brands. With some screws, string, and hot glue, you could DIY it, but by that point, you might as well spend a few dollars on a ready-made PAUTO-P brand.
This pair of hanging balls includes long elastic cords, screw eyes for the garage ceiling, and spring-loaded clips so you may alter the length. To get it lined up properly, it took us several tries and trips to our ceiling while maneuvering our car in and out of the shop. It helps to use a measuring tape to gauge the distance from the ground to your windshield. We frequently take a step back and prepare for that. It was practically unnoticeable when viewed through a darkly tinted back windshield in a garage. It will function significantly better if you pull in forward. In our example, it also leaves a ball hanging 52 inches from the garage floor, where you can trip over it repeatedly.
We are confident they will stand up well to the challenges of hanging in your garage because we were quite impressed to see that it kept attached and didn't stretch out.
#3 Fosmon Dual Laser Garage Parking Assist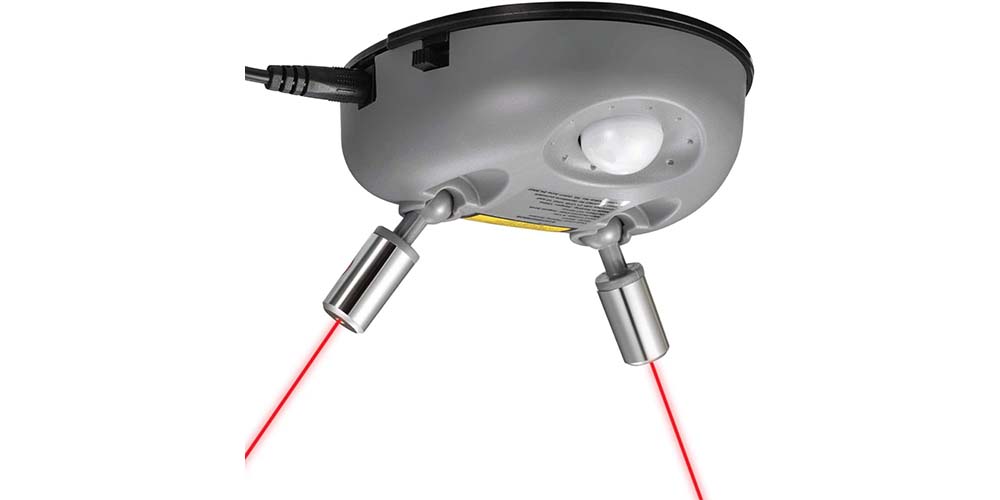 We are not entirely sure what to really make of the Fosmon laser parking aid. It delivers on its promise and shines two red motion-activated lasers in any direction you aim them. The only two that leave your garage floor (and airspace) clear are this and the LogicXYZ. However, the Fosmon offers more mounting choices and doesn't occupy any wall space.
It is designed to allow you to set it up for automobiles on both sides of a two-car garage, thanks to its two aimable laser diodes. The main unit hooks into a thin plastic backplate that is firmly screwed in. It can be effectively powered by the supplied AC adaptor or a 9V battery.
The lasers were difficult to see because they were such a little but bright dot, and it took many trips back up and down the ladder as well as in and out of the automobile to aim them correctly. The only place they were visible was on the windshield, so we also had to recall where we'd pointed them.
We were constantly blinded by them as we walked in front of the beams while the garage was empty. After a while, we grew tired of that and pointed them both towards the taillight of an old moped that we had suspended from the ceiling as a nice, motion-activated garage decoration.
#4 LogicXYZ Garage Parking Assistant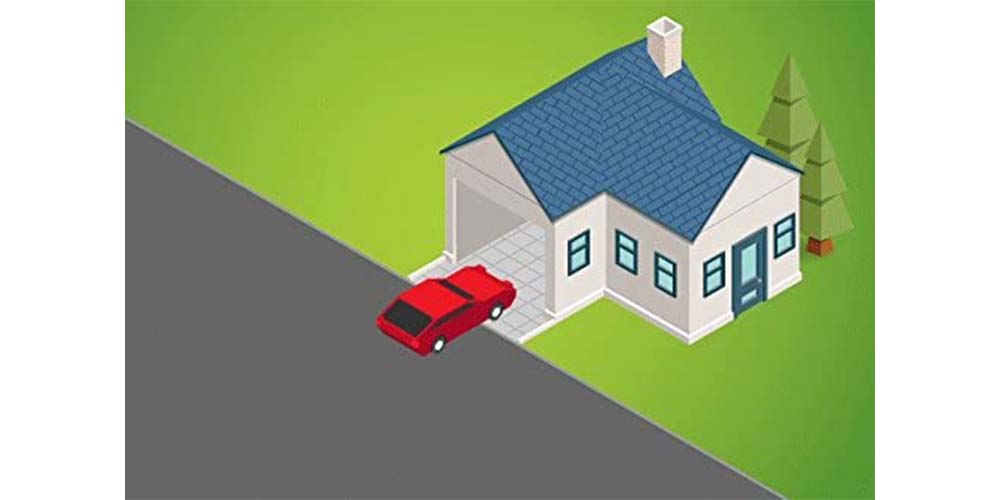 A digital display from LogicXYS can be mounted on the wall of your garage. You can see exactly just how many inches you are from that garage (or external house) wall using the display unit and two sensors. Would you like to park a half-inch from the wall? Watch for two to appear on the screen. Would you like to park just like a normal person? Choose a number around 24.
All you need for this product is power. The main feature of this garage parking aid is that it will continue to function effectively even if you park a variety of automobiles inside. All you have to do is calculate the ideal separation for each. You could hang a large chart to remind you that the truck needs three feet and the car needs four, but you won't have to worry about being in the garage's back even when the light is red.
#5 Park 'N Place Perfect Parking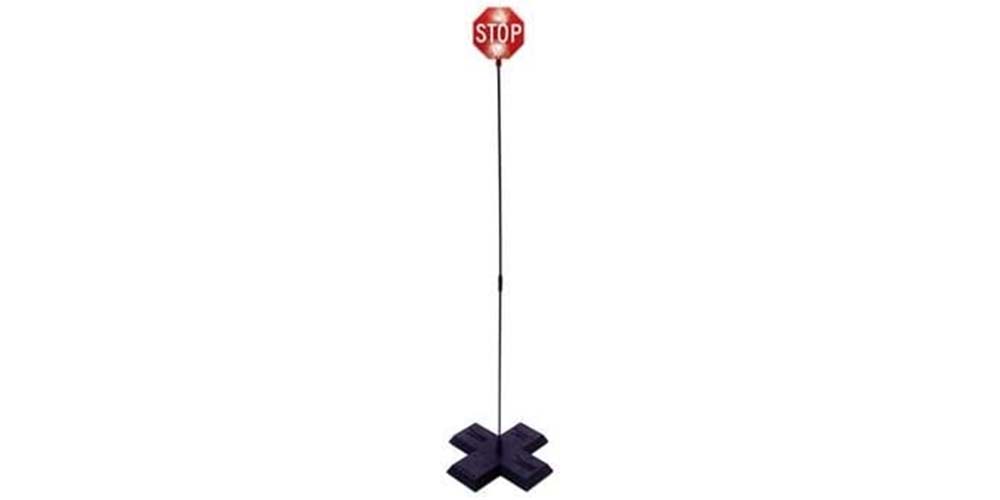 This can be an excellent option for a parking aid if you don't need to worry about wandering about in an empty garage while your car isn't parked inside because it's basic, straightforward, and easy. Really, all you'll need in your garage is a pole with a stop sign on top that is extra-flexible.
Drive till you tap the pole in front of it, and you will always be parked in the proper location. The sign is kept in place even if you approach it quickly thanks to the wide base, and battery-operated lights inside the sign illuminate when you touch the post, alerting you to the need to stop. Terrific if you have a little brain fade because you can't wait to get home. In an emergency, the flashing lights may run continuously for up to 72 hours, providing you with the necessary light in your dark garage.
Essential Information on Parking Garage Aids
We advise at least a simple parking aid to ease the stress of putting your car away because cars are expensive and garages are small. Just drive up to the mark swiftly and without tension, saving yourself the time it would take to check your mirrors and twist your neck. Why wouldn't you try to reduce stress if you can?
Your needs will determine what to search for, but a basic requirement is a method of indicating where to stop. Some simply flash red, while others touch your glass or leave a laser line on the dashboard. Choose a light with a sensor that will change color as you go closer if you'd prefer to have one.
Use a tennis ball style if you don't want to be concerned with plugs and power. The frequency of battery replacement will depend on how frequently you use it and the sensor itself if you choose one that runs on batteries. Use a plug-in sensor together with a ball for backup and dependability if you have to pull into the garage that day despite the sensor not working. A battery-powered garage parking aid is the best alternative to long lines of extension cords and dubious adapters if your garage, like many others, has insufficient or no power sockets.
Searching for a parking garage aid that is simple to set up and install, ceiling-mounted solutions won't be ideal for you if you're not ready to climb a ladder. In this situation, a wall sensor mount makes more sense.