Do you want to perform car waxing duties on your vehicle but don't have the luxury of time using traditional paste wax that usually takes an hour to apply? A smart option that you should look into is a spray wax. Although spray waxes won't last as long as paste wax, you can apply this in as short as 15 minutes – depending on your vehicle's size. Spray waxes offer good protection without exerting too much effort. It functions better if a layer of protection has already been applied to your vehicle. The ideal scenario is to use a spray wax after washes and also between heavy detailing sessions.
If you are determined to purchase a spray wax but can't decide which to choose, we came up with a reliable list of the top 5 best spray waxes available today. Our recommendations will help narrow down your choices from hundreds of products being sold on the market.
#1 Meguiar's Hybrid Ceramic Wax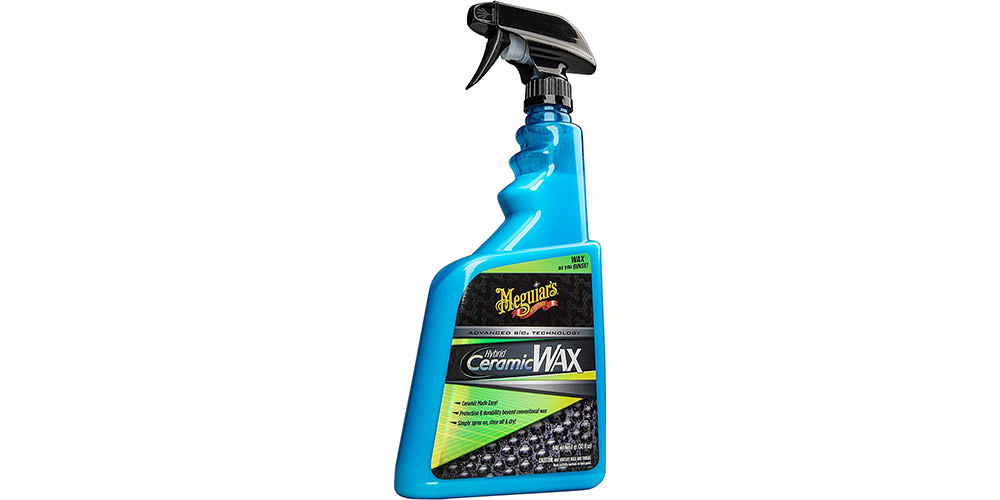 Brand: Meguiar's
Meguiar's is considered one of the most respected brands. Right away, we knew that our list would not be complete without a spray wax from Meguiar's. Rightfully so, the product from their lineup that we chose is Meguiar's Hybrid Ceramic Wax. This spray wax features advanced SiO2 hybrid technology that offers ceramic wax protection without any complications and difficulty in applying.
After washing and rinsing your car thoroughly, you just spray this hybrid ceramic wax, then rinse it off using water. Dry your car afterward, and you're good to go. No need for curing, buffing, or rubbing. You need not worry about leaving a mess after.
Ceramic wax protection is becoming a popular choice in the past few years; that's why many car care brands have been offering hybrid ceramic detailing options. Ceramic wax provides water beading action and adds a protective layer that works better than conventional wax. If you want a trusted brand and a reliable solution for your spray waxing needs, Meguiar's Hybrid Ceramic Wax should be a no-brainer. 
#2 Lucas Slick Mist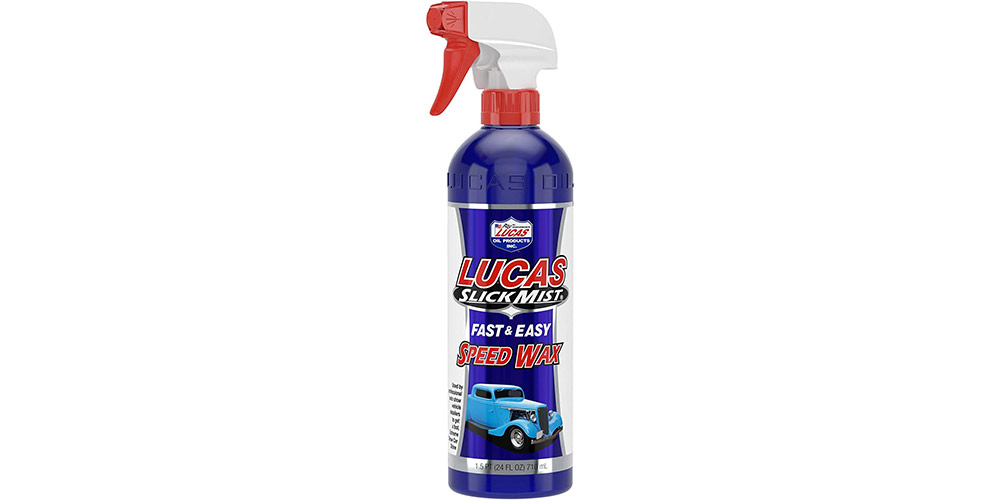 Brand: Lucas Products
If you're looking for a spray wax that you can apply while in direct sunlight, the Lucas Slick Mist is an option we highly recommend. Lucas Products is a brand that has a solid reputation. The company is actually popular for its oil additives but also offers other car care products. For this list, we picked the Slick Mist Speed Wax. This product is engineered for use on any point job, vinyl decals, and wraps. You can apply this on either wet or dry surfaces, even when your car is in direct sunlight. This spray wax offers UV protection plus a long-lasting shine.
Aside from painted surfaces, you can also apply the Slick Mist Speed Wax on chrome, aluminum, or glass. Just take note that the company does not prefer using this wax on pedals, motorcycle seats, steering wheels, or surfaces that may cause danger due to slipperiness.
#3 Griot's Garage Best of Show Spray Wax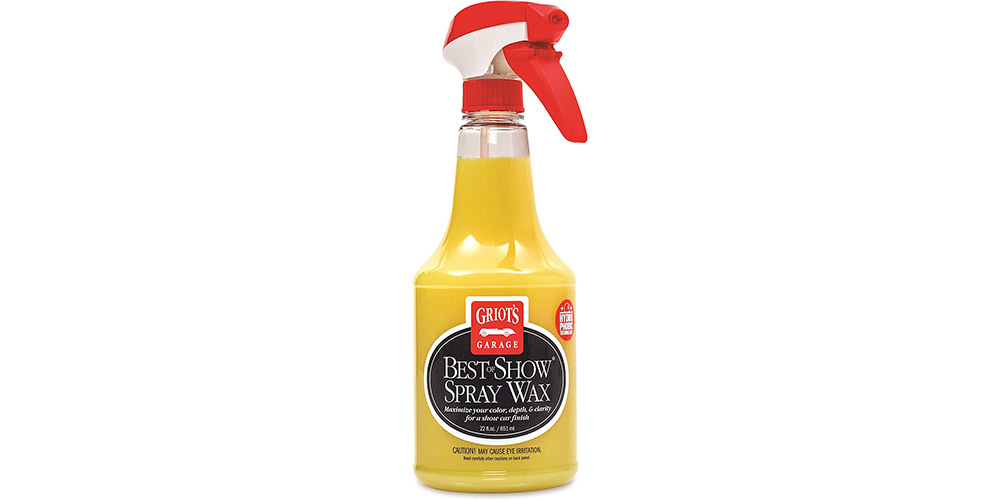 Brand: Griot's Garage
Another impressive spray wax option that we highly recommend is Griot's Garage's Best of Show Spray Wax. According to the company, this wax can offer up to three times more durability compared to other spray waxes. This product comes with unique polymers and carnauba wax. From all of the spray waxes in Griot's Garage's lineup, the Best of Show Spray Wax contains the highest carnauba content.
This spray wax is an incredible product to use after applying a layer of sealant or wax. With regular use of Griot's Garage's Best of Show Spray Wax, you can help in extending the lifespan of the existing sealant or wax. When you use this spray wax, you just spray it and then lightly buff it. Wipe it off by using a clean towel, and you're good to go. 
#4 Turtle Wax ICE Spray Wax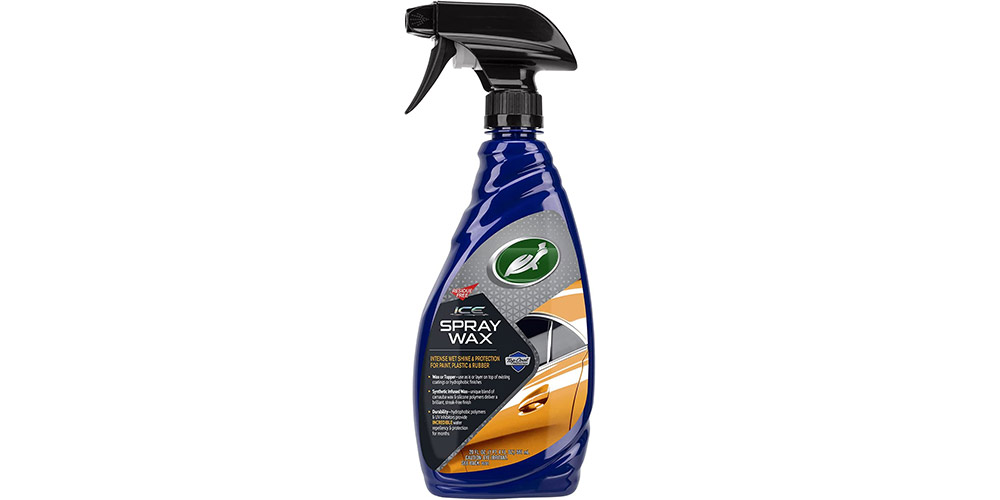 Brand: Turtle Wax
Turtle Wax is a brand that has a long and rich history, no wonder it has been a well-respected name when it comes to car care. The company has a great lineup of spray waxes, but on this list, we chose the Turtle Wax ICE Spray Wax, which is backed up by "Smart Shield" polymers that help in providing long-lasting protection. This product provides exceptional water beading plus impressive UV protection.
The Turtle Wax ICE Spray Wax is designed to work on all exterior surfaces, which includes rubber and plastic trim. It can even be applied on glass and create added protection for your windows and windshield. If you use other Turtle Wax products on your car, it will work great with them.
#5 Adam's Polishes Spray Wax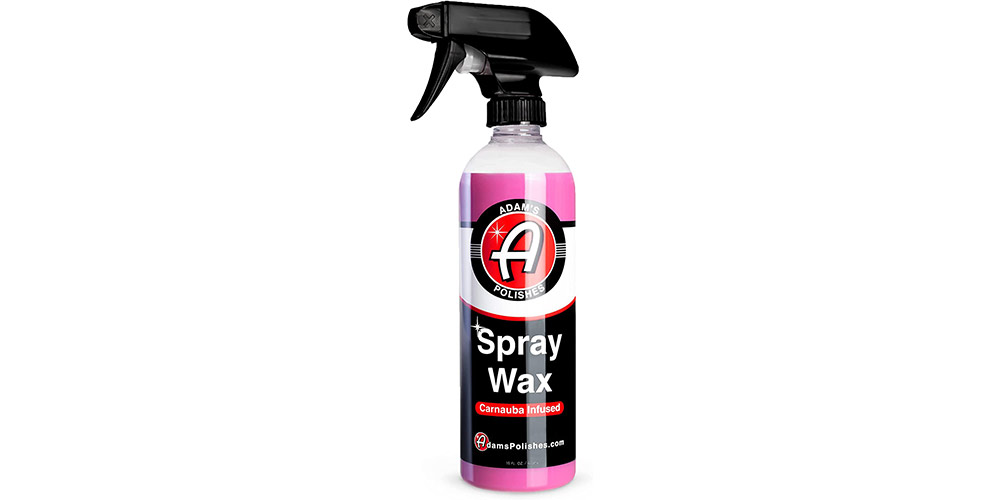 Brand: Adam's Polishes
Hardcore detailing enthusiasts consider Adam's Polishes as one of their favorite brands. The emergence of the company's products into the mainstream helped reach more general consumers. For this list, we chose Adam's Polishes Spray Wax which comes with carnauba flakes. It can be safely used on paint, chrome, glass, plastic, aluminum, vinyl, and fiberglass. You won't have limitations in terms of exterior surfaces where you can apply Adam's Spray Wax.
After you wash your vehicle, spray this on to extend the current protection that you applied to your car. It also features a raspberry scent that is refreshing to smell. This spray wax can be used on wet or dry surfaces. You don't even need your car to be in the shade to spray this wax.
Essential Information About Spray Wax
Spray wax is one of the most convenient options for applying for wax protection. It does not require so much effort and can be accomplished in a much shorter time compared to conventional wax. Spray wax is basically liquid wax that's thin enough for spraying. It can provide a bright shine and UV protection. There are even spray waxes that you can apply on other parts of the car's exterior and repel water. You can use them on side windows, windshields, tail lights, and headlights. Spray wax can help prevent water spots from forming on different areas of your vehicle.
Usually, spray wax will last from a couple of weeks up to a month. Some brands have claimed that their spray waxes last even longer. This depends on multiple factors, such as environmental conditions and how often your vehicle is exposed to the sun. If you perform regular car washing plus keep your vehicle inside a garage, the spray wax application will last longer compared to a vehicle parked outside and exposed to the different elements.
There are spray wax options that provide hybrid ceramic protection and offer a longer effect compared to carnauba-infused products because they feature SiO2.
Spray Wax Tips
If you are not that experienced with using a spray wax, it would be best to follow the tips below.
Verify and follow the steps for application based on the manufacturer's recommendation.
Make sure your vehicle has been washed and rinsed thoroughly before you apply the spray wax.
Some spray waxes can be applied even when wet.
It would be best to apply spray wax without direct sunlight. 
Spray wax should only be used on clean surfaces and must not be used as an option for washing your vehicle.