A bumper guard is a smart and affordable solution. Instead of worrying about your bumper being damaged and needing replacement, you can purchase a bumper guard to do its role and save you from spending funds. Aesthetically, a bumper guard may not be pleasing to the eyes for some, but it's better to have one than a bumper marred with dents and scratches.
Understandably, you can't trust everyone to have the parking abilities that you have. Having a bumper guard can help provide added protection for your vehicle. Spending money on a bumper guard is more affordable than buying a bumper replacement a few times a year. Bumper guards come in different types as well. It depends on which part of the vehicle you need to protect more.
#1 Bumper Bully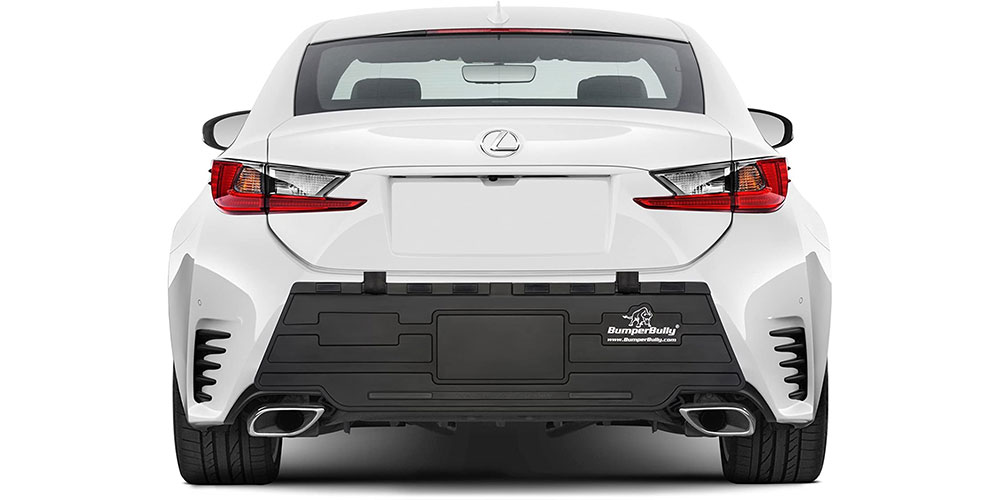 Brand: BumperBully
Bumper Bully offers three types of bumper guards designed based on the coverage that a car owner needs. In addition, these three models are classified on coverage and cost. The cheapest and entry-level option is the Black Edition, the Gold edition is the mid-level option, while the Platinum edition is the most expensive of all. All three products have the same measurements at 46 inches by 12 inches. These PVC-free bumper guards are manufactured from a premium-grade rubber material.
Of all the three, the Gold edition is the most popular model and has patented stabilizer bars in gold finish. Unlike the other two models, the entry-level Black edition doesn't come with safety reflectors or steel reinforced straps. The Platinum edition is the most expensive model because it has impact pads on the back of the bumper guard. The color of the patented stabilizer bars comes in platinum as well.
You need to understand that these Bumper Bully bumper guards are not designed for use while you drive your car. You need to park your car, open the trunk and flip the Bumper Bully bumper guard to protect your car's rear bumper. It would be great if you always have the presence of mind to flip this after parking your car.

#2 FH Group Bumper Butler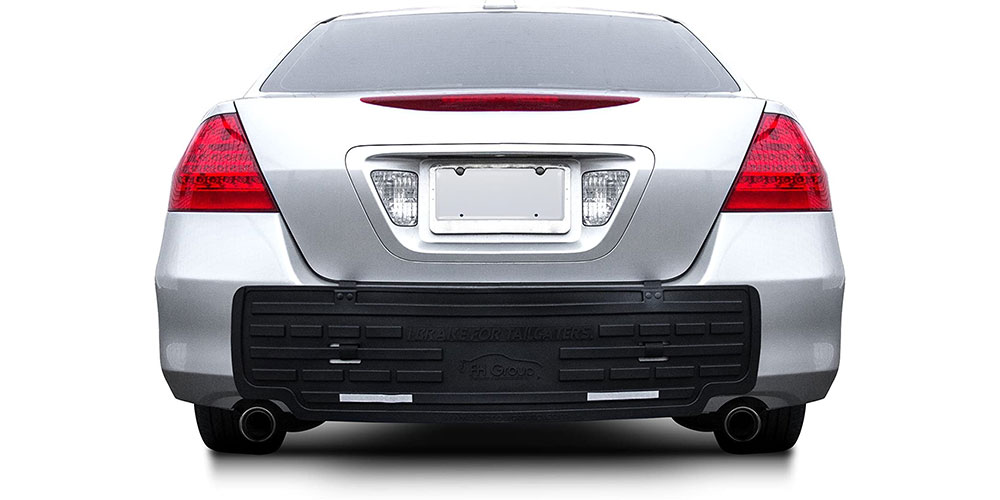 Brand: FH Group
If you want a bumper guard that is more affordable than the other options, getting the FH Group Bumper Butler would be an intelligent choice. Its design is meant to be a universal fit product. The 43-inch wide and 11-inch tall Bumper Butler is easy to install as it has hooks and adjustable straps.
This product is manufactured from a durable and patented long-lasting rubber. It has safety reflectors that help with visibility, especially for those parking behind your car. The Bumper Butler is cheaper, but it does not offer anything special regarding impact protection.
This bumper guard should only be used while your car is parked.

#3 BumperBadger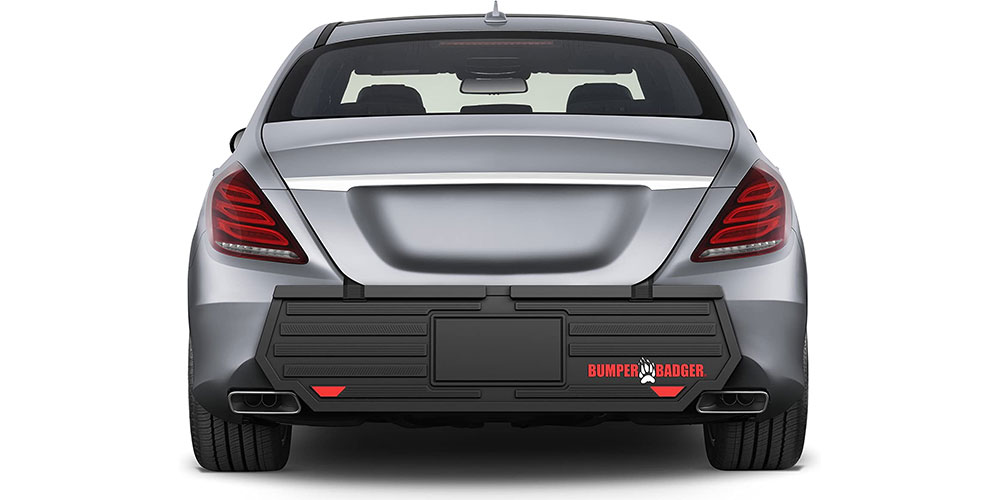 Brand: BumperBadger
The BumperBadger deserves a spot on our list of the top 5 best bumper guards. It can protect your car's rear end quite well. The company has multiple models, but the most expensive is the HD Edition. This is a 46-inch wide and 12-inch tall bumper guard that features linear raised ribbing. This ribbing protrudes from the surface and offers a flexible impact zone to help cushion minor parking mishaps. It also comes with top stabilizer bars that work perfectly for maximum protection. The BumperBadger comes with triple-stitched trunk straps that are strong enough to anchor the product inside the trunk.
This product is similar to the other bumper guards mentioned earlier. You can only take advantage of this when your car is parked. You need to open the trunk and then flip this product in place. You must be mindful that you must flip it back in when you need to drive away. In addition, the dimensions of the BumperBadger may not be able to provide full coverage on particular vehicles.
Overall, the BumperBadger is one of the best bumper guards available today..

#4 BumpShox XL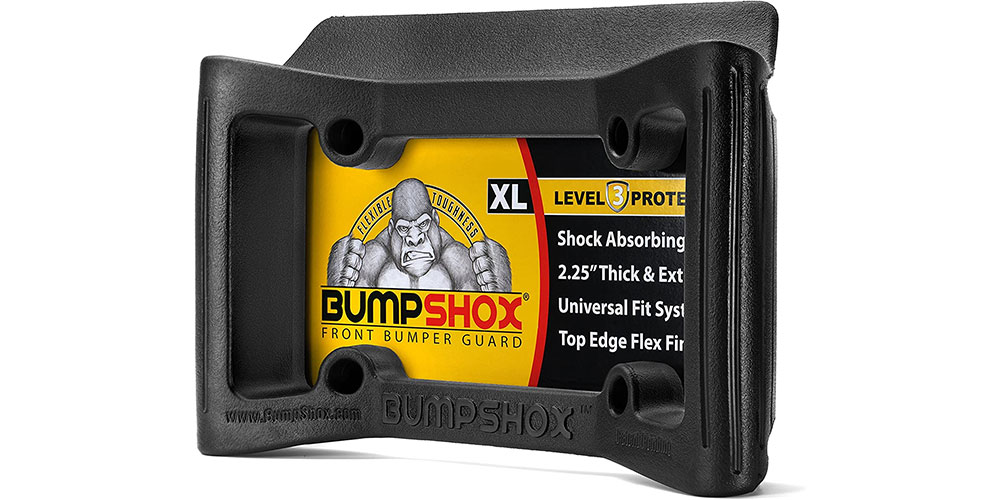 Brand: BumpShox
If you are looking for front bumper protection, the BumpShox XL is one of the best options available today. On top of that, this product is less intrusive than the other items on this list. The BumpShox is a license plate frame that is 2.25 inches thick, 14-inches wide, and 8.5-inches tall. It comes with a recessed screw design to prevent any metal parts from protruding. This can help prevent damaging the rear bumper of other vehicles.
The BumpShox XL showcases a pyramid design and steep angles that assist in increasing the flexibility of the bumper guard. This design also helps maximize shock absorption. This front license plate frame will only be effective in low-impact parking bumps.
This product comes with four screws, but even standard license plate screws can be used to attach this to your vehicle. It would really help if you took note that the BumpShox XL is designed for the front bumper and not the rear. If you own a Volvo, this is not a bumper guard for you, as Volvo vehicles have screws that are directly integrated into the frame and would be very hard to remove.

#5 Parking Armor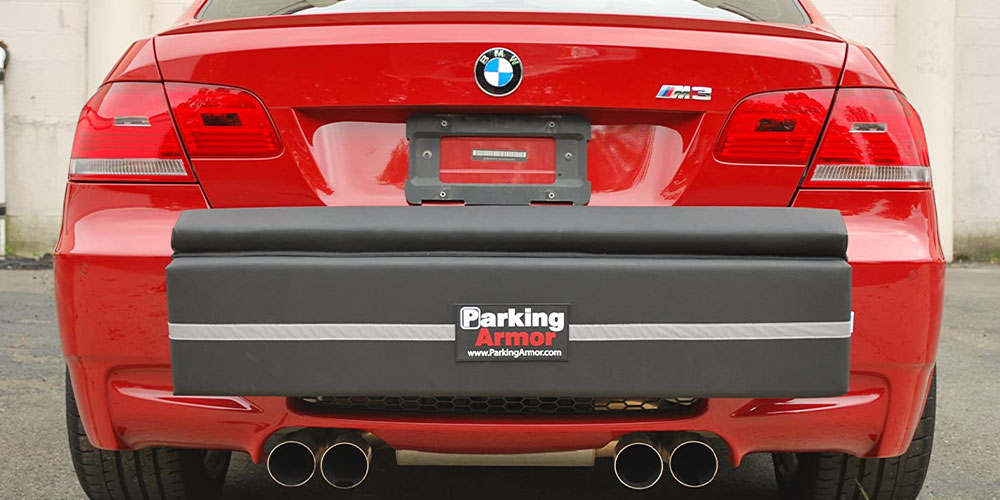 Brand: Parking Armor
Another great bumper guard option is the Parking Armor rear bumper protector. It comes with a basic design, but it offers a high-density foam core that is 2-inch thick. This is primarily developed for impact absorption. This product has a higher price point compared to other bumper guards. You can prick from its three offered sizes: 48-inches wide, 42-inches wide, and 36-inches wide. For safety measures, especially during the night, a silver safety strip is included on the bumper guard's exterior.
This product also offers waterproof steel-reinforced straps. The Parking Armor rear bumper protector is similar to the other bumper guards on this list, as you can only use it when your car is parked. You should keep it away from hot exhaust as well because it can get damaged together with your car. Parking Armor recommends this product not to be used on cars that have narrow bumpers.

#6 BumperX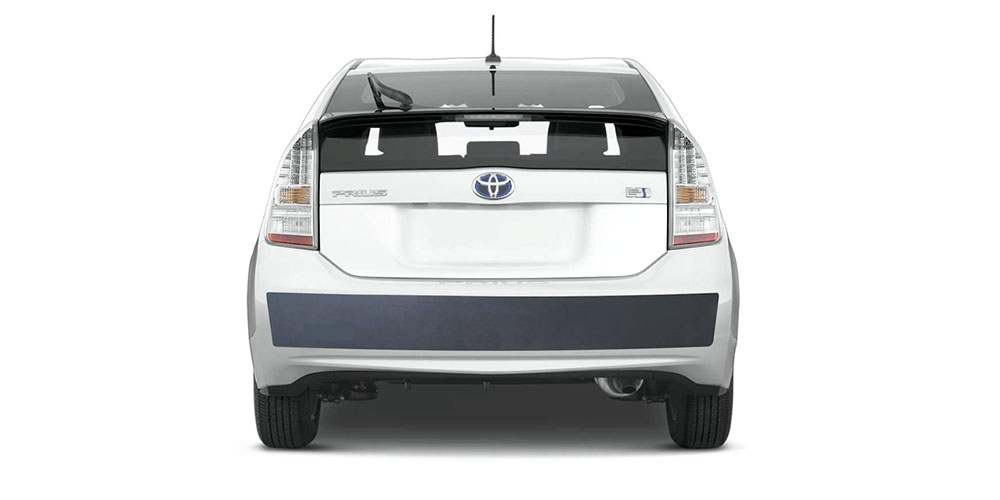 Brand: BumperX
If you want a more discreet bumper guard, we recommend the BumperX bumper guard and protector. It is a big band-aid that you can peel and stick on your rear bumper. This product is 62 inches wide and 6 inches tall. Car owners have the option to get it customized to fit certain vehicle requirements. Ideally, it would be great to contact the manufacturer before using it on your vehicle.
The BumperX car bumper guard and protector is made from an EPDM rubber that is formulated to resist UV rays, snow, rain, and car washes. A special 3M adhesive is used to stick this product. You don't have to worry as it won't harm or damage your car's paint.
Installing the BumperX car bumper guard and protector is easy. You need to wash the rear bumper of your car; then, you have to center the product using painter's tape, then peel back one corner to begin applying it. Of all the products on the list, this is different because it's not for heavy-duty use.