Nowadays, almost all vehicles roll off the manufacturing line with cup holders. However, some vehicle owners could yearn for larger bottle openings or more cup holders within their vehicles.
Fortunately, there are several automobile cup holders available that increase the amount of storage you currently have, either by adding more cup holders to the inside or changing your existing cup holder so it can accommodate a bigger bottle.
This post is perfect if you're one of those car owners that want better options for cup holders inside their vehicles.
Given how basic car cup holders are, you should choose your products depending on the qualities you require.
Pick the one that meets your needs because they are all made of high-quality components. Check out our list of the top 6 best car cup holders.
#1 BottlePro Adjustable Cup Holder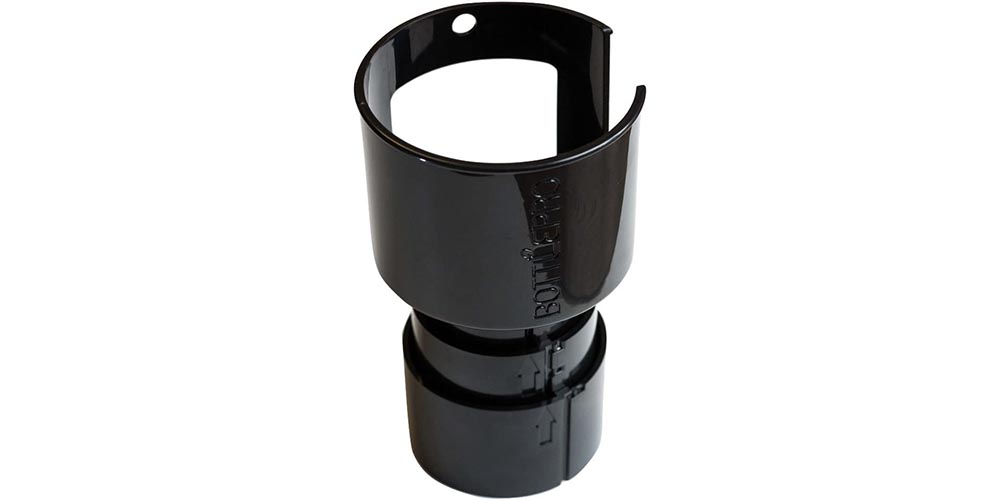 Brand: BottlePro
This extendable and adjustable car cup holder is made to fit most 32- and 40-ounce bottles. You can keep your larger water bottles safely thanks to its adjustable 3-ring base, which securely fits the majority of factory-installed vehicle cup holders.
A soft-fit foam sleeve can aid in preventing scratches or other damage to your car's cup holders. This cup holder's base can be extended, allowing you to customize the height for the ideal fit. You can put this cup holder in your home on a recliner in the living room because it has an adjustable base.
Essential Features:
Fits 32- and 40-ounce bottles
Extendable base
Soft-fit foam sleeve protects factory cup holders
Adjustable 3-ring base

#2 Swigzy Car Cup Holder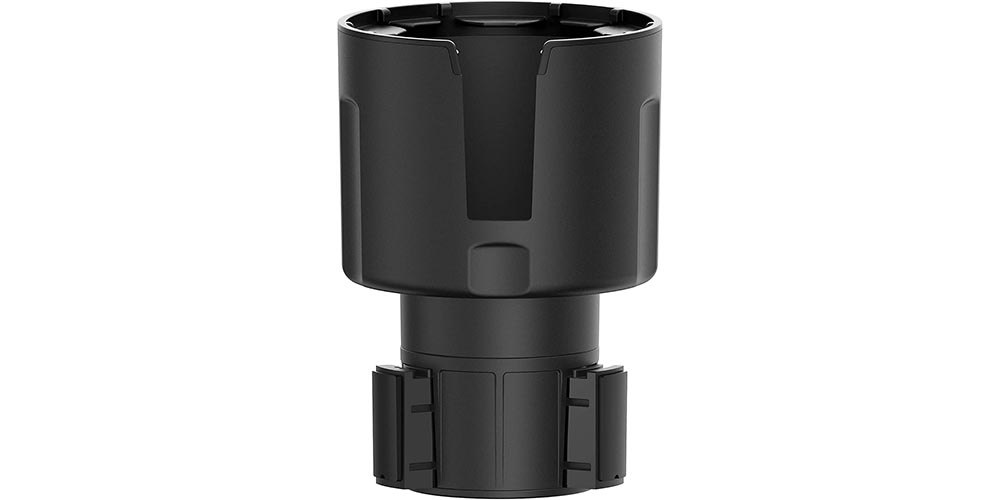 Brand: Swigzy
With an adjustable base plus rubber tabs that keep your bottle safe, this cup holder is made to fit bottles and cups with a diameter of 3.4′′ to 3.8′′.
A simple rotation of the adapter's cup part will cause the base to expand or contract. Since you can vary the diameter from 2.5′′ to 3.75′′, it is made to accommodate the majority of OEM automotive cup holders.
Moving the cup holder from one automobile to another is also quick and simple, thanks to the one-piece construction. High-quality ABS was used to make this cup holder, which has a one-year warranty.
Essential Features:
Fits 3.4″ to 3.8″ diameter cups and bottles
Rubber tabs help keep bottles secure
Adjustable base fits 2.5″ to 3.75″ diameter cup holders
The one-piece design makes it easy to transfer
1-year warranty
Manufactured from high-quality ABS

#3 SMART KUP Car Cup Holder
Brand: SMART KUP
This option can hold cups or bottles up to 3.8″ in diameter and comes in a charcoal or black finish. Because of its design, which includes a 3′′ upper cup, your bottle won't fall over when you're turning while driving.
The 1′′ cutout that enables it to accept mugs or other cups with handles is another useful feature. This cup holder's tapered base, which measures from 3.2 inches to 2.6 inches and is made of high-strength ABS plastic, provides a better fit for the majority of factory-installed cup holders.
Essential Features:
Fits bottles or cups up to 3.8″ in diameter
Comes in charcoal or black finish
1″ cut out accommodates containers with handles
3″ upper cup keeps the bottles in place
Tapered base goes from 3.2″ to 2.6″ for a better fit in a factory cup holder
Made from high-strength ABS

#4 Camco Adjustable Cup Holder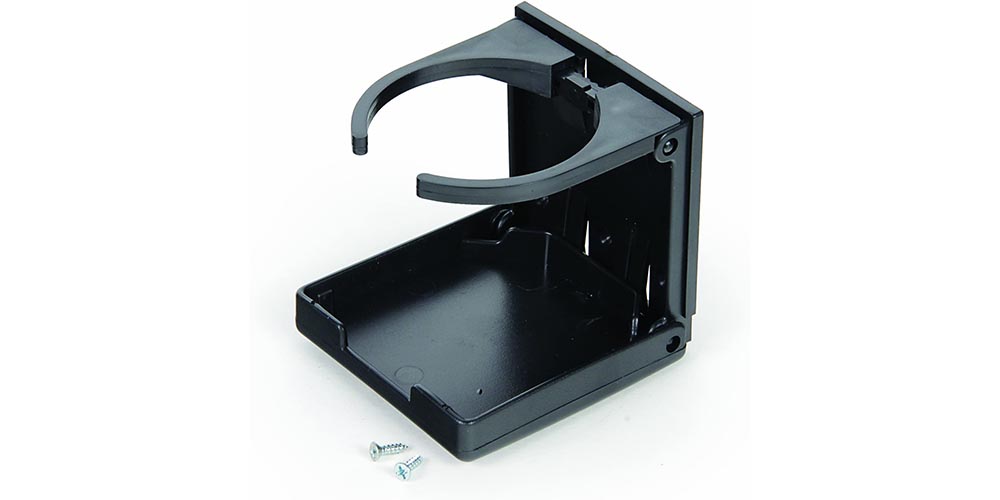 Brand: Camco
While our earlier suggestions enlarge the current cup holders in your car to fit larger containers, this adaptable choice adds a new cup holder to your vehicle.
This cup holder easily installs with tape or screws anywhere you wish inside your cabin and is available in gray, brown, white, black, and khaki finishes.
When not in use, this product conveniently folds up for small storage and is simply adjustable to handle most standard-sized cups, bottles, and cans. In the home, affixed to a desk or even a treadmill, this also works nicely.
Essential Features:
Comes in different colors
It can fold up for compact storage
Adjustable to hold the majority of standard bottles, cups, and cans
Mounts with tape or screws

#5 Iokone Side Pocket Cup Holder
Brand: Iokone
Car owners who wish to increase the number of cup holders and storage space in their interior but don't need a bigger cup holder can consider this option.
This add-on adds two cup holders and a side pocket that is perfect for holding your phone, wallet, or keys that fit between the front seats or in between the center console and the front seat.
This car cup holder, which is made of sturdy plastic and premium leather, ought to fit most vehicles. Just be aware that it won't fit bigger glasses or bottles.
Essential Features:
Fits majority of cars
Adds 2 cup holders and a side pocket
Durable plastic and high-quality leather construction
Slides between the front seats or in between the front seat and center console

#6 Heart Horse Cup Holder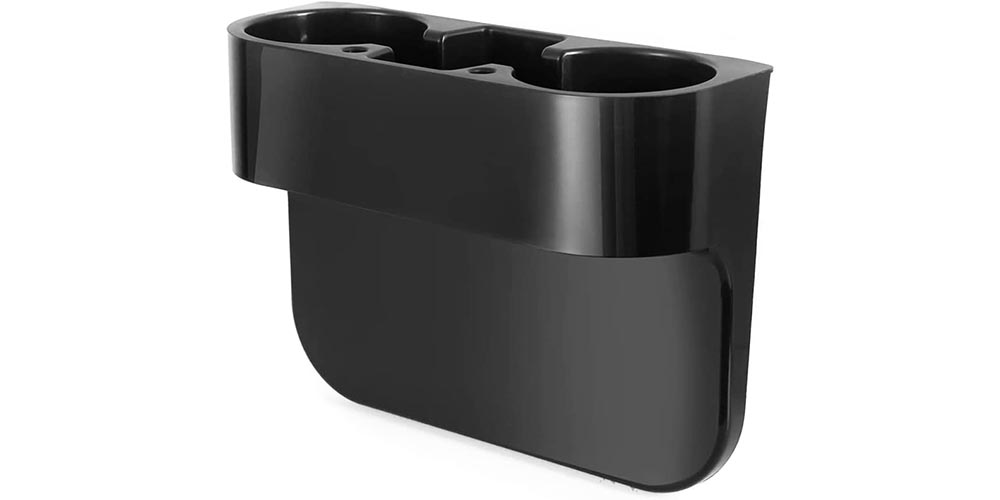 Brand: Heart Horse
The car seat pockets are appropriate for vehicles when the seat is either lower than that of the center console or at eye level with it. On the other hand, a seat higher than that of the center console is not appropriate. It is appropriate for gaps between 0.39 and 1.18 inches. Three sizes of cup bottoms can be placed in two bases: 3.38 inches, 2.87 inches, and 2.67 inches.
The car seat gap organizer's design is clear and lovely, making reasonable use of the seat's aperture. The car seat cup holder is compatible with most cars and offers additional storage space. It is perfect for organizing stuff like cups, cell phones, pencils, and other items to suit various needs.
For a quick and easy installation, simply slip the organizer between the seat and the console. Because it is utilized on the edge of the seat, this sort of multifunctional car seat organizer may take up some space in the seat, but only a little. If this bothers you, please shop carefully.
Essential Features:
Most beverage sizes may be accommodated, and there is cell phone storage in the center.
Ideal for arranging things like cups, cell phones, pens, and other things.
Makes use of the seat's edge aperture is elegant and simple.
Simple to install
For quick and easy installation, just insert the organizer between your seat and the console.
Can be used in the backseat of a car.

History of the Car Cup Holder
Over the years, the automobile has seen a great deal of change. Today's cars feature cup holders, a rather more comfortable ride, fuel-efficient engines, and advanced electronics. However, early automobiles did not come standard with cup holders. Cup holders were regarded as one of the biggest developments in the car sector.
Because it wasn't normal practice to eat or drink inside cars at the time, car cup holders weren't a typical feature. Drivers have to put their vehicles in the park to eat or drink. The Drive-Thru dining idea was first launched in California by In-N-Out Burger in 1948, nevertheless.
The drive-thru concept captivated American culture and gave them the notion that eating while driving is hip. As a result, drivers were figuring out ways to dine in more comfort within their vehicles. Imagine trying to eat a hamburger while holding a Coke in your other hand.
This led to the introduction of the "snack tray for car" in 1950. Two cords that are attached to the dashboard of the car hang the tray from them. Two holes on the tray allow it to store bottles or glasses. Three years later, the Automobile Seat Article Holder was granted a patent.
When not in use, the tray can be folded and stored within the glove box. It is a hinged plate with rounded divisions that is positioned in between the seat cushions. To give you an idea, this cup holder has some design cues with the current cars' foldable center armrest, which is located at the rear passenger area.
In 1957, Cadillac came up with a novel concept and unveiled a set of four metal tumblers and a magnetized glove box door. The Cadillac Eldorado Brougham came equipped with this magnetized glove compartment.
The ideal way to build automotive cup holders was a constant concern for designers. When the Dodge Caravan minivan debuted in 1983, Chrysler generated a lot of attention. It had the first cup holder in the sector incorporated into the dashboard.
However, automotive cup holders were not regarded as a standard item until this year. That was altered thanks to Stella Liebeck, a 79-year-old woman.
Cup holders in cars were not invented by Liebeck; rather, she was responsible for their adoption as standard equipment. In 1992, while sitting inside a parked car, Liebeck ordered a cup of McDonald's coffee, which she promptly spilled on her lap.
Notably, the coffee was scalding hot and gave her third-degree burns. Liebeck sued McDonald's and won a USD 2.7 million judgment, but an appeal caused it to be reduced to about USD 500,000. As a result, it was left to automotive engineers and designers to create the ideal car cup holders.
Yet why? Well, it was thought that if there had been a cup holder inside the vehicle, Liebeck's coffee-pouring incident might have been avoided.