Floor jacks, also called trolley jacks or service jacks, are lifting tools used to raise vehicles off the ground, which are a must for any car enthusiast. You may not need one if you change your tire or put on winter wheels in summer, but it's always best to be safe than sorry. They make it easy and secure to change your tire when you've got one of those pesky flat spots in mind, saving time and frustration with an inefficient hand-cranking procedure that can take up hours!
Whether you're a professional mechanic or like to work on your car, having the best floor jack for the job is essential. There are all sorts of different jacks out there, so it can be tough to know which one is right for you. This blog post lists the best floor jacks for your garage based on your needs.
AFF 4 Ton Heavy Duty Floor Jack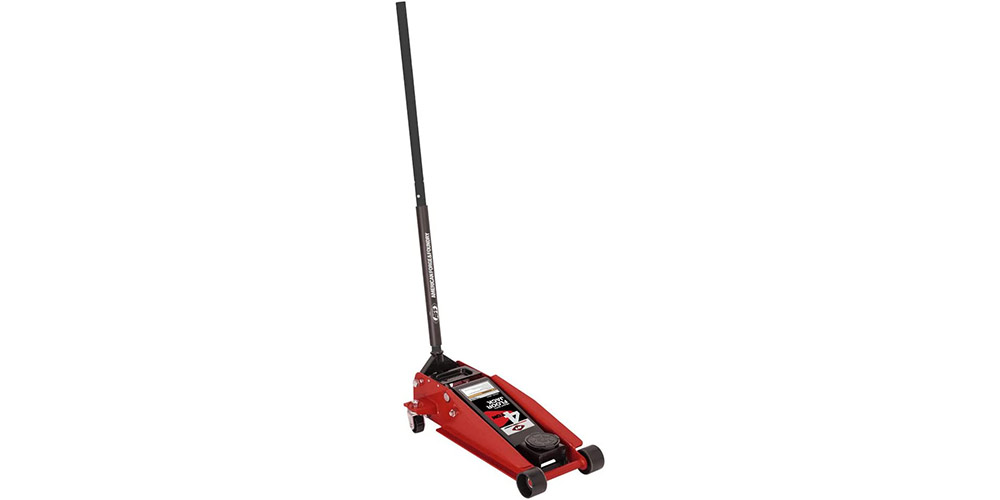 Brand: American Forge & Foundry (AFF)
This American Forge & Foundry four-ton jack offers the best consumer-priced heavy-duty lift for your truck or SUVs. Its weight capacity is up to 6,000 pounds, which can easily handle all of those big rigs! This product is an excellent choice if you are after durability and reliability.
The product also includes a quick-lift feature that helps to make your work easier and faster and a low profile to reach beneath most vehicles. With its large base, solid steel construction, weight of 105 pounds, and dimensions that measure 14.33 inches wide and 28.82 inches long, this product is one of the most stable and well-designed floor jacks on the market.
If your needs call for an even higher lift height, this floor jack still got you! The size of this lift is essential for larger vehicles, and it has a max range from 4.3 inches at its lowest point to 20.5 inches at its highest, which makes handling easier when loading or unloading your truck efficiently.
There's more to this jack as it also has a padded rubber saddle which helps to keep your car from slipping when you're working on it. Further, it features two hydraulic cylinders that make lifting more accessible and faster and an extendable handle for better storage options.

Powerbuilt 2 Ton Extra Low Profile Floor Jack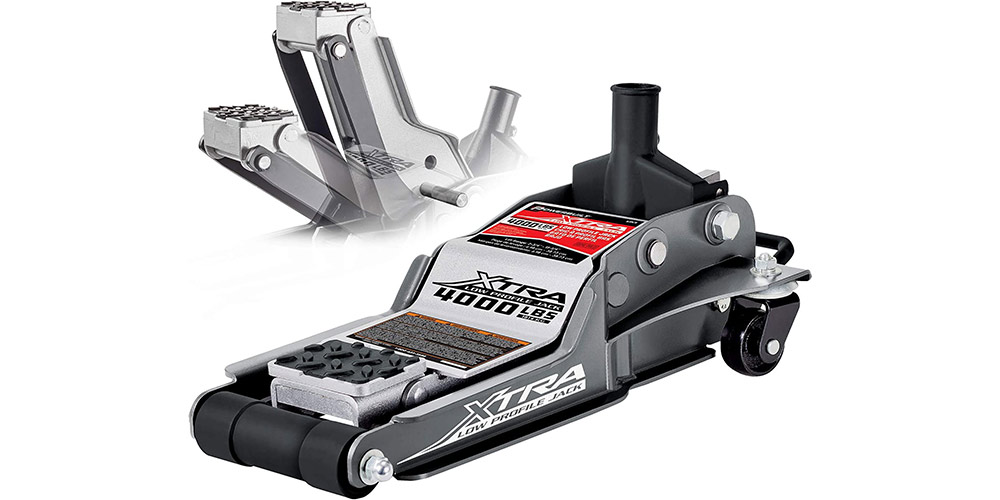 Brand: Powerbuilt
Need to raise your car but don't have much clearance? Powerbuilt's 2-ton extra low-profile jack is just what you need. This model has been designed specifically with low vehicles as low as 2.75 inches in mind, able to raise 15.5 inches off the ground. If you have trouble getting access to frame rails, this jack will come in handy with its steel safety bar that slides under the lift arm, securing it at higher heights, so you don't risk damaging anything important.
With a broad base and roller to improve stability, this floor jack is easy enough for anyone. The ball-bearing swivel casters make maneuvering around your garage simple without having too much trouble or concern with weight distribution on either end, which means less strain! Plus, you can take it anywhere since it also features a handy rear carry handle.

Daytona 1.5 Ton Professional Racing Series Aluminum Floor Jack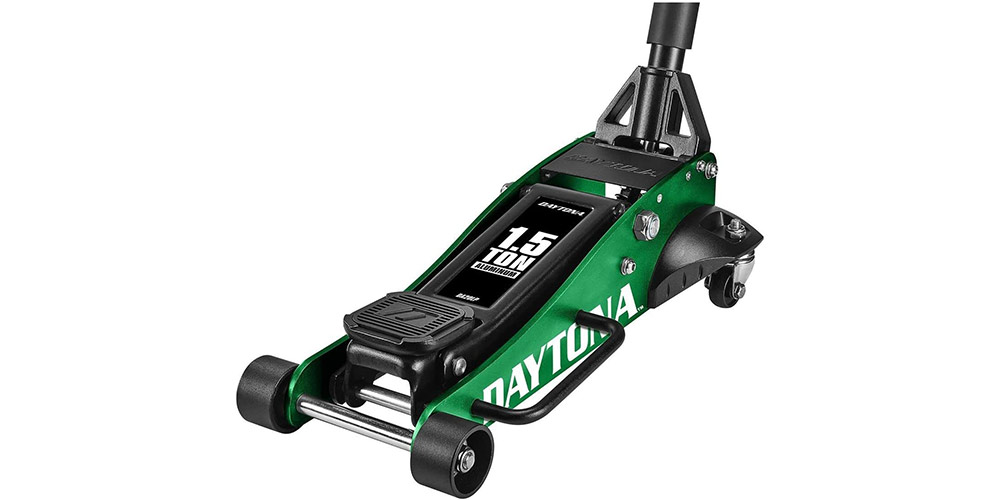 Brand: Generic
The Daytona 1.5 Ton Professional Racing Series Aluminum Floor Jack is an excellent choice for those looking for an all-around solid product that will make working on their car easier.
While this product offers several configurations, such as low profile and long reach in three models – 1.5, 2, and 3-ton models, for those who want to get started with their jack, the basic 1.5-ton model is a good choice. It's perfect for everyday use and can handle most cars with ease. Plus, it is affordable!
You can't beat the price for this jack! While lifting 10.75 inches isn't a lot, it comes with many features you would find on jacks costing much more. For example, an extra long handle makes raising your car as easy as pie without getting up or down from wherever it's sitting. It also has a foam guard on the handle to protect you from getting hurt and an extra solid rubber saddle, so your work is always protected.

Pro Eagle 3 Ton Kratos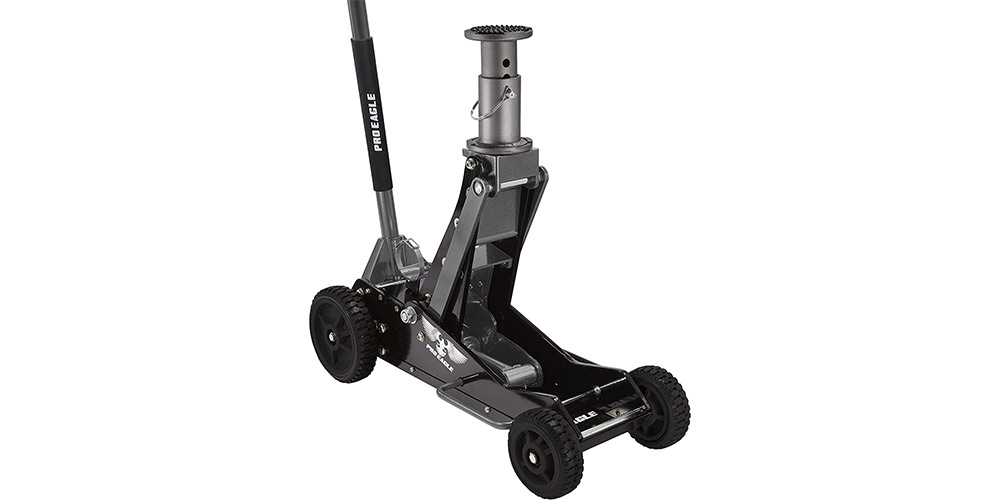 Brand: Pro Eagle
Are you looking for a jack built to last? The Kratos is the ideal floor jack, made from heavy-duty materials so that it can handle even the most challenging jobs. Plus, it can lift items to 28 inches high, making it a versatile tool for any project.
You can tow more than just your truck with the three-ton capacity, which is ideal for UTVs, ATVs, trailers, or small tractors.
Its dependable, all-steel construction makes this product perfect for rough terrain. It has oversized tires and heavy-duty axles, which provide maximum traction on any surface! The eight-inch adjustable lifting post means you can set it up high enough to completely clear most vehicles – even with an optional 13″ extension attached if needed. Additionally, its ruggedly built aluminum frame is fully sealed against dust and water intrusion while still being lightweight at only 60 pounds making transport easy as pie.

Pro-Lift F-767 Grey Low Profile Floor Jack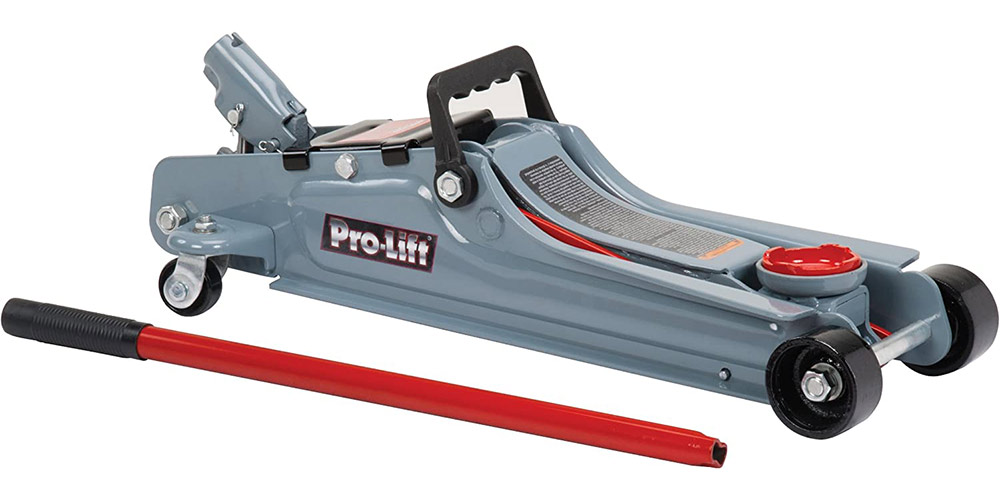 Brand: Pro-Lift
On a tight budget? Check out Pro-Lift's F-767 Grey Low Profile Floor Jack if you're looking for an affordable option that doesn't sacrifice quality. This Pro-Lift jack is also a much better option than scissor jacks.
The single-cylinder, low-profile car jack from Pro Lift is the perfect upgrade for those who often don't work on their vehicles. This two-ton capacity product can lift to 14 inches and features an easy grip handle design, allowing greater control when raising your vehicle's performance level.
Being lightweight and small, it is also perfect for those who don't have much space or need the additional support of an enormous hydraulic jack. This model measures 17.91 x 5.32 x 8.47 inches so that it won't take up too much room in your garage.

Hein-Werner 4 Ton Long Chassis Service Jack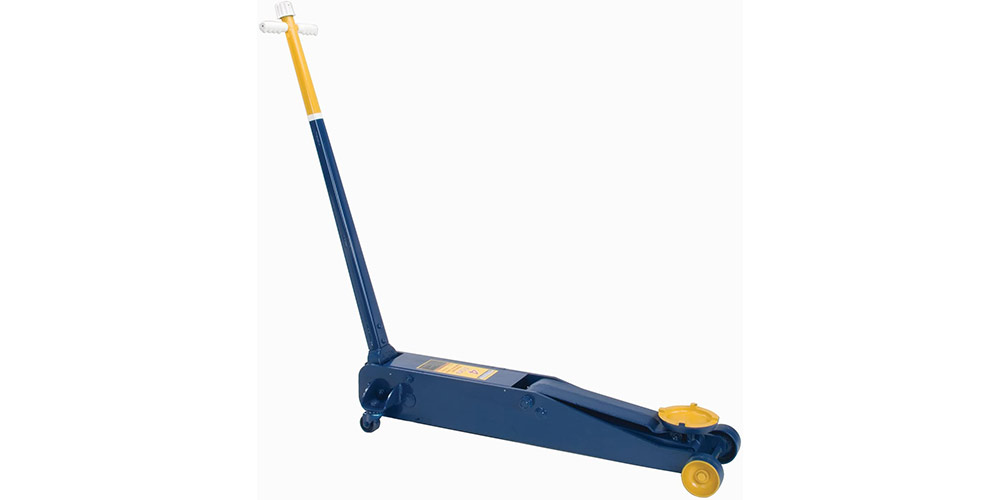 Brand: Hein-Werner
If you need a jack that can last longer than your average guy, look no further than the Hein-Werner 4-Ton Long Chassis Service Jack. This floor jack is built with a more extended chassis to reach further under your vehicle.
The Hein-Werner comes with several features that make it ideal. For example, its all-steel garage lift is a beast, with an impressive 20.75-inch height, from 5 inches to 25.75 inches, and 49 inches long perfect for those who need help getting under anything. Also, its big, sturdy frame will hold your garage door open without any problem, with a 15-inch vast body and 219 pounds of weight capacity.