If you need extra carrying capacity for your vehicle, then getting a hitch cargo carrier can be one effective answer to your problem. Whether going on a road trip, vacationing for an extended period, or simply camping outdoors, you'll need extra storage space no matter how big your vehicle may be. If you like bringing many things when you travel, buying a hitch-mounted cargo carrier can be very handy. It's always a huge plus if you can expand cargo capacity without sacrificing space inside your vehicle.
Hitch cargo carriers promote practicality. Some of them even come with a foldable design. These cargo carriers are ideal for items that might cause a mess if you put them inside your vehicle. Compared to a pickup truck bed, a cargo carrier is easier to load and tends to be lower. If you want added protection for your items, you can opt to pair your hitch cargo carrier with a cargo carrier bag. These bags usually fit the standard sizes of cargo carriers.
If you can't decide which cargo carrier to purchase, you should check out our list below. We came up with the top 6 best hitch cargo carriers (and bags) for added storage capacity.
#1 Reese Pro Series Rambler (63153)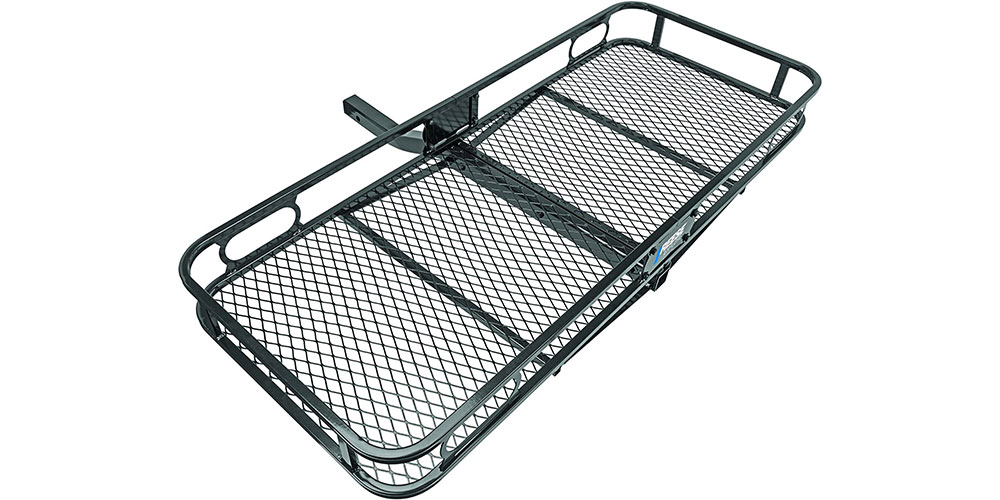 The Reese Pro Series Rambler tops this list because it delivers in quality, features, and popularity among vehicle owners. This hitch cargo carrier sports a 60 x 24-inch platform and has a 500-pound capacity. There are 5.5-inch side rails that keep the cargo secured on the platform. This hitch cargo carrier features a rugged mesh floor, which keeps the product easy to clean and maintain.
The Reese Pro Series Rambler fits the 2-inch square vehicle receivers. It also comes with a rise shank design that helps elevate your cargo. This hitch cargo carrier features a powdercoat finish that is durable and helps protect against rust, scratches, and different harsh elements.
According to some users, installing this product takes quite a bit of time but is not complicated. Some also claim that included bolts can potentially rust. Overall, we put this on top of our list of the top 6 best hitch cargo carriers because we were impressed with its 500-pound capacity, mesh floor design for cleaning and maintenance, and powdercoat finish.
#2 Mockins Cargo Carrier with Cargo Bag and Net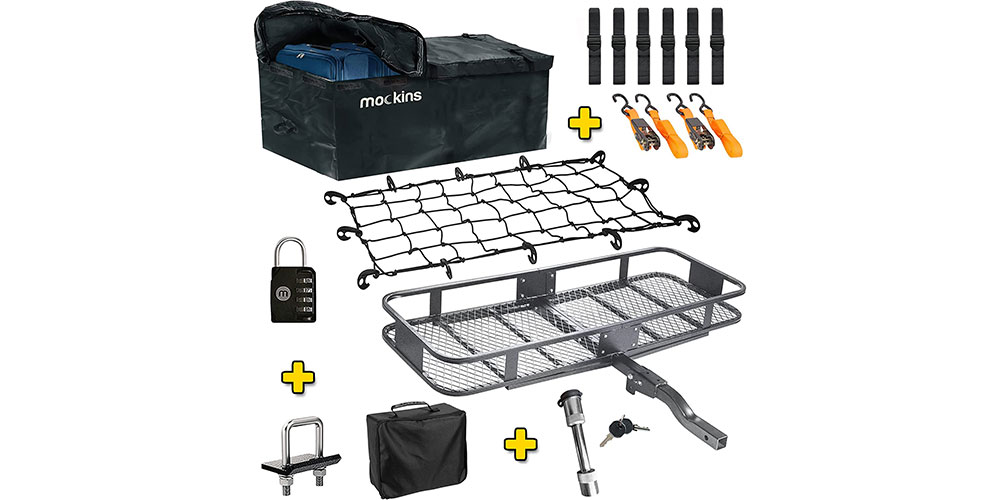 Looking for an entire set or bundle that checks all of the boxes? Mockins offers a hitch cargo carrier, a waterproof cargo bag, a hitch stabilizer, a cargo net, and two ratchet straps for its best bundle. The hitch cargo carrier is manufactured from heavy-duty steel and features an anti-rust coating. This product has a 500-pound cargo capacity. It comes with a mesh floor for easy maintenance. Upon assembly, the measurement of the tray is 60 x 20 x 6.
A hitch hauler is attached to the cargo carrier. It comes with a 2-inch shank rise to achieve better ground clearance. This product is developed to fit 2-inch receivers. With this bundle, the cargo bag included features a 15.5 cubic feet storage capacity.
This bundle is a great offer, especially if you need not just a cargo carrier but a cargo bag as well. Getting this on a bundle will make you feel more secure that the cargo bag would fit the hitch cargo carrier, as these two items make a perfect fit.
#3 MaxxHaul Hitch Mount Compact Cargo Carrier (70107)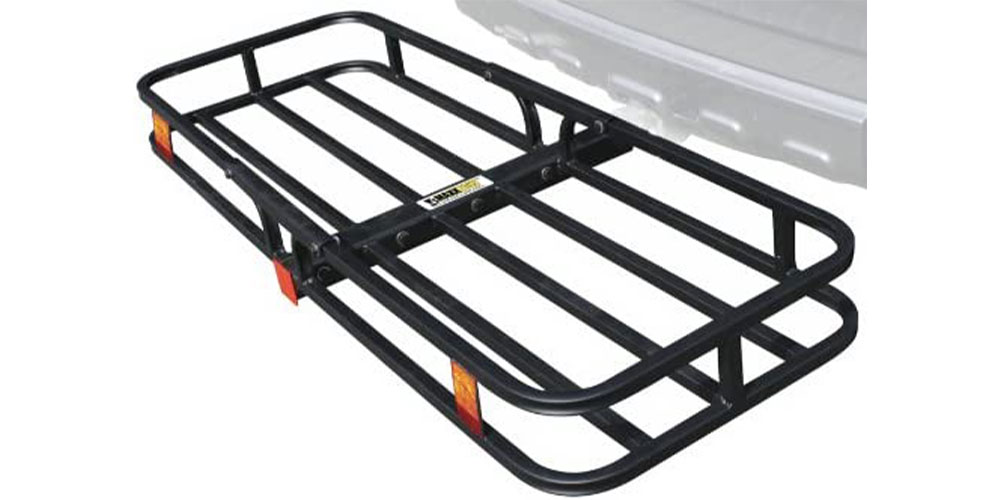 MaxxHaul offers different cargo carriers on its lineup, but when it comes to a more compact design, the best is the MaxxHaul Hitch Mount Compact Cargo Carrier. Like the earlier mentioned cargo carriers on this list, this product can also handle up to 500 pounds. It features a 51 x 17.5 x 4.5-inch area. This product is manufactured from heavy-duty steel. It also comes with safety reflectors plus a tongue that can extend under the basket. There are also one-piece side rails that help keep the cargo in place. This hitch cargo carrier fits standard Class IV and Class III 2 x 2-inch receiver hitches.
Compared to the other hitch cargo carriers on this list, the MaxxHaul Hitch Mount Compact Cargo Carrier does not have a mesh floor and features open bars instead. Smaller objects are not ideal for placing on this cargo carrier. It also sits quite low, so car owners should be aware if it would be too close to the exhaust.
Overall, this hitch cargo carrier's pros outweigh the cons. Lastly, the price point of this product is ideal for those who are on a budget.
#4 MaxxHaul 49 x 22.5-inch Hitch Mount Aluminum Cargo Carrier (70108)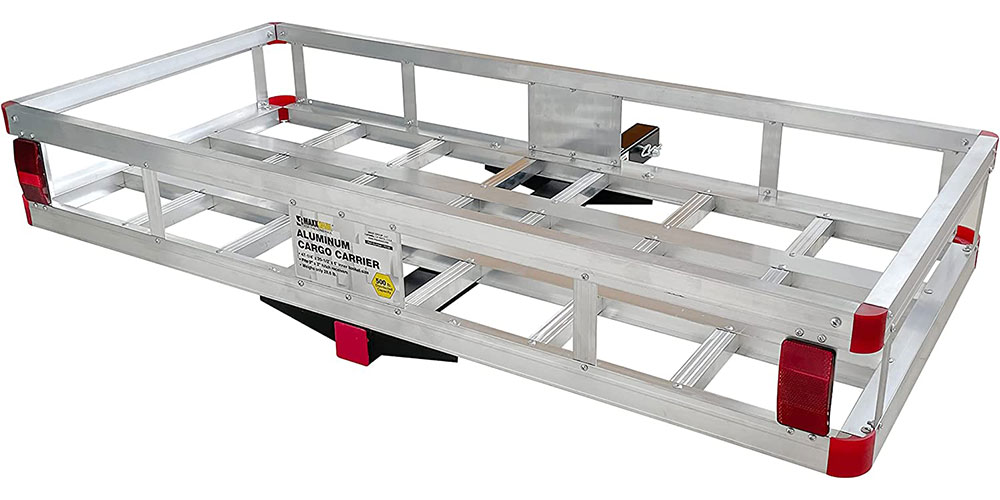 If you're looking for an option with a lighter weight, MaxxHaul offers an aluminum hitch mount cargo carrier. This is the second product from MaxxHaul on this list because they are just too good. Compared to the other steel hitch cargo carriers mentioned above, this one is a lighter option. However, you should keep in mind that this would tend to crack rather than bend if ever you accidentally hit something from the back. If you are on a budget, this product is not suggested because it tends to have a higher pice point.
This hitch cargo carrier is designed to fit Class IV and Class III 2 x 2-inch hitch receivers. Safety reflectors are also included for protection. This product has a 500-pound maximum distributed weight capacity and has measurements of 47.25 x 20.25 x 6 inches inside.
#5 ROLA 59119 Rainproof Cargo Carrier Bag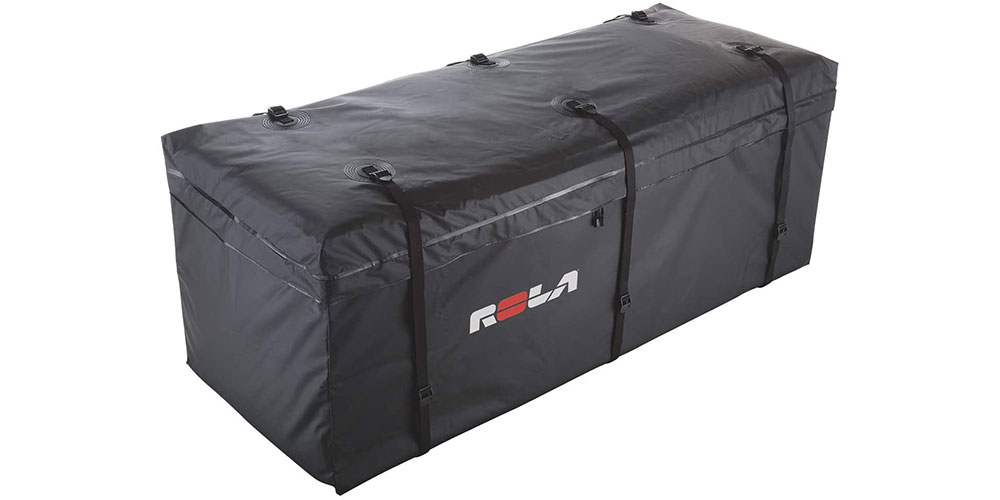 We decided to include hitch cargo carrier bags on this list because we think you should also know which ones offer the best features. The ROLA Rainproof Cargo Bag features a huge maximum capacity of 20 cubic feet. You will need a 60 x 24-inch hitch cargo carrier for this.
The manufacturer behind this product is an established Australian company called ROLA. The company has decades of experience in making bags and racks that were designed to handle Australia's harsh conditions.
This hitch cargo carrier bag is made from high-quality rainproof material. This carrier bag has a velcro storm flap over the zipper as well. This helps keep the bag's contents clean, dry, and protected. This product comes with six adjustable tie-down straps that help compress the load and secure the bag. It can also fold down to a more compact state and weigh just 8.4 pounds when empty.
Some car owners find this hitch cargo carrier bag too big.
#6 Pro Series Amigo Hitch Cargo Carrier Bag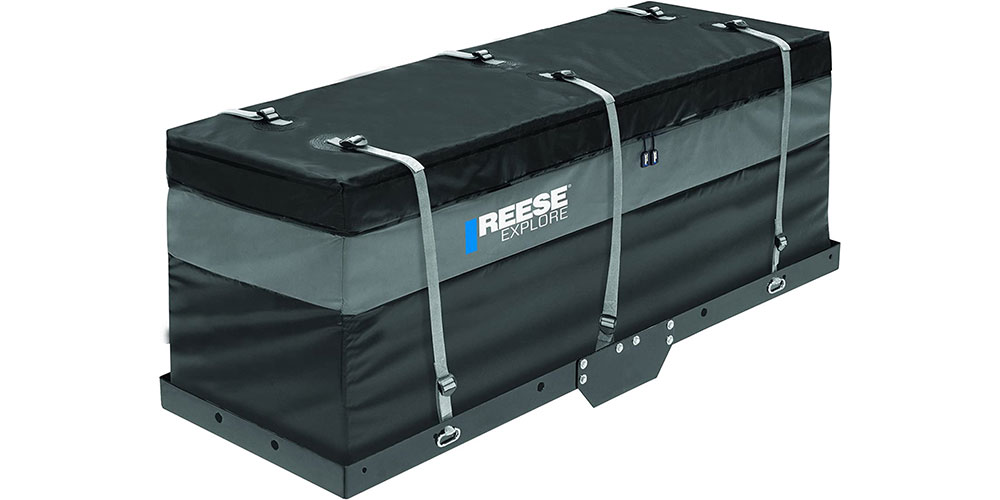 If you need a hitch cargo carrier bag that would easily fit any hitch cargo carrier, then the Reese Explore 63604 Rainproof Cargo Tray Bag is an ideal choice. It comes with a thick and heavy material that helps in holding the shape of the bag. It has a heavy-duty zipper that is velcro flap covered. It stands 24 inches tall and can hold bigger items such as golf clubs.
The Reese Explore 63604 Rainproof Cargo Tray Bag has six straps and buckles. It comes with reinforced stitching to endure harsh conditions.
Selecting the Right Hitch Cargo Carrier and Bag
There are several factors that you should consider before choosing the best hitch cargo carrier. You have to check whether the hitch cargo carrier you plan on buying is compatible with the specific hitch class of your car. Another important aspect is the receiver size. There are different classes. You also need to determine what type of cargo you will use the hitch cargo carrier often. The weight hitch cargo carrier capacity should also coincide with the estimated weight of your actual cargo. If you plan on bringing heavier items, then you should go for the ones that are meant for heavy-duty use.
You should be aware of these considerations before deciding on your hitch cargo carrier. It will save you time and money if you choose the best that checks all of your boxes.