If you want to care for your car the right way, you should be able to cover all bases or check all the boxes. Washing your car and applying wax regularly is not enough. Among the most neglected aspects of a vehicle is its tires. If you plan on preserving your tire and not just making it aesthetically appealing, we highly suggest you get a reliable tire shine.
A high-quality tire shine can provide your tires with protection from grime, contaminants, and even UV rays. When you regularly use tire shine, you provide your tires with protection against cracking and fading. It also helps revitalize the rubber of your wheels.
We suggest sticking with reputable car care brands if you plan on getting a tire shine that you could use regularly. If you are too overwhelmed by the options available on the market, we've got you covered. We came up with a reliable list of the top 6 best tire shine options you can buy today. Our list is composed of products that last weeks. Check it out below.
#1 Meguiar's Endurance Tire Gel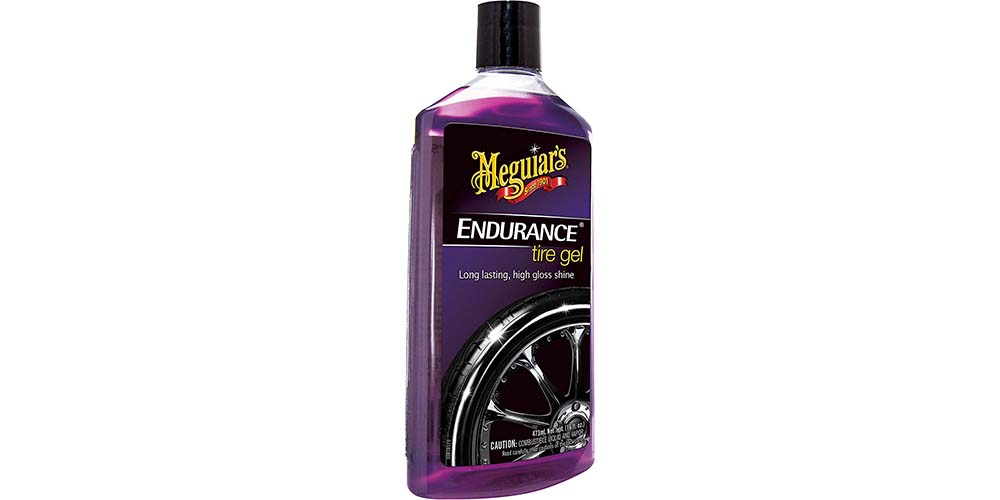 Meguiar's is one of the top brands when it comes to car care, so it's just fitting that they have a tire shine product. Meguiar's Endurance Tire Gel really pounces on its name. If you want a long-lasting option, you should go for this option. This product features an advanced formula that not just provides a high gloss and brilliant shine but will also last for weeks. You can expect this product to withstand even car washes and rain.
Meguiar's Endurance Tire Gel is specifically formulated with copolymers and macropolymers that help protect the tires against damage from UV rays. With this product being a tire gel, you'll find it easier to apply. It's not as easy to like a spray, but at least you can have better control and apply thin coats if needed. In addition, with it being a gel, you can expect less mess.
Essential Features:
Formulated with specialized copolymers and macropolymers
Long-lasting
Protects against UV damage
Easy to apply
Not messy
From a trusted brand: Meguiar's

#2 TriNova Tire Shine Spray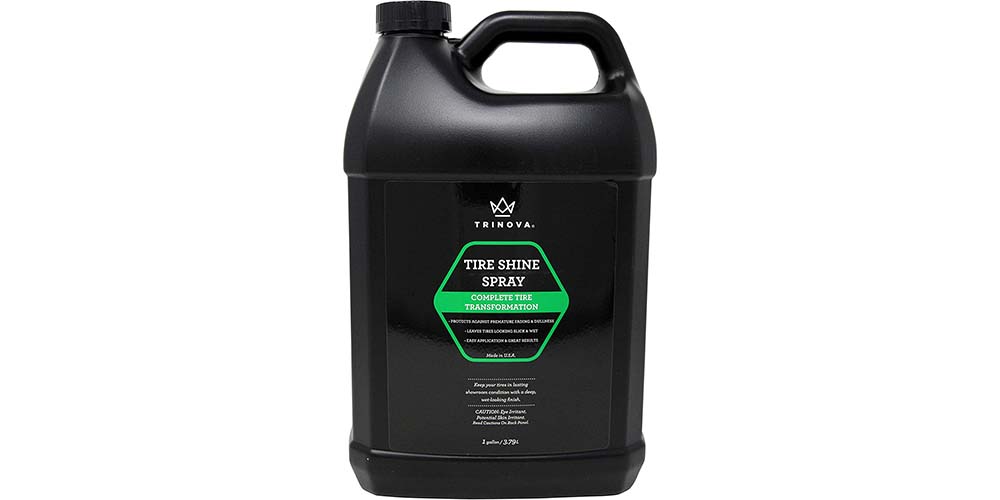 If you want tire shine that is cost-efficient, we suggest getting the Trinova Tire Shine Spray. This product comes in a one-gallon container. Aside from providing your tires with a shiny look, this tire shine also helps protect against cracking, yellowing, fading, and other signs of deterioration. It comes with a formula that offers added protection against the elements. You can worry less about salt stains or water spots that make your car tires look awful and dirty.
Controlling the amount of shine simply depends on how long you leave the spray. The longer it stays before you wipe it off, the better amount of shine it will produce. If you want a made-in-the-U.S. tire shine, go for the Trinova Tire Shine Spray.
Essential features:
Offers tire protection against cracking, yellowing, and fading
Leaves a shiny look
You can control the amount of shine
Long-lasting
Added protection against the elements
Made in the U.S.A

#3 Chemical Guys Tire Kicker Tire Shine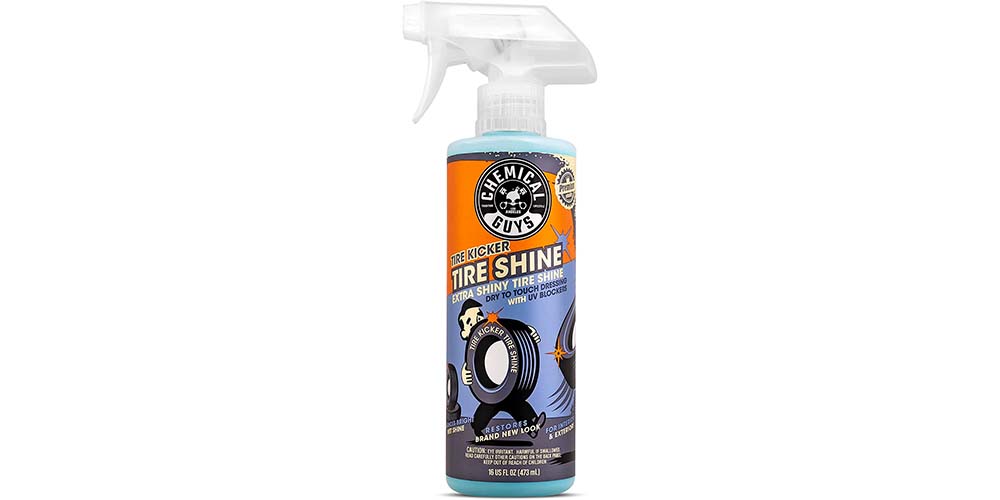 Another highly-recommended tire shine option is the Chemical Guys Tire Kicker Tire Shine. For a versatile tire shine that can also be applied to textured plastic, rubber, and vinyl parts, Chemical Guys' sleek, sprayable product combines quality water-based treatment with additional gloss boosters and UV blockers. That means you may use this solution on fading plastic body parts to give them a like-new, deep black appearance in addition to leaving your tires looking shiny and bright. You may even use it to give your door panels, dash, or vinyl seats a shiny, bright finish.
This tire shine has a dry-to-the-touch finish and is designed to help prevent further fading from sunlight. You can prevent dripping, running, and tire sling by simply wiping away any extra material. This tire shine, which is made with weatherproof components, will keep your tires and any other parts you decide to apply on lustrous and black for weeks. Therefore, Chemical Guys is the way to go if you want something safe to apply to your tires, interior panels, and other black body parts.
Essential features:
Can be applied on rubber, vinyl, and textured plastic parts
Premium water-based that features extra UV blockers and gloss enhancers
Helps restore plastic body parts that are faded
Protects against fading from sunlight
Dry to the touch finish
Safe to apply on door panels, dash, and vinyl seats

#4 Carfidant Ultimate Tire Shine Spray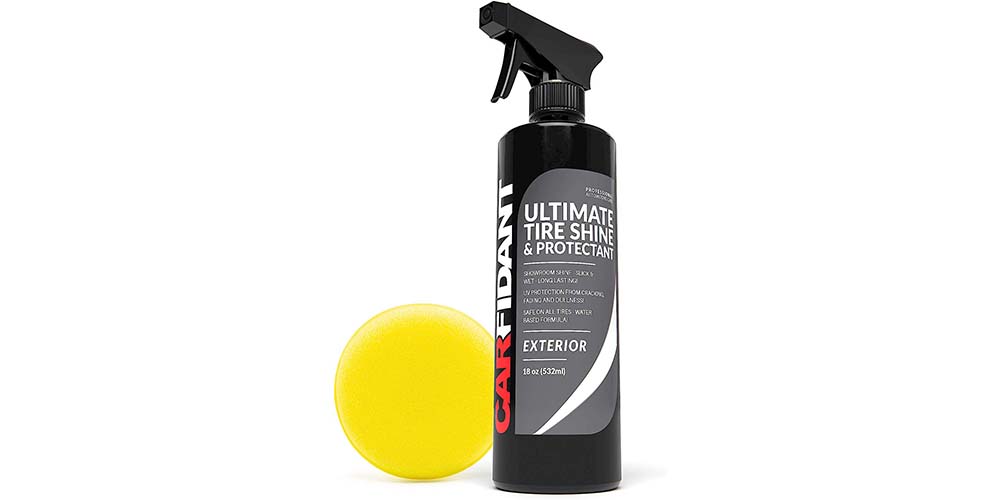 A special water-based nano-polymer compound from Carfidant will make your tires appear slick, damp, and black. With a few sprays, the company's Ultimate Tire Shine shields your tires from damaging UV rays, road grime, and even salt. Carfidant also throws in an applicator with its tire shine as a bonus.
The patented spray mixture can be used safely on all tires and even rubber trims. It is created to penetrate and bond to the tire to stop fading, cracking, and weather damage. It's a tire shine that lasts a long time, and Carfidant has a solid reputation for offering excellent customer service and a full refund if you're unhappy with their items.
Essential features:
Leaves tires looking dark, slick, and wet
Specific water-based, nano-polymer formula
Offers protection against salt, road grime, and harmful UV rays
Comes with a bonus applicator
Bonds to car tires
Can be safely used on tires and rubber trims
Long-lasting shine
If not satisfied, you can have a full refund

#5 Adam's Tire Shine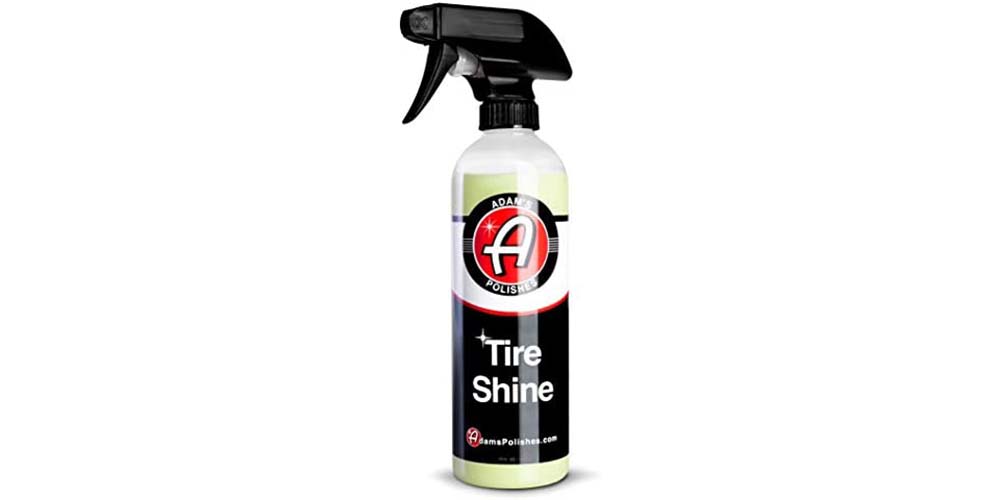 There are three sizes of this product: 1 gallon, 5 gallons, and 16 ounces. When correctly applied, Adam's Tire Shine won't run or sling since it has just the right amount of silicone that isn't greasy. Your tires will have a wonderful glossy sheen thanks to this long-lasting, SiO2-infused solution and durable silica polymers, which also keep them shiny. Additionally, if the smell is important to you, this tire shine contains a banana-like scent.
Ceramic paint protection products are probably familiar to you if you've been following the automotive maintenance industry. Adam's has successfully utilized SiO2 in its tire shine, given how well it preserves the body of your vehicle. That entails a product with silica infusion that is more durable and provides enhanced protection. The brand furthermore sells a combo kit that comes with its tire applicator.
Essential features:
Various size options
Formulated with SiO2
Has a banana scent
Tires get protected and look shiny due to durable silica polymers

#6 CAR GUYS Tire Shine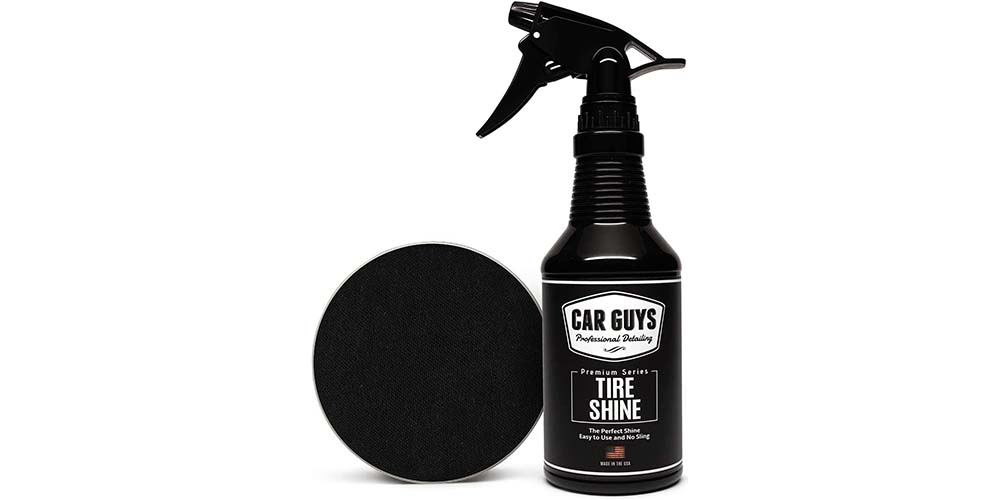 The tire shine from the CAR GUYS line of car maintenance products has a composition that's non-greasy. It is available in an 18-ounce bottle or a 1-gallon jug. It is made to be quick and simple to apply. The impressive thing about this product is that you can regulate the shine by using more or less of it, depending on whether you want a high gloss or satin finish.
According to the manufacturer, the tire shine is long-lasting and leaves behind UV protection to prevent browning, cracking, and fading in your tires. The surface can be hydrated with just one application of the solution, and a unique polymer component is used to enhance longevity. You need not worry of it slinging off onto the body of your automobile because it dries to the touch and includes an easy-to-use applicator pad.
Essential features:
Various sizes: one gallon and 18 ounce
Long-lasting
Dries-to-the-touch
Protects against harmful UV rays
Shine control

Essential Information About Tire Shine
Tire shine is intended to give your tires a glossy and shining black appearance. A good tire shine will also shield your tires from UV rays, grime, and other impurities, in addition to making your automobile look even cleaner. Tire shine, also known as tire dressing, revitalizes your tire rubber and helps stop it from cracking, hardening, and fading. Although they are typically simple to apply, you should avoid products that run or drip because this might sling off and potentially harm your vehicle's finish.
How to Use Tire Shine
Applying the tire shine after washing your car may seem like all it takes, but there are other things you can do to make sure it lasts and functions as it should. Following the manufacturer's directions is always advised, however here are some general suggestions for utilizing tire shine:
Make sure the tire's surface has been completely cleaned first. Tire cleaner is something we advise using!
Always use a cool surface—ideally one that is shaded—to apply tire shine.
Apply the prescribed quantity of tire shine to the tire and distribute it evenly.
Remove any extra tire shine by wiping it off, being very careful to avoid spinning off in grooved areas.
Use a different microfiber cloth to remove any tire shine that may have unintentionally gotten on your wheel.
If your tire is very shiny, immediately after application, wipe the tire with a different cloth.
After the initial application, if you're happy with the results, let the tire shine, cure, and dry. 
Depending on the product, this could take around 10 to 20 minutes.