Tire pressure monitoring systems (TPMS) are almost always standard equipment in new cars, but you can have an older car without one. Knowing when your tires are overinflated or underinflated is crucial since it can have an impact on your car's performance, particularly its fuel efficiency. Fortunately, you may add a monitoring system to your older vehicle thanks to the automotive aftermarket's current selection of practical, inexpensive, and simple-to-install TPMS kits.
These kits normally include a display that shows the tire pressure reading for each individual tire in addition to four sensors that are mounted onto the valve stem of your wheel. Given that it's more than simply a warning light, which sometimes leaves you unsure of which tire is genuinely low on air, this is actually preferable to certain factory systems. The best part is that these kits are easy to use and install, allowing you to quickly and accurately measure tire pressure. Check out the top 6 best TMPS systems available today.
#1  Tymate TPMS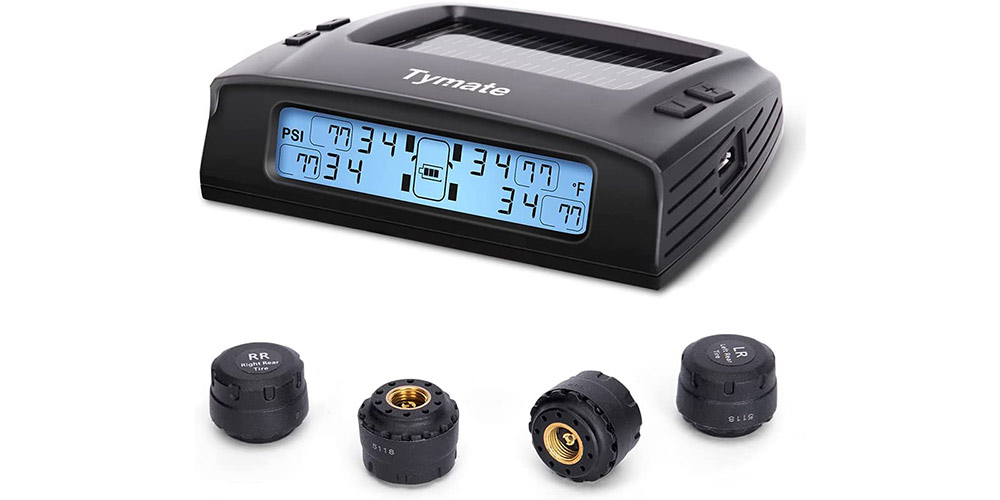 Brand: Tymate
Our best pick is this Tymate tire pressure monitoring device because of its adaptability. This solution allows both methods, so you don't have to decide between solar charging and using your cigarette lighter. There are five different alert settings: quick leak, high/low pressure, high temperature, and sensor low voltage. As a result, you won't just be aware of when your tires are inflated properly or not. You can configure the pressure range from 12 PSI to 87 PSI by predefining the alarm values as well.
The display will attempt to ensure that you can always read the screen by automatically adjusting the backlight based on the surrounding conditions. If there is an alert, the backdrop color will also change to red. There is an auto-sleep feature to aid with power conservation.
The display will attempt to ensure that you can always read the screen by automatically adjusting the backlight based on the surrounding conditions. If there is an alert, the backdrop color will also change to red. There is an auto-sleep mode and switch button to aid with power conservation. The TPMS will automatically go into sleep mode if it detects no activity for 10 minutes.
There are four external sensors included, each of which runs on a single CR1632 battery that Tymate claims may last up to six months.
#2 Vesafe Wireless TPMS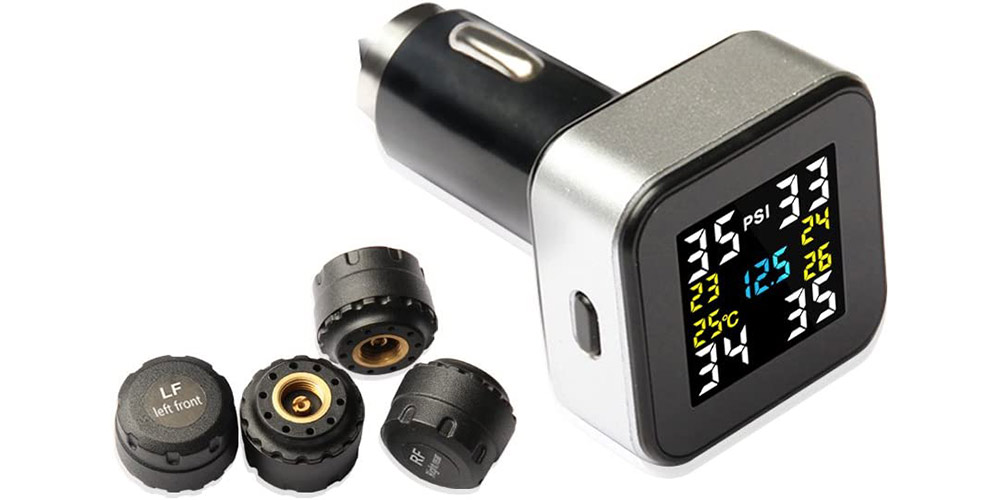 Brand:  Vesafe
Vesafe's TPMS, which plugs into your cigarette lighter outlet, is quite easy to operate. Naturally, that implies your cigarette lighter socket should be placed where it's simple to see the display; however, if it's in your armrest, you can still check on it sometimes. If a tire's pressure falls below a preset threshold, which can be modified from 29 PSI to 44 PSI, the system will sound an audible alarm and display a visual warning light.
Each sensor in this package, like the majority of others, is powered by a CR1632 battery, which Vesafe claims has a two-year lifespan. One advantage is that this business has an 18-month warranty, so you can get in touch with them if there are any problems at any time. It's important to note that this system only displays temperature in Celsius, so if you're used to Fahrenheit, you'll need to perform some conversions.
#3 BARTUN Bluetooth TPMS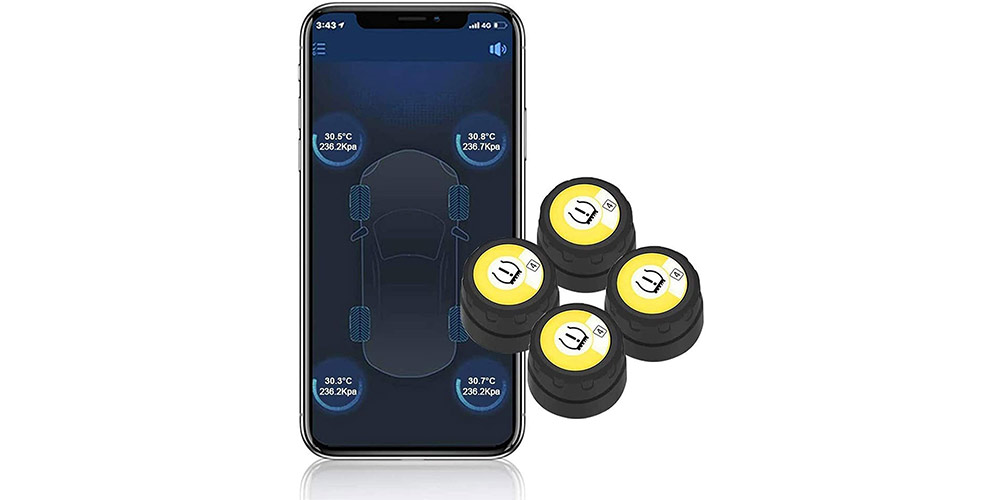 Brand: BARTUN
The Bluetooth tire pressure monitoring system from BARTUN is a little bit different from everything else we've suggested thus far. This solution uses your phone to display all the info rather than a display that must be powered and put inside your car. Due to the fact that it requires your phone and has a Bluetooth connection to function, there have been conflicting user reviews on this.
Depending on the type of phone you own, you'll need to download an app for either iOS or Android. The waterproof sensors are set up and monitored via a Bluetooth connection. The battery life of each sensor, according to BARTUN, can last approximately three to five years, which is much longer than what other manufacturers advertise.
It does seem like it's hit or miss on whether this system will work for you, and it's likely the setup process is a bit more cumbersome since you have to use an app on your phone.
#4 Vxdas Relearn Tool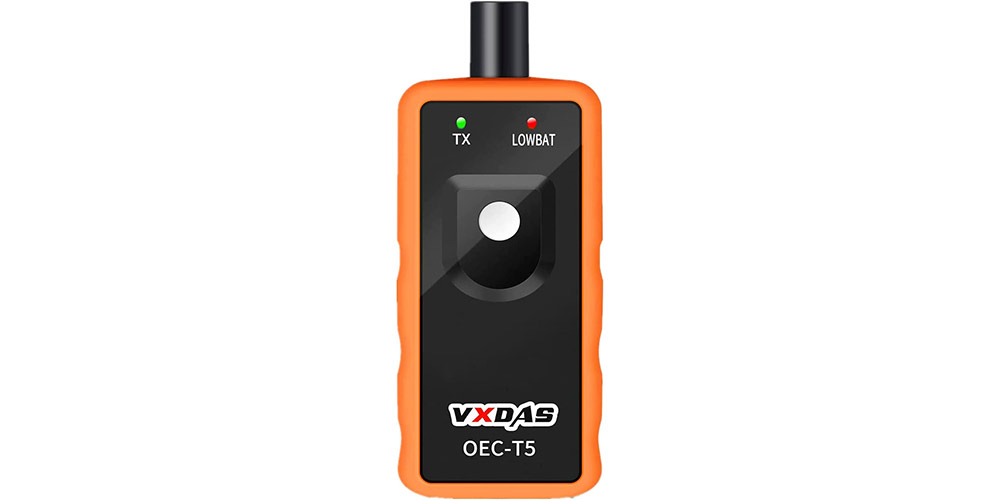 Brand:  Vxdas 
A tool designed for relearning that is compatible with all General Motors series automobiles, including Chevy, Buick, GMC, Cadillac, and more, all of which are equipped with a 315 or 433 MHZ frequency range.
After you remove or replace your tire for the replacement of the remote control door lock receiver module or even the tire pressure sensor, you may activate and reset your tire in just a few minutes.
Very user-friendly, allowing nearly anyone to retool/reprogram the tire sensor in only three straightforward steps. Follow the service instruction process after first ensuring that the car is in TPMS learning mode. You now position the tool such that the valve stem is up against the tire sidewall. Clicking the "Learn" button
#5 Autel TPMS Relearn Tool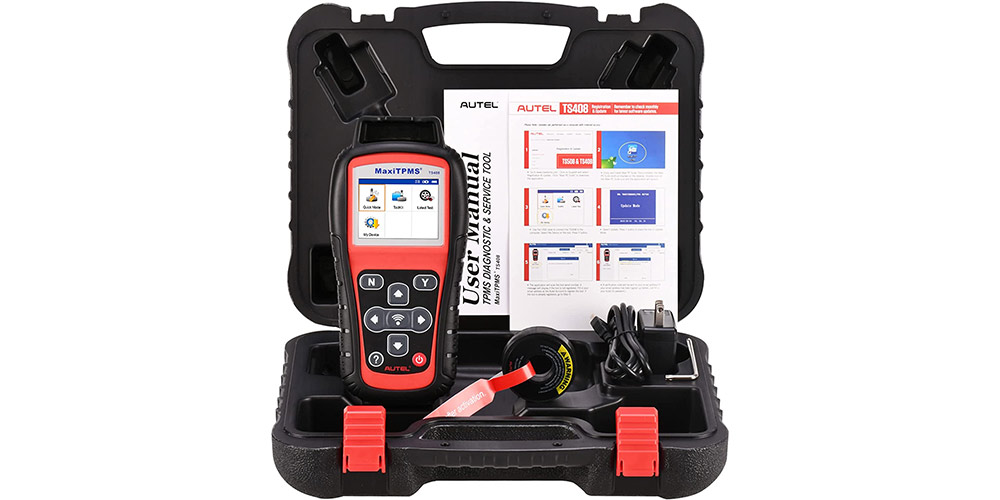 Brand: Autel
An Autel TPMS system relearning tool is the TS408. This relearning tool is an improved version of the TS401 and features reprogrammable sensors, key fob testing, and premium universal compatibility. There are three different ways to program the AUTEL MX Sensor. In the first, you activate the copy, and in the second, you manually insert the copy while programming the necessary fields.
The third method is automatic, in which the system makes the necessary adjustments and fields. Please be aware that the TS408 does not support copy by OBD but may configure Autel MX Sensors. In light of this, some people may find manually entering or relearning sensors to be tedious.
#6 Roadfar Tire Pressure Monitoring System Sensor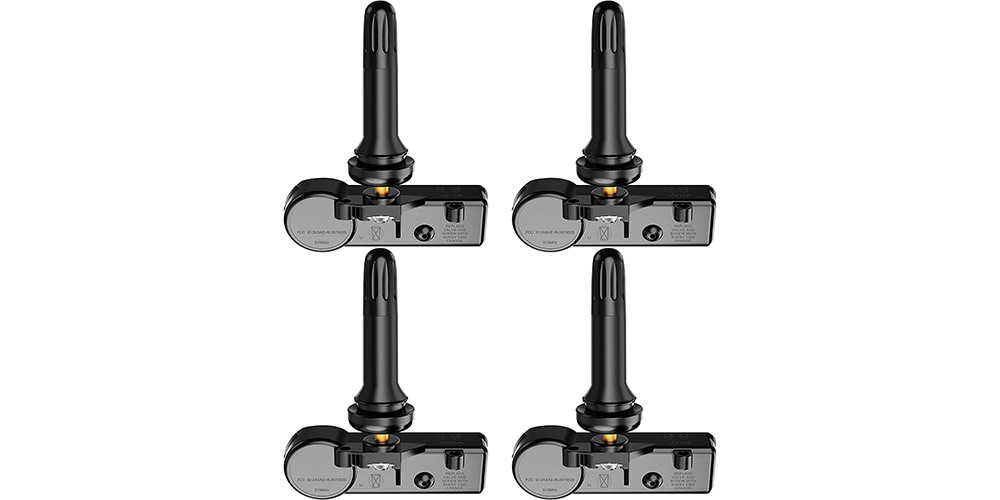 Brand: Roadfar
Designed exclusively for GM series automobiles, Roadfar is a 315 MHz pre-programmed Tire Pressure Monitoring System sensor. These sensors are offered for a variety of GM Series cars, including Cadillacs, Buicks, Allures, Lacrosse, and others. Superior reliability, greater vehicle safety, and high durability Shipped-out items have undergone careful and exact testing.
The ATEQ VT46 relearner/TPMS reprogrammer can be used to program it.