All new vehicles usually come with Bluetooth compatibility, making it easier to stay connected and safer while driving. However, older cars still lack this feature and would be an essential addition to those who would want better connectivity options. You don't have to go to the dealership and buy a brand-new car just to own a Bluetooth-packed vehicle. You can pick from a wide array of aftermarket solutions to take advantage of wireless calling or streaming.
Having Bluetooth in your vehicle can let you have hands-free calls and utilize the speakers of your car, which promotes safety while you drive. If you have a car that lacks the Bluetooth feature, we suggest you check out our list of the top 7 best Bluetooth car kits available today.
#1 SoundBot SB360 Bluetooth 4.0 Car Kit Hands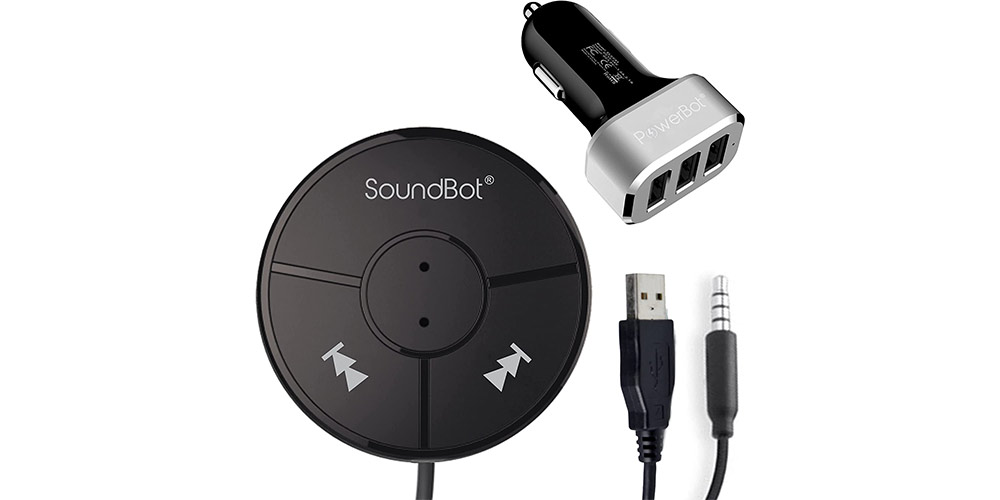 First on the list is the SoundBot Bluetooth car kit. This product also works as a smartphone charger. The kit includes a 12v socket charge containing three USB ports. The first one powers the Bluetooth receiver, while the other ports are available for charging different devices.
The SoundBot Bluetooth car kit lacks a built-in battery. It needs to be connected the whole time to the charger via the AUX cable. With this, you need to accept that cables will be visible on your dashboard. When it comes to sound quality of this Bluetooth car kit is impressive. The call quality is clear as well. The microphone works well at picking up your voice despite the noise that comes along with driving. This product features a Bluetooth 4.0 chip. This is not the most updated one, but it supports A2DP for high-quality wireless audio.
Overall, this Bluetooth car kit is a great option if you won't mind the cables. With its sound and call quality, you will never go wrong with this connectivity solution. The device also has big buttons that you can easily hit, so that's an added plus. The only drawback aside from the cable mess is its lack of a rechargeable battery. 
#2 Belkin Hands-Free Bluetooth CarAudio Connect Aux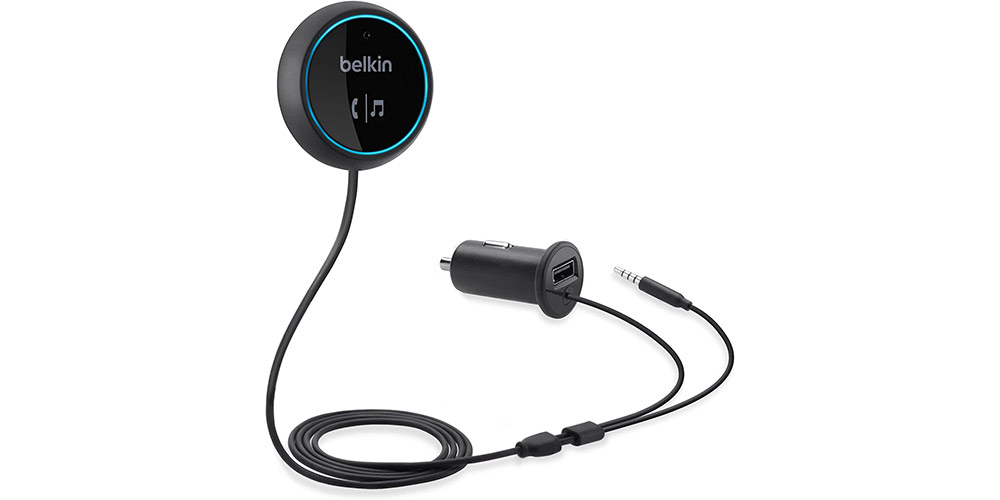 Another option that we highly recommend is the Belkin Hands-Free Bluetooth. This device can be plugged straight into the 12v socket of the cigarette lighter of your vehicle. It comes with a USB port that you can use for charging your phone while you use the device. You just have to deal with three cables lurking on your dashboard. Despite this, you are getting call and sound quality that is exceptional. The built-in microphone includes a noise-canceling feature. Just take note that you will need to have an AUX port to utilize this device.
Overall, the Belkin Hands-Free Bluetooth device offers great features and can be used easily. We like its impressive call and sound quality, noise-canceling features, and added USB port for smartphone charging. However, its major drawback is its price. This product is quite expensive for what it can offer. You can find better deals with the other options on this list. In addition, it has no built-in battery and showcases too many cables.
#3 Motorola 89589N Sonic Rider Bluetooth In-Car Speakerphone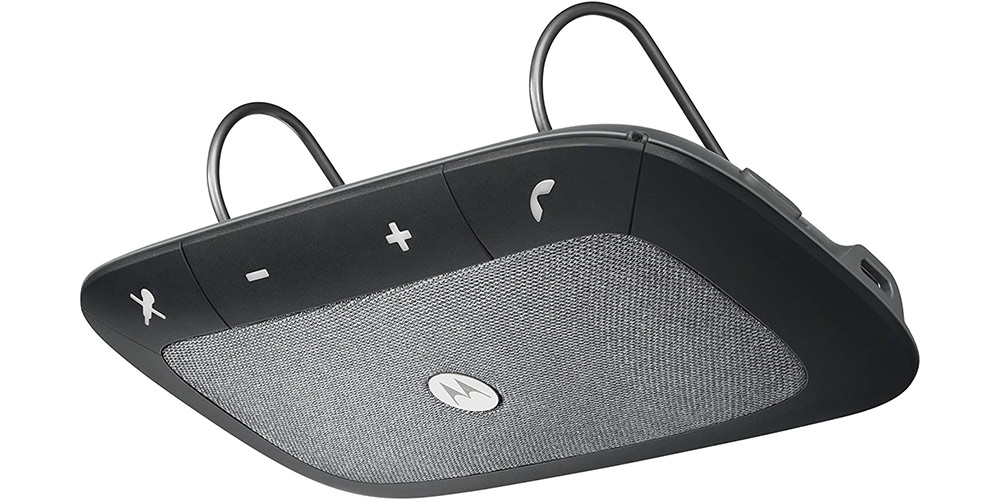 If you often talk while you drive, we suggest getting the Motorola Sonic Rider Bluetooth speakerphone. This product features impressive call quality. With this Motorola speaker, you will not just hear other people; clearly, you will also be clearly heard by them. It has a built-in microphone that works ideally in reducing ambient noise and capturing your voice well. The 2-watt speaker is impressively loud even if you are in a busy environment. The Motorola Sonic Rider Bluetooth is designed to not take up a lot of space because it comes in a small size. You can attach this to your vehicle's sun visor.
Another impressive feature of this product is its voice control. You can answer a phone by just saying "answer," and your can hang up by just saying "ignore." You can even connect two phones simultaneously. It comes with a built-in battery that can hold up to 45 hours of call time and 5 months when on standby mode.
The Motorola Sonic Rider Bluetooth is a perfect option if you spend hours on your phone. However, this is not a great option for music listeners. This product just can't connect to your vehicle's speakers. Another drawback of this Bluetooth is that it is pricier than the other options on this list. 
#4 SOAIY S-32 Voice Command Hands-free Bluetooth In-car Speakerphone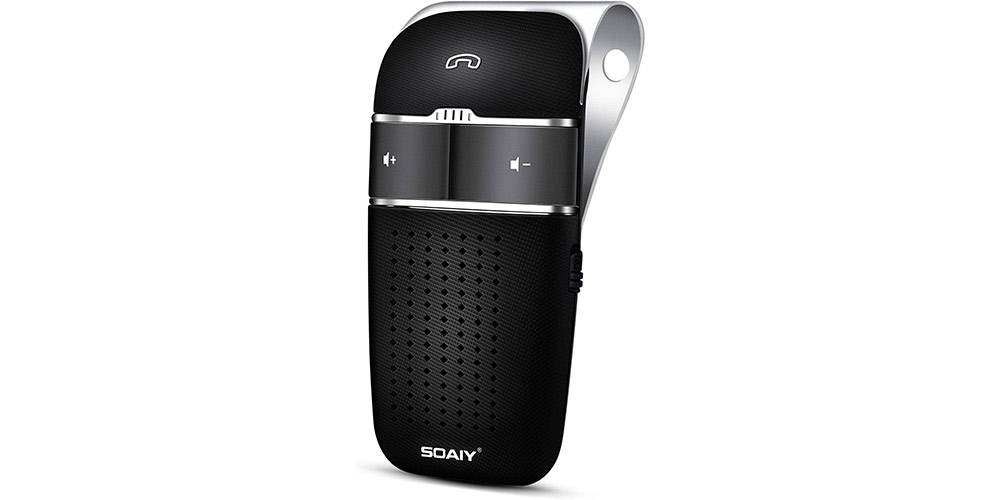 If you need an affordable version of the third product on this list, we highly recommend the SOAIY Bluetooth Speaker. This is a cheaper option if you talk on the phone a lot. If you are the type of person who makes a lot of calls each day, this one's a great option. It may not offer the same call quality as the Motorola Bluetooth, but this product would be enough. The product's microphone can pick up your voice pretty well, and that's already a huge plus for a Bluetooth car kit.
The SOAIY Bluetooth Speaker also features built-in voice commands. You can communicate with Google Assistant or Siri. With this feature, you can make a hands-free call or ask the web for information. You can simultaneously connect two devices to this product. It also showcases a battery that can reach 8 hours max, which is not as impressive as the Motorola Bluetooth speaker that has a battery that can run up to 45 hours.
Overall, we like this product for its call quality, impressive microphone, and affordable price. However, you should still be aware that it cannot be used for Bluetooth audio. 
#5 TIANSHILI Bluetooth FM Transmitter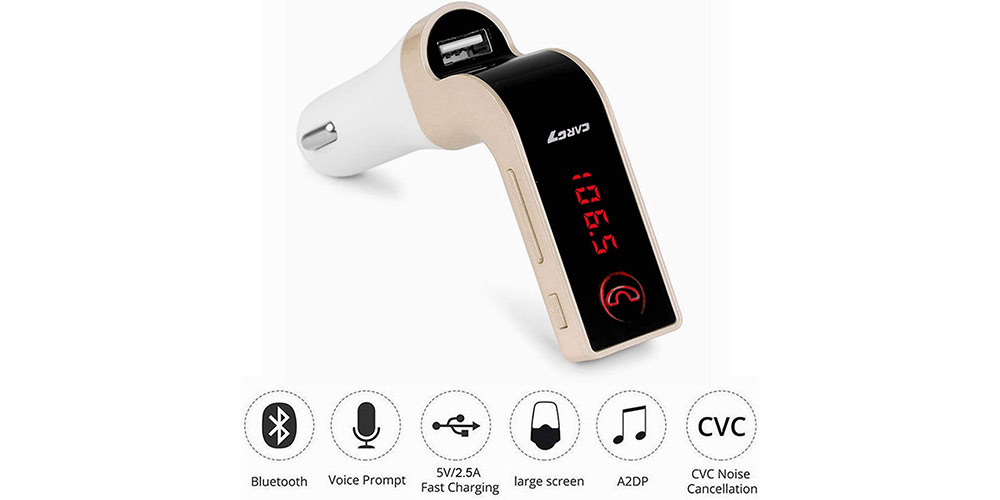 If you need a Bluetooth FM transmitter that works best for a tight budget, we recommend getting the TIANSHILI Bluetooth FM transmitter. This can work on any car stereo and can be very compact because of its small size. Just connect it to your car's 12vs socket and let it do its thing. Even if this product is small, it comes with a built-in screen where you can check the FM frequency. It also has one fast-charging USB port and an AUX port. In addition, it also includes a card reader ideal for playing your songs, which means you don't need a smartphone to listen to your jam. They even call it a 4-in-1 solution.
You should be aware that it does not offer the highest sound quality, and it goes the same with its call quality. The buttons are also smaller, so it may not be ideal for everyone. Overall, we like its features and versatility in playing audio. However, we can't ignore the average sound quality and abysmal call quality. 
#6 Anker Roav Bluetooth Receiver with Bluetooth 4.1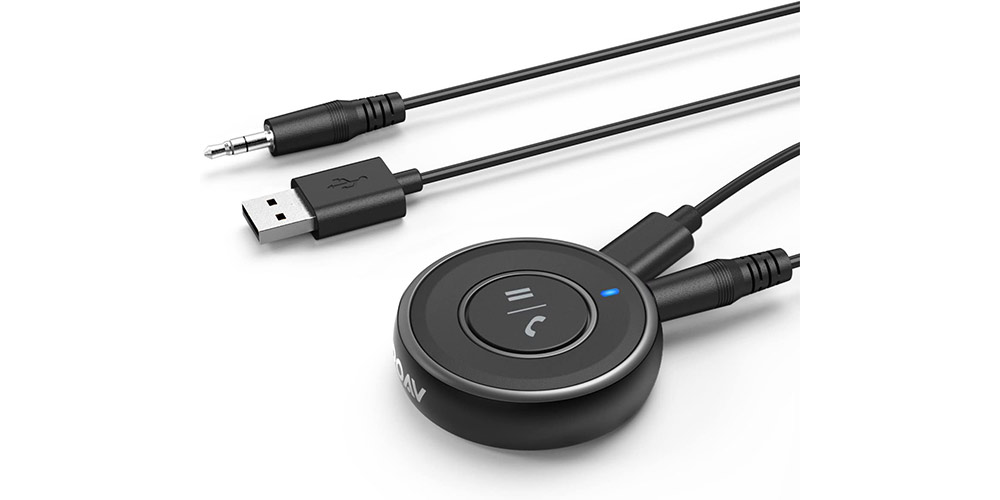 The Anker brand has been known as a reputable company when it comes to Bluetooth accessories. The manufacturer is known to produce affordable yet high-quality items. One of their best products is the Roav because it offers great sound, high-quality connectivity, and an affordable price.
Just take note that this Bluetooth car kit only works on cars that have an AUX interface. If your car does have one, you'll find this kit as one of the best options on the market. It comes with a built-in CSR chipset and features Bluetooth 4.1, which helps produce impressive audio quality. The Roav's built-in mic has noise-canceling, ideal for reducing ambient sound. This product also has shortcuts if you need to pause a song or make a call.
The drawbacks of this Bluetooth car kit are the lack of a built-in battery and the exposed cables that are not pleasing to see. 
#7 Yatour Digital Music CD Changer Bluetooth Car Adapter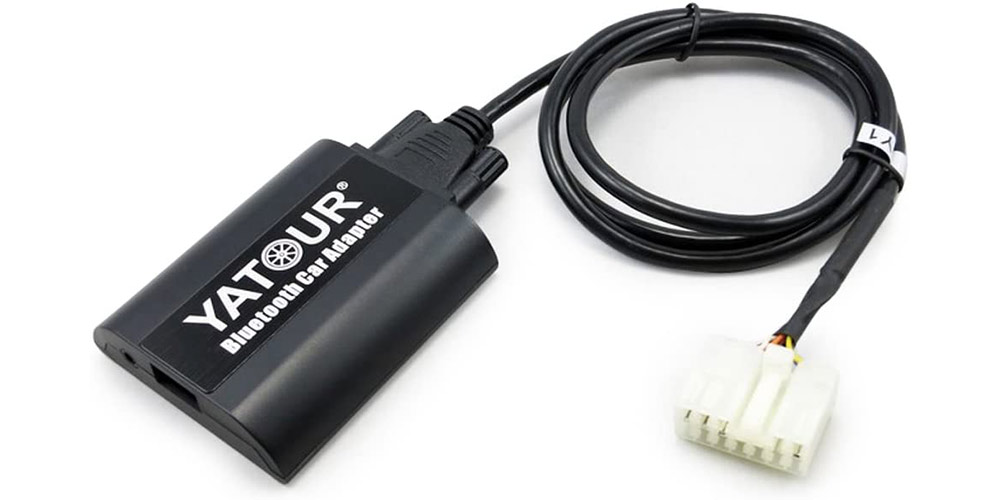 If you feel like getting a Bluetooth car kit that is somewhat built into your car, the Yatour Bluetooth Car Adapter is a great choice. Make sure you choose the correct product that would work with your specific vehicle model. This is due to the difference in connectors in different car models.
This device can sit in your trunk or glovebox. It feels as if it's a built-in system straight from the factory. It turns on when you power your car on. After you install the Yatour Bluetooth Car Adapter, everything is easy. You will be able to connect automatically as soon as you start your car. This product offers impressive sound quality and clear call quality. When it comes to price, this option is a bit higher, but it would fit a luxury vehicle well.
Overall, we like it because it feels like a factory solution. Its sound and call quality are both impressive. The microphone is exceptional, and you can hide this product as well. You have the option to tuck it in your glovebox or trunk, which makes it invisible from the cabin. However, aside from its price, this Bluetooth car adapter may not work for some cars. Nevertheless, it's still an exceptional product.