Not everyone is lucky enough to park their vehicle inside a garage. Many park their cars outside and expose their vehicles to the different elements. If you want to provide your car with some sort of protection, getting a reliable car cover is the way to go. Car covers come in various types and offer different ways of protection. However, we suggest that you take a closer look at the material used to construct that car cover plus the layers that it offers. You'll need to realize that not all car covers are recommended for outdoor use. There are also waterproof covers with buckles and straps to protect it from being dragged by the wind.
One good factor to help you choose a car cover is the frequency of use outdoors. You have to check out the fabric, its waterproofing features, and additional layers that can provide much-needed protection from different weather conditions, bird droppings, sap, and accidental scratches. With your car covered, you also somewhat deter thieves from attempting to break into your car because they have no idea what's under the cover. Getting the cover off will somehow delay time and potentially cause a disturbance.
If you plan on getting a cheap investment to protect your vehicle, purchasing a car cover would be a smart option. If you're overwhelmed by the variety of car cover options, we came up with the top 7 best car covers available today.
#1 Budge Duro Car Cover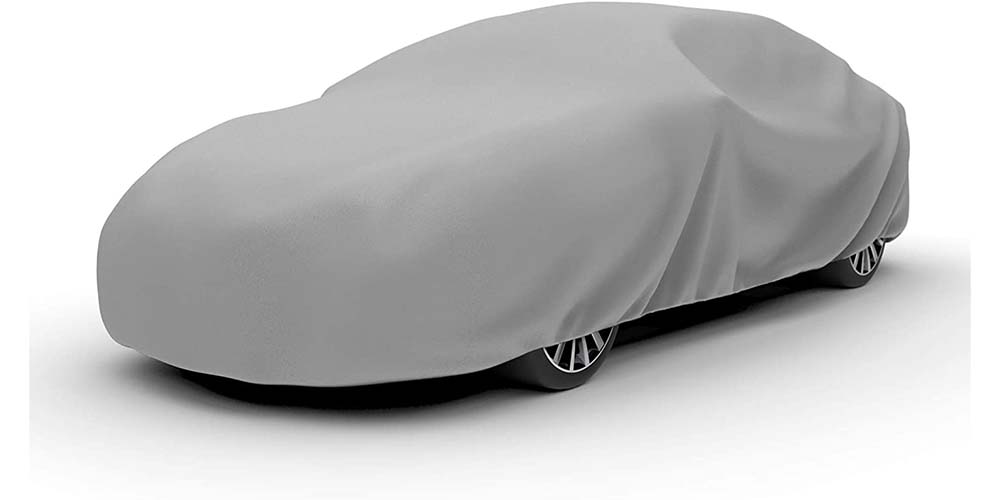 If you need a heavy-duty car cover, we highly recommend the Budge Duro. This car cover is made up of three layers of polypropylene material. It comes with ultra-sonically welded seams. We suggest using this for short-term outdoor parking and in a garage carport. It features a non-abrasive and soft material that can be gentle on your car's surface.
The Budge Duro car cover can be used on cars up to 246-inches long. It offers a great fit as it comes with built-in grommets and a full elastic hem. This product is available in gray and also comes with an antenna patch and a storage bag. The company offers this car cover with a five-year warranty. The one drawback that this cover has is its price. Some car owners may opt for a cheaper option.
#2 Classic Accessories OverDrive PolyPro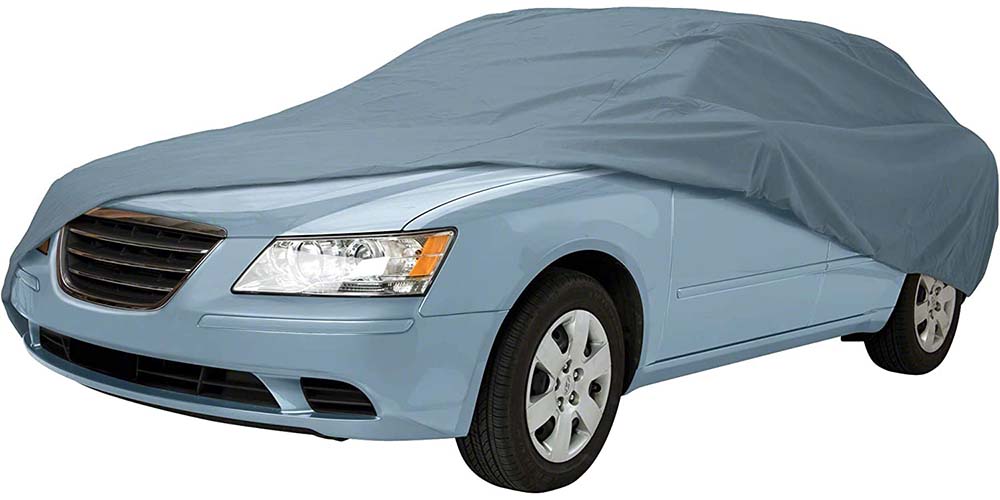 If you have a garage and still want a car cover to secure your vehicle, we prefer getting the Classic Accessories OverDrive PolyPro car cover. This product is made of soft fabric that is safe for your car's surface. It also comes with non-scratch tie-down grommets plus a hem that is elasticized for a fast and custom fit.
The Classic Accessories OverDrive PolyPro car cover offers protection against weather damage, dirt, and scratches. This product is a water-repellent fabric capable of reducing mold and mildew. When you purchase this, you can expect an antenna patch and a storage bag along with it.
A two-year warranty is included with this cover. Some users have noted that this is not a great cover against rain. Just remember that if ever you plan on utilizing this cover in a location that often rains.
#3 Kayme Four-Layers Car Cover with Cotton Zipper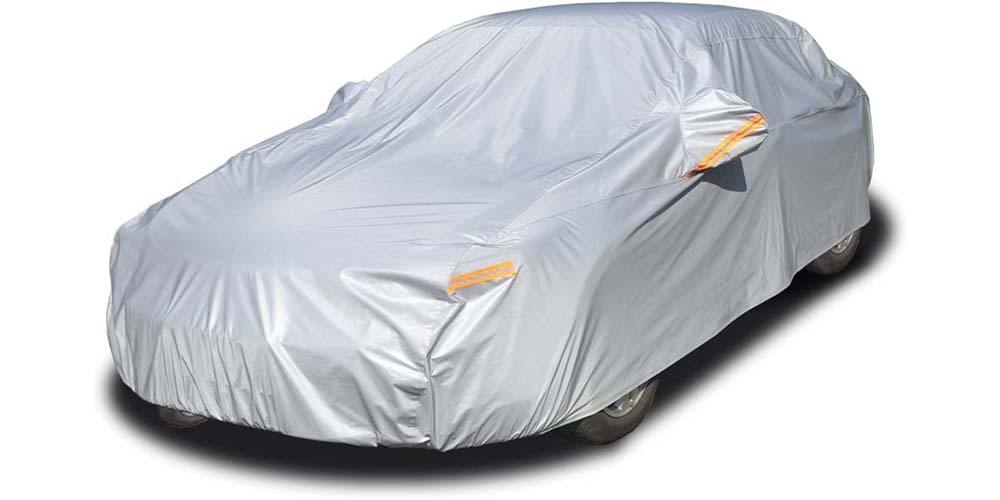 If you need a car cover that functions great for outdoor use, the Kayme Four-Layers Waterproof car cover with cotton zipper is one we highly recommend. This car cover features aluminum, cotton, and PE material that provides waterproof protection. The aluminum part assists in reflecting harmful UV rays. The inside part features a cotton lining that provides protection for the car's surface. It's good to know as well that this product comes with a zipper on the driver's door location. It also has straps at the rear and at the front for wind protection. Another incredible feature of this car cover is its reflective strips that work best during nighttime.
The Kayme Four-Layers Waterproof car cover comes with fitments that are available for cars that range from 173-208 inches long. There are separate fitments for SUVs that range from 188-200 inches.
Overall, we like this product because it offers four layers of protection plus the zipper and reflective strips. The main drawbacks of this car cover are its price and limited fitments.
#4 Leader Accessories Car Cover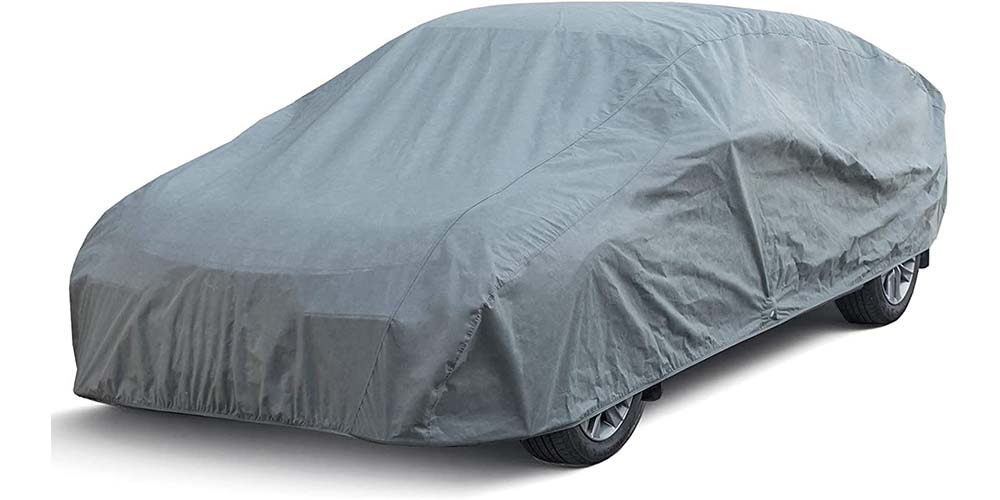 The Leader Accessories car cover is engineered for both outdoor and indoor use. This is made of a breathable material engineered to keep cars dry and repel moisture. Similar to other covers, this product has an elastic hem at the bottom to achieve a snug fit. It also has a buckle and a strap to protect against strong wind. This UV-resistant car cover is also dust-proof, and it works great with the environment because it comes in biodegradable material.
There is a variety of fitments for vehicles up to 264 inches long as well as SUVs up to 240 inches long, and even trucks that reach 249 inches long. When you purchase this car cover, you will also get a storage bag. The drawbacks of this product are that it's not waterproof and it's thinner compared to other covers.
#5 Budge B-2 Car Cover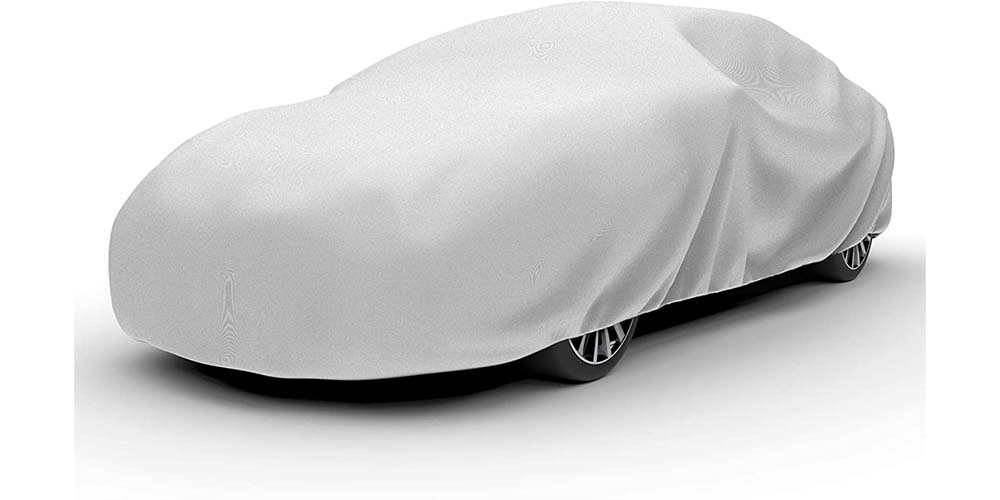 If you want a cover that is popular on Amazon, the Budge B-2 car cover will work for you. This affordable car cover features one layer of protection against debris and dust. This product is lightweight, and it's so easy to use. Ideally, this car cover is good for indoor use, but you can use it occasionally outdoors to protect from autumn leaves. The Budge B-2 car cover is made of a breathable polypropylene layer, which helps in preventing mildew.
This car cover offers double-stitched seams that provide added durability plus a full elastic hem for securing it on your car. This product comes in different sizes to fit cars and SUVs. It is available in gray and comes with an antenna patch and a storage bag.
The company offers this car cover with a two-year warranty. We like how affordable this one is, but overall, it only offers a light or basic protection.
#6 XCAR Breathable Dust Prevention Car Cover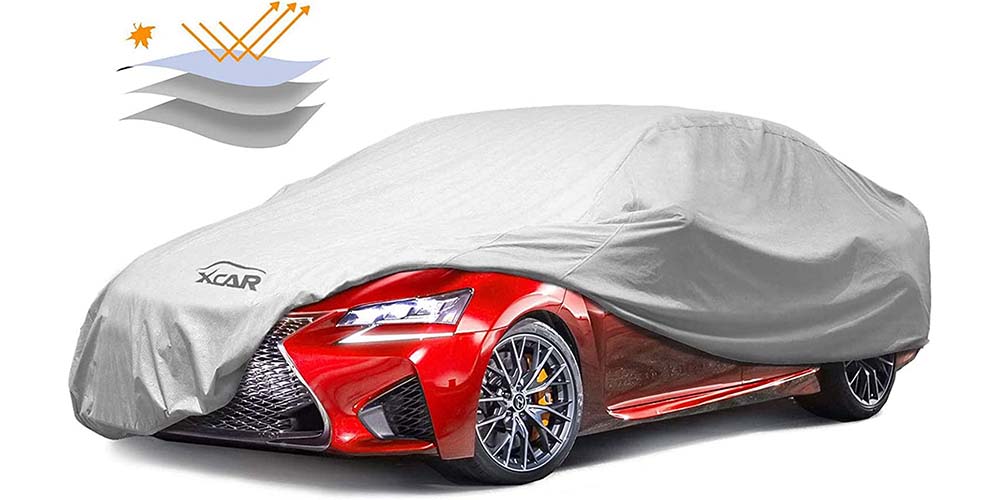 The XCAR Breathable Dust Prevention car cover comes with fitments for SUVs and cars. This car cover has double stitch seams plus elastic hems to achieve a snug fit. What differentiates this cover from the others on this list is that it comes with a cable and a lock. This helps in preventing the cover from getting blown off by heavy winds.
The design of this car cover is suitable for indoor use. Only limited outdoor use is recommended. The fabric of this cover is breathable. It offers UV protection and can repel water as well.
Aside from the lock and cable, the XCAR Breathable Dust Prevention car cover also comes with an antenna patch and storage bag. Unfortunately, the company only offers this product with a one-year warranty.
#7 OxGord Car Cover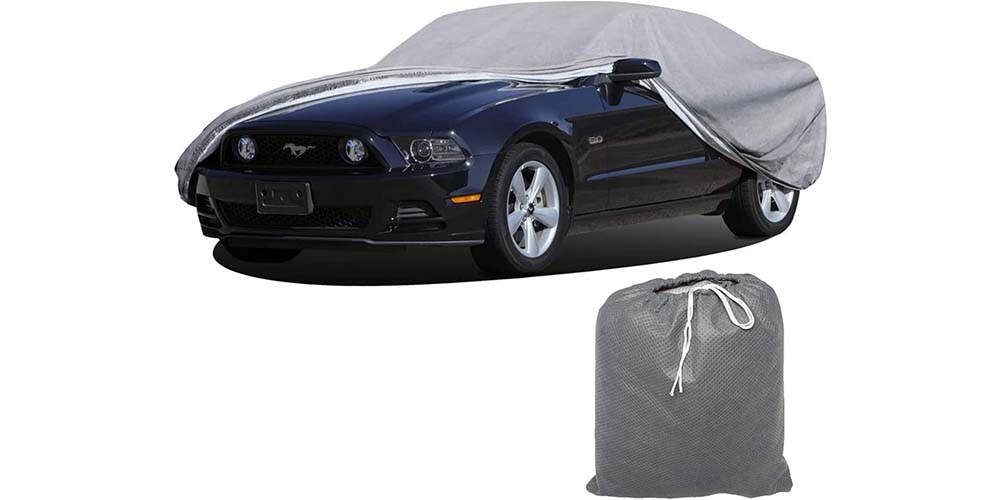 The last car cover on our list is the Oxgord Car Cover. This is quite pricier compared to the other options on this list. This product can cover cars from 97-229 inches long. It has a double layer of spun-bond woven polypropylene taffeta fabric. This car cover provides superior breathability and solid protection. It has elastic hems that come with drawstrings to help achieve a snug fit. When you purchase this car cover, you will also get an antenna patch and a storage bag. It also has tie-down security grommets with a lock and wire that helps prevent getting blown away by high winds and also deters theft.
According to some users, they had some issues with the quality, but some reviewers find it a solid option.