Foam cannons take less water and time. They help in avoiding rubbing grit onto your vehicle's finish. Even those who are not passionate about washing or detailing cars will appreciate a foam cannon and a pressure washer because they help in making the job easier and faster. Foam Cannons can even offer better results than regular washing methods.
Generally, foam cannons are affordable products that you can attach to your pressure washer or garden hose. It can provide your vehicle with a thick and nice layer of foamy soap to help you wash easily. You don't need to constantly dip your sponge or hand mitt into a bucket of soap. The foam cannon prepares your vehicle for wiping. The mixing basically happens in the bottle—less water and soap.
If you can't choose a specific product, we helped narrow the choices with our top 7 best foam cannons. Check it out.
#1 DUSICHIN Adjustable Foam Cannon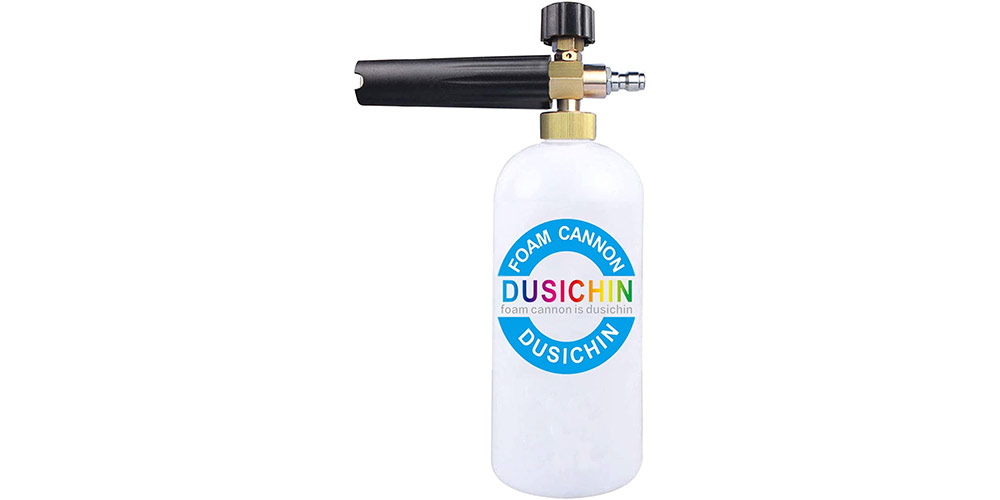 DUSICHIN is a company that creates paint sprayers and supplies them to Graco. They also sell products at affordable rates. The DUSICHIN Adjustable Foam Cannon is one of the most popular foam cannons today. This one-liter bottle includes a .25-inch quick-release fitting. The connectors that come with the product are made from quality brass, which helps with durability.
Using this foam cannon requires that your pressure have 2.0 GPM and more than 1,000 PSI of pressure. It can support a maximum flow of 5.3 GPM and a maximum pressure of up to 3,000 PSI. The DUSICHIN Adjustable Foam Cannon includes a single adjustable nozzle, though some other models have multiple nozzle options.
When purchased on Amazon, it comes with a 30-day warranty. This applies to defective products. The limited spray adjustment and the need for high pressure are the two downsides that some consumers may need to consider. Overall, it's one of the best foam cannons because it is light, easy to use, and affordable.
#2 Adam's Premium Foam Cannon 2.0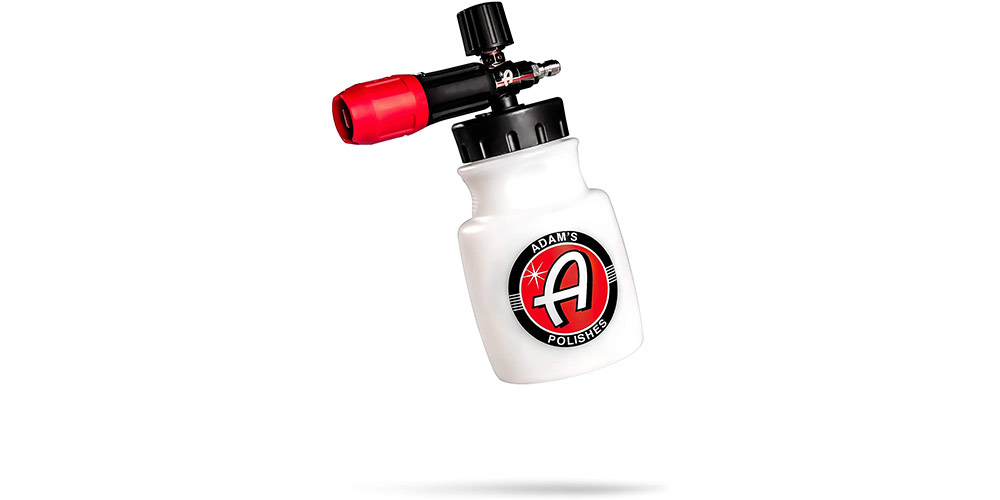 If you are looking for a more versatile foam cannon, Adam's Premium Foam Cannon offers a wide mouth and a 35-ounce canister. Filling this up is easy. All of the included fittings are made of stainless steel, and that is a huge plus against corrosion resistance. The nozzle can rotate 360 degrees, and there is a wide adjustment to the spray pattern. This can help you fan suds in your wanted direction. Setting up and maintaining this foam cannon is required, unlike other similar products.
You have to seal the threads using Teflon tape carefully, or the bottle can possibly leak. This product requires a minimum of 1.3 GPM and 870 PSI. This can work as high as 3190 GPM, 5.3 GPM, at up to 140 degrees.
Another reason to buy this product is that it comes with a one-year limited warranty on defects. Overall, this is the most versatile foam cannon on this list.
#3 Chemical Guys TORQ Professional Max Foam 8 Cannon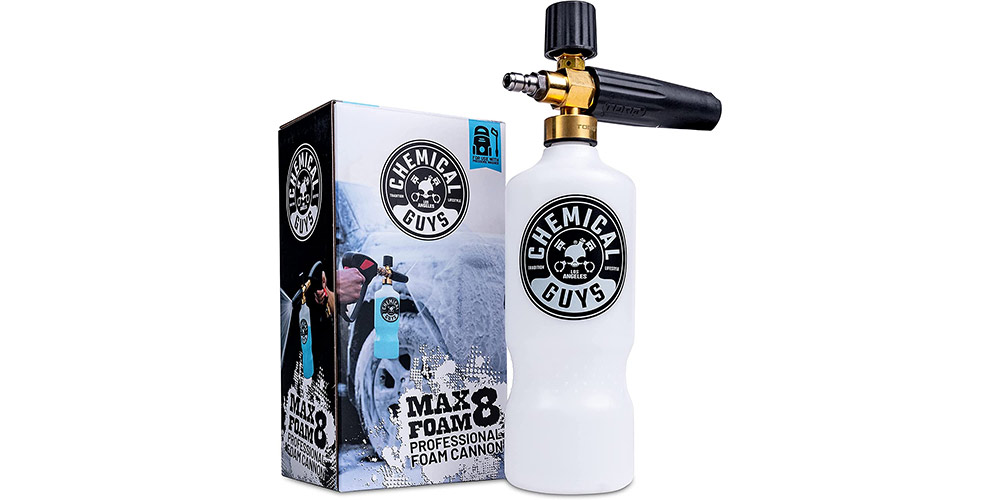 The Chemical Guys TORQ Professional Max Foam 8 Cannon is almost similar-looking to the DUSICHIN foam cannon. However, when it comes to price, this one is more expensive. Many users rate this product high despite the higher price point. This foam cannon comes with a patented TORQ thread lock system plus a 32-ounce plastic bottle that is UV-resistant. This helps address an issue that users complain about bargain brands and broken and cracked bottles.
According to Chemical Guys, this foam cannon will work from 500-3,500 PSI. Get better results using higher pressures. Overall, the Chemical Guys TORQ Professional Max Foam 8 Cannon offers higher quality materials. The warranty is quite disappointing, and you can opt for four cheap ones for the same price as this product.
#4 MTM Hydro Original Foam Cannon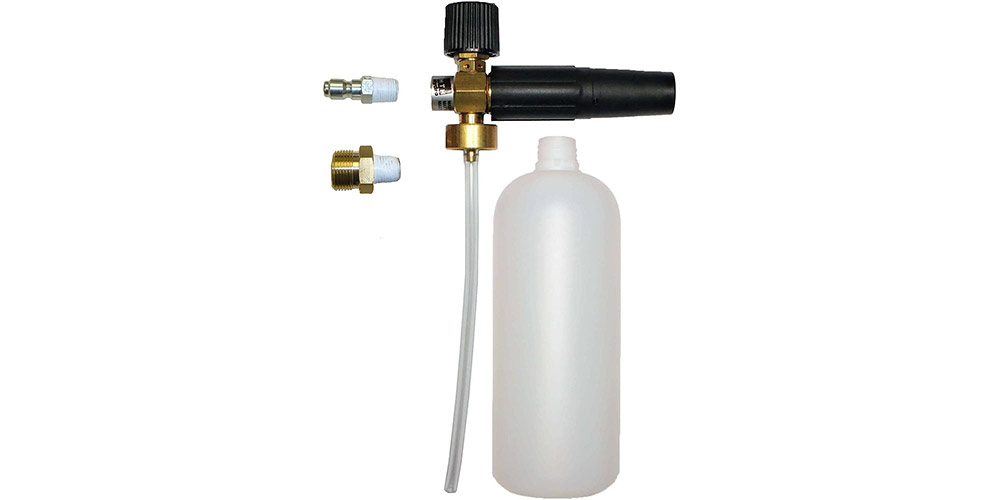 The MTM Hydro Original Foam Cannon features adjustable fan blades that can help in controlling the foam being sprayed onto a vehicle. This product has a higher price point compared to other foam cannons with a bottle style on this list. You can adjust the amount of soap to be mixed with the solution to manage the foam output. This product has a large 1.25mm nozzle. This bigger nozzle will require higher pressure to produce more foam. The bottle is 32 ounces but has a small filler. You would need a funnel to add soap because it may overflow or bubble up quickly.
According to the company, this product is compatible with pressure washers from 1,100-5,000 PSI of pressure and 1.8-5.3 GPM. According to users, this foam cannon works more effectively at higher pressures.
The MTM Hydro Original Foam Cannon comes with a 60-day warranty. 
#5 Best For Garden Hoses: Gilmour Foamaster Cleaning Sprayer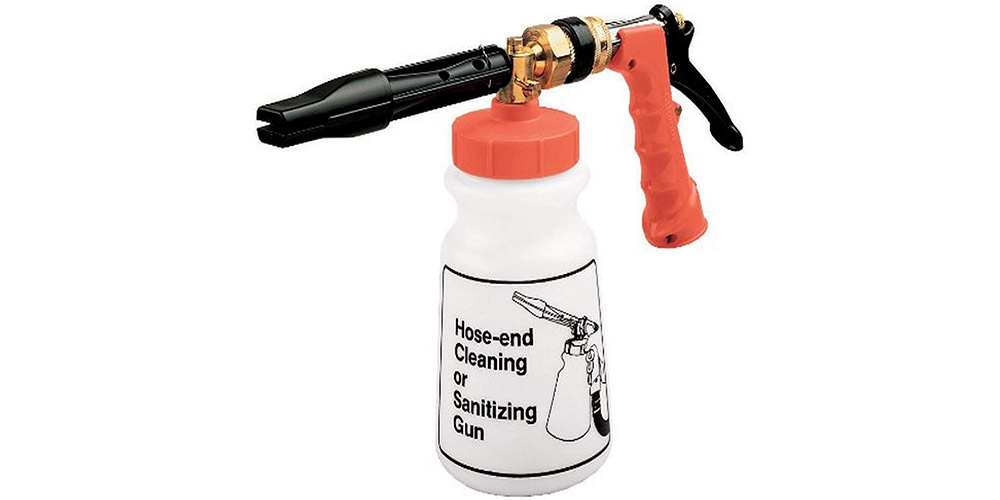 Are you in need of a foam cannon that works best for your garden hose? The Gilmour Foamaster Cleaning Sprayer is just one of a few foam guns that work with a garden hose. The manufacturer, Gilmour, is a well-known company who produces garden hoses. So, they know what they are doing.
You need to know that compared to a pressure washer, this garden hose foam gun is not as capable of giving out thick foam. This comes in a 16-ounce bottle and includes a garden hose sprayer handle, a single-ratio nozzle, and brass fittings.
On this entire list, the Gilmour Foamaster Cleaning Sprayer is the only one that offers a lifetime warranty. Customer service is quite questionable as everything will need to go through email.
#6 TriNova Foam Cannon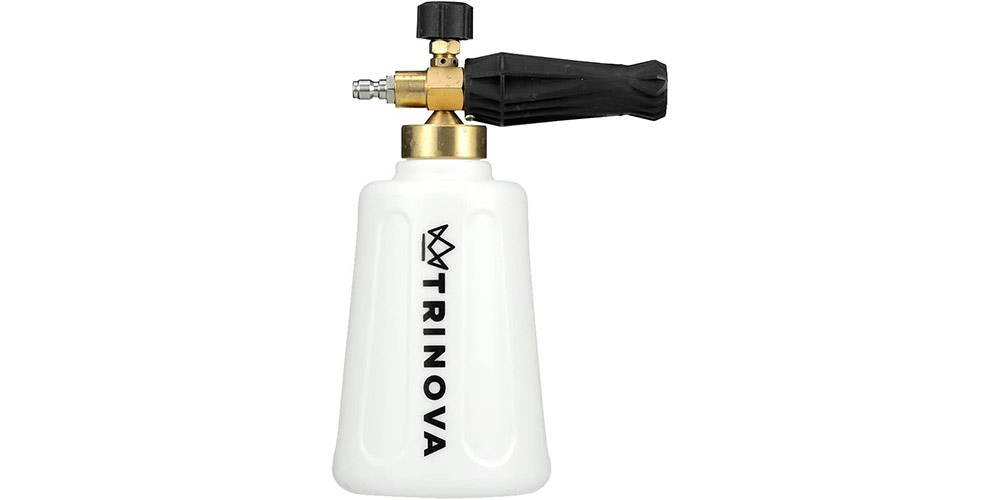 TriNova is one brand that has been gaining popularity in the car care industry. The TriNova Foam Cannon features a neck that is durable against cracks. This product comes with a .25-inch female quick connect. You need to understand this foam cannon can only work with a pressure washer. This product's nozzle can be adjusted for either a wide or narrow steam. The company recommends 1,000 PSI or higher to get the best results. The product is rated from 800-3,500 PSI.
The TriNova Foam Cannon has a wide base, so it's more stable and won't tip over. If you had a foam cannon before that had a cracked neck, this is one of the best options to buy. You'll be impressed by how durable this bottle's neck is.
The small filler neck of this foam cannon may be the only downside. Some users have been doubtful about the company's tech support as well. Nevertheless, we still regard this as one of the best foam cannons available today.
#7 MJJC Foam Cannon Pro 2.0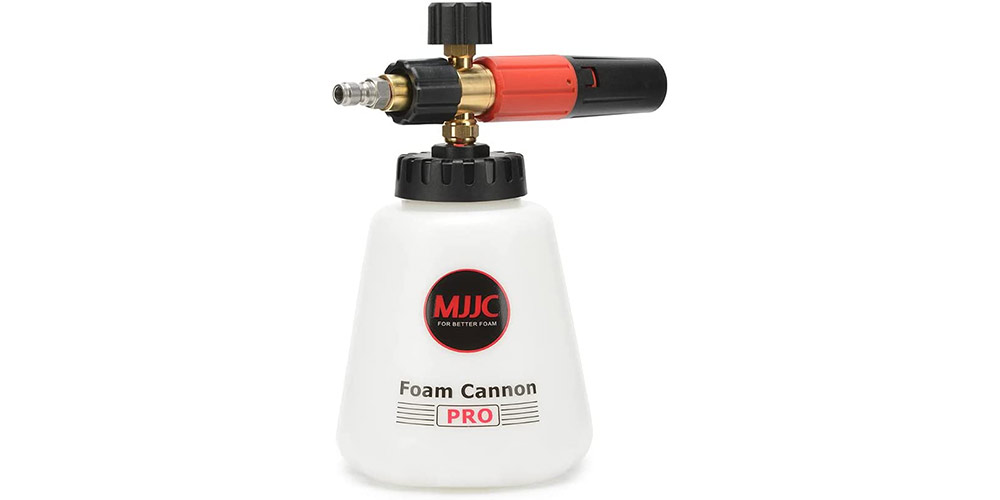 The MJJC Foam Cannon Pro 2.0 features a 1L/34oz wide-mouth foam cannon that includes an adjustable 1.4mm, 360-degree rotating nozzle, and solid brass fittings. This product offers a universal .25-inch connect. Its bottle is rated for 60°C/140°F and for 1,300-3,600 PSI. To prevent leaks, you will need to use enough Teflon tape on its brass threads.
The negative aspects we've noticed about this product are its lack of US customer service and higher price range.