Besides being essential equipment in repair shops, jack stands are common items found in enthusiasts' garages all over the world. For a safe work environment underneath cars, trucks, vans, or trailers, a jack stand is a necessary piece of equipment that will keep whoever works under the car safe.
Every jack stand that's worth its name needs to hold your vehicle safely. Jack stands typically include a ratcheting post with a base for holding cars, a ratchet handle mechanism, and an adjustable A-shaped post.
Before creating a list of the best jack stands available on the market, we should first cover which types of jack stands you'll come across.
Types of Jack Stands
When searching for jack stands, there are three main types you'll come across. Three types of jack stands include:
Screw-style jack stands
Ratchet-style jack stands
Pin-style jack stands
The most uncommon type of jack stand is a screw-style one. These stands have a massive screw in the center of a vertical cylinder that serves as the support column. The beam is screwed in or out to change the height of the jack stand. The reason why it's so unpopular is that it's not very easy to use. These jacks are most commonly used to stabilize and level RVs when parked.
The ratchet-style jack stand is the complete opposite of a screw jack stand – this one is the most popular. The support bar has a ratcheting mechanism built into it, which causes it to lock into place when raised, and with the handle, we unlock it out of place and release it.
To hold the position of the support bar in check, pin-style jack stands often has a pyramidal form and a row of holes through which a pin can be inserted. The pin is most commonly made out of solid steel that is capable of supporting the weight of a variety of vehicles.
BESTOOL Jack Stand
The BESTOOL Jack Stands belong to the pin-style jack stand type. Compared to the typically curved axle post jack supports, they have flat top rubber saddles and round base pads, with the purpose of protecting the car's chassis. The non-slip pads can be taken apart and changed to provide the highest level of stability and safety.
There are 7 changeable holes on this car jack stand's height adjustment mechanism. This jack has an 8,000 lb. load capacity and a minimum height of 13.4" and a maximum height of 19.9".
For newer cars with limited ride height, this jack stand is ideal. BESTOOL Jack Stands can handle a variety of vehicle types, including minivans, SUVs, light-duty trucks, jeeps, ATVs, UTVs, and more.

Omega 32225B Heavy Duty Jack Stand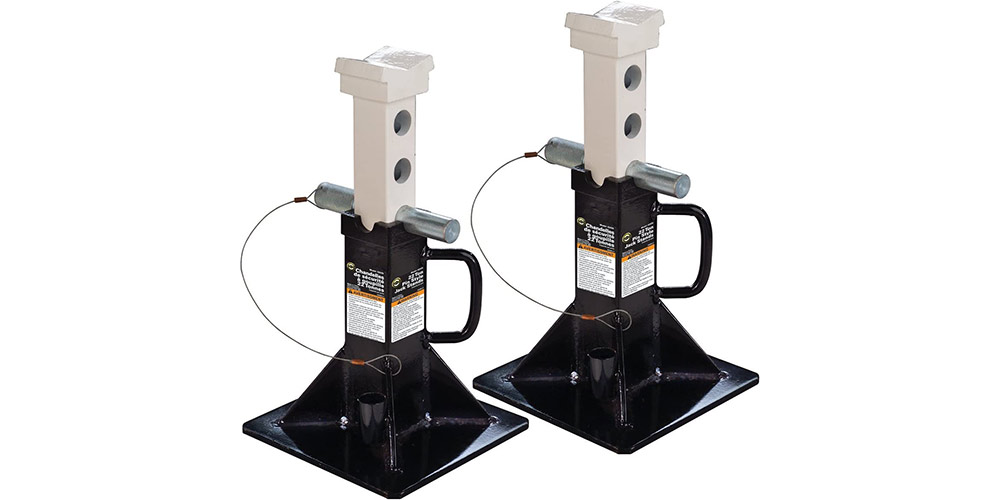 The Omega 32225B Black Heavy Duty Jack Stand has adjustable holes and provides utmost reliability and safety. They are built with the best-welded steel construction that allows you to safely hold a massive amount of weight thanks to the large saddle it was designed with. It allows you to support heights that range from 13-1/3" to 19-2/3". Most importantly this structure can hold up to 44,000 lb, which is ideal for both DIYers and mechanics alike.

CARTMAN Jack Stand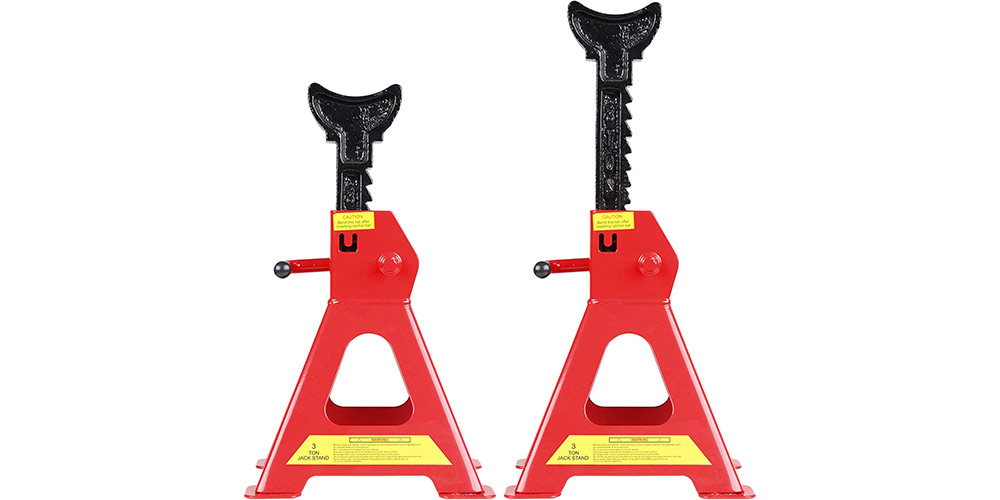 Setting itself as our third jack stand, we go from pin-type jacks to ratchet-type jacks. We are talking about the CARTMAN Jack Stand.
Its spacious top saddle and even wider pyramid foot platforms can only offer generous sturdy support, all with the purpose of maintaining safety. With such a durable welded frame structure and solid pressed steel with which it is made, that stability is only increased.
After lifting a car with a jack, the capability of each CARTMAN jack stand is 6000lb. A sawtooth-shaped multi-position cast iron ratchet bar allows for quick height alterations from 11.4″ to 16.5″.

Jack Boss Jack Stands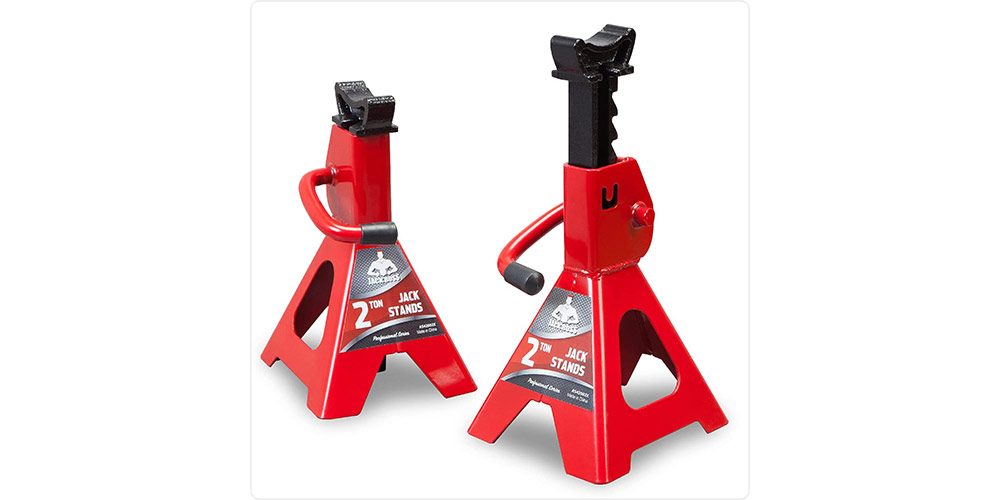 Going off strong on our fourth jack stand, we suggest Jack Boss Jack Stands. These jack stands are considered low-profile ones, meaning they have low-profile styles.
These jack stands can hold up to 4000lb with a lifting range of a minimum of 10″ to a maximum of 15″. This one is made of robust mild steel and has an entirely welded frame construction to uphold the well-known reputation of sturdy and durable jacks we have talked about until now.
Heavy-duty jack stands will increase the vehicle's body height, provide you access to the vehicle's chassis, and allow you to work safely and comfortably while doing any repairs.
The sawtooth shape of the multi-position ratchet bar made of ductile iron allows for precise adjustment to the locking place.

BIG RED T43202 Torin Jack Stands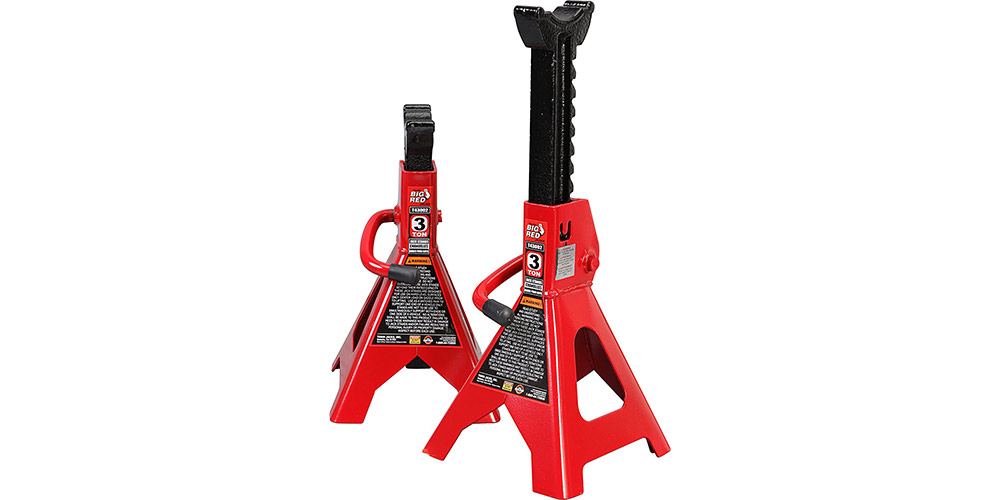 On our fifth spot is the BIG RED T43202 Jack Stand. Similar in looks to our previous ratchet jack stands, this premium product is made of high-grade forged steel with a welded frame.
The core purpose of this item is durability and providing safety. BIG RED is forged to handle a wide range of vehicles such as small cars, SUVs, and light-duty trucks.
With 11-1/4 to 16-3/4in of adjustable height, and with a 6,000 lb load capacity, this ratchet jack has a wide saddle, just like previous models on this list.
If you are looking for a reliable product that won't break the bank, this one will surely do the job for you.

EAZ LIFT Telescopic RV Jack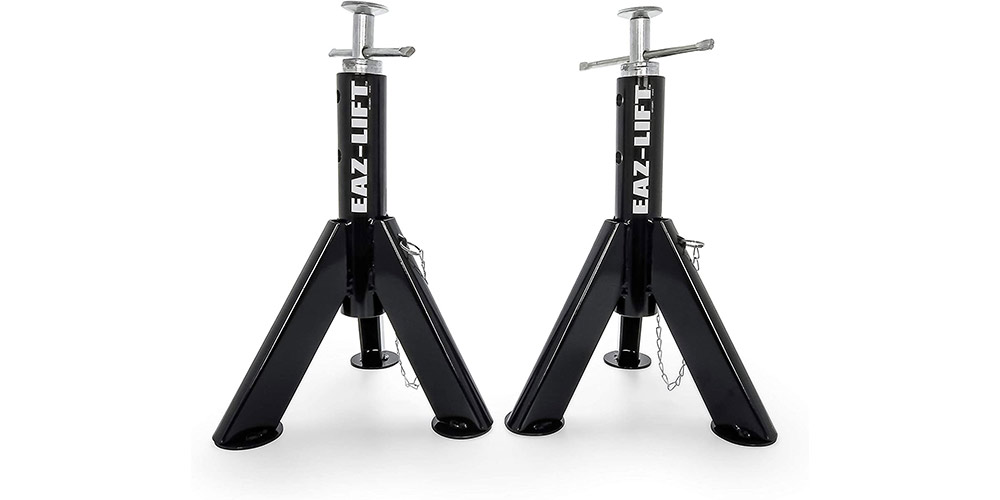 Our first pick for our most uncommon type of jack stands – the screw-style one – is the EAZ LIFT Telescopic Jack.
RV stabilization is made simple and reliable with the Eaz-Lift Telescopic jack. It adjusts from 16in to 30in and has a zinc-plated inner tube and screw assembly. The jack has a verified 6000lb capacity and is made of robust steel with a powder finish for optimal rust protection. The height of the jack can be changed with a simple pull pin.
These are helpful tools that can be stored easily if not in use.

Sunex 1310 Jack Stands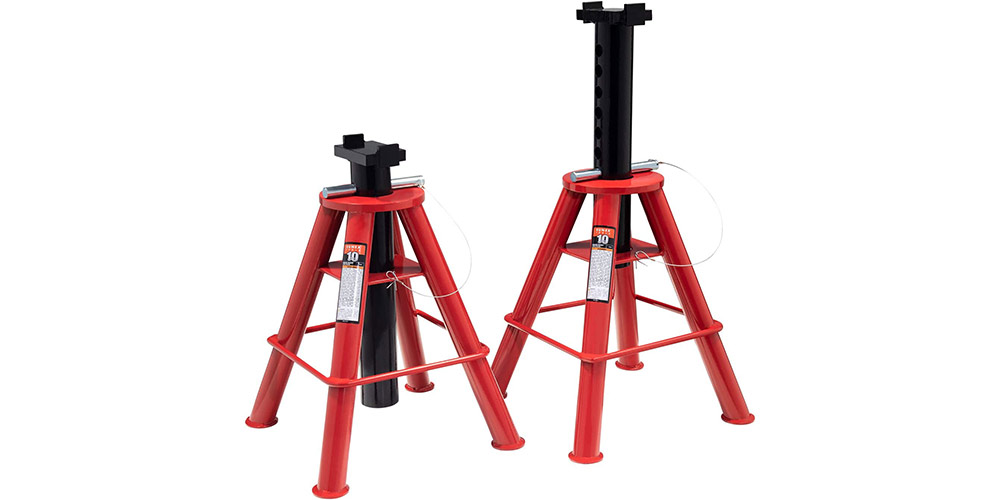 Last, but not least on our list is the Sunex Tools 1310 Jack Stand.
For increased strength and stability, a four-legged steel base with a support tube constructed of heavy-grade pipe was used. Being able to support 20,000lb is putting this stand amongst the best jack stands available!
The support tube has many holes that allow for quick and simple pin-facilitated height adjustment. It has twelve height settings and a pin linked to the stand to keep it from falling over and potentially losing it. The massive saddle supports and positions the vehicle frame and has locating lugs.
This product is used in pairs to hold cars, trucks, trailers, and fleet equipment, together with industrial, agricultural, and construction equipment.