Whether you want increased peace of mind during close-quarters maneuvering of your car or truck, or you share a vehicle with a younger or less-experienced driver, the options for electrical equipment that help minimize inadvertent dings, scratches, and accidents during parking are practically unlimited.
Although more new automobiles than ever before are equipped with some form of parking assist system, many models still do not—and the older the vehicle you drive, the less likely it is to have any parking-help technology on board.
We'll take a look at a few aftermarket parking assist systems that can quickly provide protection and support when it's time to park your car, truck, or SUV. The majority of the products featured here are designed to be easily retrofitted to almost any vehicle at a low cost.
#1 EKYLIN Reverse Backup Radar System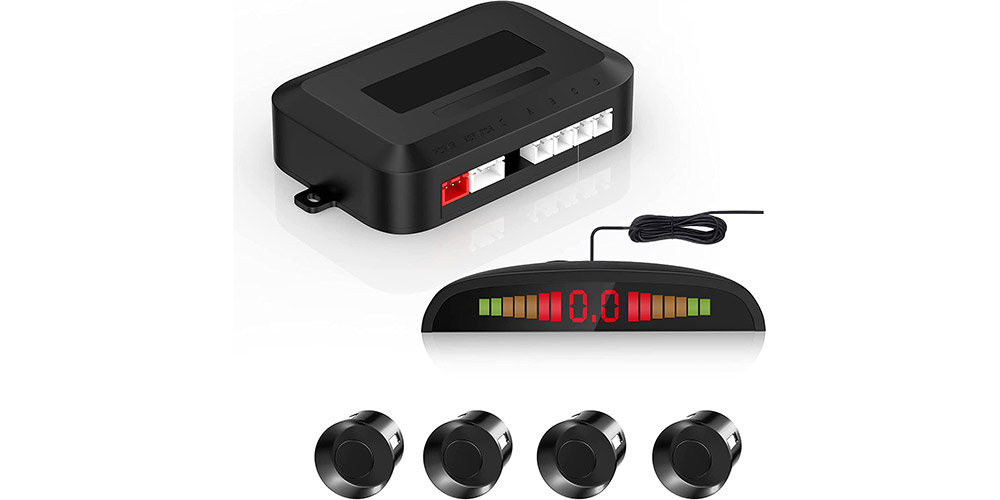 Brand: EKYLIN
The EKYLIN reverse backup radar system is great for shoppers looking for enhanced parking protection without the trouble of more complex or expensive devices. Four radar sensors, as well as a system computer module and a visual display unit, are incorporated. The exterior bumper-mounted parking sensors come in a number of popular colors and may be installed discreetly with the accompanying hole-saw.
Sensors communicate with the system computer module, which is often buried behind the dashboard or beneath a seat. The visual display is linked to the same module before being installed at a spot where the driver can easily check their closeness to neighboring objects when parking.
#2 Accfly Rear View Camera with Parking Sensors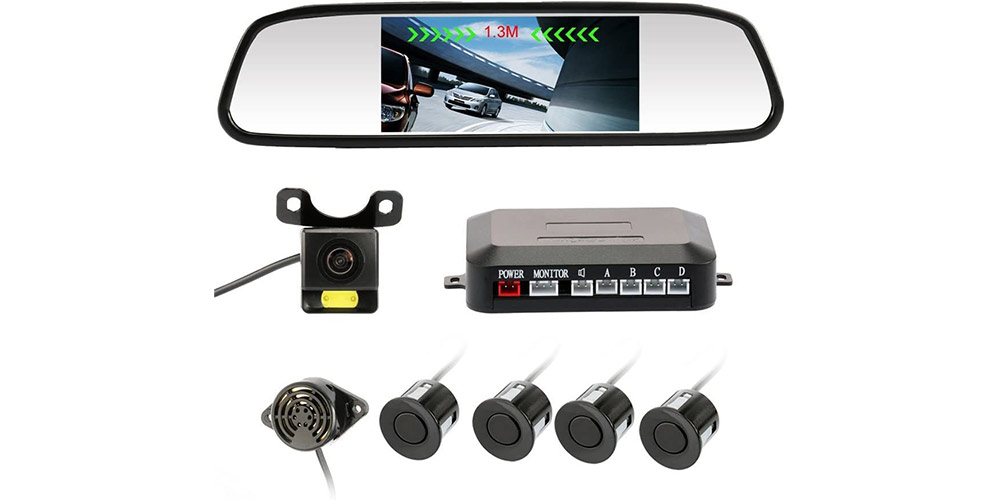 Brand: Accfly
This device from Accfly is inexpensive, high-tech, and feature-rich, and it delivers excellent confidence in close-quarters maneuvering at an affordable price. It has a backup camera display built in the rearview mirror that combines visual and audio warnings. When drivers engage in reverse gear, a wide-angle view of their vehicle's rear is projected on the hidden screen in the rearview mirror. The camera at the back part of the car is small enough for unobtrusive placement and has night-vision capability.
Radar sensors integrate with the system, delivering auditory proximity alerts as well as an on-screen distance monitor to assist drivers in parking more precisely. According to user reviews, the supplied rearview mirror is of great quality, and the instructions are straightforward and succinct.
#3 Striker Adjustable Garage Parking Sensor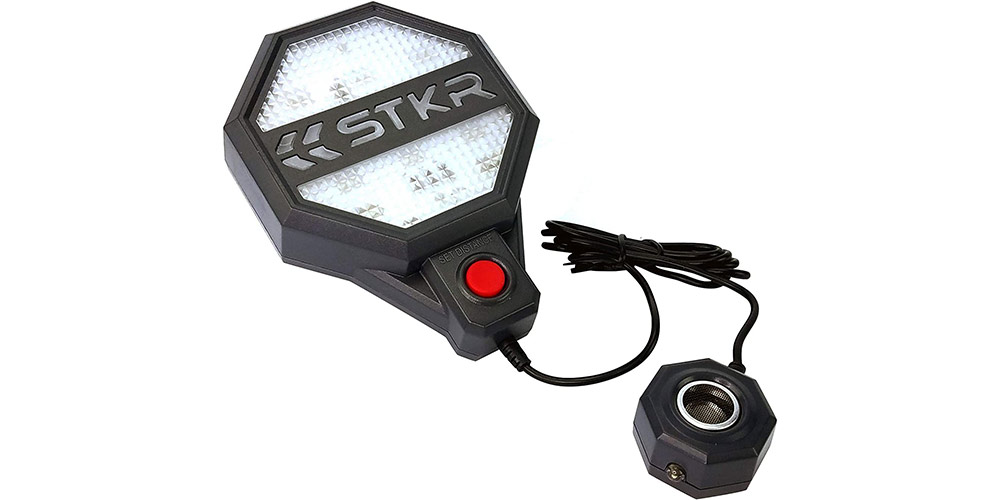 Brand:  Striker
This is a fantastic tool for assisting drivers in parking their vehicles in tight places at home, especially in a smaller garage. This parking sensor is attached to the garage wall, not to your vehicle. It's great for folks who have no issue parking while out and about but may require extra assistance in avoiding hitting the rear wall of their home garage.
The Striker Adjustable Garage Parking Sensor attaches to the garage wall in minutes using the provided Velcro and double-sided tape. A tiny sensor module is connected to an LED light in the unit.
Owners park the vehicle where they want it, put the sensor at bumper level, and attach the light where it can be seen from the road.
#4 Zone Tech Car Reverse Backup Parking Sensor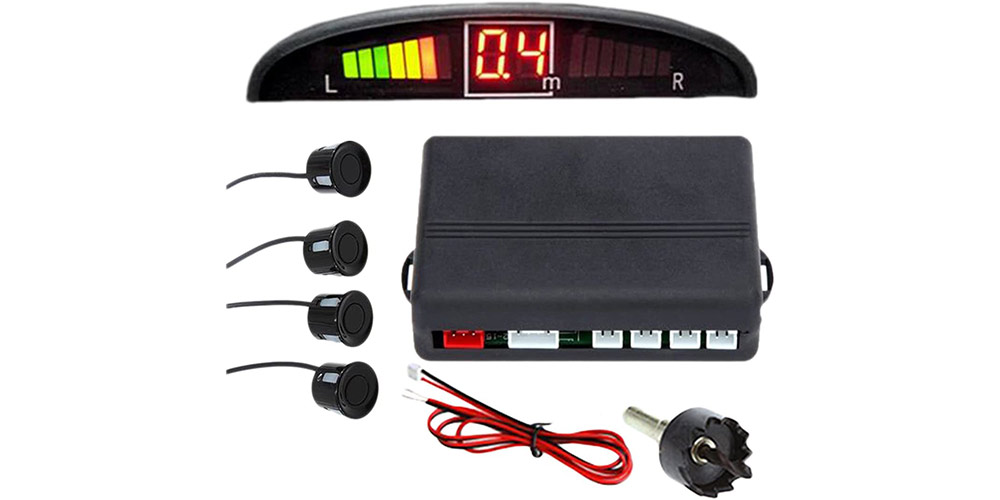 Brand: Zone Tech
The Zone Tech parking sensor kit is a handy kit that includes everything you need to get started, including four sensors, an LED display, a CPU, and all the necessary wiring. Each ultrasonic sensor can identify any obstruction in your path, even low walls, and toddlers. When compared to other options, the sensitive equipment provides outstanding coverage, ensuring that no impediment goes overlooked.
#5  Frostory Car Parking Sensor System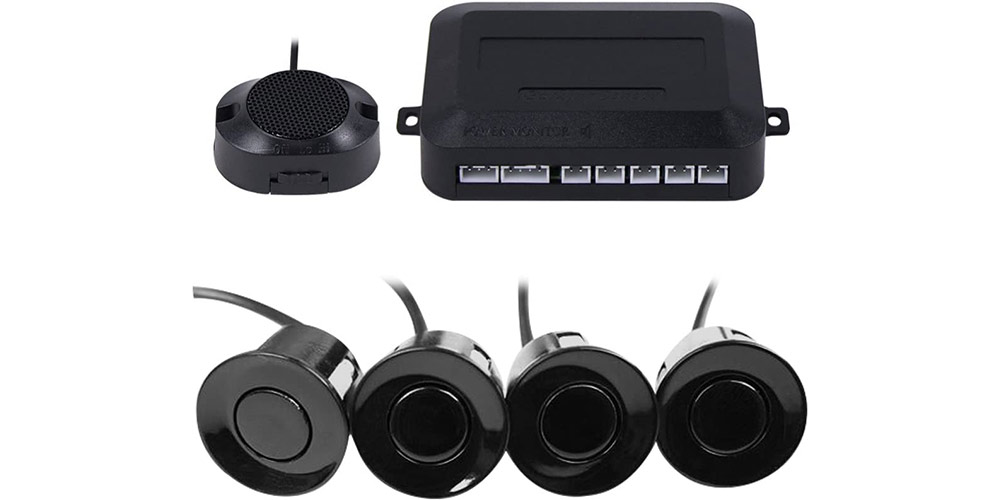 Brand:  Frostory 
The Frostory parking sensor system is arguably one of the less expensive kits on our list, but it's also one of the simplest. The sensors come in four various colors: black, gray, red, and white, which is convenient if you want to match the exterior of your automobile. With its water-resistant sensors that can function in practically any weather condition, this kit can detect obstructions up to 8.2 feet away.
It's a simple software that's simple to install, featuring audible beeps that become more repetitious as you draw closer to an object.
Owners have complained about the product's weak instruction manuals, and for truck owners, the wiring may be a little short, necessitating some creative installation. 
#6 XD-066 LED Display Car Reverse Backup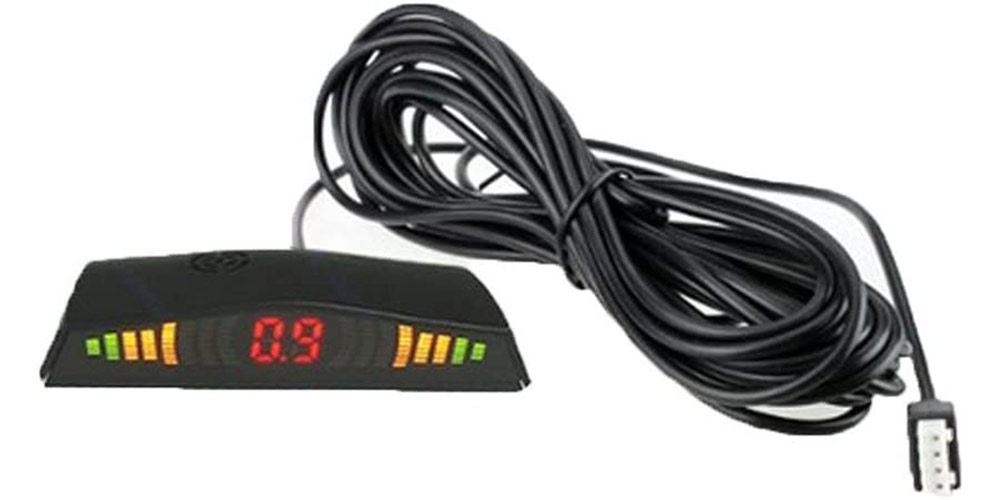 Brand: XD-066
Sun Valley Tek has earned a spot on our list as well, thanks to their excellent and reasonably priced radar system. Everything you need for safe, convenient parking is included in the kit, including four sensors, a dual CPU, display, and installation cords.
This equipment, which is equipped with a sophisticated chipset, provides outstanding coverage and detection regardless of the car you drive. Once installed, the LED distance display makes it simple to see how distant obstacles are from your vehicle, as well as where they are.
The intuitive display unit, with red, yellow, and green LEDs on each side, allows drivers to assess the placements of hazards readily. Each sensor is also built to last, with a waterproof, shock-proof, and anti-freeze design. With all of this protection, the sensors are ready to use all year. For added peace of mind, each parking sensor system comes with a 30-day money-back guarantee.
#7 Hopkins 60100VA nVISION Back Up Sensor System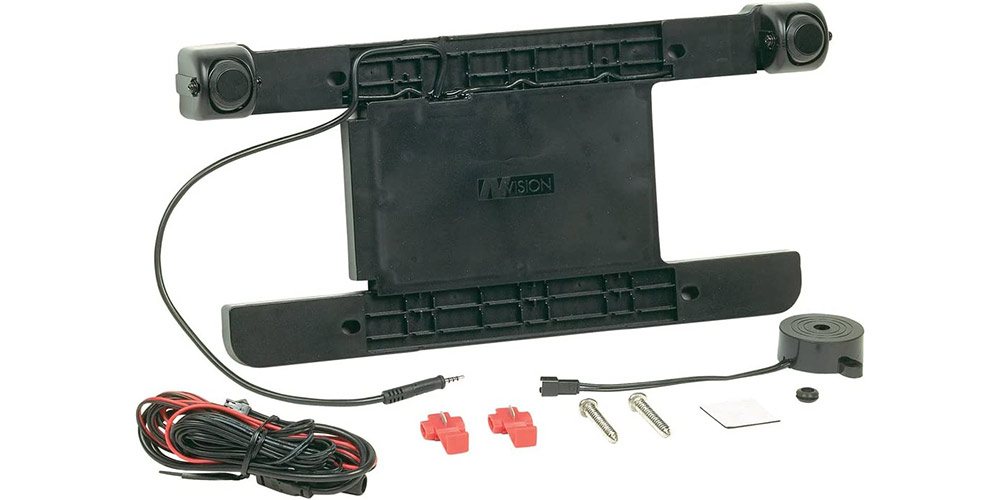 Brand: Hopkins
Hopkins has also earned a spot on our list with their comprehensive car backup sensor package. Everything that you need to get going is included in the package, including a mounting bracket, two sensors, installation wires, and an audible alarm. The device, once fitted, can detect impediments up to five and a half feet away. This smart detecting system assists you in avoiding hazards wherever you park.
The sensor is very simple to install, with a mounting bracket that fits over your license plate. With its three-year warranty, you can have peace of mind that the sensor is built to last. The tough, weatherproof sensor can withstand year-round temperatures, allowing you to park safely regardless of the weather. According to drivers, the sensor is long-lasting and simple to install, making it simple to determine how far away obstacles are – an auditory alarm sounds quicker and faster as you approach.