Owning a pressure washer offers convenience for cleaning cars and performing different household chores. Even though some people are satisfied with washing their cars by hand and using just a bucket of soapy water, not all have the luxury of time to wash their cars extensively via this method. Having your own pressure washer makes everything faster and easier. This also helps you save time and money by not visiting a car wash.
A pressure washer is a versatile equipment that you can use on different chores around the house and even in the yard. This is a worthwhile investment. A foam cannon also works great with a pressure washer.
You can find various types of pressure washers. Some are even conveniently portable. If you're torn between the best pressure washers for cleaning your car, we came up with a list to help you with your predicament. Check it out now.
#1 Sun Joe Pressure Washer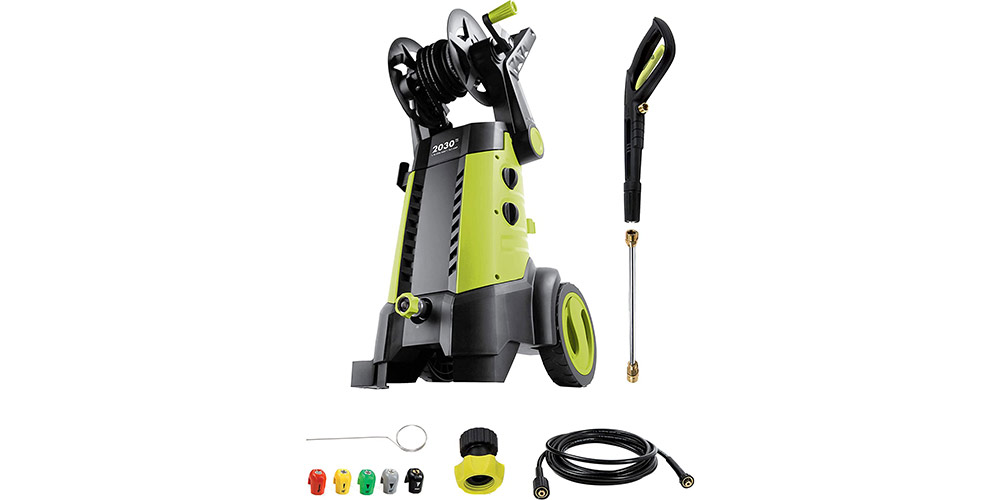 If you want to purchase an electric pressure washer, the Sun Joe SPX 3001 is one of the best options available today. It has high positive ratings on Amazon and more than 10,000 reviews. This equipment is commended for its quiet operation, affordability, adequate power, lightweight, and included accessories. It features a 14.5 amp/1,800 watt motor and generates a pressure of up to 2,030 PSI. It also offers 1.76 GPM (gallons per minute) water flow, enough for cleaning cars, boats, and RVs.
We highly recommend this product because it features five quick connect nozzles (0º, 15º, 25º, 40º, and soap). This lets you have a variety of pressures for different tough chores and wider spreads for gentle washing. It features a 20-foot hose and a 35-foot power cord. This allows you to have over 50 feet of range from your nearest home outlet. You do not need to worry about experiencing a short circuit because this pressure washer's plug has GFCI protection.
Overall, the Sun Joe SPX 3001 Pressure Washer is an impressive piece of equipment, and we highly recommend it if you need an electric pressure washer for cleaning your car.

#2 Worx WG630.2 Hydroshot Pressure Washer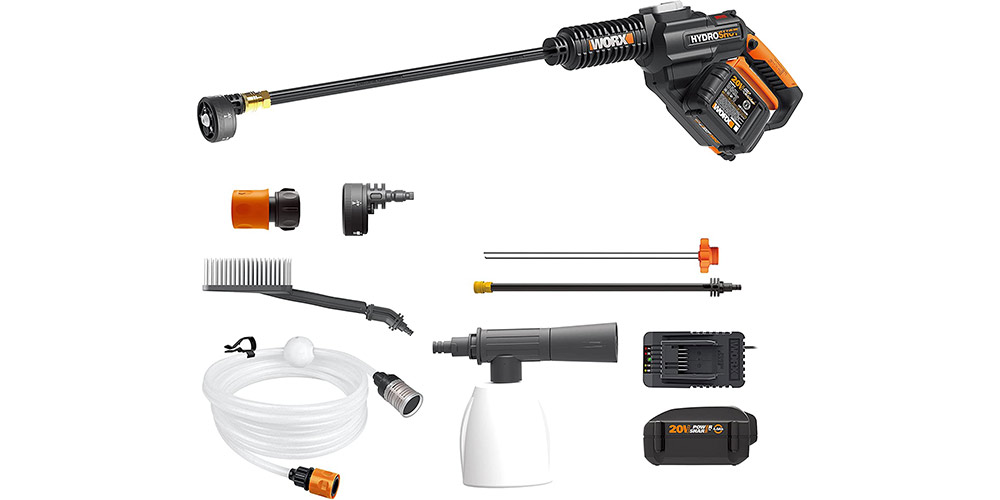 If you want a more portable and lighter pressure washer, the Worx Hydroshot Pressure Washer is an ideal choice. Even though technically it's not a true pressure washer because of its 350 PSI capability, this product is much better than a garden hose and will not damage your car's paint. It provides enough pressure to handle dirt and grime. It features five spray angles that are already built into its nozzle. You can connect this product to a garden hose, or you can draw water straight from a bucket or even at open water sources such as lakes.
What's more impressive about the Worx Hydroshot Pressure Washer is that it includes a kit of attachments that works well for washing different parts of cars, SUVs, and trucks. This is not ideal for those who are looking for a more affordable option that offers higher pressure.

#3 Karcher K1700 Electric Pressure Washer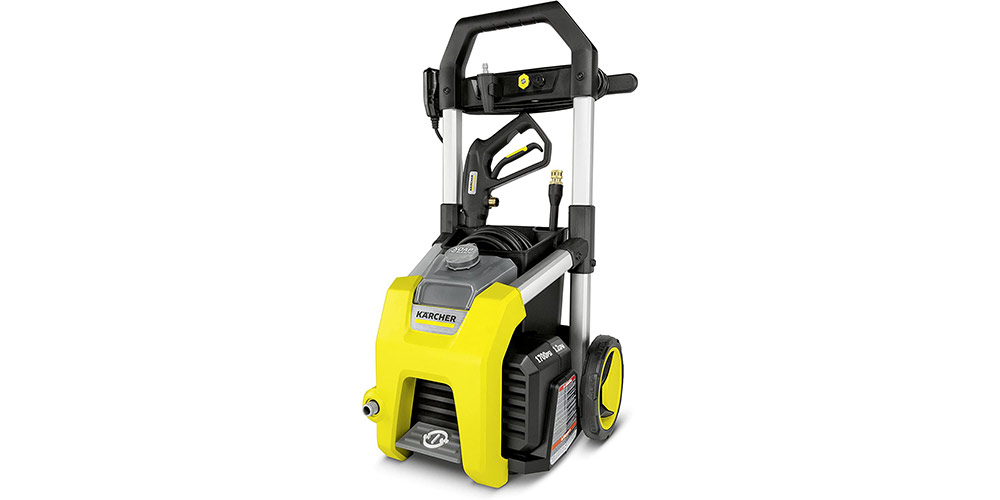 Another good electric pressure washer option is the Karcher K1700. It can produce up to 1,700 PSI, hence the name. This product is designed and focused on convenience. It comes with big wheels so it can be moved around easily. It also includes a removable bucket that can also function as hose storage. It also comes with a removable half-gallon soap tank. Another good feature we liked about this product is that it comes with a foot-operated on/off switch.
The Karcher K1700 pressure washer has three highly-useful nozzles that include a turbo nozzle designed for focused cleaning power, one for soap application, and a 15-degree all-purpose nozzle. Lots of brands offer just a one-year warranty for their pressure washers, but Karcher offers a limited three-year warranty that features a rapid exchange program if ever you bump into issues covered by the said warranty.
The short hose may be one reason to look for other options, but overall, this is still one of the most impressive electric pressure washers for cleaning cars.

#4 Annovi Reverberi AR Blue Clean AR383SS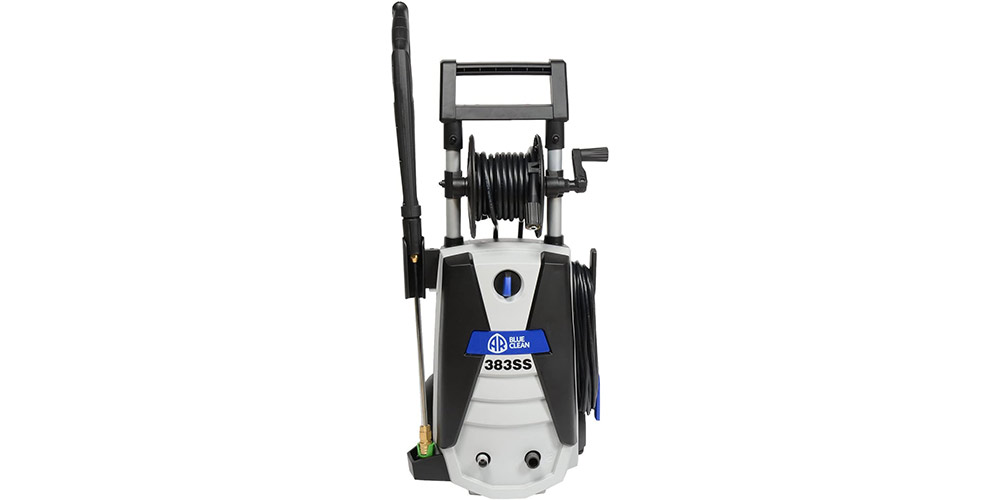 Some people may not be familiar with Annovi Reverberi, but this Italian company has been around for over 50 years and specializes in pressure washers. The company manufactures both commercial and home electric pressure washers. The Annovi Reverberi Blue Clean AR383SS is rated at 1,900 PSI and features a 1.5hp motor with plenty of power. One factor why users love this pressure washer is its long reach. This product comes with a 30-foot high-pressure hose and a 35-foot power cord. You can set it up for more than 60 feet from the outlet nearest you.
This pressure washer offers four quick-change nozzles, a low-pressure spay soap nozzle, a rotary turbo nozzle, and a 28-ounce detergent reservoir for car wash soap. With compartments, wheels, and a hose reel, you can easily pack this pressure washer up and store it. The Annovi Reverberi Blue Clean AR383SS comes with a one-year warranty. Some users have claimed that it sometimes presents inconsistent pressure and occasional leakage.

#5 WEN PW31 Gas Pressure Washer
If you're looking for a gas-powered washer that is heavy-duty, the WEN PW31 Gas Pressure Washer is a smart choice. This 208 CC four-stroke engine can produce 2.5 GPM at 3,100 PSI. It also features a quick-change nozzle for its five various tips (0°, 15°, 25°, 40°, and soap). It also has a soap dispenser, onboard soap tank, and built-in storage. This power washer comes with big wheels so that you can roll it just about anywhere. It also features a 30-foot hose that offers flexibility while spraying.
WEN offers products with a two-year warranty. The downside of this product is it's quite loud, and you need to change the oil at least once a year. It's also not a budget-friendly option.

#6 Generac SPEEDWASH 6882 Pressure Washer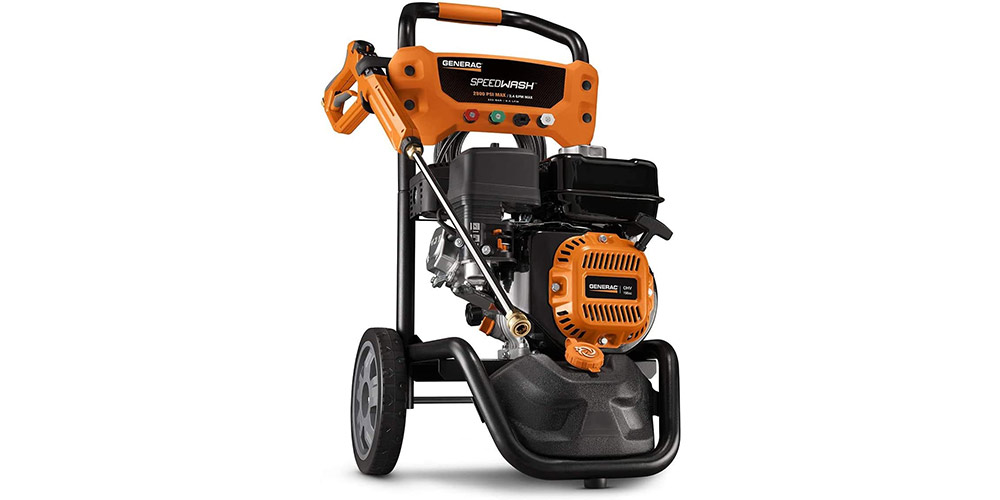 If you want a heavy-duty pressure washer that you can use on a dirty truck or other household challenges, it would be smart to purchase the Generac SPEEDWASH 6882 Pressure Washer. It can blast out 2.9 gallons per minute of cleaning power at 2,900 PSI. You have to be extra careful with this when using it on a car. Luckily, it comes with an adjustable wand where you can place it on the "Car" setting.
This pressure washer features four tips that include a soap sprayer. It also comes with a half-gallon soap tank and a 25-foot hose. It is quite heavy as it weighs 57 pounds, so you can expect it to be harder to move around compared to other models.
The company offers this product with a three-year warranty.  

#7 Stanley SHP1600 Electric Pressure Washer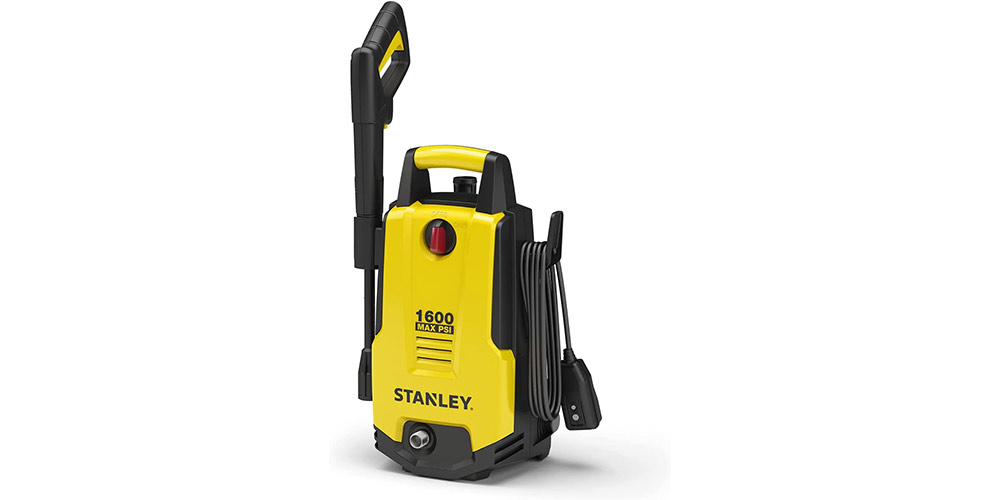 Professional detailers suggest that pressure for washing cars should be well under 2,000 PSI. It would be smart to get a 1,600 PSI pressure washer to follow this logic. The Stanely SHP1600 Electric Pressure Washer is one of the ideal options that fit this. This product comes with a 20-foot hose and a 35-foot power cord with a GFCI plug. It offers a total range of more than 50 feet. You can manage it easily because it has a short wand. However, it comes with an extension just in case you require additional reach.
The Stanely SHP1600 Electric Pressure Washer comes with an adjustable nozzle. You can begin with a wide-angle soft spray for pre-soaking, then narrow the nozzle down for high-pressure rinsing. Due to its smaller build, it only has 14 ounces of maximum soap tank capacity. It lacks wheels, but it only weighs 16 pounds. You can still move it around easily.