Is your car lacking cargo carrying capacity? Take advantage of one smart option and get a roof cargo carrier. Do you have no idea where to start with your search? Don't fret; we've got you covered. You have to figure out the type of cargo that you need to carry. Roof cargo carriers vary depending on the purpose. The selections include cargo boxes, roof baskets, and travel bags.
The most affordable option is the cargo carrier bag. It's easy to remove and hardly requires any hardware. This usually comes with straps. If you want something that can protect your cargo from the different elements, you should go for the hard-sided cargo box. This option requires mounting to crossbars or existing rails. Another option that provides more heavy-duty efficiency is the roof basket. It's a container that is usually made out of metal and attached to roof bars. This is perfect for dirty and wet items. These different roof cargo carriers will only work well if you match them with your particular needs.
Now that you know the different types, we've narrowed down the top 7 best roof cargo carriers available today.
#1 SportRack Vista XL Cargo Box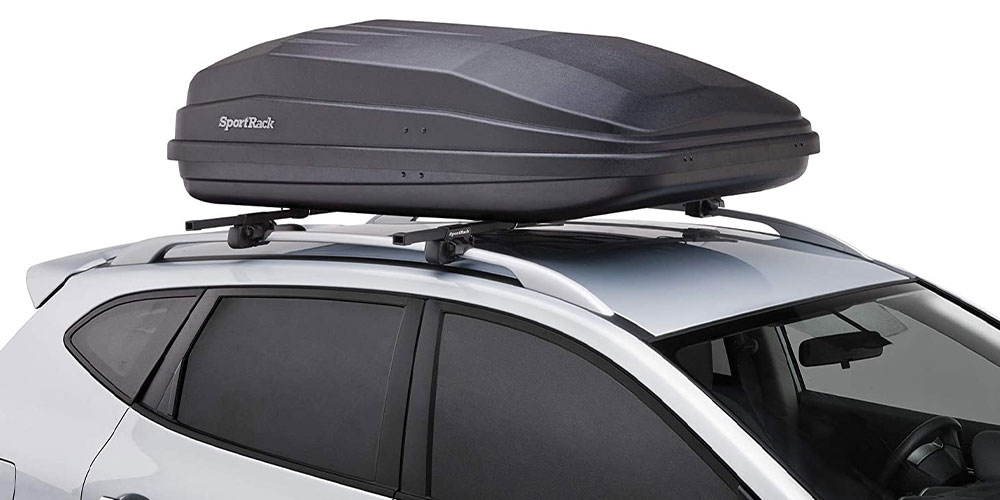 Brand: SportRack
On top of our list is a product that offers efficient heavy-duty protection for your cargo. The Vista XL Cargo Box from SportRack is designed to fit on the brand's roof rack systems and even on most factory racks. We highly suggest that you check the guide to verify if this will fit your specific car before buying it. If this does fit, you will acquire a rear-opening cargo box with an 18 cubic feet storage capacity. It's made out of UV-resistant and durable ABS. The maximum weight capacity of the SportRack Vista XL Cargo box is 100 pounds.
SportRack already includes the required mounting hardware for both installation and removal. You don't need to find other tools just to install this cargo box on your car's roof. Regarding security, a key lock helps protect the cargo inside the box. This will give you a much better peace of mind when resting at a stop or grabbing food. The SportRack Vista XL Cargo box is also easy to clean. Water and mild soap can do the trick.
According to some buyers, they feel like the box fails to open as wide as they need it to be. Some have also claimed that the hinges of this item are quite weak. Nevertheless, we highly recommend this roof cargo carrier because of the value and features that it offers.
#2 Fivklemnz Rooftop Cargo Carrier Bag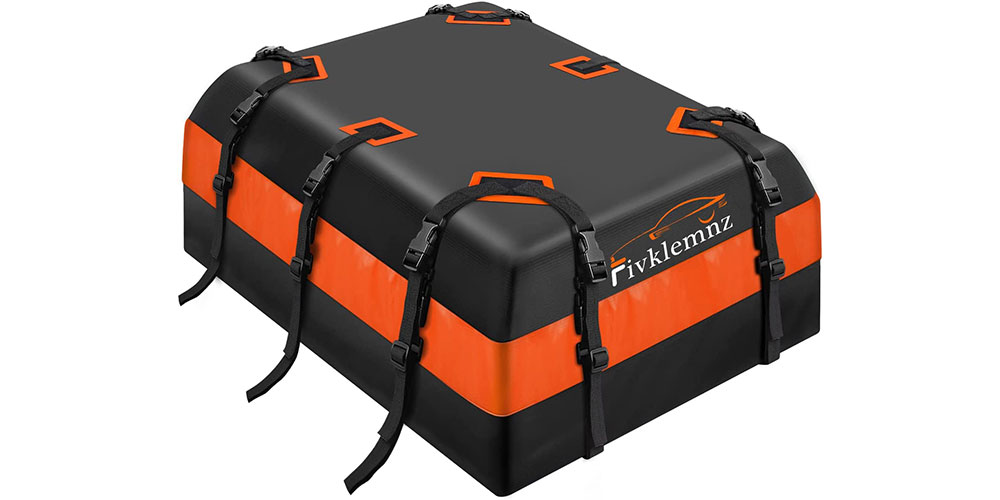 Brand: Fivklemnz
The Fivklemnz Rooftop Cargo Carrier Bag is one of the most popular choices among car owners who want much-needed extra storage space. This roof cargo carrier bag is big enough to carry up to six suitcases due to its 15 cubic feet of space. This product differs from hard shell carriers because the Fivklemnz Rooftop Cargo Carrier Bag can be folded. When you fold it, the size of this item is almost similar to a small backpack.
This roof cargo carrier is made of 600D Oxford cloth. It comes with a waterproof zipper that is double-flap protected to ensure the bag won't get penetrated by the different elements. According to Fivklemnz, this bag is 100% rainproof and waterproof, keeping your cargo dry.
A non-slip protective mat is included with this roof cargo carrier. This mat helps in protecting your car's roof, so you won't have to worry about scratching it. If your car doesn't have a roof rack system, you can still install the Fivklemnz Rooftop Cargo Carrier Bag. You can lock this down using its eight adjustable straps and keep it secured on your car's roof even if you are speeding through highways.
According to some users, straps can rip under stress, while some complaint about the lack of a lock for the zipper.
#3 RoofBag Cargo Carrier Bag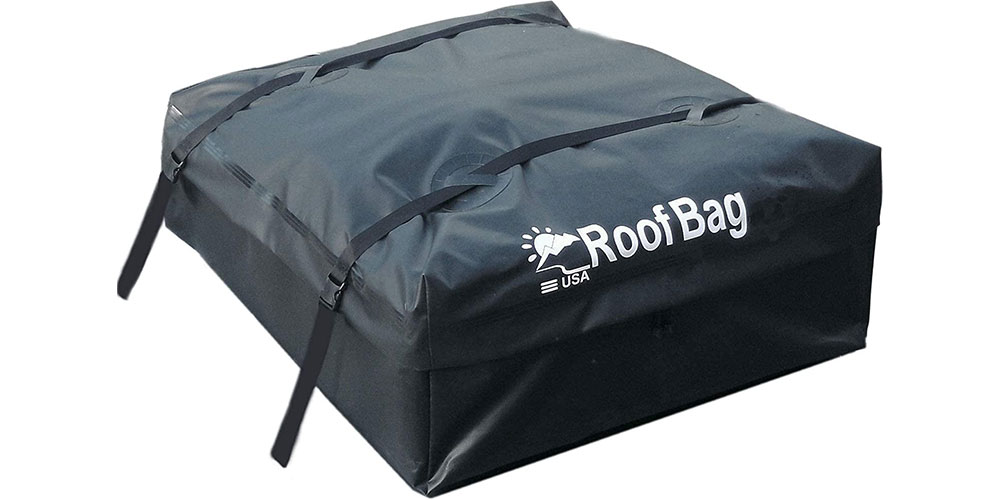 Brand: RoofBag
The RoofBag Cargo Carrier offers simplicity and effectivity. This product is 100% waterproof and provides a Triple-Seal technology that works best against extreme weather conditions. It offers storage space of 15 cubic feet. You can still use this roof cargo carrier even if you don't have a roof rack. This product comes with a strap system that is waterproof and secure. Buckles are also available to provide easy access.
The RoofBag Cargo Carrier is made from heavy-duty polyester. This product might look so simple, yet it works excellent in resisting both heat and cold. You'll enjoy this roof cargo carrier bag if you want an option that can be installed quickly and easily. For those who are limited in budget, we highly suggest you check out this product.
#4 ROOF MASTER Rooftop Cargo Carrier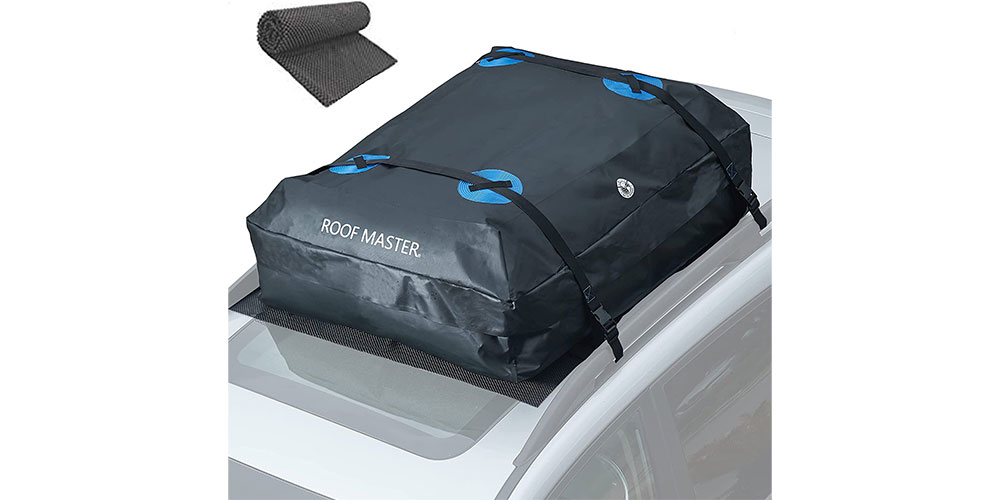 Brand: P.I. AUTO STORE
Do you own a vehicle without any roof rack? The ROOF MASTER Rooftop cargo carrier offers incredible versatility because it can be used on cars that have or don't have roof racks. Just take note that you have to buy door hooks separately if your vehicle doesn't have a roof rack.
This roof cargo carrier offers storage space of 16 cubic feet. It also comes with wide straps, Duraflex buckles, and an essential high-friction mat that ensures the product stays secured on the roof of your car. This soft-shell cargo carrier is made out of military-grade Nylon Cordura fabric. The company claims that this material offers five times the actual strength and wear resistance of the usual material often used on cargo bags, which is high-grade PVC. The product is waterproof, and the zipper has waterproof qualities as well.
The door hooks being sold separately may turn off some car owners. Nevertheless, we still see this roof cargo carrier as a great choice because it offers high-quality material, good storage space, and Duraflex buckles.
#5 Best for Storage: Thule Sidekick Cargo Box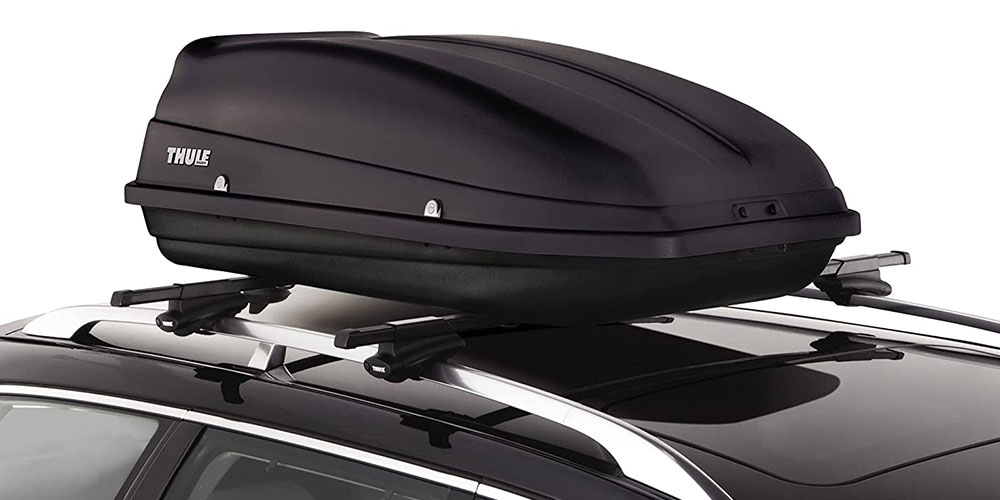 Brand: Thule
If you are searching for a compact roof cargo carrier, you'll never go wrong with Thule's Sidekick Rooftop Cargo Box. Car owners who don't want larger designs would enjoy this option. It provides eight cubic feet of storage space and is 48-inch long. This product won't trigger too much wind resistance and also won't cover the entire roof area on the majority of mid-sized vehicles.
The Thule Sidekick Rooftop Cargo Box includes a self-standing top lid plus a simple locking mechanism that secures your cargo inside. This product is durable and can withstand different weather conditions. With less than 20 pounds, this lightweight roof cargo carrier is not difficult to install. You can put it in place by yourself.
The price for this option is higher, so those on a tight budget might look for a different roof cargo carrier. Nevertheless, if you want a compact, lightweight, and durable option, this would work well for your requirements.
#6 Amazon Basics Rooftop Cargo Carrier Bag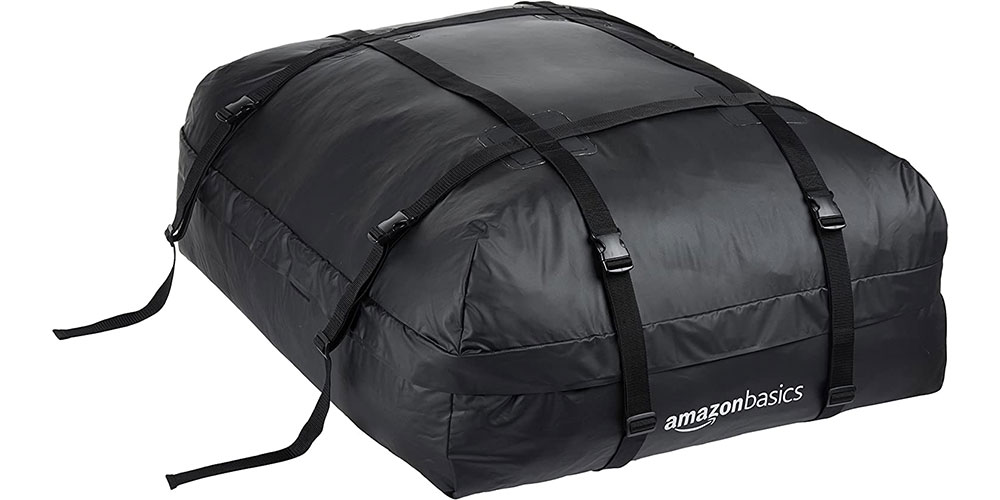 Brand: Amazon Basics
Do you want a roof cargo carrier that offers the same quality but at a more reasonable price point? The Amazon Basics rooftop cargo carrier bag is an awesome choice. This product is perfect if you're on a tight budget. It offers good storage space of up to 15 cubic feet. It is made from 100% waterproof material, designed to protect the roof cargo carrier from the different harsh elements outside.
Amazon Basics claim that the zipper of the bag is waterproof as well. This comes with a zip closure that wraps halfway around the product. It has a hook-and-loop flap that keeps the cargo inside dry and protected. The straps are composed of one-inch wide polypropylene. It's also worth noting that this bag can be folded for easy storage.
Some vehicle owners looking for a roof cargo carrier with heavy-duty materials may not opt for this product. However, we still think that for its price and its features, the Amazon Basics Rooftop Cargo Carrier Bag is still a smart option.
#7 Thule Force XT Rooftop Cargo Box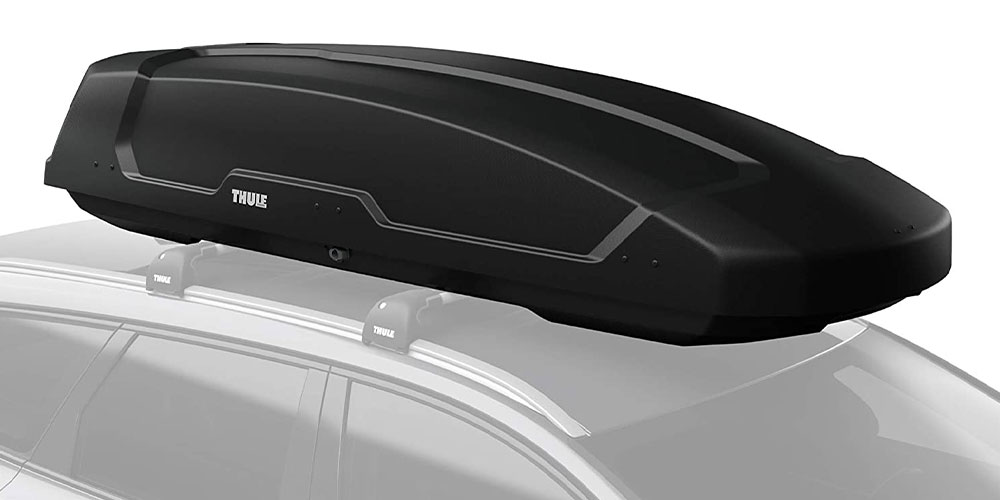 Brand: Thule
Do you want a rooftop cargo carrier that offers premium quality and versatility? The Thule Force XT Rooftop Cargo Box will match your needs. This product offers a dual opening design that allows car owners to access the cargo carrier from the two sides of their vehicle. It also offers a PowerClick quick-mount system that will keep you from over-tightening the box upon attaching it to the crossbars of your car's roof.
Thule designed this product with a special LockKnob that allows for a more effortless opening and closing action. This also helps to protect the key from being damaged. The Thule Force XT Rooftop Cargo Box is available in different sizes: 22 cubic feet, 18 cubic feet, 16 cubic feet, and 11 cubic feet. It even offers a weight capacity of 165 pounds.
If you regularly bring larger cargo items, this product is the smart option to purchase. Just take note that due to its size, one person alone can't install this. Get help so you can put it in place the best possible way.