Trucks are no doubt the best vehicle in terms of utility and all-around capability. Its spacious cabins are perfect for morning drop-offs or some off-road adventure. At the same time, its bed is great for containing light, heavy, or even extremely heavy cargo. Trucks like the Ford F-150, Toyota Tacoma, and Chevy Silverado boast some of the most spacious truck beds there are. Most of the time, those truck beds are often equipped with protective covers, more commonly known as tonneau covers.
With trucks being oh-so utilitarian and all, most of the time, they're exposed to the harshest of natural conditions like changing weather. Not to mention thievery. This poses a huge risk, not only to the truck bed itself but also to the belongings you've decided to place on it. Tonneau covers are a must if you want to protect whatever you're carrying on the back of your truck.
In this article, we'll show you the best tonneau covers you can get for your truck this 2022. We'll also cover the different types of tonneau covers along the way, as well as the benefits you can enjoy from them. Each cover will differ based on its type and price, but we're confident that all of them can give the protection your truck needs.
What Are Tonneau Covers?
Before we dive into the list, let's discuss what tonneau covers are first. The term is basically a fancy version of "truck bed cover", and it functions as a protection to your truck bed.
You see, your truck's bed is layered with a grippy coating to ensure that your cargo won't slip and slide as much while you're driving. This layer tends to chip off and wither away over time due to a plethora of reasons, but mostly due to harsh weather conditions and the elements that come with it (rain, snow, sand, etc.) Additionally, your cargo can catch the attention of thieves who are more than likely to steal your belongings when given the chance.
Tonneau covers can protect your cargo from rain, dust, and even thieves. They can also add a little bit of spice to your truck's overall appearance because most covers were designed to look as stealthy as possible. And although many would argue if tonneau covers can improve your fuel economy or not, they're a solid piece of equipment if you're looking for an added degree of protection for your cargo.
Different Types of Tonneau Covers
Tonneau covers are generally categorized by their folding methods.
Foldable Tonneau Covers. They're the most popular option when it comes to cover, and for good reasons. They usually come in flaps of 3 or 4, which makes for a decent cover if you don't need to access all of your cargo instantly. Features like rugged construction, compactness, and decent weather protection are the most common reasons why truck owners opt for foldable ones.
Roll-Up Tonneau Covers. These are the much simpler versions of the folded ones. Instead of folding the covers a couple of times, you can access your cargo by simply rolling the mat all the way to the bulkhead. Roll-up covers will give you more freedom to choose how much space you want covered or uncovered. Unlike the foldable tonneau covers, roll-up covers don't withhold you with pre-set folds.
Retractable Tonneau Covers. These are perhaps the most futuristic type amongst the bunch. Since the covers are retractable, they can offer the next level of security in terms of weather protection and theft. They're usually made of sturdy aluminum and come with two different functionalities: either manual or automatic. Retractable tonneau covers can add a modern vibe to the truck, not to mention how durable and extremely weatherproof they are.
Hinged One-Piece Tonneau Covers. These are classic and, in our opinion, the best choice for all-around protection. A huge solid piece of cover is put over the cargo bed and is locked in place using either a piston or a strut. You can lock the lockable end in a fixed position of up to a maximum of 30 to 40 degrees for easier bed access. And although hinged tonneau covers are great in terms of heavy-duty protection, they're the least impractical choice unless you have specific uses that need one.
BAK BAKflip MX4 Tonneau Cover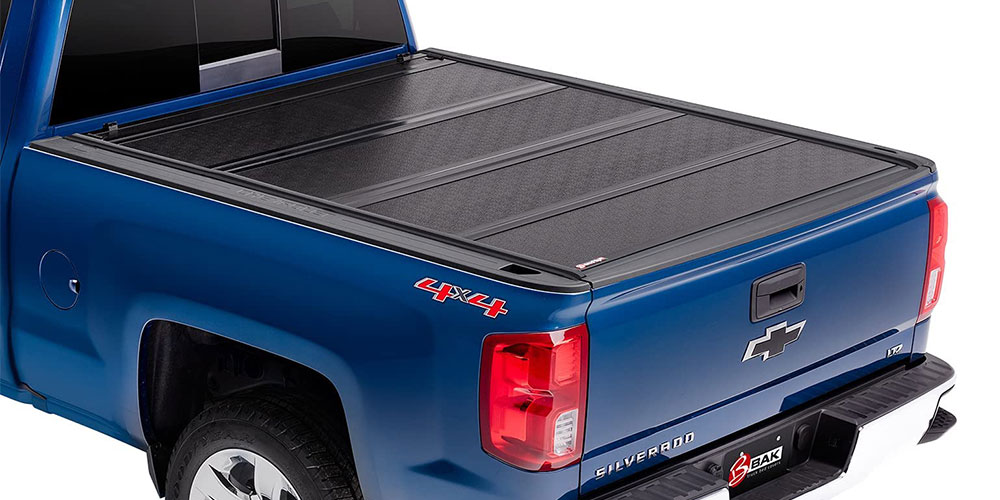 This is a hard tri-fold cover that offers more convenient access compared to the other covers out there. It's made from aluminum and comes with a premium matte black finish that can add a lot of character to your truck. Unlike the typical tri-fold tonneau cover, this one opens up completely, allowing you to gain full access to your cargo bed without having to cover the entirety of the cover. This is possible thanks to the prop rods that secure the covers in an upright position.
Aside from convenience, the BAKflip MX4 Tonneau Cover also offers security and protection for your belongings. The foldable aluminum covers are scratch-resistant and can protect your cargo from harsh elements like rain with its OE-quality perimeter seals. Additionally, the covers are so sturdy that they can withstand a distributed weight of up to 400lbs on top of it. This tough hard, tri-fold tonneau cover is proudly made in the USA and comes with a 5-year warranty.
PROS:
Rear seals that allow you to use the cover regardless of the tailgate position – Convenience

BakBox toolbox upgrade for extra functionality – Extra functionality

Durable and sturdy covers for added cargo protection
CONS:
The third fold rests on the rear windshield – not ergonomic

Rubber seals and hinges may wear out faster when pushed to the limit

Not compatible with other accessories




Pace Edwards Switchblade Tonneau Cover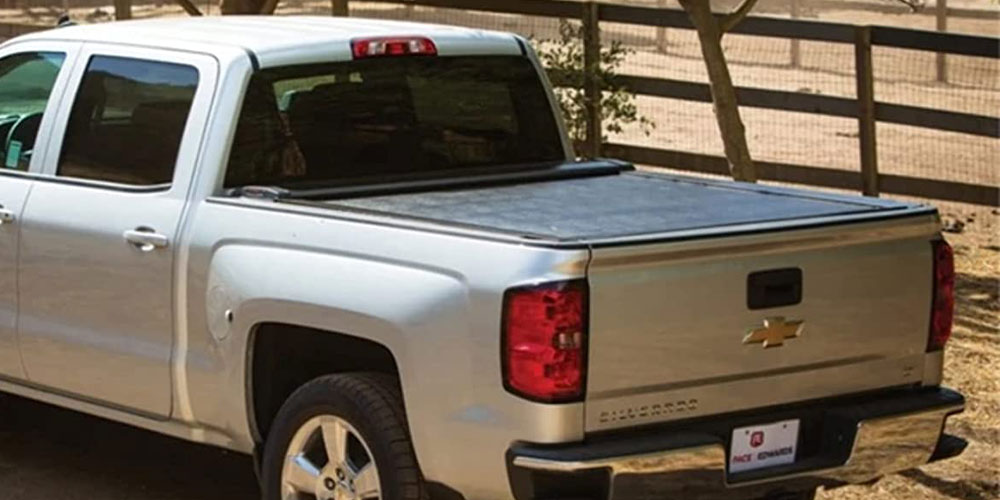 If you prefer a cover that can give you easy access to your cargo bed without sacrificing operational convenience, then this tonneau cover is for you. The Switchblade is built out of padded polymer dubbed the ArmorTek. This material will keep your belongings safe from the harshest of natural elements – in style. It can provide some rugged cargo protection while looking cool, all thanks to its aluminum deck.
The Switchblade Tonneau Cover features Pace Edward's very own Continuous Tension Spring, a technology that allows you to easily retract the cover in mere seconds. It comes with a removable canister that gives you full access to the truck bed. Not only that, the full-width handle ensures that opening or closing the cover from either side of the truck is effortless.
The Pace Edwards Switchblade Tonneau Cover is proudly made in the USA and comes with a 1-year warranty.
PROS:
Stealthy look that blends well with any type of truck

100% accessible area with its retractable design

Easy to install and easy to remove
CONS:
Frequent opening and closing may impair the rails in the long run

Designed only for crew-cab and short-bed trucks




TruXedo TruXport Roll-Up Tonneau Cover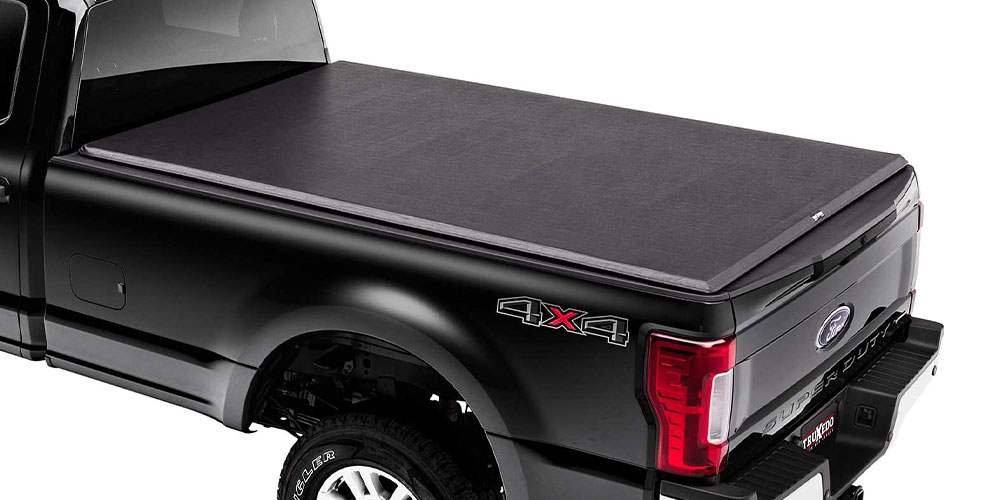 Do you want a tonneau cover that's very easy to use? This one is a user-friendly tonneau cover that offers solid protection, convenience, and accessibility. This cover is made of leather-grained vinyl fabric, which is tough and classy at the same time. Straight cross tubes ingrained in the cover ensure that the cover looks flat and smooth whenever it's down. 
More so, the fabric is tough enough to protect your cargo from whatever nature may throw at you. It can even handle a substantial amount of weight on top of it, thanks to the feathered bows attached to the rollable layer.
This roll-up tonneau cover comes with dual paddle latches positioned at each side of the rear end of the truck. You can use these latches to securely fasten the tail rail and lock them securely when you want the cover closed. More importantly, it has a unique pre-set tension control that allows you to keep the cover as tight as possible, ensuring that it looks presentable while you're on the road. 
The TruXedo Roll-Up Tonneau Cover is easy to install, even without special tools, and it comes with a useful 5-year warranty to back you up!
PROS:
Rugged build quality

Installation is surprisingly easy

Bang for your buck
CONS:
Waterproofing isn't quite good as advertised

Water and snow may pile up at the center, which can damage the latch and rails


BAK Revolver X4 Tonneau Cover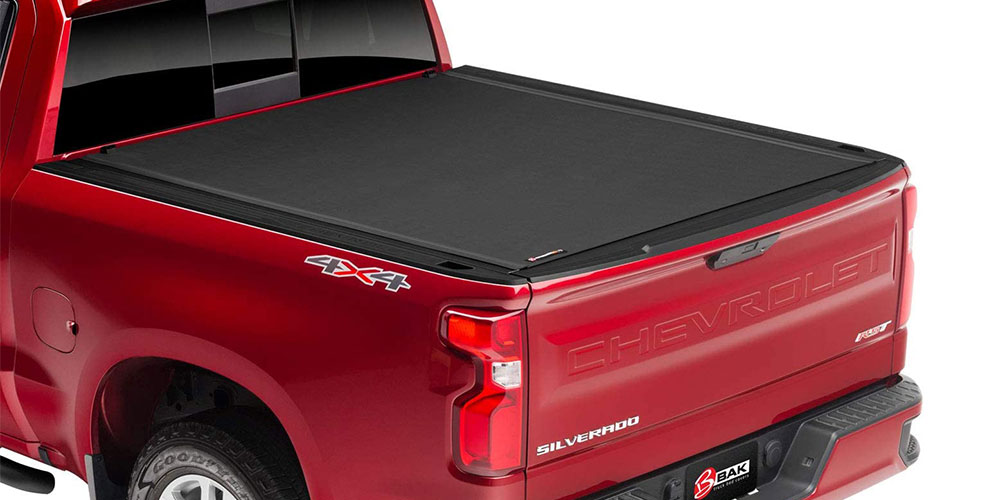 Adding the term "revolver" to a roll-up tonneau is quite awesome, right? Good thing this cover's name is as equally awesome as its build quality. This tonneau cover has an all matte finish; the vinyl, the side rails, the seals – you name it. It can give your truck a fashionable look, which will complement your truck's OEM features. Even with all the added features, BAK still somehow managed to keep this tonneau cover flush with how manufacturers profiled the truck.
Under the textured vinyl lies heavy-duty slat panels strong enough to keep rain, dust, and snow from plowing through the cover. BAK heavily emphasized convenience when they made this cover. You can see this with how easy it is to roll up the cover, even with one hand. Additionally, the ¾" rotational locking rails will firmly secure themselves to the cover once it's latched, spanning the entire length of the truck bed.
The BAK Revolver X4 Tonneau Cover is a good investment if you're looking for something very convenient and reliable. It's another cover made in the USA and comes with a 3-year customer protection warranty. 
PROS:
Patented locking rails keep the cover sturdy yet compact

Plush low slung design doesn't ruin the aesthetics of your truck

Offered in 3-bed sizes
CONS:
Rather expensive

Additional tools necessary for installation aren't included

Waterproofing isn't quite good as advertised




Retrax ONE MX Retractable Truck Bed Tonneau Cover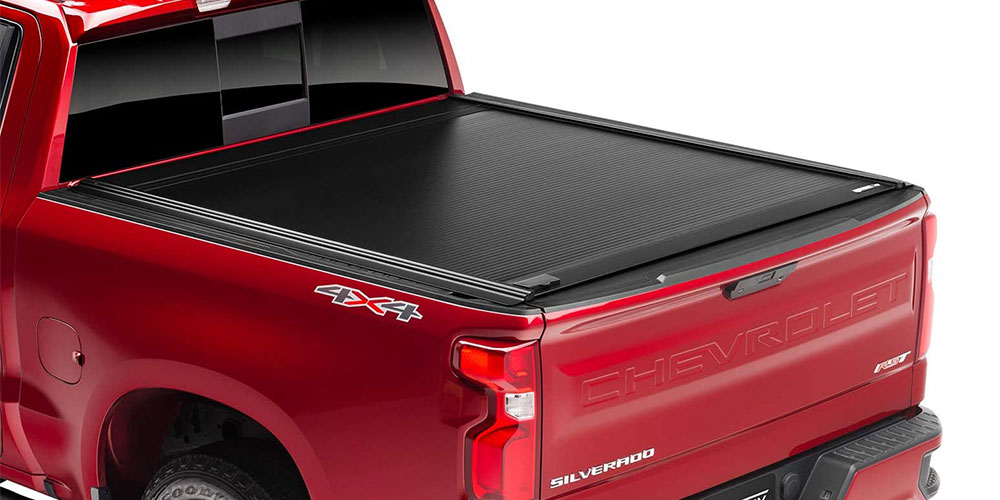 If you're willing to dish out more money just to get an extremely practical and convenient tonneau cover, then you better check this one out. This is a retractable tonneau cover that offers top-tier convenience, cargo protection, and looks. Retracting and closing this cover is effortless.
That's because Retrax used sealed ball-bearing rollers instead of springs or any other mechanisms. This innovation ensures that no moving parts are susceptible to jamming, freezing, or even failing.
Retrax fashioned this tonneau cover out of a durable and extremely scratch-resistant one-piece sheet of polycarbonate. This cover also offers the protection you'd rarely see from run-of-the-mill tonneau covers out there. We're talking about an exclusive design that allows you to release the flush-mounted latch with just a press of a button (or a key). This ingenious design acts not only as an aegis against nature but also as heavy-duty protection against thieves that may lay eyes on your belongings.
The Retrax ONE MX Retractable Tonneau Cover comes with a 1-year warranty, followed by a limited lifetime warranty.
PROS:
Quickly and easily retracts to allow full bed access

It can be manually locked in any position along the bed rail

Supports up to evenly distributed weight of up to 200lbs
CONS:
More expensive than the usual folding and roll-up tonneau covers

Other all-aluminum versions can support more weight

Only available with a matte finish


GatorTrax Electric Retractable Tonneau Cover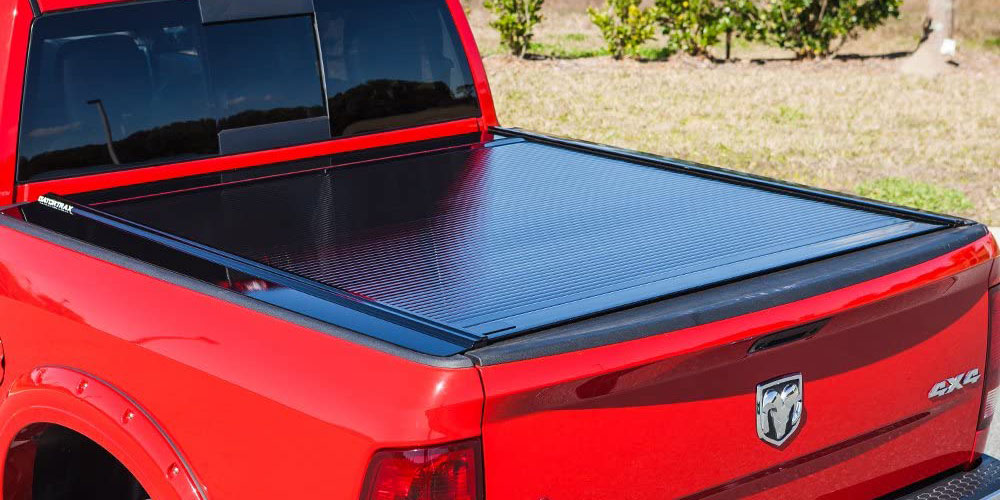 If you're looking for maximum convenience, then we recommend this tonneau cover. This is hands-down the easiest and most convenient truck bed cover we have on this list. It greatly overshadows everyone in terms of convenience, looks, and protection. It has an attractive low-profile design that lies stealthily above your truck bed, covering the entire length of the bed without being an eyesore.
This is an extremely practical tonneau cover that can be locked in any position you want. Using the remote included in the package, you can simply press the button to adjust what length of the truck bed you want to be covered. The cover itself is made of LEXAN, a polycarbonate resin used for intensive applications like bullet-proof glasses and airplane windows. It provides enough strength and security for your belongings from rain, snow, dust, and, most of all, thieves. 
The GatorTrax Electric Retractable Tonneau Cover will only take up 10% of your truck bed and is backed by a 3-year warranty.
PROS:
It can be easily opened or closed by pressing a key fob

The cover can be locked in any position

Supports up to 500lbs of equally distributed weight
CONS:
Significantly more expensive than non-electric tonneau covers

Installation is challenging

Some people prefer the looks of

all-aluminum slats used in other higher-priced models.


UnderCover Elite LX One-Piece Truck Bed Tonneau Cove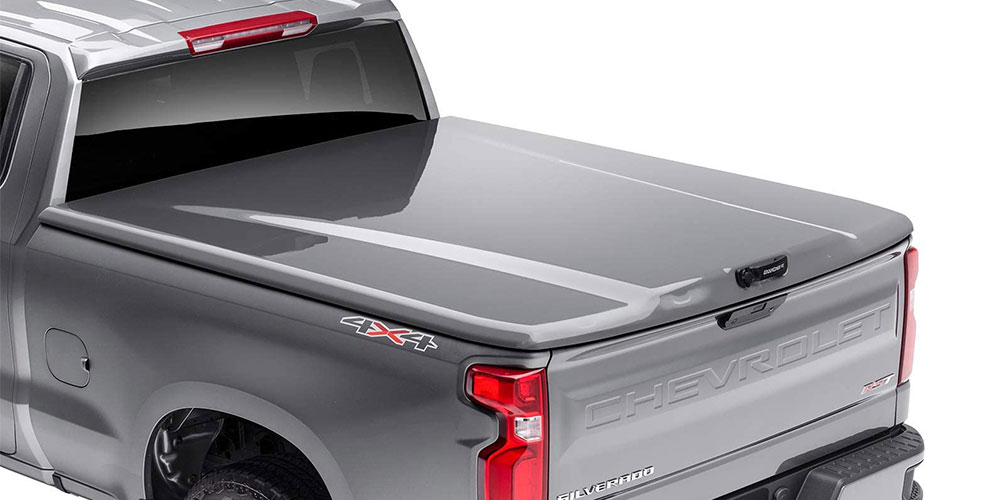 Lastly, we have something special for a specific group of people who like hinged one-piece tonneau covers. It's the priciest option on this list, but arguably it's one of the best. This is a hinged one-piece tonneau cover made of rigid ABS composite, which is very tough, durable, and impact-resistant. You're also spoiled for choice if you want variety, as it's available in 80 different pre-painted factory finishes.
This tonneau cover features a so-called X-effect design that puts its strength and durability on steroids. It also uses an integrated Elite LX handle that allows you to easily open and closes the cover. This handle seamless fit on the rear end of your car and matches the OE look of your truck. More so, it uses perimeter seals to keep the valuables in your truck bed safe from water, snow, and dust. And don't worry about robbers; once they see that your cargo is well-protected by a massive cover, they won't even try. 
The UnderCover Elite LX One-Piece Tonneau Cover is no doubt a worthy investment if you prioritize cargo security above all else.
PROS:
It comes with 80 different colors

Impressively sturdy and solid build quality

Carpeted headliners adds to heat retention in the bed
CONS:
Not compact

It doesn't fit every truck owner's taste

Angular opening restricts bed access