The carpet in your vehicle is one of the dirtiest parts within your cabin since it is frequently disregarded and forgotten and can gather a lot of dirt, trash, and other things. While occasionally vacuuming your car's carpet is an excellent method to keep it in good condition, investing in and utilizing a quality carpet cleaner is strongly advised to ensure that the carpets last as long as your vehicle.
Even though most carpet cleaners are developed to get rid of stains, you shouldn't treat them for just that one purpose. Regular use of one of these items will offer a deeper clean than simple vacuuming. You never know what might be hiding in your carpets, particularly if it isn't visible to the naked eye.
More importantly, a lot of these carpet cleaners may also be used on other types of car upholstery, like door panels, headliners, and floor mats. These are inexpensive, simple-to-use products that will keep your car's interior nice and tidy.
If you're looking for a car carpet cleaner but have no idea which is the ideal option, check out our top 8 best car carpet cleaners list.
#1 CarGuys Super Cleaner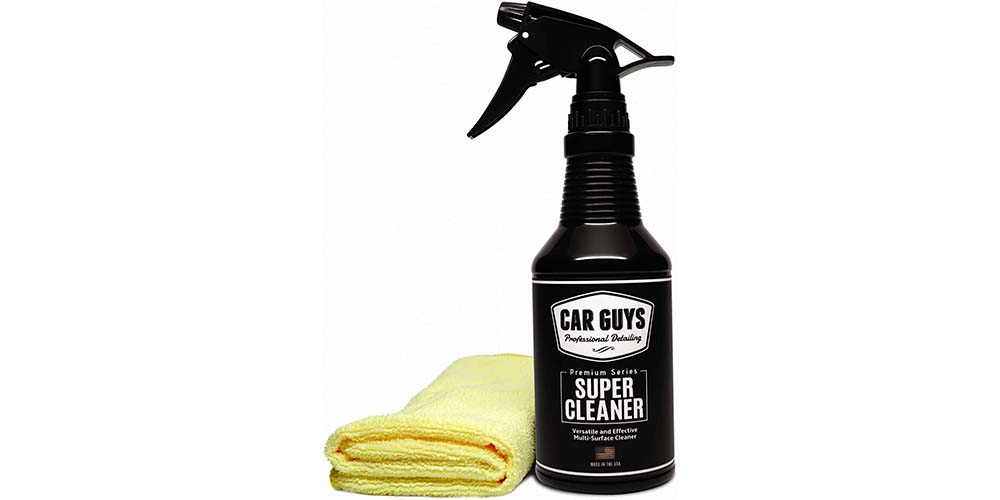 CarGuys' Super Cleaner is an all-purpose cleaner that also does a fantastic job on carpets. One of the top-rated car carpet cleaners on Amazon, this multi-surface cleaner comes in bottles that are either 18 or 128 ounces in size. In addition to carpets, they can also be utilized to clean upholstery, canvas, rubber, fabric, grease, leather, wood trim, vinyl, plastic, tree sap, metals, and more.
This environmentally friendly product, which is created, bottled, and manufactured in the United States, works well to remove stains from the carpet and leave it smelling good and looking new. For those who live in places with harsh winters, users claim that it is also helpful in removing salt stains.
#2 Tuff Stuff Multi-Purpose Foam Cleaner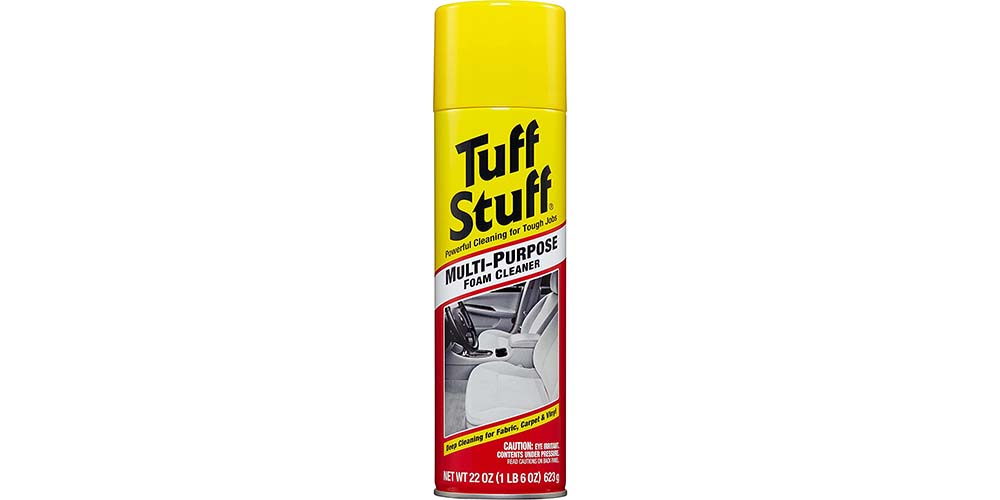 With its potent, multi-purpose foam cleaner, Tuff Stuff can deep clean your carpets and upholstery while helping to restore their original color. It has powerful stain removal capabilities and works on all paintable and washable surfaces, including fabric and vinyl upholstery.
This product has been regarded as highly effective and doesn't have a strong fragrance, according to users. In fact, the clean scent it leaves behind makes your vehicle smell like new. One 22-ounce can of this product lasts a long time, which is an extra bonus.
#3 Chemical Guys Fabric Clean Carpet and Upholstery Shampoo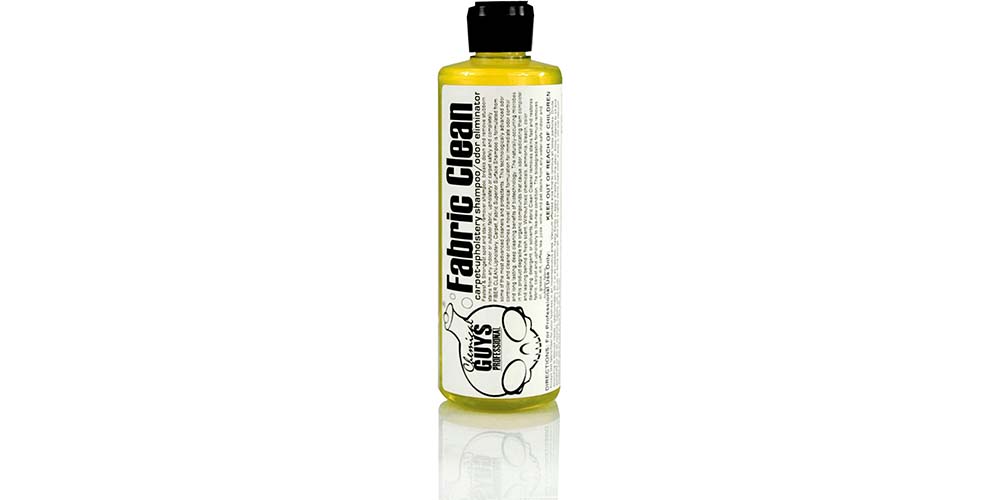 Consider using Chemical Guys' Fabric Clean Carpet and Upholstery Shampoo and Odor Eliminator if you have any terribly challenging stains and are prepared to put in the work to make the carpet in your car looking great again. This solution, which comes in a 16-ounce bottle, is made to break down and eliminate tough stains on carpet, fabric, and upholstery.
It uses biotechnology for deep cleaning and doesn't utilize solvents, ammonia, bleach, color-damaging deterrents, or harmful chemicals. This unique mixture, which contains some of the most advanced protectants and cleaners, eliminates the need for forceful rubbing or scrubbing.
Because of its high concentration, this product needs to be diluted before use.
#4 Chemical Guys Lightning Fast Carpet and Upholstery Stain Extractor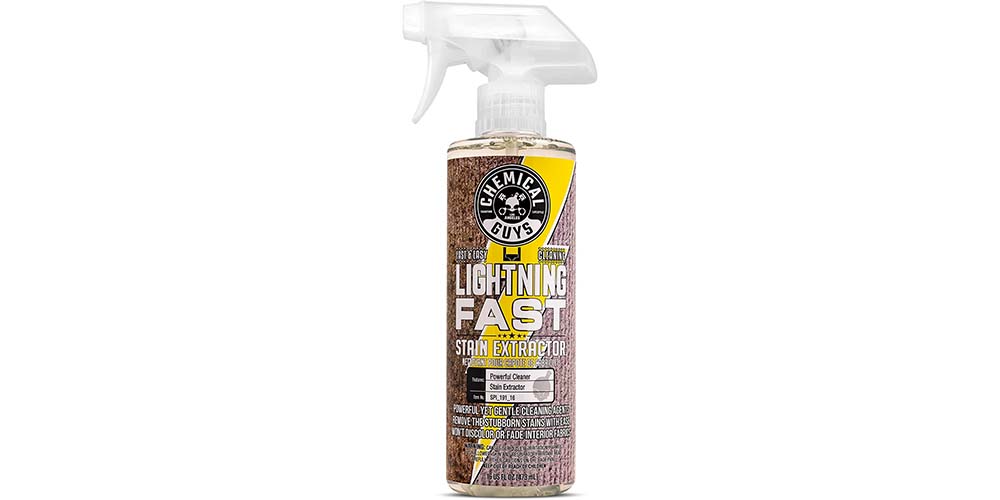 Chemical Guys also sells a Lightning Fast Carpet and Upholstery Stain Extractor if you're searching for something that requires a little less effort. This product, which is intended to remove stains, guarantees to clean without fading surfaces or losing color. It's not just effective on car carpets; it also works well on sofas, linens, couches, sneakers, and upholstery. Simply spray the stain with this solution, scrub it with a brush, and then wipe off the residue with a microfiber cloth.
It has a unique hyper-cleaning formula that eliminates stains from your carpet quickly and thoroughly. This solution will safely and effectively remove pet, coffee, juice, and mud stains, and it won't leave behind any sticky mess. This product cleans and deodorizes simultaneously, leaving your car's interior looking clean and smelling fresh.
This hyper-concentrated solution, which comes in a 16-ounce bottle, can be diluted with distilled water via a 20:1 ratio.
#5 Meguiar's Carpet and Upholstery Cleaner (G9719)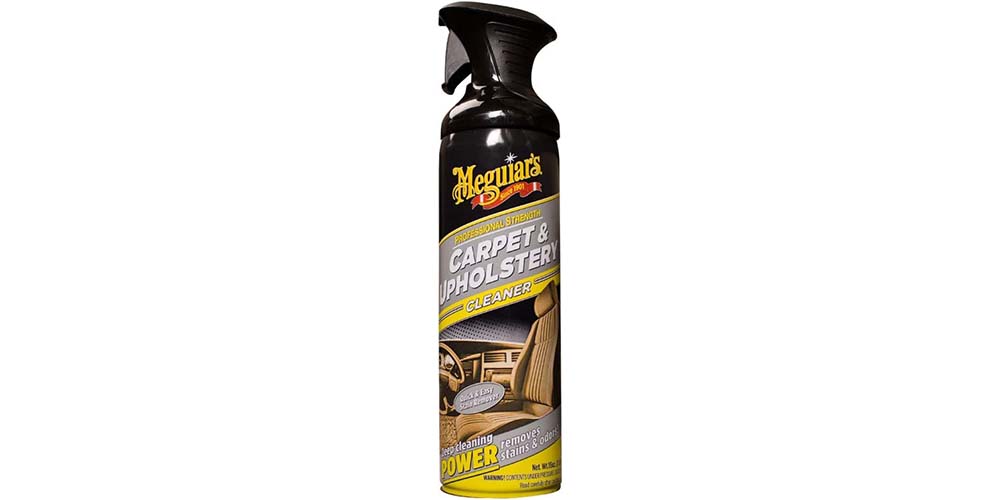 You can be sure to find a Meguiar's product when it comes to car care. Meguiar's Carpet and Upholstery Cleaner, one of the most reputable and well-known brands on the market, delivers a professional-strength cleaning foam with thorough cleaning power to eliminate stains and odors. Fast-acting foam, which breaks down stains in your car carpet quickly, makes it simple to use. This formula doesn't leave behind a sticky mess and dries quickly.
The 19-ounce bottle of Meguiar's Carpet and Upholstery Cleaner has a dual-purpose sprayer and is perfect for general cleaning or removing stains. Your carpets and upholstery will appear brand-new and smell great after using this product.
#6 Mothers Carpet and Upholstery Cleaner (05424)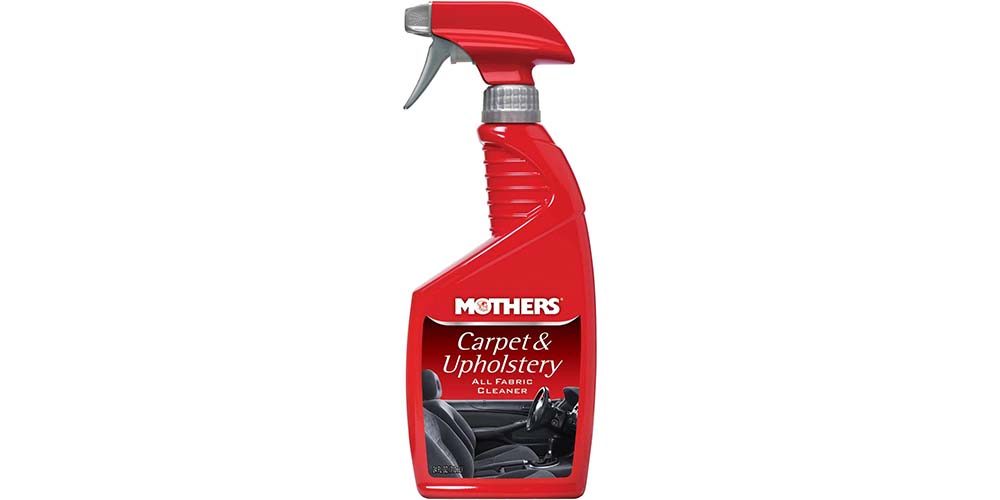 Mothers is a trusted name in the car care industry, just like Meguiar's. The company offers a 24-ounce container of carpet and upholstery cleaner with a trigger spray. Mothers' Carpet and Upholstery Cleaner is engineered to remove tough stains and is pH balanced, making it safe to use on a variety of fabrics, including vinyl, carpet, velour, and sheepskin. It is also environmentally friendly and simple to apply.
Developed to release contaminants contained in the pile and suspend them for easy disposal, Mothers claims that this mixture loosens the soil's attachment to the carpet as well as with interior fabric fibers.
#7 Armor All Oxi Magic Carpet and Upholstery Cleaner
The Oxi Magic Carpet and Upholstery Cleaner from Armor All, a well-known brand in the world of car care, comes in a 22-ounce bottle. Armor All's carpet cleaner claims to be able to remove even the toughest car stains, such as mud, soda, coffee, grass, ink, and motor oil, by penetrating deeply into fibers and dissolving dirt.
In order to remove tough stains, this product uses oxygen action, which dissolves them immediately upon contact. It will bring back the soft, luxurious beauty of the carpet in your car when used properly.
#8 Turtle Wax Power Out! Carpet and Mats Cleaner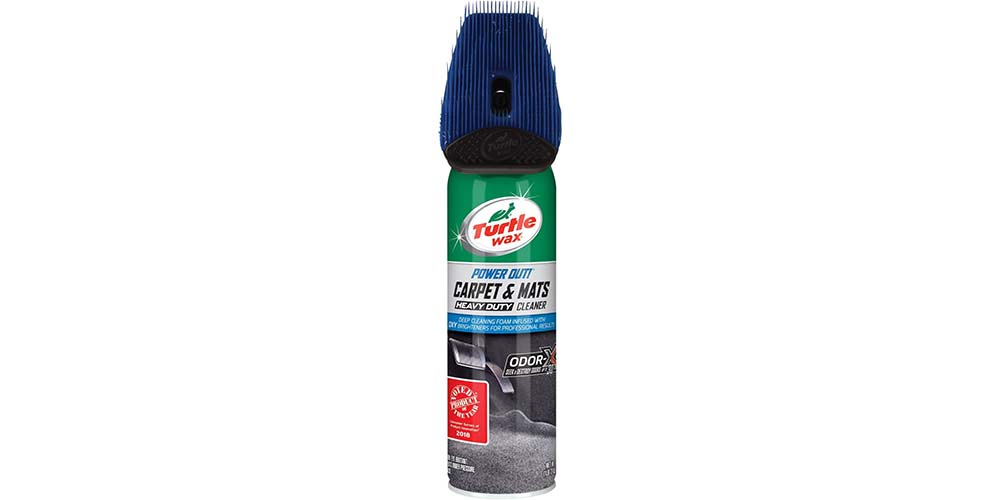 Turtle Wax's made this list not just because of their brand's reputation but because of this incredible product: the Power Out! Carpet and Mats Cleaner. This product contains Odor-X odor eliminator, which helps eliminate any pet, food, cigarette, and mildew odors. To effectively reach deep into carpet fibers and rubber mat crevices and remove difficult stains, it comes with a detachable micro scrub brush.
Turtle Wax's Power Out! Carpet and Mats Cleaner offers a safe and effective option for use on all types of carpets, not just in your car but also at home.  It is packaged in an 18-ounce bottle.
Essential Information About Car Carpet Cleaners
As we previously discussed, an excellent approach to keep the carpet and interior of your car clean is to vacuum it frequently. But to achieve a more thorough cleaning, you should also make use of a carpet cleaner. Every day, your car picks up a lot of dirt, grime, dust, and other debris that eventually settle inside your carpet. Additionally, if you frequently travel with children or animals, there is a greater likelihood that food, drinks, or pet hair will drop.
To get your carpets thoroughly cleaned, some cleaners may need to put in a little extra work, but it's worth it. The cost of replacing the carpet inside your vehicle is something you would prefer to avoid at all costs.
If you're dealing with spots and stains, buy one of these more reasonably priced products rather than resorting to more pricy and time-consuming techniques. Carpet cleaners are also intended to remove stains.
You might need to use additional tools, such as a steam cleaner or car vacuum, if a carpet cleaner isn't up to the task. Although automobile steam cleaners cost more than a bottle of carpet cleaner, they can complete tasks that your carpet cleaner was unable to. Even industrial steam vacuums with even greater strength are available to remove even the toughest odors and stains. You may even lease a carpet steam cleaner from a nearby hardware store or even a grocery store if you don't want to invest in your own steam cleaner.
We advise purchasing a cordless auto vacuum or hand vacuum for routine maintenance. Even if you only vacuum your car's interior to remove any loose dust and grime, it is always advised to do so after every wash. Additionally, vacuuming raises the fibers back up, helping to mitigate the long-term impacts of dirt buildup on the surface.
Now that you have a broader idea about car carpet cleaners, hopefully, you can make a much more informed decision before you finally choose one for your car's carpet. You can choose from our list above or just take in all the information you've learned to get a satisfying purchase. We would advise getting a car carpet cleaner not just for the price but also for the efficiency and quality.