Subwoofers are the backbone of a high-performance automobile audio system. They supply the bone-thudding, organ-rattling bass notes that will enable you to impress judges and spectators alike as you strive to outperform your competitors.
There is a vast selection of subwoofers to fit your needs and preferences. Generally speaking, size and power have to be among your top priorities when competing. We've put together a list of the best vehicle competition subwoofers to get you started in your search for great performance in low-frequency sound reproduction.
#1 Skar EVL-Series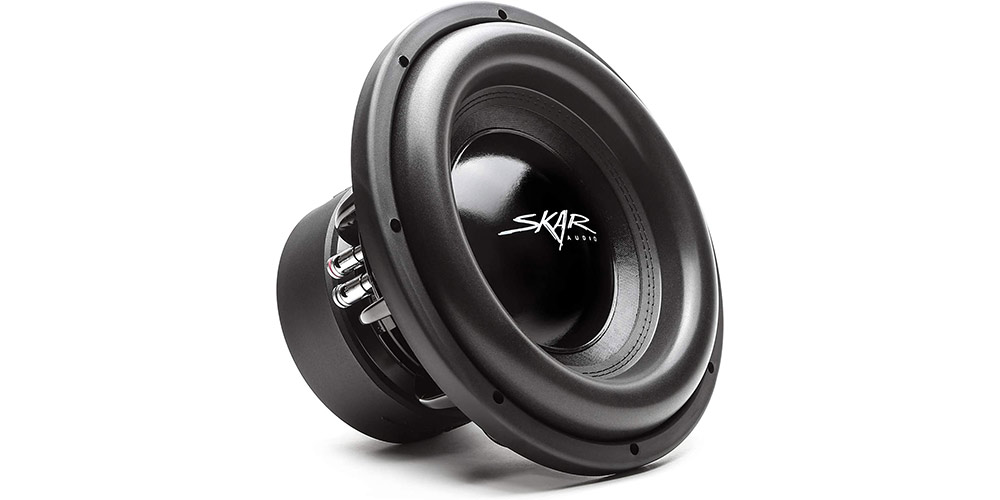 Brand: Skar
This speaker, which comes in diameters ranging from 6.5 to 18 inches, is designed to withstand continuous power of 1,250 watts and peak power of 2,500 watts. Given that it boasts a high flux, double-stack ferrite motor structure, you can anticipate precise and potent bass.
You can enjoy music at loud volumes for extended periods of time without the speaker overheating by using a basket-style speaker with a 3-inch high-temperature voice coil. Consider the EVL-series' high roll foam surround and competition-grade paper cone if you're looking for responsive, ultra-low-end frequency delivery. Its sensitivity is 85.1 dB, and its frequency response spans 25 to 250 Hz.
#2 JBL CS1214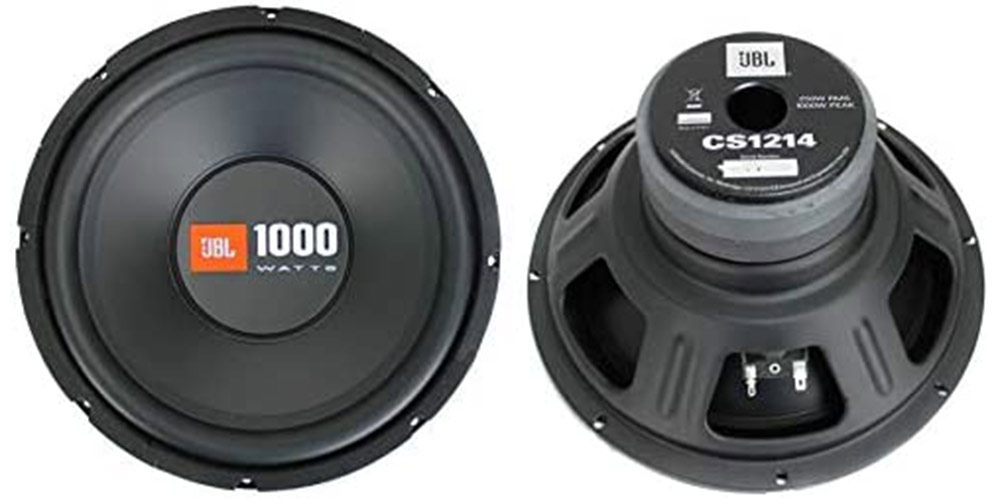 Brand:  JBL 
The CS1214 could be a great subwoofer if you're building your first competitive sound system or want to add more volume to your current setup. It is only rated at 250 watts RMS and 1,000 watts maximum.
The CS1214 is a 12-inch subwoofer with a polypropylene cone and rubber surround that will look great in your automobile. Its cone was made to provide substantial stiffness and internal damping to help this speaker block out road noise when used as a traveling speaker.
#3  Toro Tech Force 12S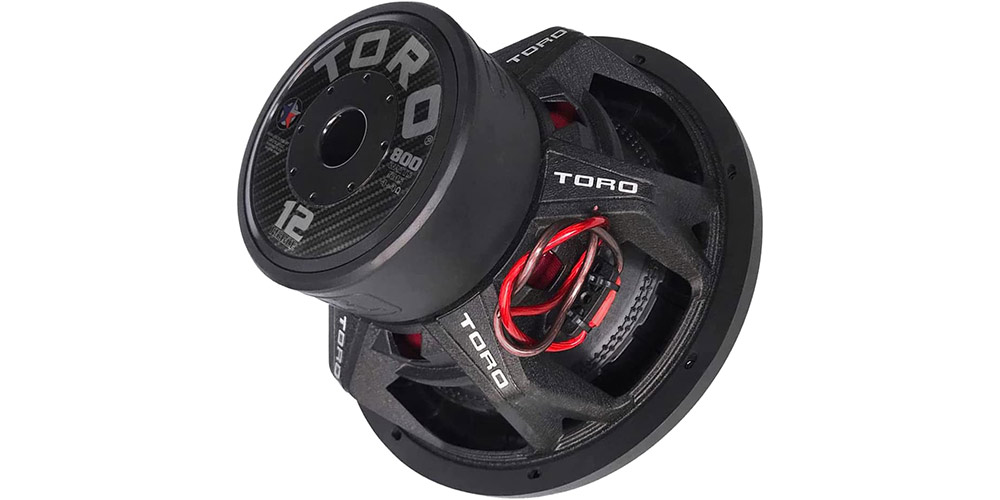 Brand: Toro Tech
The Force 12S offers to deliver with its 2,000-watt continuous/4,000-watt peak power ratings if powerful bass is at the top of your wish list. The 350-ounce double-stacked strontium ferrite magnets, 3-inch high-temperature voice coil, and cooling-optimized T-yoke will provide the desired low-frequency response.
This dual 2-ohm subwoofer has an 88 dB sensitivity rating, so you can expect it to be loud. This speaker should fit into an existing sound system rather easily, with a mounting depth of just over 7 inches.
#4 Skar Audio SDR-18 D4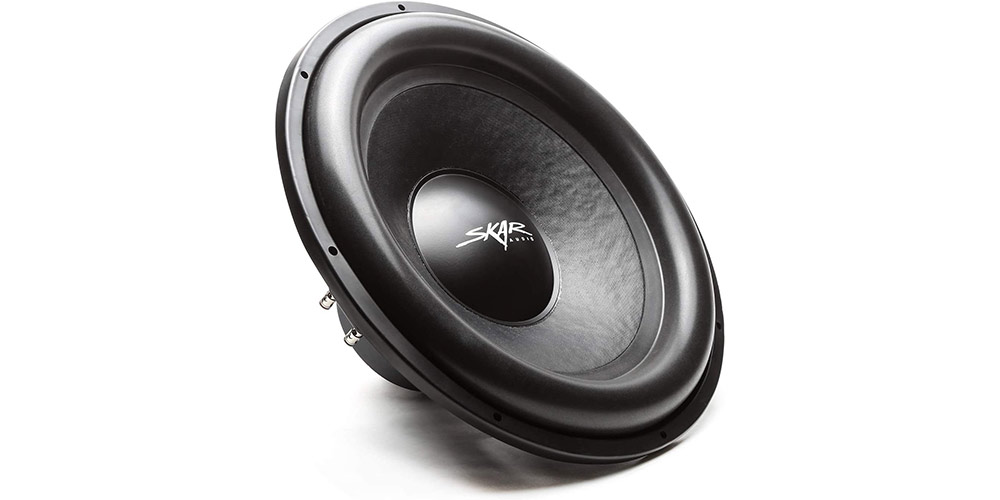 Brand:  Skar
If you choose quality over power output in a large subwoofer, the Skar Audio SDR-18 D4 is a good option. With a frequency response range of 18 Hz to 250 Hz, the 18-inch model outperforms its modest 600-watt continuous and 1,200-watt maximum power ratings. This sub seeks to demonstrate that producing deep bass doesn't require a lot of power.
A 2.5-inch high-temperature dual 2-ohm copper voice coil and high flux ferrite motor power a competition-grade pressed paper cone with high-roll foam surround. The sensitivity rating for the speakers on this list is 86.7 dB, which is somewhat below average. When you use this subwoofer aggressively for extended listening sessions or during a competition, an airflow cooling mechanism helps prevent overheating.
#5 Power Acoustik BAMF-122
Brand: Power Acoustik
Here's another subwoofer from Power Acoustik. With its sturdy design, this 12-inch sub offers a strong first impression, which is your first indication that this speaker means business.
The BAMF-122 is designed for a maximum of 3,500 watts, and it is built to withstand 1,750 watts of continuous power from your sound system. A 3-inch, 4-layer voice coil with direct connect wiring, stitched voice coil leads, a polyether foam surround, dual poly-cotton suspension, and a spruce pulp cone with stitched and bonded joints all contribute to that power rating.
The BAMF-122's construction is designed to withstand any challenges your music may present. A non-resonant aluminum frame and a 12mm vented T-yoke help to increase low-frequency dynamics and keep the voice coil cool.
#6 Alphasonik VSW812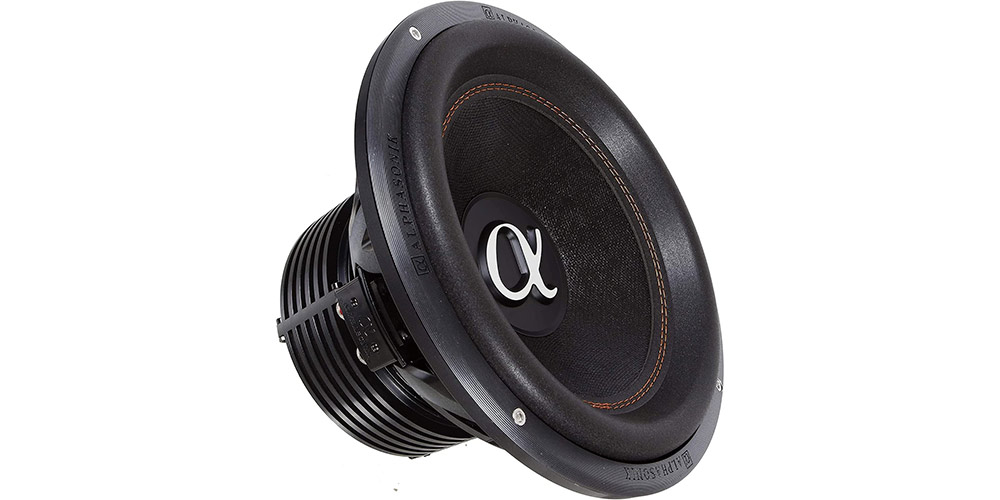 Brand: Alphasonik
The Alphasonik VSW812 subwoofer features numerous design features, such as the way the business's logo appears on the bottom of the motor assembly and shapes the design of the basket. It's simply a shame that once the speaker is in your car, you won't be able to view those little details.
But after using this sub, you might forget what you were missing. To produce powerful, thunderous bass, 1,200 continuous watts of power and 3,600 peak watts of power are combined with 87 dB of sensitivity.
This speaker's non-pressed paper cone, which is supported by a fiberglass two-layer surround and helps produce a wide frequency response range of 28 Hz to 500 Hz, should sound fantastic through the deep notes in your song. During prolonged, high-volume use, cooling rings around the motor housing help avoid overheating.
#7 Soundstream Tarantula T5.124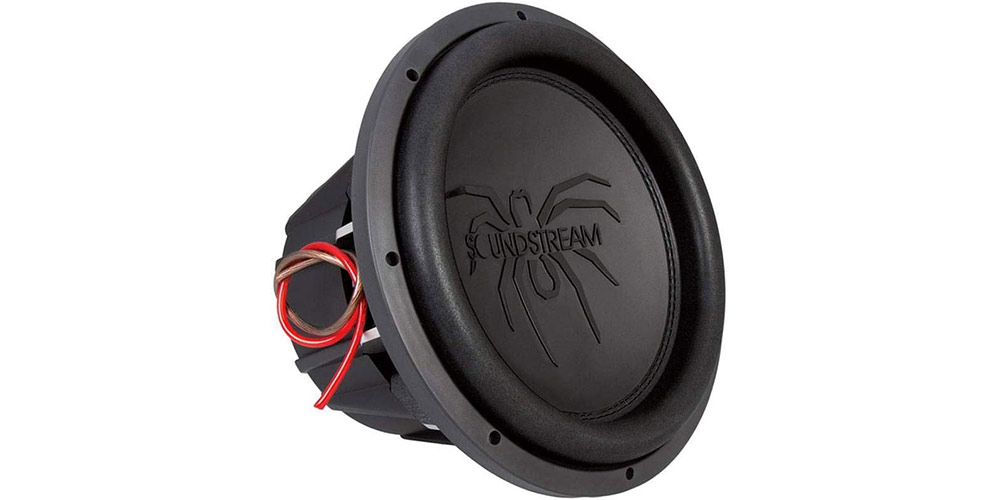 Brand: Soundstream
The ideal spider might be the Tarantula T5.124. A simple basket design contrasts with a stylish spruce pulp cone emblazoned with the company's spider logo and wordmark.
The T5.124 is designed to provide tremendous bass volume that you can feel as well as hear. It has 2,000 watts of peak power and 1,000 watts of continuous output. You may easily include this member of the Tarantula family into your current setup or use it as a starting point when your configuration changes because the 3-inch, 4-layer voice coil takes a range of impedance levels.
#8 Pyle PLPW15D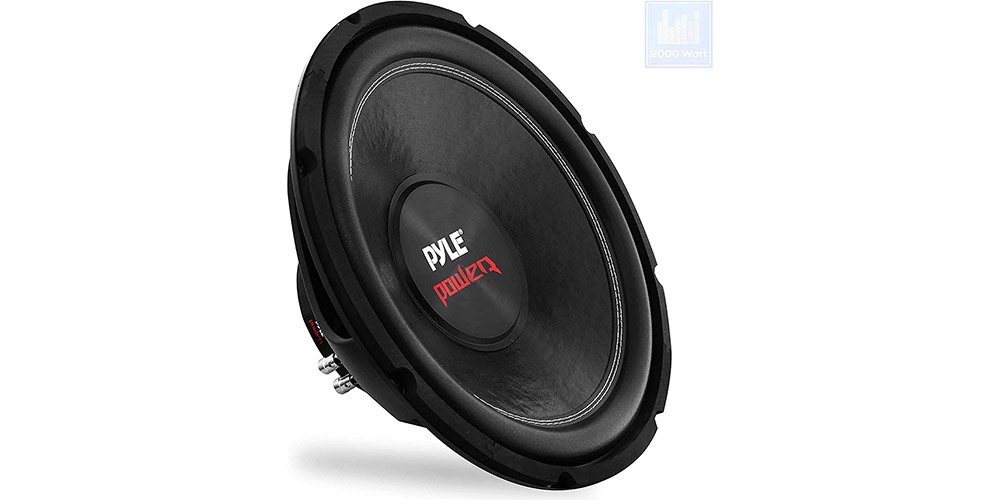 Brand: Pyle
Pyle offers a powerful subwoofer with the PLPW15D that is available in a variety of sizes and power handling capacities. The goal is to give you choices for boosting your competition-ready sound system's volume and bass.
The 15-inch model of this speaker, which has a continuous power rating of 1,000 watts and a peak power rating of 2,000 watts. A black steel basket and a non-fatiguing suspension support the cone. With a frequency response that spans 40 Hz to 1,500 Hz, it is particularly wide.
The PLPW15D's ability to connect to amplifiers with 4- and 8-ohm impedance will make your life easier, and its 92 dB sensitivity rating will fulfill your demand for high volume at a reasonable cost.