If you want your pickup truck to last longer and protect its resale value, one of the smartest things to do is to install an effective truck bed liner. This can protect your truck's bed from potential cargo damage and rust.
There are two typical bed liner types, the spray-on, and the drop-in. A spray-on bed liner is applied via a spray gun or painted on using a roller or a brush. These spray-on products are usually made from a polyurethane or aliphatic base. There are lots of different types of spray-on bed liners that you can choose from today. The drop-in bed liner is made of plastic and drops in place. Rubber bed mats are also available for a durable second layer that can protect your truck bed from heavy materials such as rocks, lumber, or metals. If you want to treat your truck as an investment, you should always protect its parts at all costs.
In this article, you'll learn about the top 8 best truck bed liners available today. With this list, we will be focusing more on the spray-on type of bed liners.
#1 U-POL Truck Bed Liner Kit with Spray Gun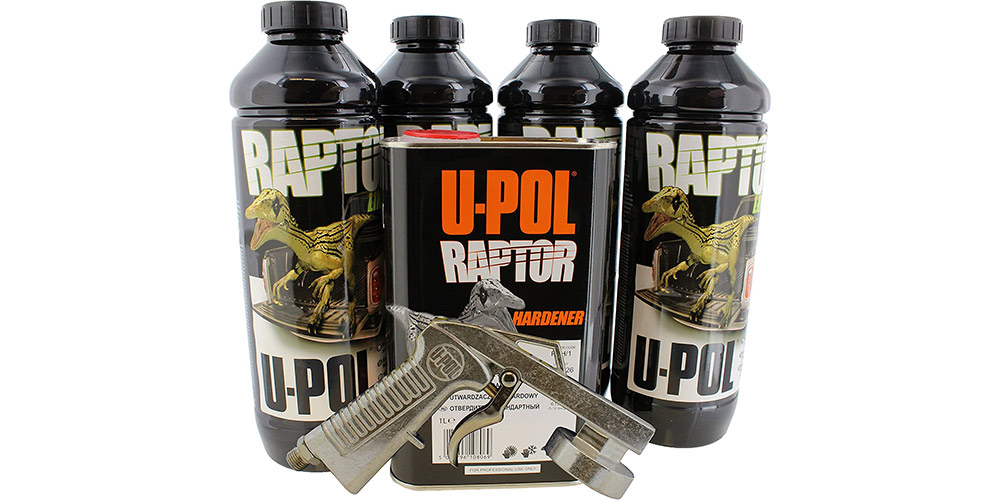 Brand: U-POL
One of the best truck bed liners today comes from U-POL. If you don't have a spray gun attachment for an air compressor, you can go for this kit. The U-POL Truck Bed Liner Kit with Spray Gun is a great choice if you want a complete kit that includes a hardener, a spray gun, and four one-liter bed liner bottles. You will need painter's tape for masking off the truck bed and sandpaper for preparation.
The instructions from U-POL are easy to read. This makes the whole process simpler. Another great thing about this product is that it dies in one hour. This is much quicker compared to other spray-on urethane products.
The one aspect that consumers should be aware of is that this specific bed liner may chip if applied heavily. It is crucial to properly prep the surface before you apply the U-POL truck bed liner. Never forget to use a respirator during the application process. 

#2 Rust-Oleum Automotive Truck Bed Coating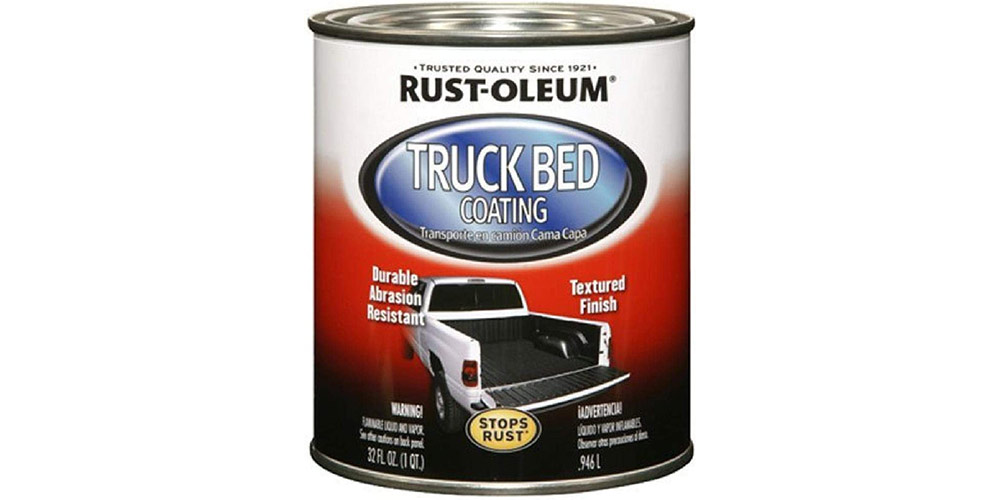 Brand: Rust-Oleum
The Rust-Oleum Automotive Truck Bed Coating is a solution developed to prevent rust from your truck bed. This product offers effective protection against weather-related damage, rust, and scratches on your truck bed. This truck bed liner is made in the U.S.
The Rust-Oleum Automotive Truck Bed Coating is a high-quality solution that can be easily applied using a spray gun, roller, or brush. Just take note that these applicators are not included when you purchase this product.
This product comes in a 32-ounce can of bed liner. There is a waiting time for this product to cure. Usually, it takes a few days. You must schedule your truck use because you need to cure the bed liner before placing stuff on your truck bed again. According to some users of this product, they felt that its smell is extremely strong. We would suggest that you use a respirator upon application. Lastly, this product is affordable, and that's what endears it to truck owners.

#3 Herculiner Brush-on Bed Liner Kit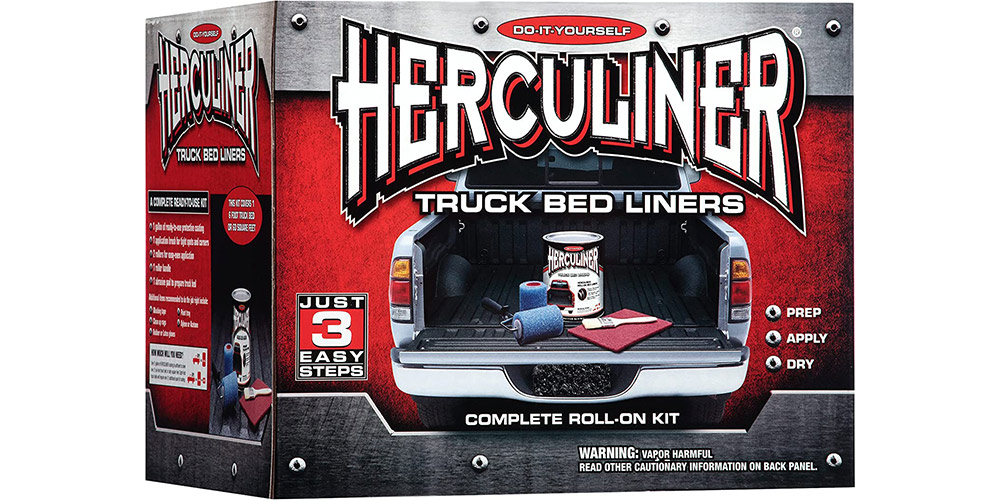 Brand: Herculiner
The Herculiner Brush-on Bed Liner Kit is one of the best options available today. Unlike other bed liner kits on this list, this one offers not just the black bed liner but also two rollers and an application brush. According to the company, this bed liner is manufactured from a tough, textured polyurethane formula that's five times thicker compared to the competition. If you apply this properly, your truck bed's surface won't peel or flake.
The Herculiner Brush-on Bed Liner will provide your truck bed with a shiny finish. You'll get high-quality output from this product. One gallon of this product is sufficient to apply two heavy coats on a large 6-foot pickup bed. In relation to that, you will need more than one gallon if you have an eight-foot or larger truck bed. 

#4 Dupli-Color DIY Truck Bed Liner with Kevlar Bed Armor Kit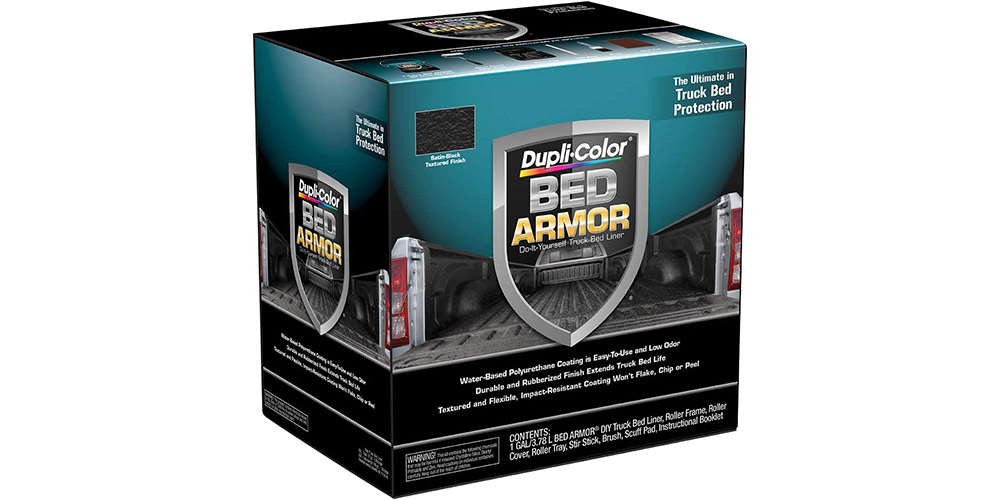 Brand: Dupli-Color
The Dupli-Color DIY Truck Bed Liner with Kevlar Bed Armor Kit is one of the most complete kits on this list. It comes with a water-based bed liner, roller, brush, sandpaper, and paint tray. You would only need to prepare painter's tape. Similar to other water-based bed liners, this product is not as thick compared to urethane bed liners. It can be runny as well. You will need to carefully prepare your truck's bed before you apply this product. It would help if you were mindful of the thickness of your application.
This bed liner contains Dupont kevlar, which contributes to overall durability. This option is more expensive than other products. You also need to be more thorough when it comes to bed preparation. 

#5 Raptor Black Truck Bed Liner Kit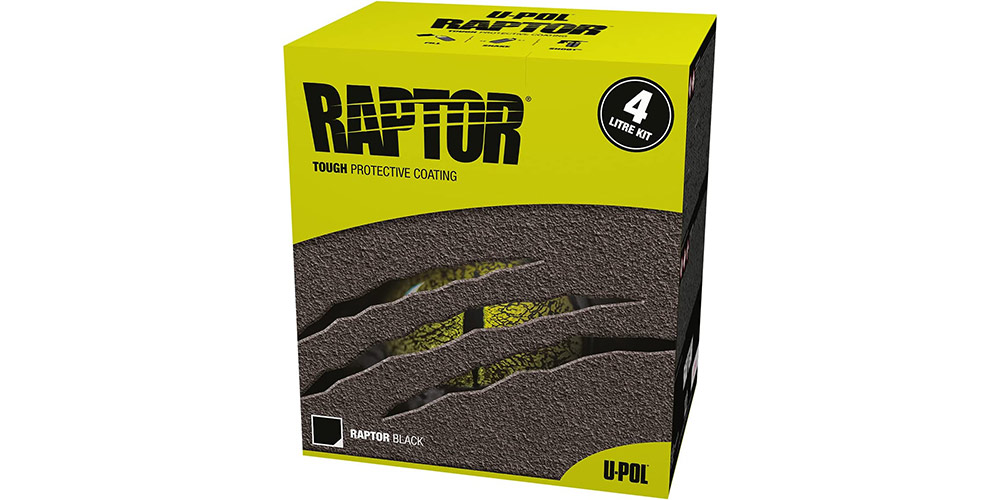 Brand: Raptor
The Raptor Black Truck Bed Liner Kit is a smart option for those who want to save on budget and apply the bed liner at home. The kit contains 4 liters of spray-on bed liner. This would be enough to cover the entire truck bed. There is no spray gun included in this kit, and you have to purchase one separately. You can also opt to use a roller or a brush for applying the bed liner.
The process of applying this bed liner is easy. Make sure you tape off latch pins, the tailgate, hinges, and all vehicle parts that you don't want the liner to get applied on. For ideal results, you may prep the surface using a primer beforehand. 

#6 Custom Coat Urethane Spray-On Truck Bed Liner Kit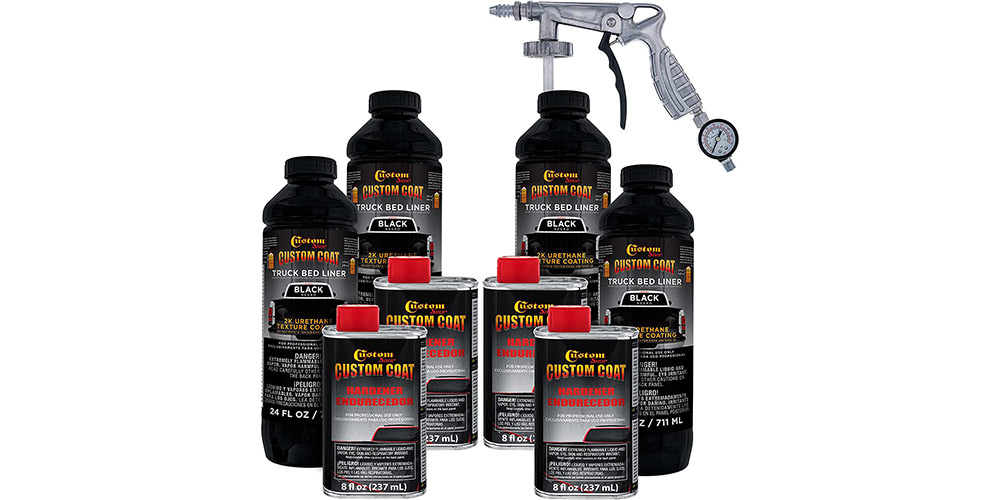 Brand: Custom Shop
The Custom Coat Urethane Spray-On Truck Bed Liner Kit comes with four 4-liter bottles of the bed liner, a black tint, a hardener, and a spray gun. You almost have everything you need. You have to get painter's tape, sandpaper, and an air compressor. Many consumers have claimed this bed liner provides great results and sprays on easily.
It would be smart to prep the surface before you start spraying this bed liner. Make sure that the bed is properly sanded. You can also opt to use a primer as a base coat so that this product can stick easily.

#7 T-Rex SpeedoLINER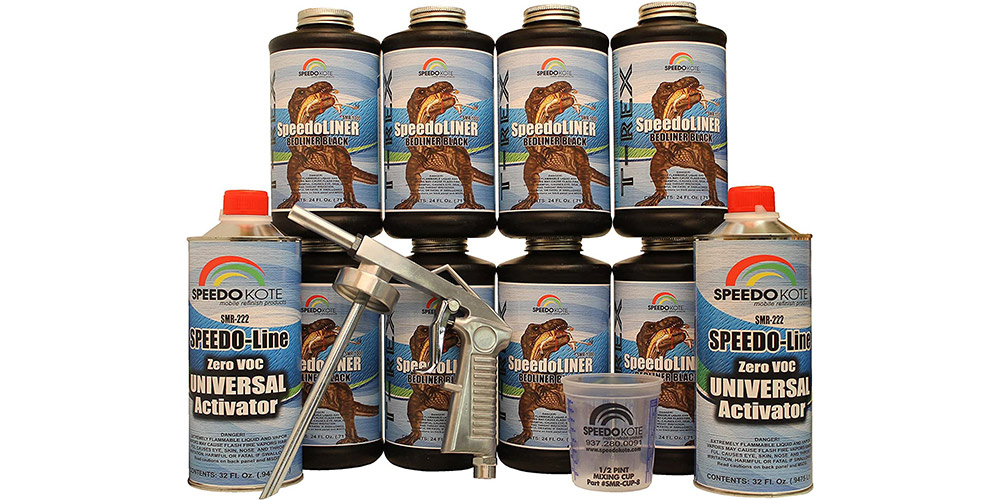 Brand: Speedokote
The Speedokote black bed liner kit comes with a spray gun, two bottles of activator/hardener, and eight 32 oz bottles of bed liner. If you have multiple vehicles to spray and protect, this large kit is an ideal option. The bed liner is a urethane-based formula that is quick-drying in nature.
This bed liner can help protect against rust and damage. Its durability has been praised by consumers as well. You need to properly pred the truck bed before you apply this bed liner. You have to be careful throughout the entire process to avoid peeling and chipping. You have to sand the bed properly and may opt to use a primer for the best results.

#8 Linerxtreeme Spray on Bedliner Kit With Gun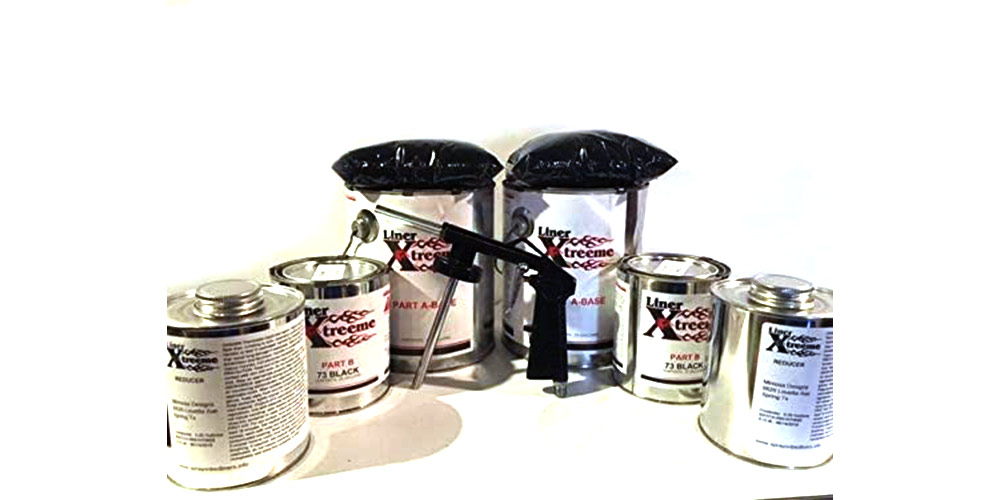 Brand: LinerXtreeme
The LinerXtreeme Spray-On Bed Liner Kit with Gun is a nice option if you need to apply bed liner on multiple trucks or if you want to redo your application after some time. This kit contains three gallons of bed liner, a spray gun, and a formula reducer and activator. Just carefully follow the instructions included in the kit, as the application of this product is not as easy compared to the other products on this list.
You also have to carefully prep the truck bed so that when you apply this formula, you'll get ideal results.