Is your windshield chipped but don't have the budget to get a new one? Are you thinking about using a professional glass repair company's services but still worried about the cost? If you want an affordable choice, you can purchase a DIY windshield repair kit.
It would help if you had realistic expectations and understand that these windshield repair kits are no miracle solutions. Success in using these kits will depend on several factors. They may work to a certain extent and help fix or stop the damage from getting bigger. If a crack or a chip in a windshield is left unattended, it poses a huge risk of reducing visibility and can make the car user panic for safety reasons.
An effective windshield repair kit can hide the damage and bring an aesthetically-pleasing result. You need to understand that certain windshield damages will require professional help. For rock chips and small cracks, you can go for the affordable DIY windshield repair kit.
You can find so many options available in today's market. If you can't decide which one to get, we came up with our top 8 best windshield repair kits. Check it out.
#1 Rain-X Windshield Repair Kit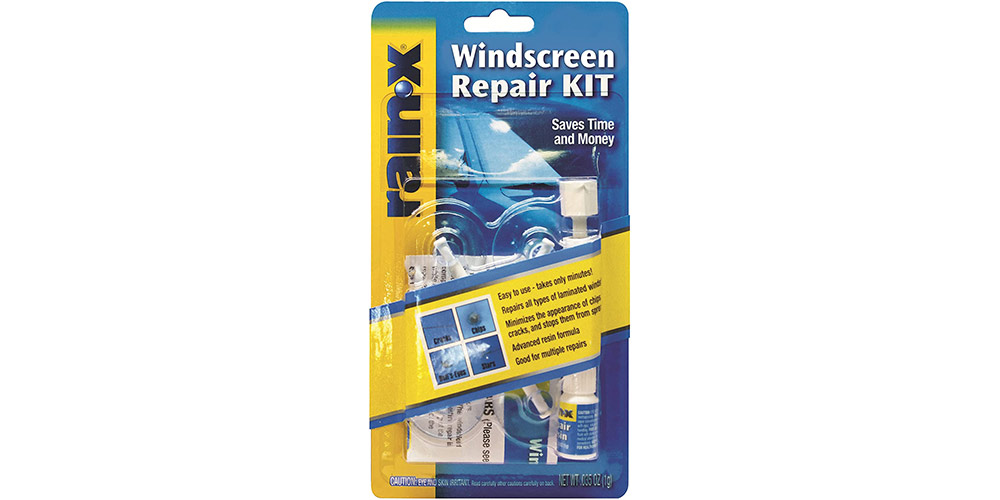 When it comes to car care, Rain-X has been one of the well-known brands. The company has the technology and experience to make long-lasting and effective car care products.
This includes the company's windshield repair kit. This kit comes with a quad suction pad applicator. It also includes 0.96 oz of resin glass repair fluid. It is so easy to use this kit, and if properly done will fix your chip or crack within minutes. That includes drying times. This windshield repair kit can even fill the longer cracks. It also works on different kinds of laminated glass, side windows, quarter windows, and rear screens.
The advanced formula of rain x helps in minimizing chipped or cracked appearance. It also helps protect the windshield from additional damage. This kit is a bargain because you get more fluid per package.
The downside that users have noticed is the additional preparation time and the need to research instructions.
#2 Permatex Windshield Repair Kit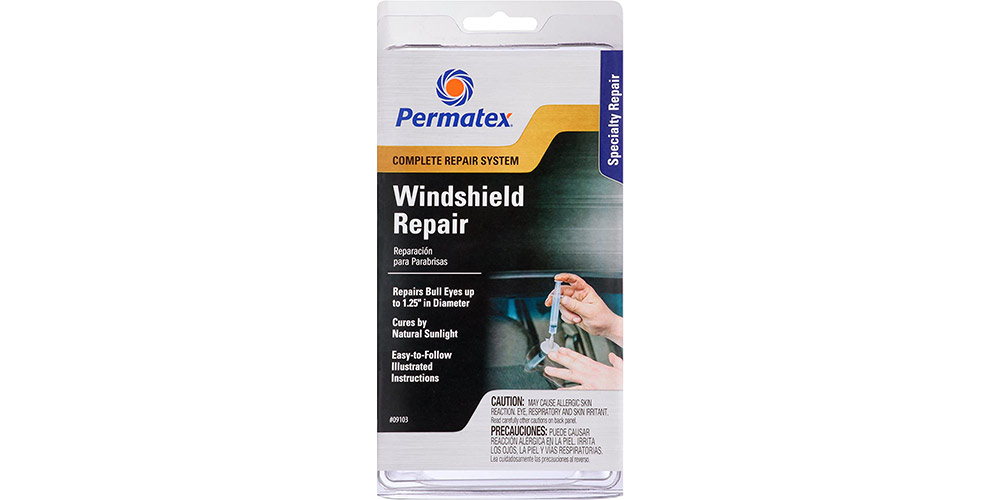 The Permatex windshield repair kit is a high-tech and heavy-duty kit that makes airtight repairs of cracks up to 1.25 in on laminated glass windows. Permatex is a company that specializes in producing solutions for OEM parts manufacturers as well as engineering companies. Their DIY window repair kit is one of the better-formulated products on the market. Their instruction manual is very detailed and includes detailed procedures and photographs.
You won't need any mixing or preparation with this liquid resin. Permatex recommends that when the repairs are being done, the car should be in a shaded area with a temperature between 50 degrees Fahrenheit to 70 degrees Fahrenheit. The company also recommends leaving the car exposed to sunlight as the resin cures itself for a couple of hours.
This kit comes with an advanced spring lock feature and a redesigned delivery system.
The longer curing time may be the only downside of this product.
#3 Blue Star Windshield Repair Kit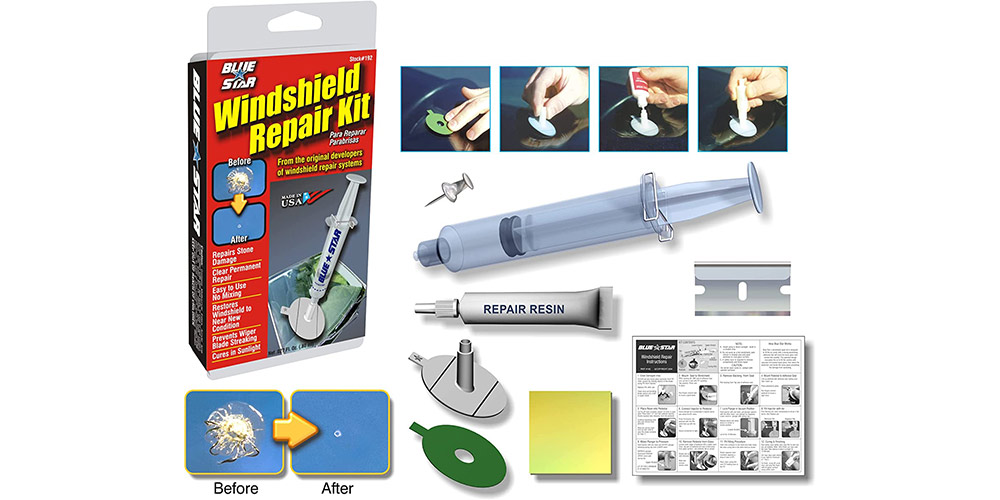 The Blue Star windshield repair kit comes with 1.6 oz of resin liquid. This kit includes an adhesive alignment seal, repair injector, resin liquid, resin chamber pedestal, a razor blade, and a curing film.
Bluestar recommends that the repair be done in sunlight to get the best results. This kit is one of the better windshield repair kits in the market, according to users, as the cracks are harder to see in daylight compared to other products.
This kit can also work on laminated glass windows and shower doors.
Just like with other products on this list, the negative aspect of this product is the longer curing time.
#4 3M Windshield Repair Kit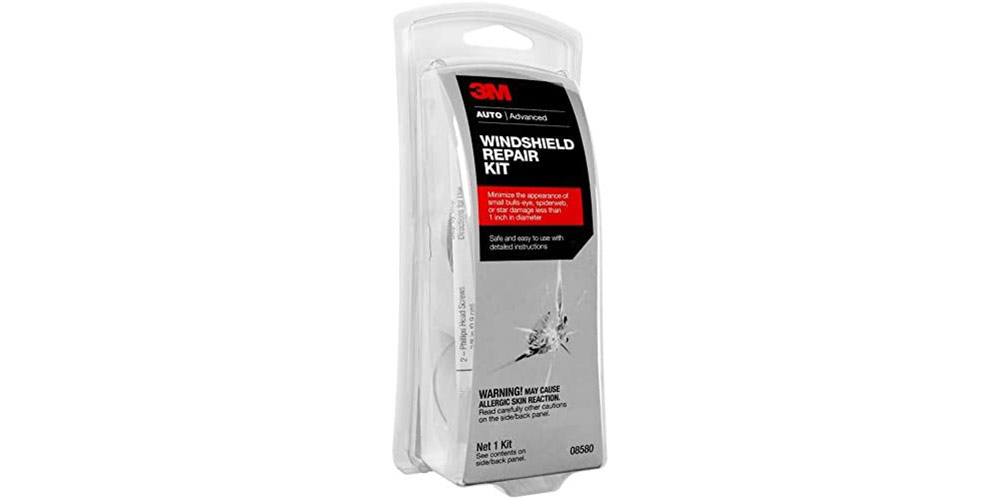 When it comes to home improvement and car care products, 3M is one of the most popular companies. You can expect that the 3M Windshield Repair Kit is one of the best kits today. It includes a bottle of liquid resin, a dual suction stabilizer, a blade, a dropper, a couple of wipes, and an excellent instructions manual.
The 3M Windshield Repair Kit does not need heating or mixing. The mount that comes with the kit effectively holds pressure well. According to some users, it would be better to use your own screws instead of the default screws for the suction cups.
#5 Tri Glass Windshield Repair Kit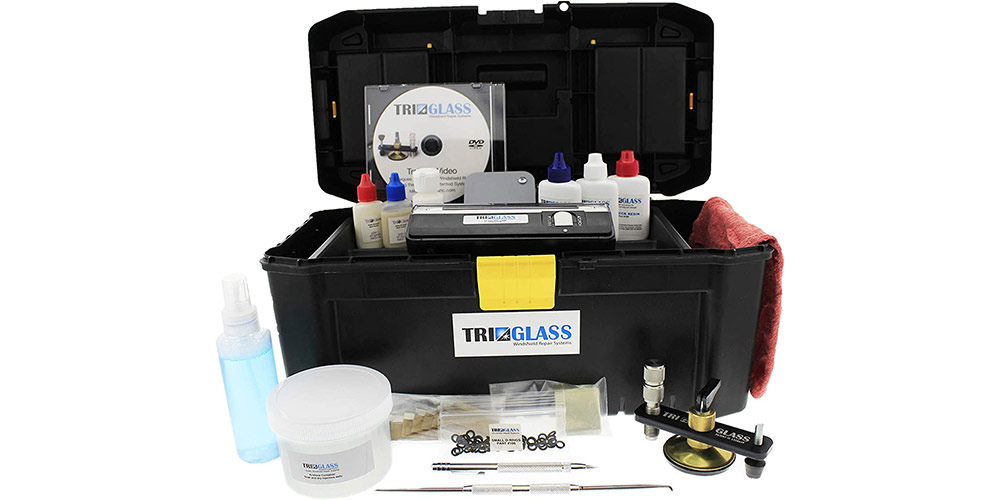 This windshield repair kit offers a more comprehensive take compared to other kits on this list. However, we would only recommend using this kit if you have enough knowledge of using these tools. If you want to make a side job out of repairing windshields, this is the best kit for you.
This kit features o-rings, mylar tabs, pit buffer and polish, hookscribe and carbide scribe, inspection mirror, cloth, razor blades, lube, glass cleaner, acetone container, and a training DVD.
An essential component of this kit is the patented Tri Glass Bridge. It has a stainless steel injector. Just a reminder, if you don't know how to use this kit, you might risk adding more damage to the cracks. This is the only windshield repair kit on this list for advanced users.
#6 GLISTON Car Windshield Repair Kit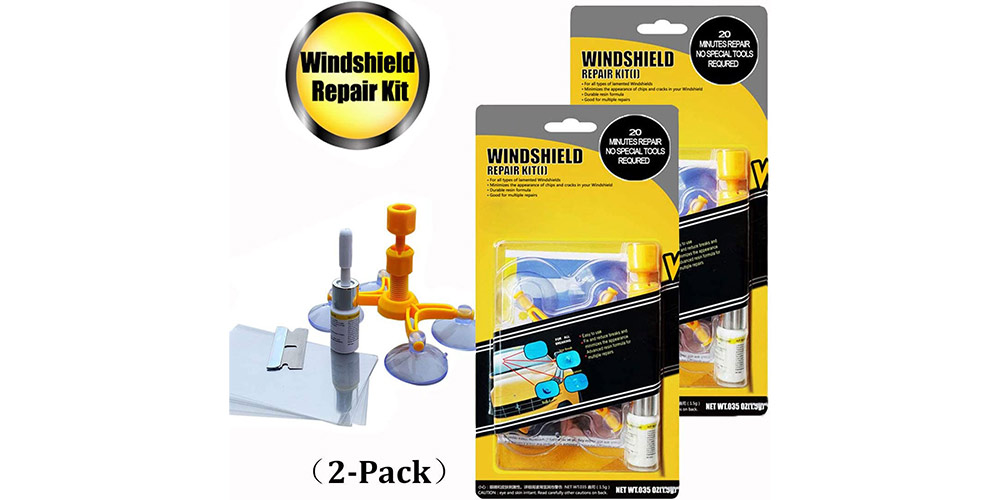 Gliston has been known for its DIY dent repair kits. The company also offers quality windshield repair. If you have multiple cracks to work on, this product is a great choice because it comes in a 2-pack. However, if you want to save on budget, you can purchase the 1-pack.
This product is designed to repair small chips and cracks within 20 to 30 minutes. It can be used on many types of outer glass. This works best on cracks that are not bigger than 12-inches.
Similar to the other kits on this list, you will need to squeeze the resin into the cracks. You will then apply a curing strip. The solution needs to cure under the sun. If there is residual resin, you can scrape them off using a spatula. There is clear information from the company regarding what this kit can repair and what it cannot.
#7 VERSACHEM Windshield Repair Kit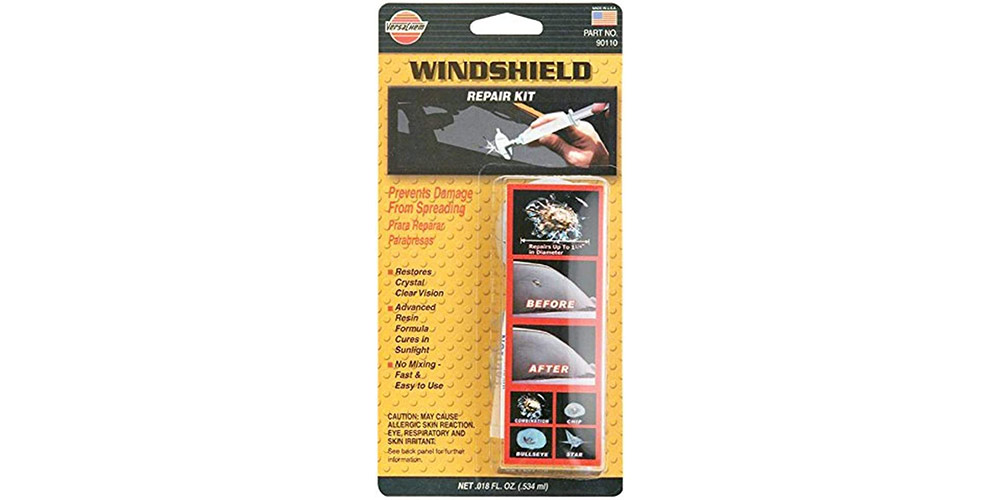 The VERSACHEM windshield repair kit features a 1.8 fl-oz tube of resin liquid. It can repair cracks and chips of up to 1.25 inches in diameter. You need to understand that you can only use this kit once. It can't be reused for multiple chips or cracks.
The VERSACHEM windshield repair kit needs one hour to be cured in direct sunlight.
#8 J-B Weld Windshield Repair Kit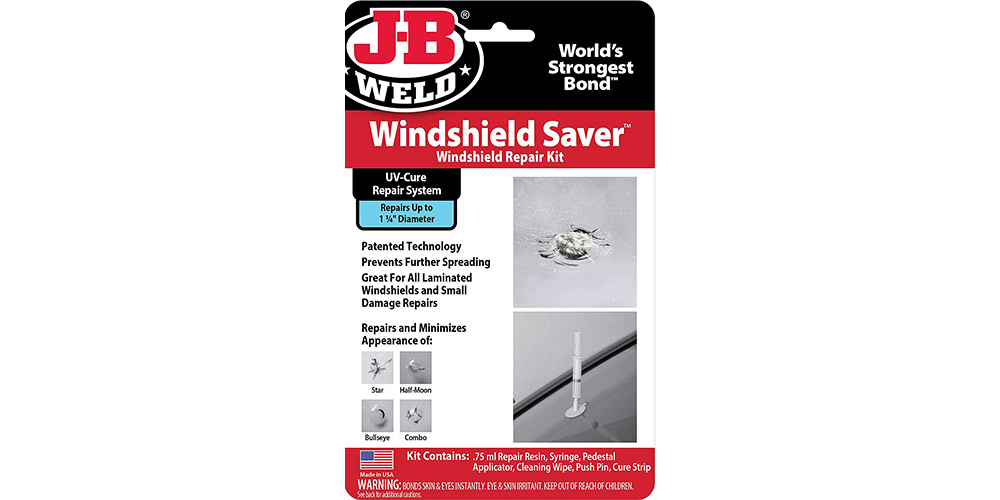 The J-B Weld windshield repair kit is manufactured by the well-known J-B Weld company that produces patented epoxy products. Made in the U.S.A, this features a patented step-by-step system. It guarantees to minimize cracks and chips. This kit can repair chips and cracks up to 1.25 inches in diameter.
One bottle of this resin can handle 3 small pits. According to customers, curing time is so slow as they have to wait overnight or 12 hours max. The longer curing time may turn off some car owners.