When it comes to replacing or upgrading to a new set of lights, there are numerous alternatives available, regardless of whether your vehicle came from the factory with LEDs or halogens.
Lumens are a crucial consideration when choosing a replacement for an LED bulb as they are used to measure brightness. If you often drive at night, you should also compare the operational life that they advertise. Brightness can range from 6,000lm (lumens) to 12,000lm, depending on the specific bulbs available for your car and the numerous model lines that manufacturers offer.
We've put together a list to assist you in installing and choosing the right bulbs.
Check out our list of the top 9 best LED Lightbulbs available today.
#1 SEALIGHT Scoparc S1 LED Bulbs Combo, Super Bright Cool White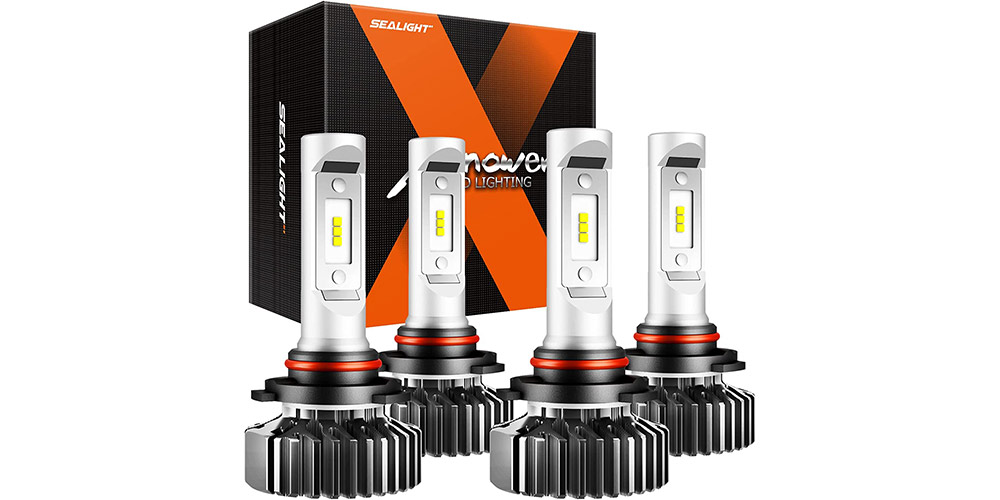 Brand: SEALIGHT
An inline CAN bus module ensures that they are compatible with contemporary vehicles, and the fanless design with an aluminum heatsink and fins operates substantially cooler than a halogen. The Scoparc S1 LED headlights from SEALIGHT feature a 30,000-hour lifespan and are ip67 water and dust-proof.
#2 Cougar Motor LED Headlight Bulbs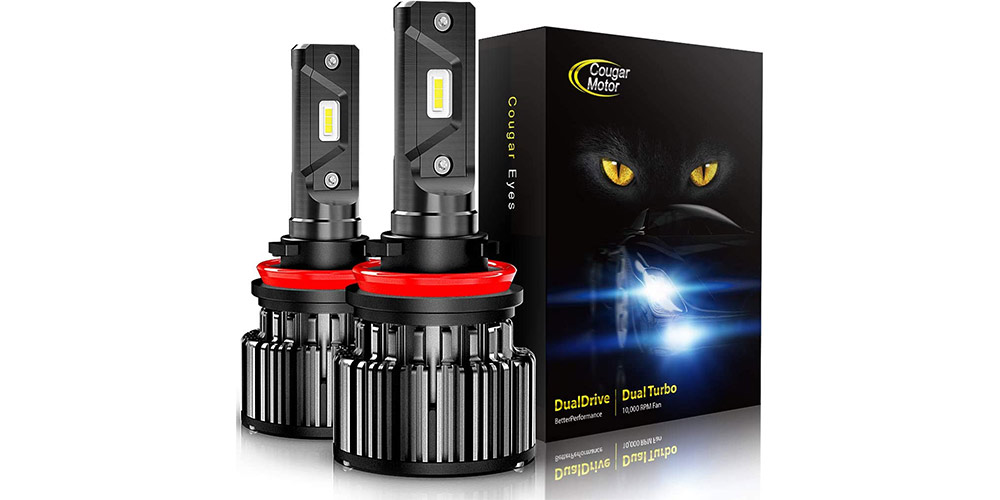 Brand: Cougar Motor
Cougar Motor's LED headlight bulbs offer up to 12,000 lumens per pair, which is 200 percent brighter than original halogen headlights. They also offer a solid balance of price, performance, and longevity. They have an excellent beam pattern without any dark spots or foggy light, and they operate at a cool white 6,000K temperature.
Each bulb is rated at 30 watts, comes in the most popular H11 form, and contains Cree LED chips. They are also IP67 waterproof because the bulbs are CAN bus-ready and compatible with most vehicles.
#3 AUXITO LED Headlights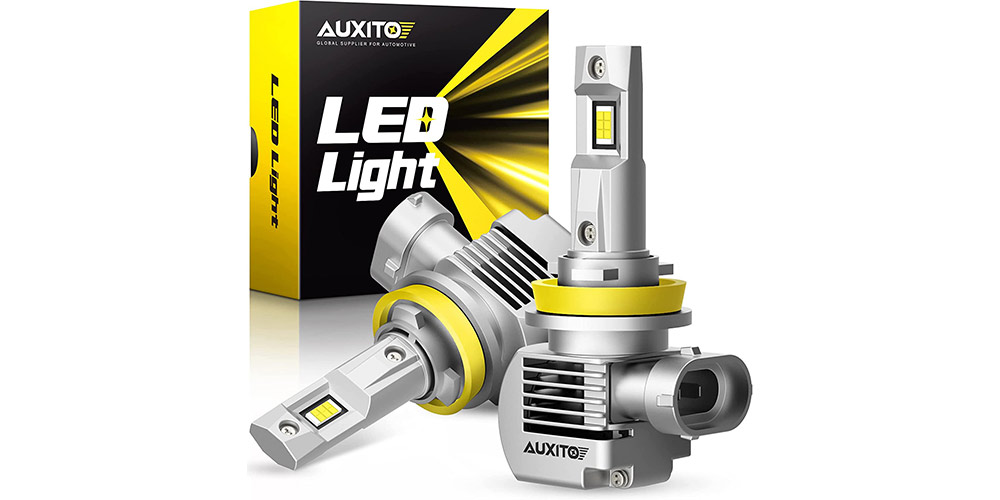 Brand: AUXITO

Five different types of LED headlights in the sizes H4/9003/HB2, 9005/HB3, 9006/HB4, 907/HB5, H11B, 9008/H13, 9012/HIR, and H9/H8/H11 are produced by AUXITO among its many other automotive lighting components.
AUXITO is one of the brightest bulbs on the market, with each bulb producing up to 100 watts and 24,000 lumens. All of their models are rated for a lifespan of between 30,000 and 50,000 hours (30 years), and their higher-end versions come with 12,000 RPM cooling fans to deal with the heat.
#4 Beamtech LED Headlight Bulbs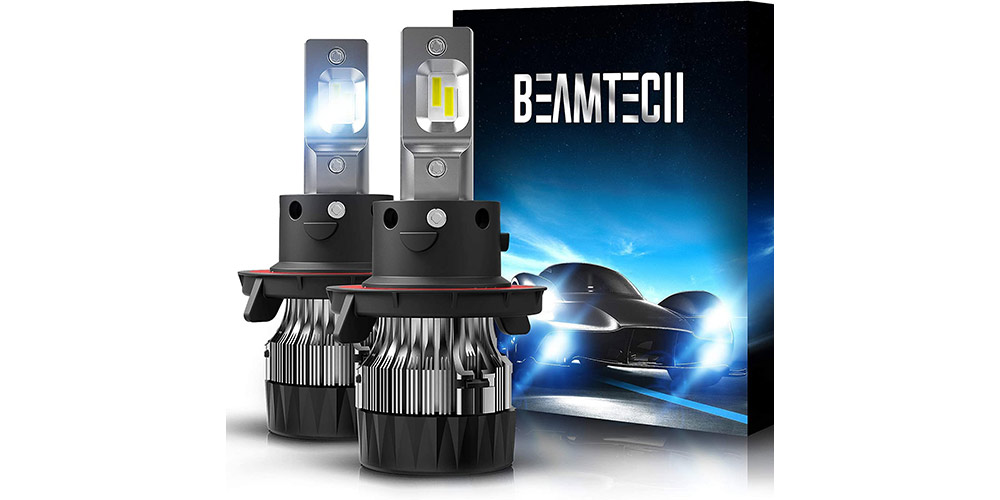 Brand: Beamtech
Beamtech's new LED bulbs are less expensive than Cougar Motor's, but they will not last as long. This is a result of their slightly increased brightness, which is 8,000 lumens per pair with a 6,500K color temperature. While others' lifespans are up to 50,000 hours, their advertised lifespan is over 30,000 hours or about 3.5 years of continuous operation.
The water and dust resistance of these lights is IP65. The Beamtech's bulbs lack a cooling fan, which makes them an intriguing choice at a mid-range price.
#5 Fahren LED Headlight Bulbs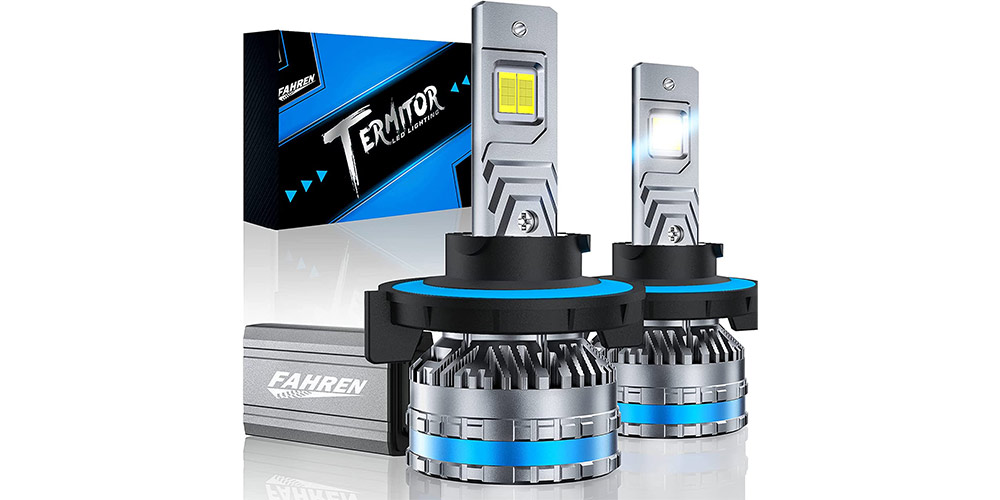 Brand: Fahren
Fahren LED headlight bulbs have a brilliant 10,000 lumens per pair at a 6,500K cool white temperature. They offer a focused beam pattern that extends the lighting range and is three times brighter than a typical halogen bulb. These bulbs have an aluminum body and a distinctive hollow-carved heatsink design and will last up to 50,000 hours. Turbo cooling fans that spin at 12,000 RPM and the IP68 waterproof.
These bulbs have a 360-degree rotatable locking ring to guarantee that you obtain the best beam pattern. Approximately 98 percent of vehicles will be compatible with them without any issues.
#6 Hikari Cree XHP50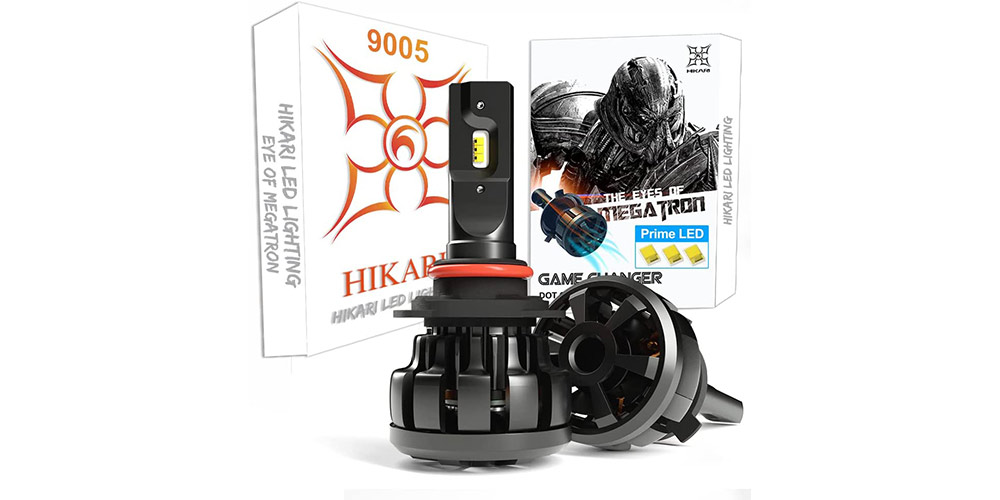 Brand: Hikari
Hikari LEDs have a 6,000K temperature and provide 9,600 lumens per pair. They can be used as fog lights, headlights, and daytime running lights.
Each bulb has 9,000 RPM TurboCool fans and is plug-and-play like the majority of LED bulbs on the market. Thanks to a newly created dual-driver system that is utilized to safely power the LED bulb, Hikari claims that its bulbs last about 50,000 hours.
These come highly recommended for those who frequently commute at night on roads with poor lighting. Given that they are among the brightest sets of LED bulbs now on the market, they will provide greater visibility than their competitors.
#7 Auxbeam F-16
Brand: Auxbeam
Auxbeam is an excellent mid-range alternative that is reasonably priced and provides 6,000 lumens per pair. The replacement bulbs have the same 6,000K color temperature as Sealight, Hikari Cree, and Cougar Motor bulbs. The aircraft-grade luxury gold anodizing, Cree LED chips, and built-in CAN bus help prevent error codes in the LED bulbs. They are suitable for off-roading because they are IP68 waterproof and dust-proof.
Each bulb features an integrated turbo fan, and because the heatsink is constructed of aerospace aluminum alloy, it maintains a 30% lower temperature than a standard bulb.
#8 LASFIT LED Headlight Bulbs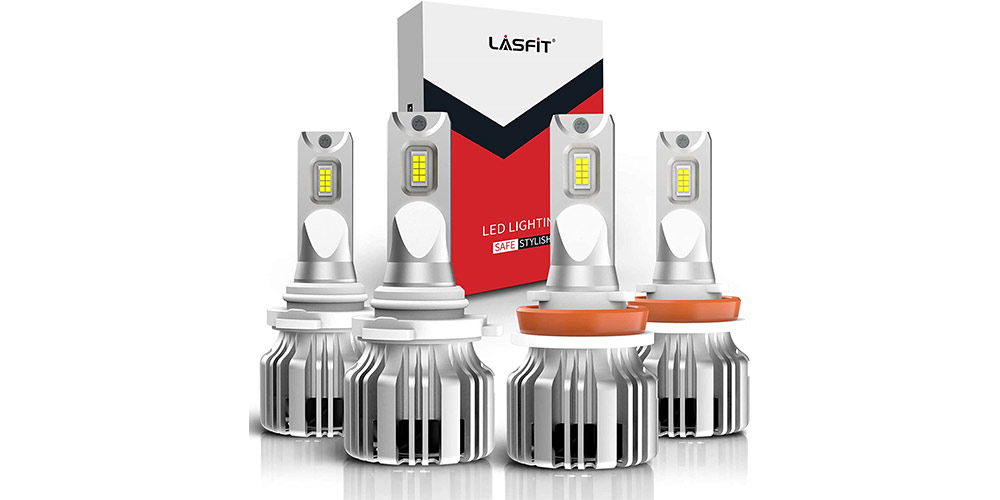 Brand: LASFIT
The most well-liked LED lights from LASFIT have a combined brightness of 7,600 lumens at a cool 6,000K color temperature and 30 watts per bulb. To conserve space, they are plug-and-play and have an integrated ballast like other LED lights. Each bulb also has a 9,000 RPM Hydroid Pressure Fan with AirFlux Dual Cooling Technology that assists with thermal dissipation.
The revolutionary COB Flip Chip technology from LASFIT allows the bulbs to provide a precise beam pattern without any dark areas and foggy light.
#9 Nilight LED Headlight Bulbs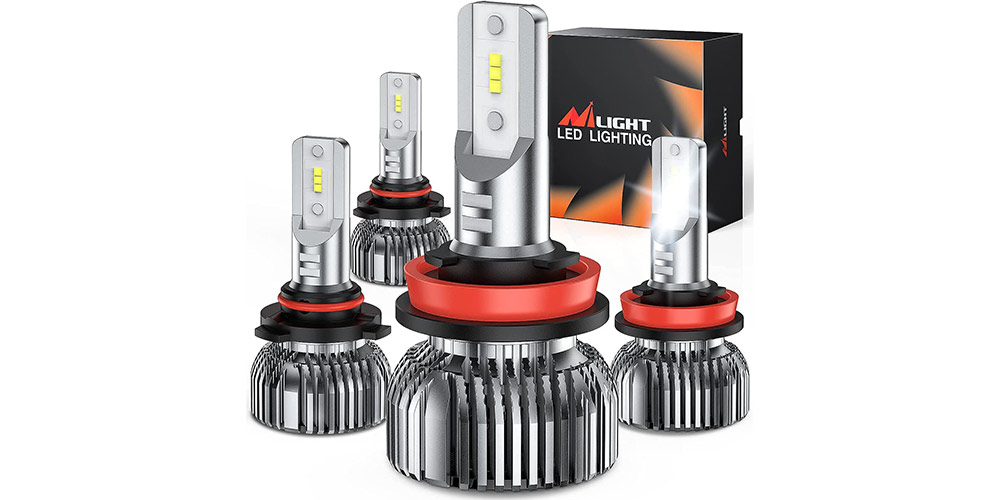 Brand: Nilight
Nilight provides LED bulbs in a variety of sizes and at affordable prices. Most are rated at 25 watts for each bulb and produce a bright 10,000 lumens with a cool 6,000K color temperature as a pair. Their 10,000 RPM cooling fans and aluminum heat sink effectively dissipate heat. The bulbs' 2.95-inch length and built-in driver make for a convenient plug-and-play installation.
Their bulbs have enhanced beam patterns without shadows or dark spots. In 99% of vehicles,