Whether you are driving across the country or just to the mall, it can happen at any time. You may drive over a nail or screw that has dropped into the road, causing it to blow out. That is the sort of situation for which your car most likely had a spare tire.
You may really do better by repairing your ruptured tire yourself. We made a reliable list of the top 9 best tire repair kits you can buy if you'd like the extra peace of mind of being able to fix your own flat tires while you're on the road.
#1 TECCPO 100-Piece Tire Repair Kit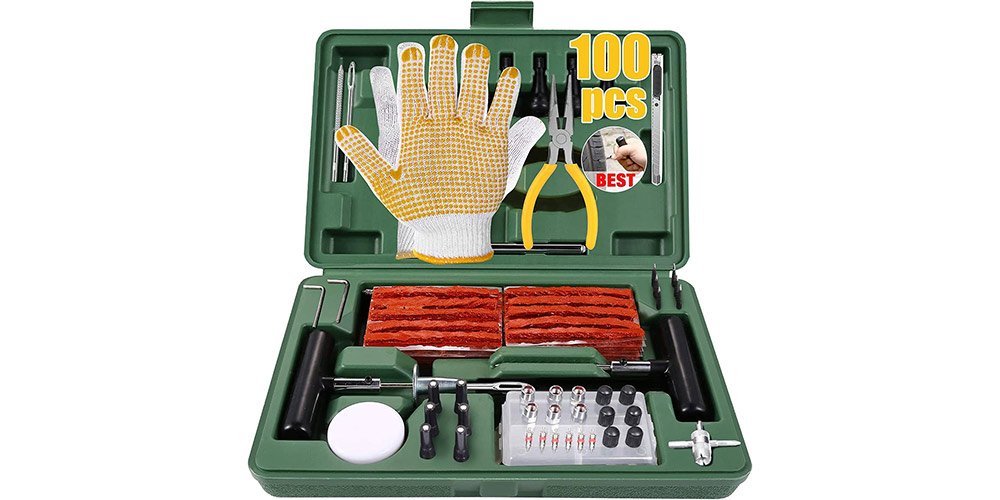 Brand: TECCPO
TECCPO includes a pair of T-handled tools for plug preparation and installation. This also comes with a pair of gloves and pliers for removing the object that caused your flat tire. Along with new tire stems and valves, a tool for replacing valve stems, and a tire pressure tester, these items are all contained inside the solid black case.
Its tire repair kit set includes everything you need to repair punctures. The kit includes lubrication, 50 pieces of tire repair string, a valve stem tool, a utility knife, and a small storage container to keep the kit's smaller components organized.
#2 Stop & Go Tire Plugger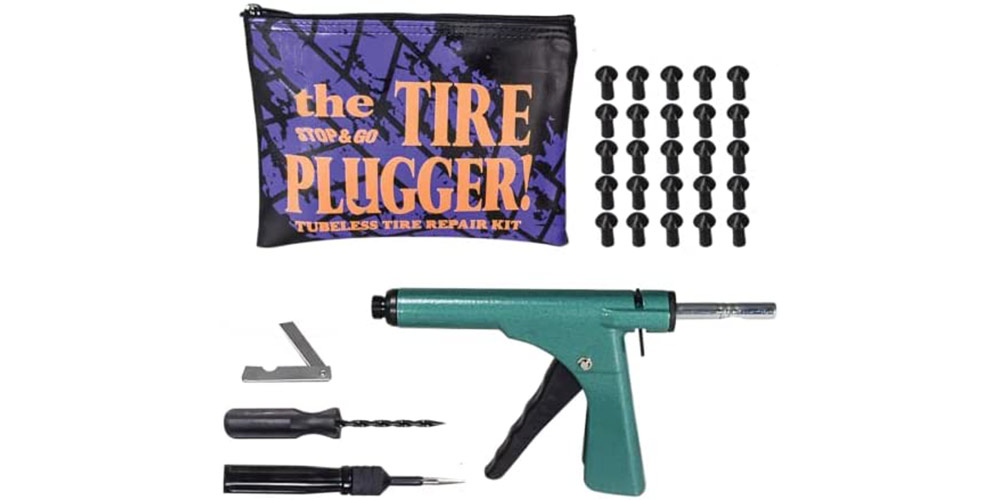 Brand: Stop & Go
The unique gun-style plug-inserter on Stop & Go Tire Plugger handles a lot of the work for you. This surprisingly simple repair kit comes with a gun tool, 25 mushroom plugs, reaming and rasping tools, and a utility knife to clip off extra plug material. All of these goods are kept in the provided zippered pouch, which fits in your glove box or trunk. The only thing we'd want to see is a pair of pliers for removing the foreign object that first caused the flat.
#3 Tooluxe 35-Piece Set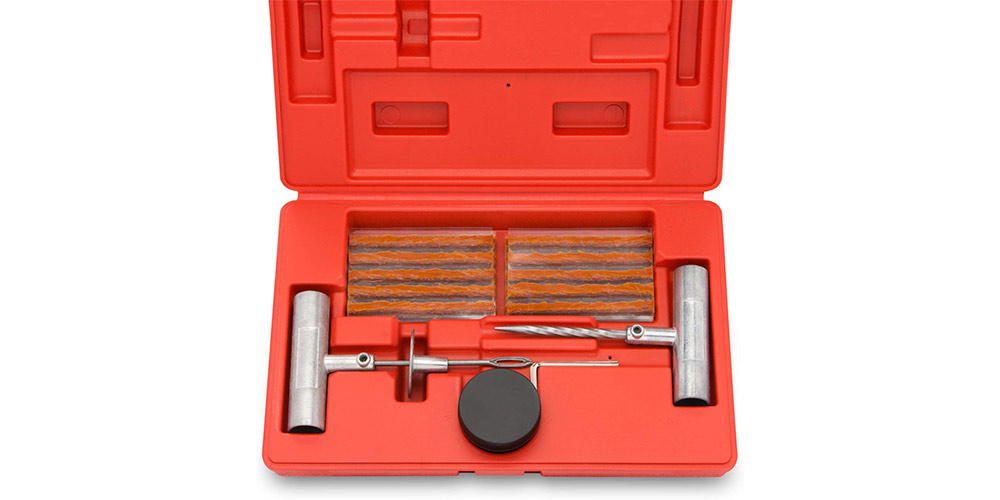 Brand: TL Tooluxe
Tooluxe's 35-piece set is designed to allow you to repair any tubeless tire, and it is simple to the point of austerity while still containing the necessary materials you need to make the repair.
It comes with 30 pieces of plug string, hex keys, sealing lubricant, rasp and needle tools, and a bright orange protective case. Simple sandblasted steel handles on the rasp and needle will give you good leverage for reaming out the puncture and inserting a plug. Its case is slim for easy storage in the cargo area of your automobile.
#4 AUTOWN 62-Piece Tire Repair Kit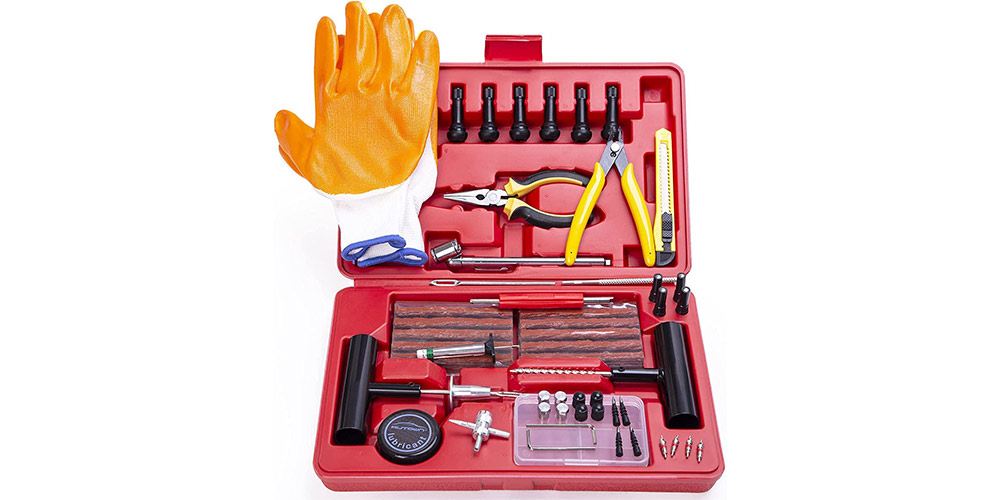 Brand:  AUTOWN
AUTOWN offers this 62-piece puncture plug kit, which is neatly arranged in a red, hard plastic case. You can remove the puncture using steel T-handled tools before inserting the self-vulcanizing plug material that is provided. Also, there are two sets of pliers that may be used to take out both big and little screws and nails from the tire.
Last but not least, it also includes a utility knife for trimming extra plug material and a tire pressure gauge for correctly reinflating the tire. One of the best aspects of this product is how nicely everything fits into the box. 
#5 BETOOLL 22-Piece Tire Repair Kit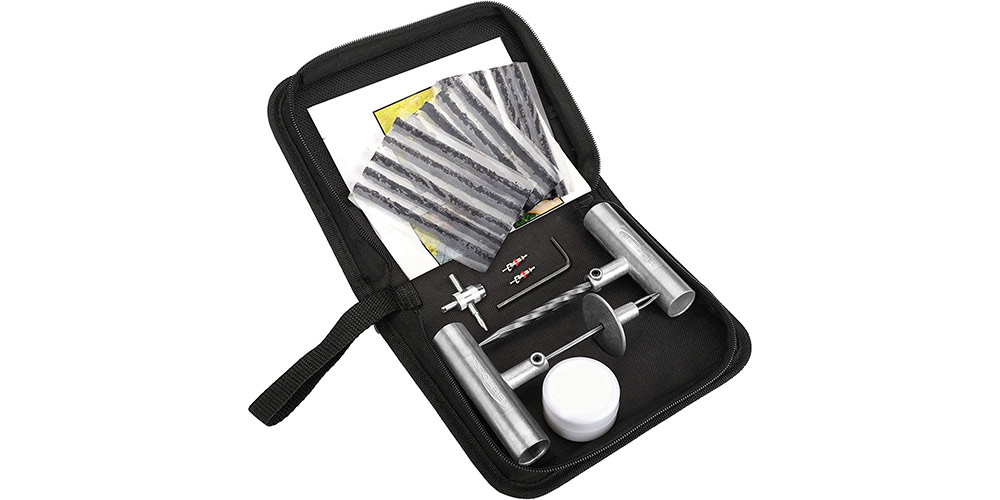 Brand: BETOOLL
BETOOLL includes corrosion-resistant steel-handled rasp and needle tools for preparing the puncture and inserting a plug, as well as a jar of lubrication, a hex key, two valve stems, a valve stem tool, and 15 pieces of self-vulcanizing repair plug material. With the help of this tire plug kit, you can fix any tubeless tire on an ATV, trailer, or vehicle used on or off the road.
All 22 components are stored in a plush, zipped bag with just enough room to put everything away. This kit is compact enough to fit in your glove box and is suitable for use in sports cars with constrained cargo space due to their small size.
#6 Boulder Tools 56-Piece Tire Repair Kit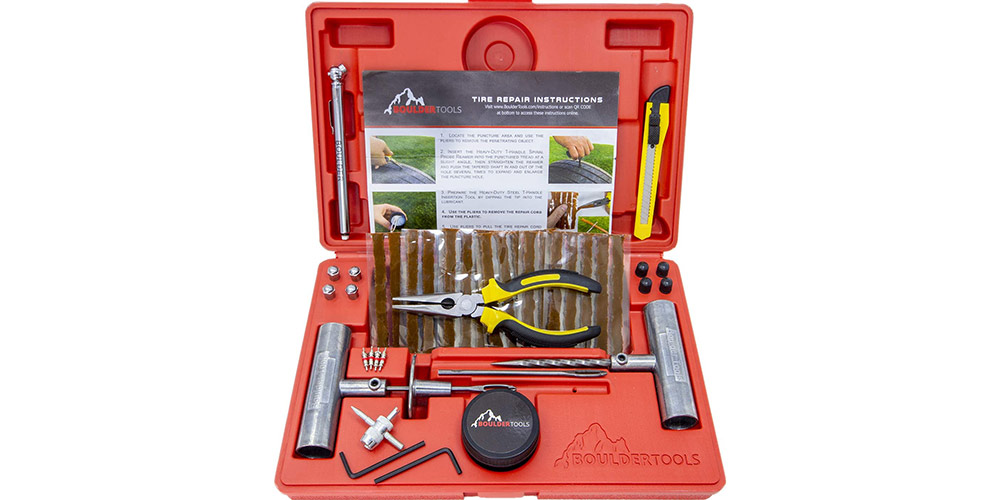 Brand: Boulder Tools
It has a 56-piece puncture repair kit. There are steel T-handled reamer and needle tools, a spare needle, a pair of pliers, 30 pieces of tire plug material, lubrication, a tiny plastic box containing extra valve stems, valve cores, and caps, a utility knife, and a tire pressure gauge. Everything is contained within a sturdy orange casing.
It is made to enable you to repair any tubeless tire. A pair of gloves to protect your hands when performing roadside repairs is the one feature that may make this equipment better.
#7 Blackjack Tire Repair Tool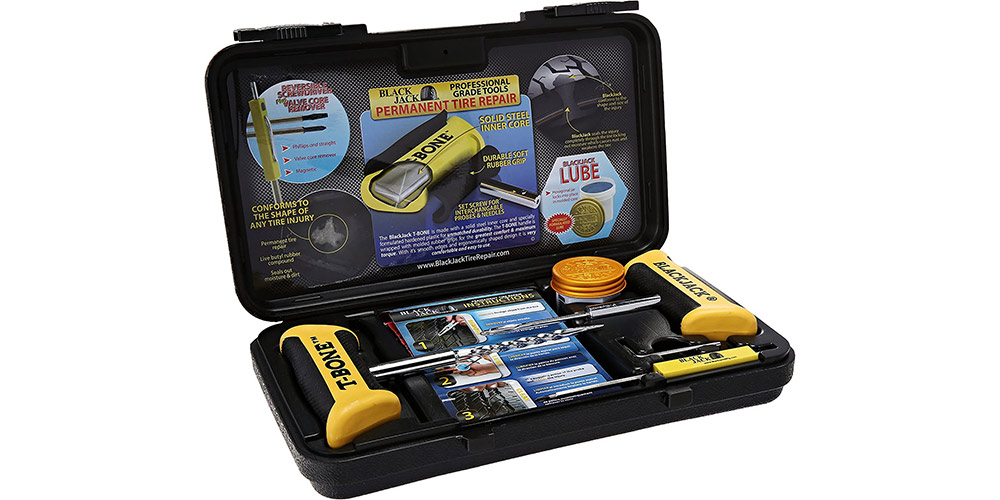 Brand: Blackjack
Blackjack offers its tire repair kit as one that can be used to perform a long-lasting repair to a flat tire on a passenger vehicle.
This kit contains 40 pieces of repair material in two sizes: the smaller size is for punctures up to 3/16 inch in diameter, while the bigger size can be used in holes up to 1/4 inch in diameter. Blackjack's tool kit also comes with a spare needle tool attachment, a razor blade, lube, and a screwdriver with a reversible shaft.
#8 ORCISH 98-Piece Tire Repair Kit
Brand: ORCISH
ORCISH offers this 98-piece tire repair package. Both feature grips that have been rubberized for a comfortable grip and replacement.
There are a pair of rubber-handled pliers for removing foreign objects from tires and a retractable utility knife that comes in 10 packs of five pieces for trimming extra plug material. You also receive six valve cores, valve stems, and extenders, as well as six pieces each of plastic and chrome valve stem covers. Finally, once the tire has been fixed, you may use the tire pressure gauge to determine when it has been correctly reinflated.
#9 MAIKEHIGH 66-Piece Tire Repair Kit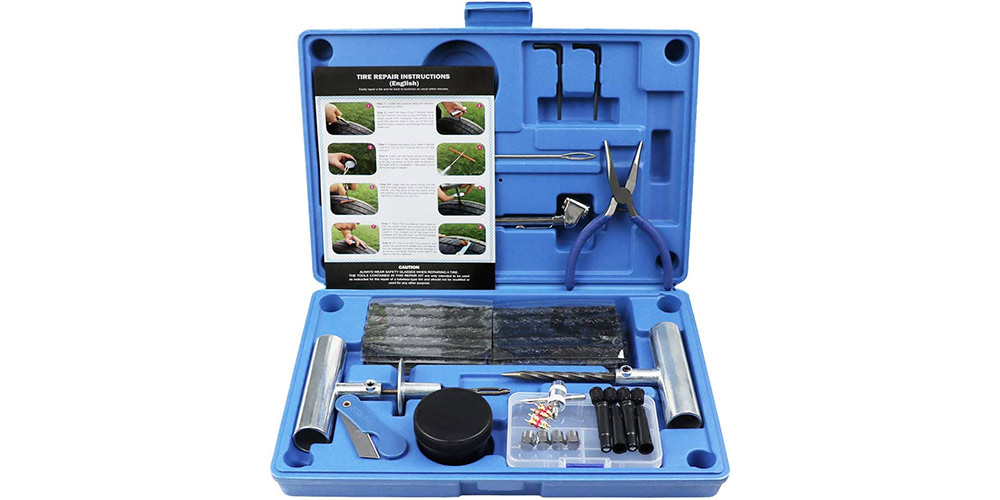 Brand: MAIKEHIGH
This 66-piece kit is one of the best-equipped on this list and is made for flat repairs on almost any type of car. A durable plastic box measuring 12.2 inches long, 8.3 inches deep, and 2.3 inches in height contains everything.
There are 40 pieces of self-vulcanizing tire repair rubber, a tire gauge, four-valve cores, plastic and chrome valve caps and valve extensions, a spare needle, two hex tools, lubrication, a stem tool, and pliers inside. There is also a folding utility knife, but it appears to be trickier to use than the usual retractable type.