There is a common misunderstanding between tow straps and recovery straps, and they are frequently sold as the same product. Despite having a similar appearance, they differ in key ways that are specific to their respective functions. Tow straps have huge metal hooks at each end that are intended to attach to towing points and shackles, which is the primary distinction between the two. In comparison, recovery straps lack these hooks.
Let's explore great tow and recovery straps now on the market and go into detail about how they differ from one another. We came up with a comprehensive list for your purchasing and comparison convenience. Check out the top 9 best tow and recovery straps today.
#1 Rhino USA Recovery Tow Strap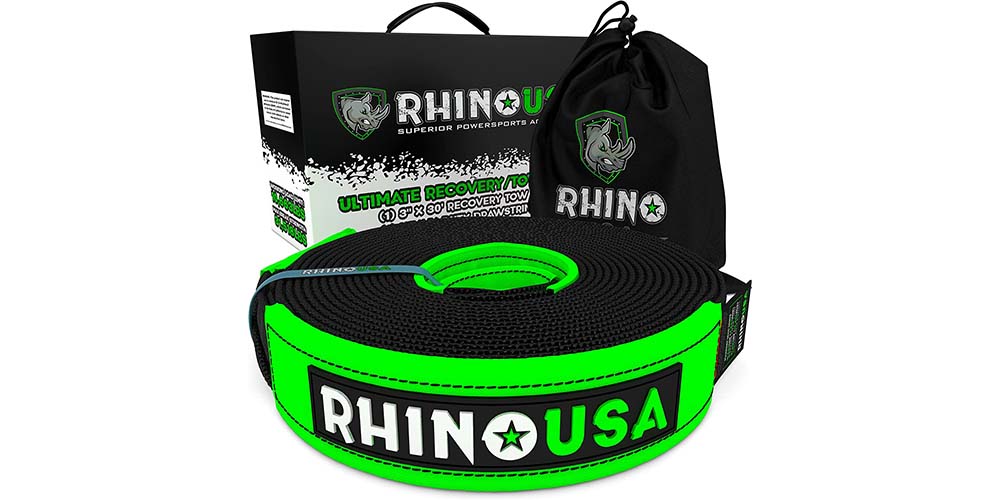 Brand: Rhino USA
Rhino USA offers a large selection of tow and recovery straps with a black and green finish. They sell a conventional 3-inch by 8-foot tree saver tow strap for a reasonable price that has a 31,518-pound break strength, according to lab testing.
Also, it provides 20- and 30-foot recovery tow straps with the option to add a hitch or shackles for greater usability and versatility. For further security, the loop ends of each strap are triple reinforced.
#2 Erickson 30′ Recovery Strap with Sewn Loops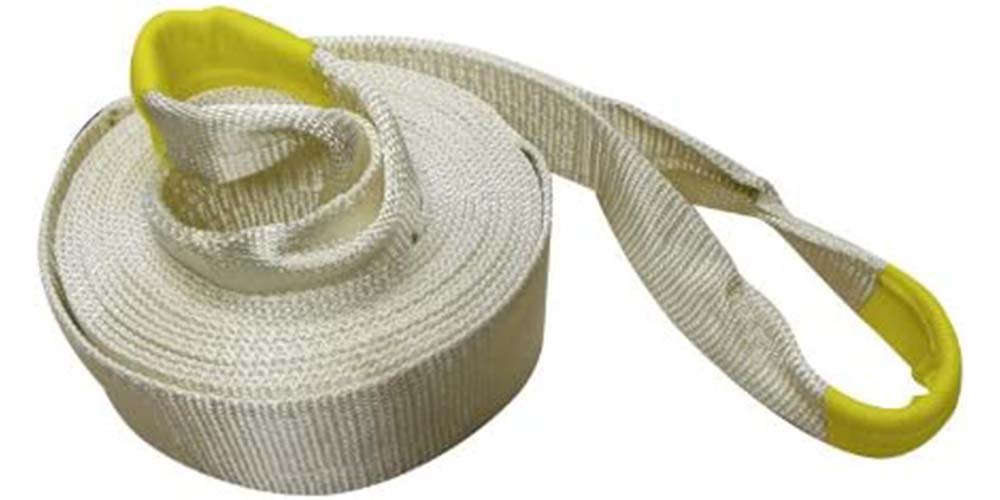 Brand: Erickson
Whenever we use a recovery strap frequently and when working in muddy, wet environments, sewn loops are the preferred option. 
The webbing is a combination of nylon and polyester that may stretch and pull by up to 20%. The entire thread utilized is 415 series, which allows it to achieve or beyond the strength claims. It has high-tenacity nylon as an overlay for the sewed end loops to ensure a long life.
#3 Grip Heavy Duty Tow Strap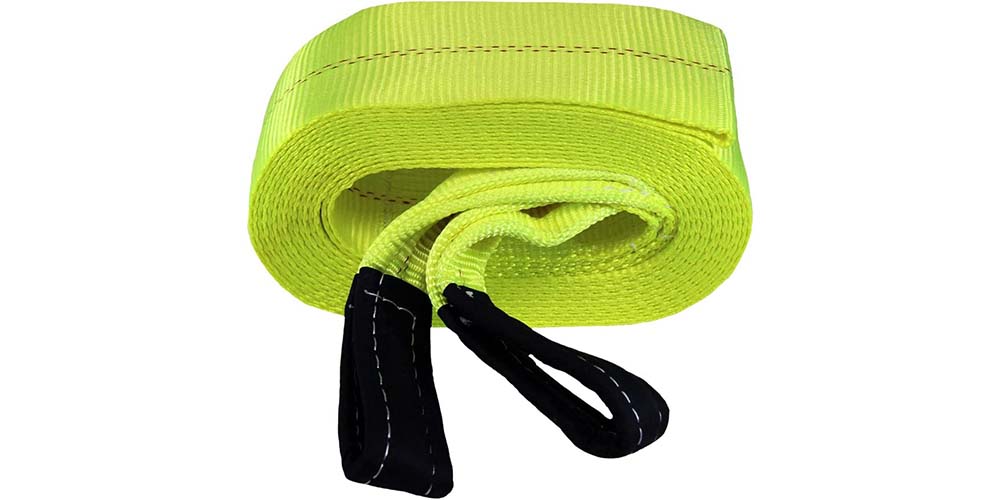 Brand: Grip
The Grip heavy-duty tow strap is 4 inches long and 30 feet long, with a working capability of 6,666 lbs and a breaking capacity of 20,000 lbs. This product is an abrasion and weather-resistant polyester web strap that will not rot or shred in extreme conditions.
It is designed to tow or retrieve vehicles, ATVs, SUVs, boats, or light trucks. For optimal strength and durability, reinforced loop ends are present at each end.
#4 Smittybilt Recovery Strap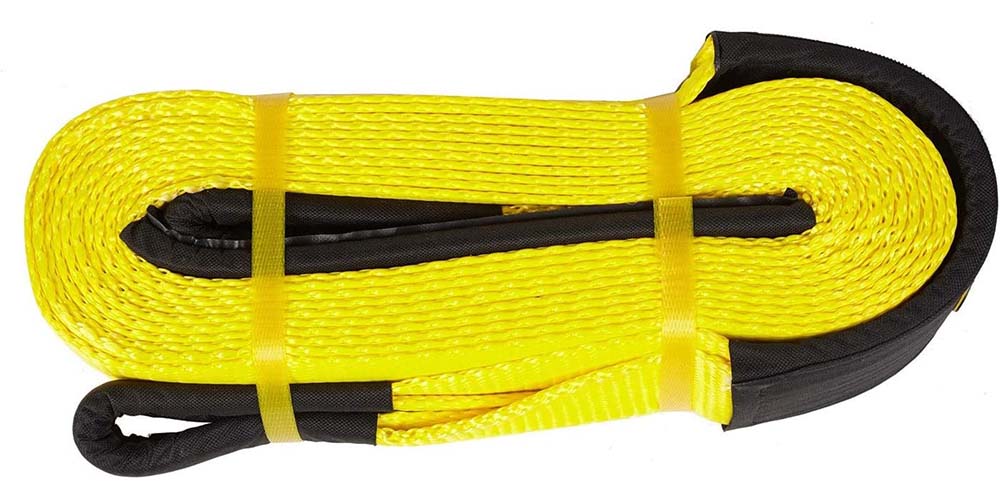 Brand: Smittybilt
Recovery straps from Smittybilt are offered in a range of dimensions, including 2 inches by 20 feet, 2 inches by 30 feet, 3 inches by 30 feet, 4 inches by 8 feet, and 4 inches by 20 feet. For superior strength and longevity, these straps include double-stitched webbing with a double hoop construction.
Smittybilt's straps are weather-resistant and expertly constructed for moving debris, pulling equipment, and towing vehicles. The 4-inch wide variants are especially wide to shield tree trucks from harm.
#5 USWAY GEAR Tow Strap
Brand: USWAY GEAR
This tow strap measures 3 inches wide and comes in 20 or 30-foot lengths. Both models are lightweight and compact, with a working load of 10,000 pounds and a rated capacity of 30,000 pounds.
This strap has reinforced stitching and loops for increased durability, and it is constructed of carefully woven polyester. Also, it is waterproof, resistant to moisture and weather resistant, strong but flexible, and washable for a longer lifespan.
The tow strap is suitable for use with pickup trucks, SUVs, ATVs, vans, boats, off-road vehicles, emergencies, water activities, and other vehicles.
#6 HFS Polyester Tow Strap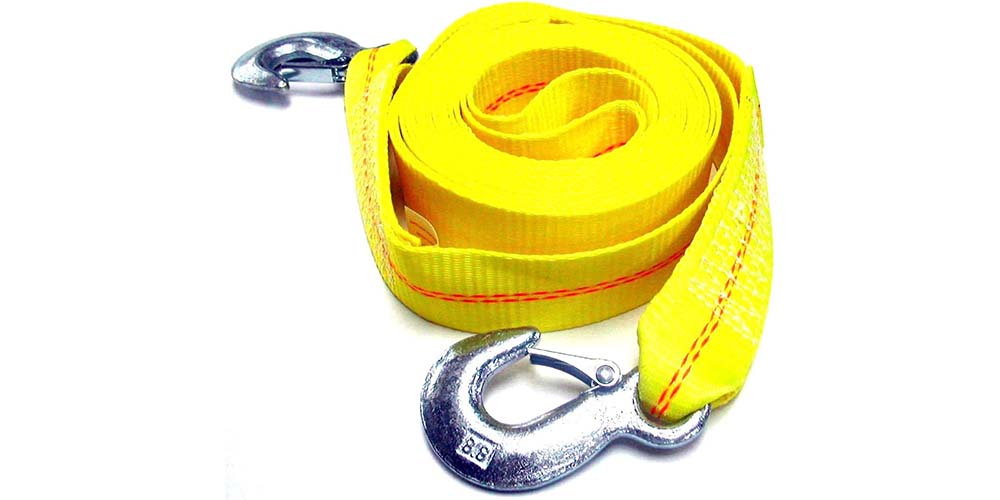 Brand: Hardware Factory Store
HFS sells tow straps for less money that are 2 inches by 30 feet long and made of high-strength polyester. Its maximum working load is 3,300 pounds, suggested vehicle weight is 5,000 pounds, and break strength is 10,000 pounds.
The working load restriction complies with an industry safety rating that states that you should only use 1/3 of the strap's capacity while lifting goods vertically.
#7 GearAmerica Recovery Tow Strap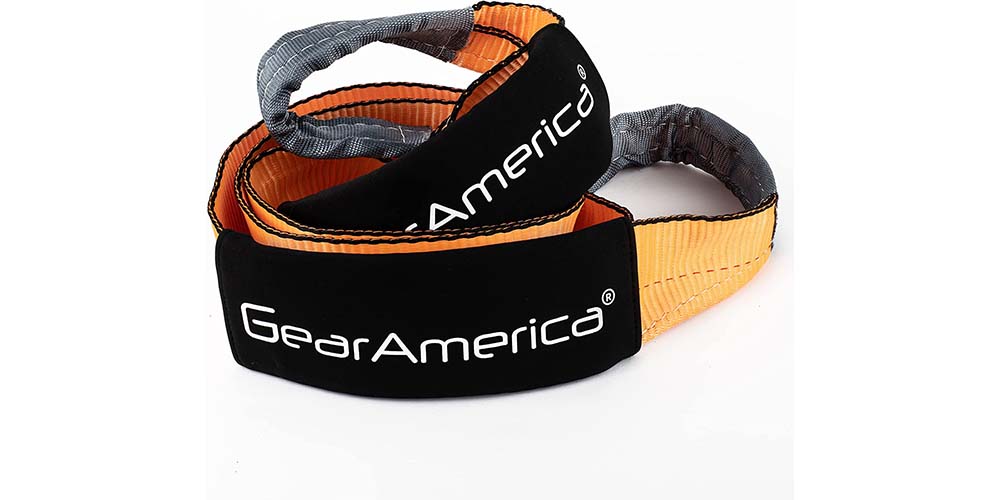 Brand: GearAmerica
GearAmerica's heavy-duty strap is offered in a range of sizes. You can select from four different sizes: 3-inch wide by 10-foot long, 3-inch wide by 30-foot long, and 3-inch wide by 8-foot long. They also offer pairs of certain straps or bundles of various sizes. It is tough and weatherproof, with protective sleeves that protect against damage, military-grade webbing that can take extreme weights and temperatures (-40°F to 215°F), and triple-reinforced loops that guard against abrasion.
This strap's 3-inch wide by 8-foot length has been laboratory tested to support 35,000 lbs, while the 20-foot length is rated to support 35,054 lbs. The 30-foot-long, 4-inch-wide strap has been tested to bear 41,455 pounds.
This strap is made of high-tensile 100 percent polyester and is resistant to mildew, moisture, and UV rays. Every strap has a handy velcro tie and storage bag.
#8 Sunferno Ultimate Tow Recovery Strap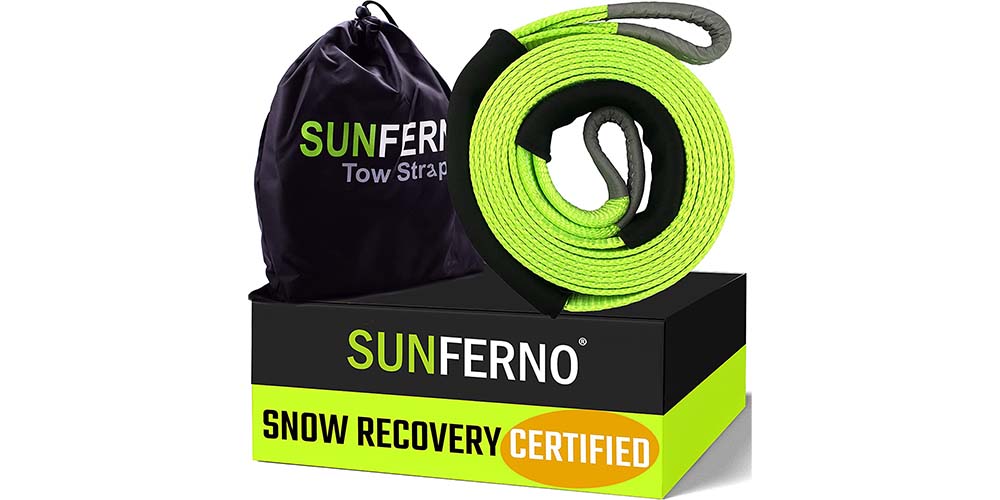 Brand: Sunferno
Sunferno offers a 3-inch wide by 20-foot long tow recovery strap as another heavy-duty option. This strap offers a maximum stretch of 7% and a break strength of 35,000 lb. It has reinforced eye loops, a protective sleeve, and a bright green finish for high visibility. If necessary, use it to safely remove downed trees, stumps, or plants. As it is water resistant, you can quickly clean it after use.
Each strap comes with a carrying bag, an extra wrap tie, and a protective sleeve.
#9 Rocket Straps Heavy Duty Tow Strap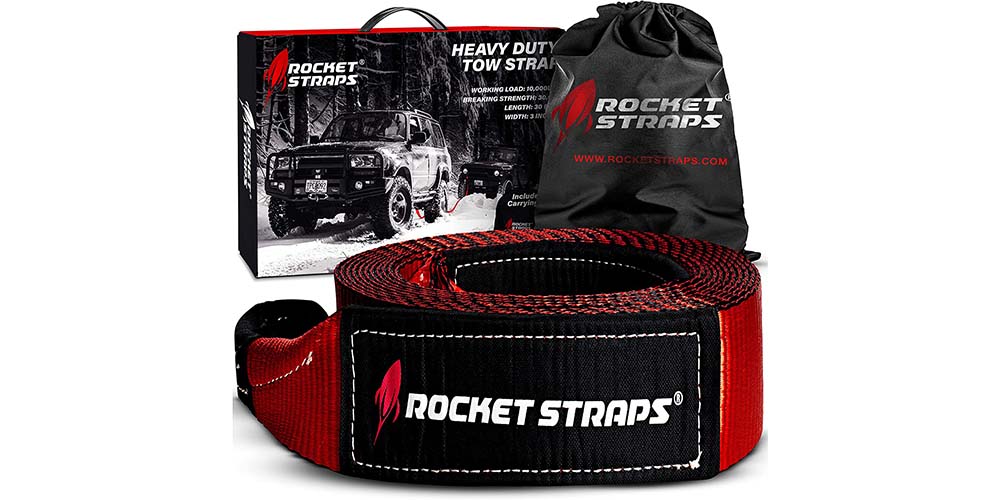 Brand: Rocket Straps
This heavy-duty tow strap from Rocket Straps is UV and weather-resistant while being incredibly flexible because it's made of the highest grade, 100% polyester material. This strap, which is three ′′ by 30′ in size, has a rated weight capability of 30,000 lbs and heavy-duty reinforced looped ends to relieve stress on anchor points.
Protective sleeves are located on each end of the tow strap, adding durability and protection to the strap. Rocket Straps is intended for use in all weather conditions and comes with a drawstring carrying bag and tow strap.