Finding the perfect look for your vehicle or truck can be challenging. You get the ideal wheel, but it has the incorrect offset. Perhaps it doesn't appear to be proper, or maybe it barely misses your brake calipers. In an attempt to obtain what you want, did you cut up a set of factory wheels? No, wheel spacers are what you need.
The best way to safely install a wheel that is not exactly the appropriate size for your car is with wheel spacers. They can even make it easier for a wheel with the incorrect center size to fit over your factory hubs. You can purchase them in a color that makes your vehicle stand out from the crowd, or you can get them plain, shiny, or colored.
The best ones are hub-centric, which means that they completely fit the lip around the axle bolt on your vehicle's hub and help to center them during installation. They are made of aluminum to reduce weight, and some of them even come with longer mounting bolts. When compared to having custom wheels made, a set of four can be purchased for far less money.
#1 Spidertrax Wheel Spacers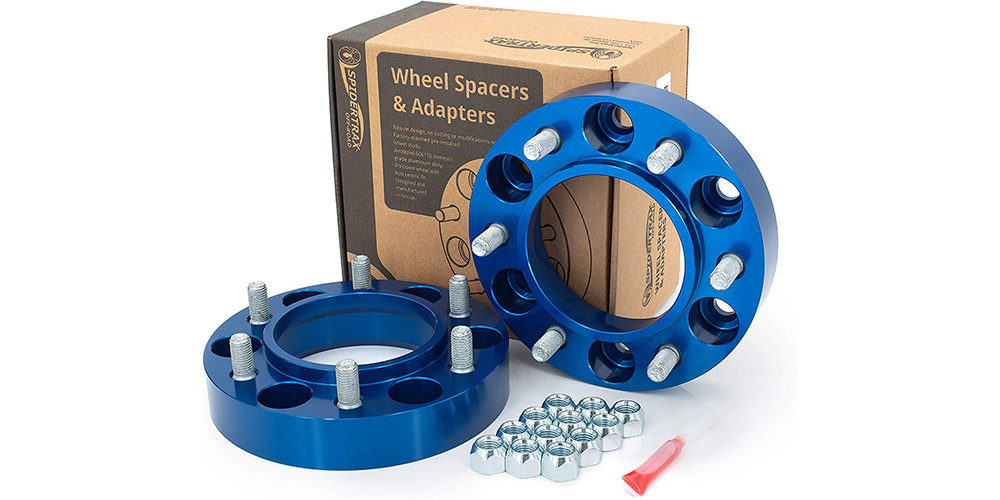 Brand: Spidertrax
Wheel spacers come pre-fitted with longer wheel studs and new lugnuts as necessary. It is made of 6061 T6 aluminum for lightweight and durability.
They have wheel studs installed because a long stud on your factory wheel studs doesn't allow enough thread to attach the wheels securely. Everything you need is already included in this package to install your spacers and wheels safely. 

#2 Rough Country Spacers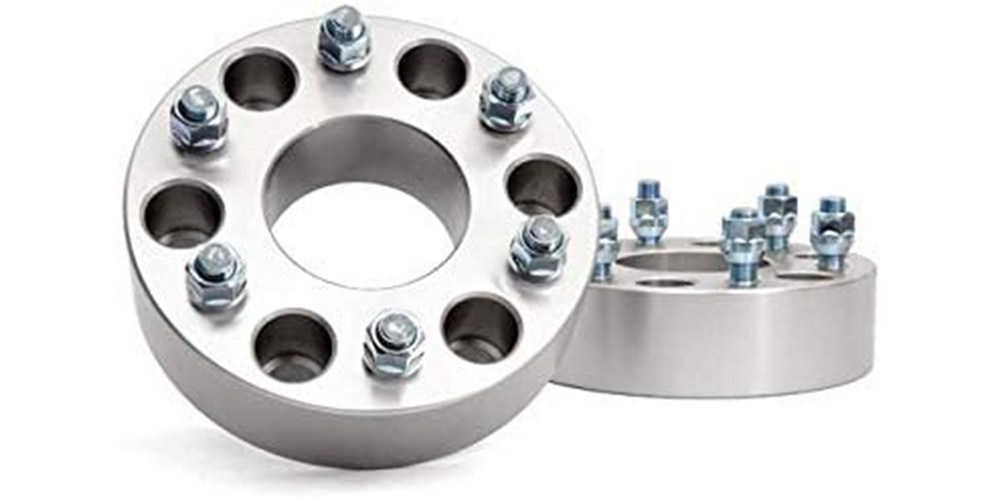 Brand: Rough Country
These two-inch spacers for GMC and Chevrolet trucks are made durable since Rough Country is another top brand for gear to make your truck travel off-road. They are made of aluminum and have studs already attached before they leave the factory.  

#3 KSP Performance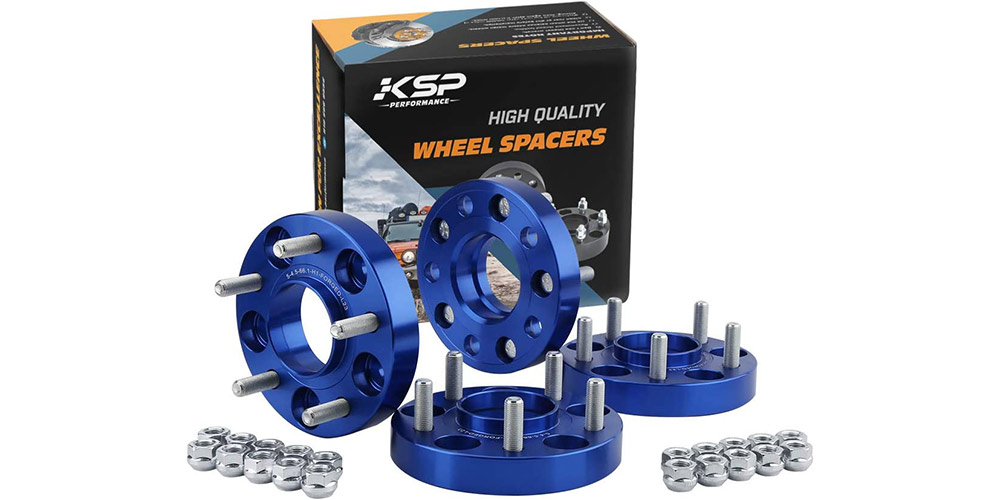 Brand: KSP Performance
When both the front and back of the vehicle require the same additional width, KSP sells hub-centric wheel spacers in sets of four for the Jeep JK Wrangler, XJ Cherokee, and other Jeep models. This kit is two inches wide, and you'll appreciate that the manufacturer marked the wheel bolt pattern and the center bore; they're designed to fit directly on the face of the spacer if you frequently work with different vehicles.
They are CNC machined from 6061 T6 aluminum and come with all the installation-related gear you'll need.

#4 ZY Wheel Spacers for Lug Bolts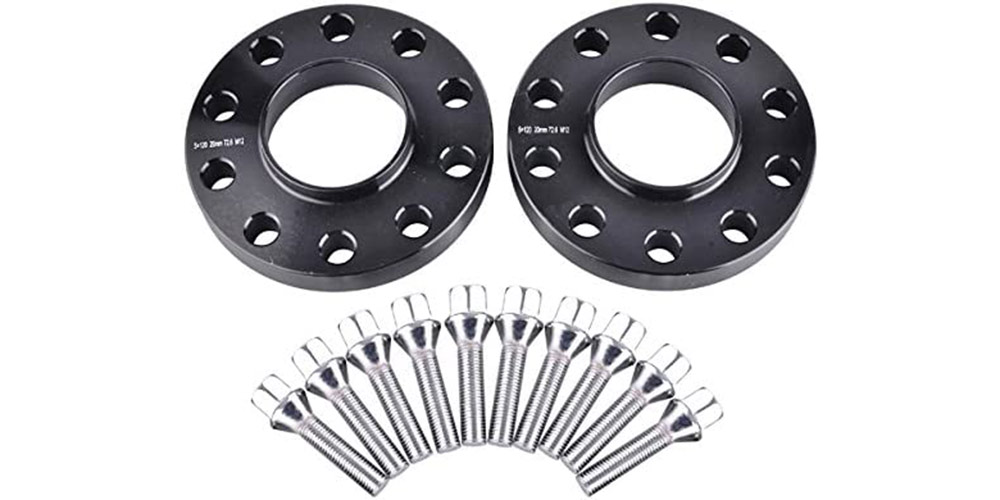 Brand:  ZY Wheel 
If you drive a BMW, Volkswagen, or other German vehicles, you are aware that your car is equipped with bolts rather than lug nuts. Spacers are still useful; you need a new style like the two-pack of 15 mm spacers from ZY Wheel that also includes 40 mm lug bolts.
These bolts ensure that your wheels are securely fastened to your vehicle and are pushed out in the desired direction. For convenience, they are labeled with the size, bolt pattern, and bolt thread while maintaining their black finish behind the wheel. Everyone who has changed a tire on a BMW will appreciate how much easier hanging your wheels is due to the large lip.

#5 Zhteapr Universal Wheel Spacers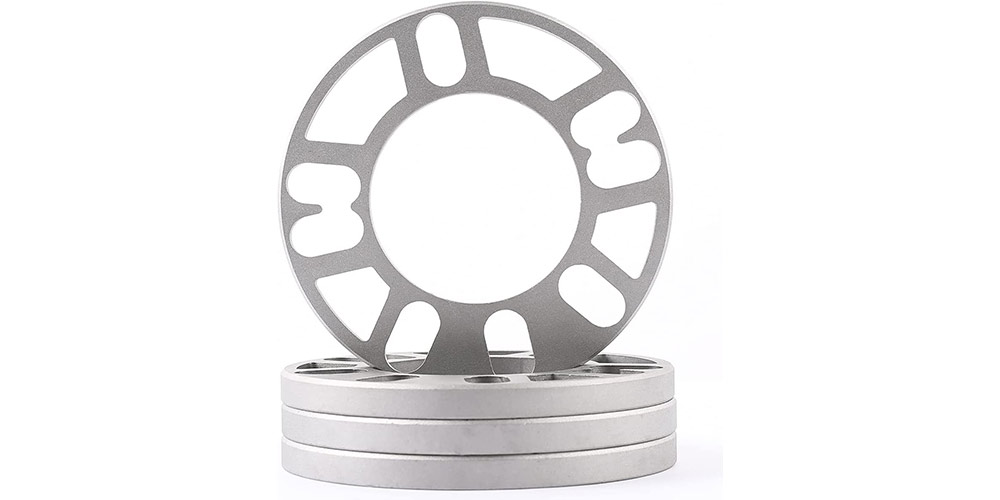 Brand: Zhteapr
Spacers like these from Zhteapr are ideal if you only need a few extra fractions of an inch and are not spacing your wheels out far. They're available in a variety of thicknesses and maybe just enough to prevent friction between your wheels or tires.
They should be compatible with your factory studs and lug nuts because they are thin. They can fit almost any four or five-lug wheel from 498 to 54.5 inches, thanks to the universal bolt pattern. They are also compatible with the majority of wheel center diameters, making this two-pack a practical investment.

#6 Rough Country Red Spacers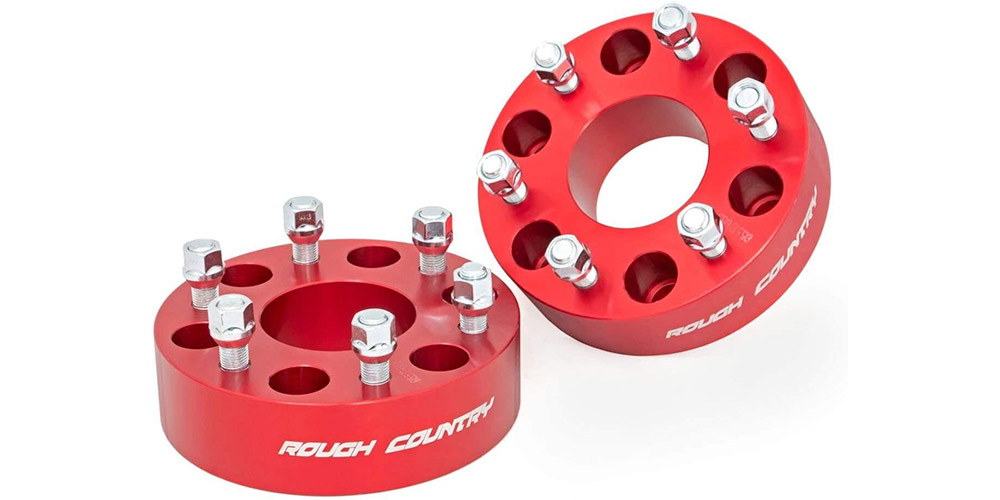 Brand: Rough Country
These Rough Country wheel spacers are identical to those we've seen elsewhere but have one unique feature. These spacers are red rather than black, silver, or blue. Isn't part of what you're looking for the fact that they'll truly stand out inside your wheels or when your wheels are off? These two-inch spacers come in pairs. They are available for 1988–2020 GMC and Chevrolet vehicles as well as large SUVs.
Its style features a Red finish tone and comes with all hardware.

#7 ECCPP HD Truck Spacers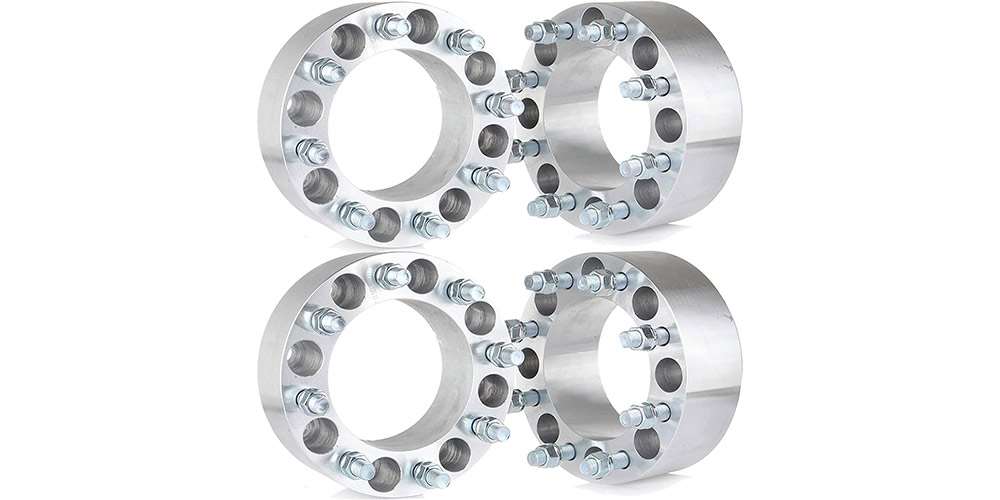 Brand: ECCPP
These ECCPP spacers for Chevrolet and GMC HD pickups are large enough for heavy trucks and provide both. They are three inches wide and designed for the eight-lug patterns of those pickup trucks to help ensure that the wheels are pushed out as far as you need them to be.

#8 Richeer Wheel Adapters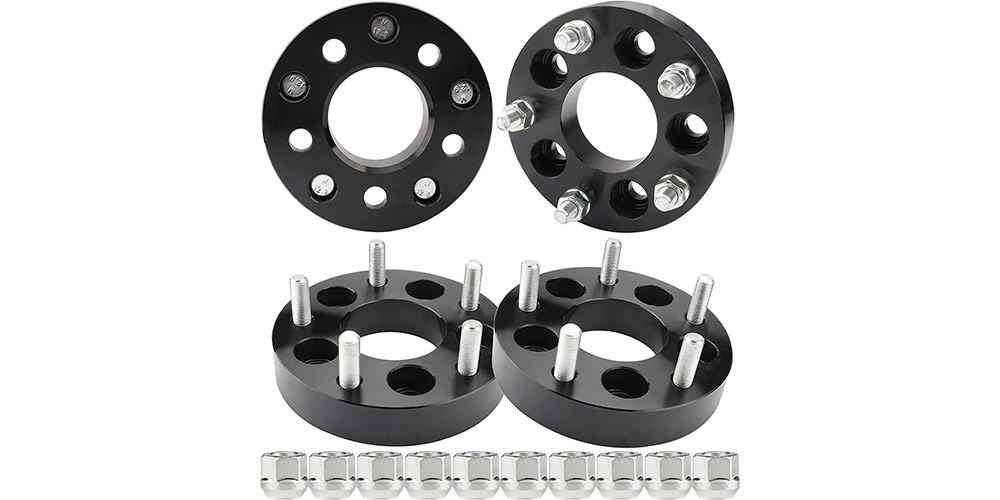 Brand: Richeer
When the wheels you require aren't available in the correct bolt pattern for your vehicle, you're not completely out of luck. Spacers with a twist are called wheel adapters. Adapters like this one from Richeer offer two separate bolt patterns rather than one set of holes and another set of studs. The studs fit the wheels you are installing, and the holes match your car.
These adapters, which are made of forged aluminum for strength and lightweight, also have thread-locking liquid to ensure that nothing loosens before you want it to.
This has a thread locking feature and enables the fitting of wheels of various sizes.

#9 EzAccessory Bolt Hole Adapters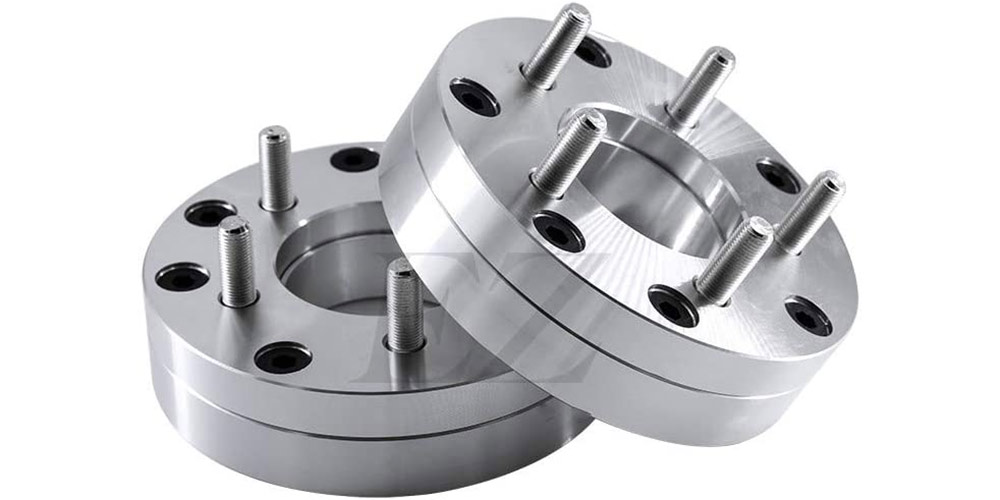 Brand: EzAccessory
You might choose to install a more contemporary wheel that is only available with five holes if your vehicle has four lug wheels, such as those on earlier Volkswagens, BMWs, and Mazdas. These EZAccessory wheel spacers, which come in sets of two, can help you fix that problem.
The two pieces of the spacer are fastened together with hex head screws and are intended to be attached to a wheel hub with four bolts. In order to properly and securely fit your five-bolt wheels, the second piece of the spacer has five studs pre-pressed into it, giving you the desired look by giving you more options for your wheel choices.
This features pre-pressed studs that fit 5-bolt wheels on 4-bolt vehicles and comes with all necessary hardware.