The GM 8.1 Vortec (also known as the Vortec 8100) was the last engine in the big-block lineup. Old truck guys are very familiar with the good old Chevy big block. The Chevy C20 my father owns has a 454ci big block, and man, can that thing pull. If towing is your main concern, then a diesel is probably your best option. But, what if you want a gas truck? That's where you'd turn to something with a big-block gas motor.
Unfortunately, big-block engines are becoming a relic of the past. With emissions standards tightening and the need for more efficient engines, GM phased out the big-block engine family entirely. The last big-block to go to the grave was 8.1 Vortec, and it has an interesting place in history.
8.1 Vortec: Engine Basics
The Vortec 8100 is rather obviously an 8.1L V8, that's where the "8100" in the name after all. GM designed the 8.1 Vortec as a diesel alternative for its GM pickup truck line-up. You might be wondering, why offer an alternative to diesel, if diesel is objectively better in all performance-related categories? Well, there are a few reasons: price, availability, and convenience.
While diesel is generally available at any given gas station in the US, there are remote parts of the US where diesel isn't at every gas station. There are also locations such as Alaska, where diesel trucks are less convenient, as they need more time to get started in cold mornings. Diesel trucks are also generally much more expensive to buy new or used compared to gas trucks.
The 8.1 Vortec borrowed much of its design from the 454ci big-block we all know and love. The main difference between the 8100 and big blocks of old is the increased stroke, which increased the displacement to an impressive 8.1 liters!
You might be wondering, why isn't this massive engine used in a performance application? The Chevy LS is super popular, so why isn't this engine? Well, quite a few things are holding the 8.1 Vortec back from ever becoming popular:
Iron block and heads, total engine weight is over 750 lbs.
Older big block parts don't fit on the 8.1 Vortec.
Chevy LS parts don't fit on the 8.1 Vortec.
Limited production makes them more challenging to find than an LS.
In terms of basic specs, the 8.1 Vortec is very similar to the big-block engines before it. It uses an all-iron construction for cheaper manufacturing and superior strength, a single cam-in-block with pushrods and two valves per cylinder, a 4.250in bore and 4.370in stroke, a 9.1:1 compression ratio, and it only features one variant throughout the years of production.
Cylinder Block: 90-degree, cast-iron construction
Cylinder Head: Cast-iron construction
Valvetrain: Cam-in-block with pushrod, 2v/cylinder
Bore: 4.250in
Stroke: 4.370in
Horsepower: 320hp – 340hp
Torque: 440lb-ft – 455lb-ft
Compression Ratio: 9.1:1
8.1 Vortec: Applications
The 8.1 Vortec was used in GM pickup trucks as a diesel alternative, as I mentioned above. But, GM also used it in a few other applications:
Chevrolet Silverado
GMC Sierra 2500HD & 3500HD
Chevrolet Suburban
GMC Yukon XL 2500
Chevrolet Express 2500 & 3500
Chevrolet Avalanche 2500
Chevrolet/GMC Kodiak
Workhorse Class A motorhomes
T-98 Kombat armored vehicles
Malibu Boats
MasterCraft Boats
As you can see, the 8.1 Vortec was used in a host of different vehicles. Chevrolet offered it in all of their heavy-duty applications. The coolest application would have to be the T-98 Kombat armored vehicle. Most importantly, these are all applications that could also use a diesel engine. For many of these applications, the 8.1 Vortec was offered as an optional replacement for the standard diesel engine.
For applications such as the Suburban and Yukon XL, GM never offered a diesel engine platform. Instead, the 8.1 Vortec was offered as an upgrade to the GM 6.0L LQ engine.
RELATED: 4BT Cummins: Everything you Need to Know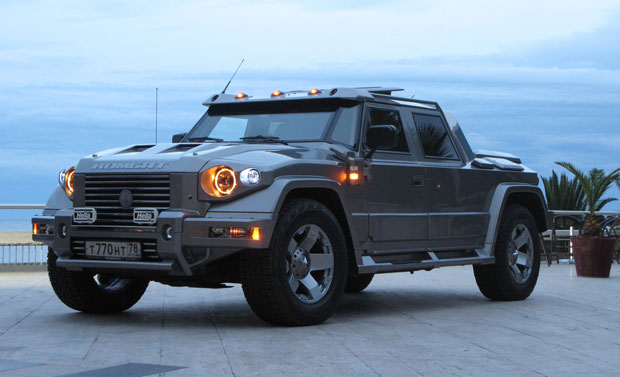 8.1 Vortec: Performance Data
This part gets a little interesting. If the 8.1 Vortec is supposed to be an alternative to the Duramax engine, then it must create lots of torque. Torque at low RPM is one of the single most important factors of a heavy-duty engine. So, how does the 8.1 Vortec do? For this, we'll look at the performance data for the GM truck applications.
Vortec 8.1:
330 horsepower @ 4,200 RPM
450 lb-ft @ 3,200 RPM
LB7 Duramax:
300 horsepower @ 3,100 RPM
520 lb-ft @ 1,800 RPM
I know what you might be thinking. "Why does an 8.1L only make 330 horsepower?" That would be abysmal if this was a performance application; however, this is a heavy-duty application. It makes an impressive 450 lb-ft way down low in the RPM range. Other versions of the 8.1 Vortec make as much as 550 horsepower and 690 lb-ft.
8.1 Vortec: Tuning Potential
The 8.1 Vortec isn't super impressive in stock trim, but it's designed for heavy-duty work. Like I said earlier, standard big block parts won't fit on the 8.1 Vortec, so the performance parts available for it are close to none.
However, this company offers some very interesting 8.1 Vortec parts. Raylar Engineering is pretty much the only company interested in the 8.1 Vortec. They have developed multiple stroker kits to take it from 496ci to 511ci or up to 540ci.
They also offer everything from camshafts to blowers. Their stage 3 package 540ci engine will make an insane 685 horsepower and 680 lb-ft of torque. Unfortunately, the stock Vortec internal components are fairly weak, so any heavy modifications will require a forged bottom end.
RELATED: 6BT Cummins: Everything you Need to Know
So, Raylar Engineering makes a bunch of really cool parts to wake your 8.1 Vortec up, but is it worth it? If you're just towing their towing camshaft and the 511 stroker kit will be a killer combo for you.
If you want to go fast, their bigger camshaft and 540 strokers will make big power for you.
8.1 Vortec vs Duramax
Most of the trucks that are equipped with the Vortec 8.1 could've been equipped with a Duramax instead. Why would someone take a gas engine over diesel in a heavy-duty truck?
Although the Vortec 8.1 was designed to be an alternative to the Duramax, why would you want the gas engine? The main reason for this is diesel availability. Diesel isn't available at every single fuel station, unlike gasoline.
As far as tuning potential, it's pretty obvious the diesel can and will make way more torque. You can easily get 800 lb-ft or more from a Duramax; good luck achieving that with a Vortec engine.
Not only that, but the Duramax will also outlast the Vortec 8.1 engine. I'm not saying the Vortec engine isn't a bad choice, but given the opportunity, I would always pick the diesel first.
8.1 Vortec vs LS 6.0
Although we love LS engines, they aren't exactly built for the same purpose as the Vortec 8.1. A 6.0 LS would make an excellent engine for a high horsepower street car, but not a truck that tows stuff a lot.
The Vortec 8.1 was designed for maximum torque at a very low RPM, that's what allows it to tow so much better. On the other hand, GM designed the 6.0L engine for general use, so it's not as specialized for towing and hauling.
You could always supercharge or turbocharge a 6.0L to achieve the same torque as a Vortec 8.1. The only problem is the factory reliability won't be there anymore. When you introduce power adders to your engine, such as superchargers or turbochargers, the engine's longevity will ultimately decrease.
I know people claim to have excellent reliability with modified engines, but there's a reason why manufacturers don't push engines that hard from the factory.
The manufacturers thoroughly test their engines for longevity and reliability. If you increased power, you also decrease long-term reliability. Hence why the Vortec 8.1 can reliably achieve a much higher torque number than a 6.0 LS.
Summary
So, the Vortec is an excellent heavy-duty engine. It nearly matches its diesel brother in torque and beats it in horsepower. But, due to its heavyweight, enthusiasts rarely chose it as their ideal engine swap candidate. It is slowly becoming more popular thanks to companies like Raylar Engineering who can turn it into an absolute monster. Let me know what you think of the 8.1 Vortec in the comments below!