In 2002, the SE-R Spec V entered the market as the performance-oriented version of the Nissan Sentra. And oh boy, there's just a lot of features to love about this car. For starters, it has a QR25DE engine, which is slightly more potent than the SR20DE equipped by the base B15 Sentra.
And instead of either a 5-speed manual or a 4-speed automatic transmission, it's equipped with a 6-speed manual. However, for some reason, it was overshadowed by other compact cars released during the same timeline.
No matter how underrated it is, most car enthusiasts, both knowledgeable and seasoned alike, would agree that it's a unique platform to tinker with. The car responds well to various aftermarket parts; an excellent lego car for those who want it modified for better performance.
Among those parts are intake systems, a no-brainer way of introducing some extra horsepower to your vehicle.
The job of an intake system is to provide a constant supply of air to the engine. It helps the fuel ignite much faster as it goes into the combustion chambers, resulting in a more efficient combustion process.
By replacing your old OEM intake system with an aftermarket one, you're allowing the 2.5L QR25DE engine to enjoy higher quality and quantity of air. This newfound supply of air will eventually lead to some sweet benefits like more horsepower and torque.
The products below are the best Nissan Sentra B15 SE-R Spec V intake systems.
Manufacturer: AEM
Part Number: 21-544B
Horsepower Gains: N/A
Vehicle Fitment: Nissan Sentra B15 SE-R (2002-2006) – Nissan Sentra B15 SE-R Spec V (2002-2006)
The AEM Cold Air Intake System is one of those mods that actually give noticeable power gains for anyone brave enough to wield it. Once you've got one installed on your car, you'll notice how the extra horsepower and torque affect your SE-R Spec V, making it run a little bit faster than before.
It's relatively affordable too. There aren't many cold air SE-R Spec V intake systems at this price point that can deliver actual performance gains like this AEM intake.
So what's with this AEM Cold Air Intake System? It's a CAI specifically designed, tuned, and dyno-ed for the Nissan Sentra SE-R Spec V. It replaces the old and mediocre OEM intake tubing and filters in favor of a much better one.
Its intake tubing is of aluminum construction, and the air filter is made from non-woven synthetic material. Both of these components work exceptionally with each other, giving your car a real boost in both horsepower and torque.
What's more, it would take up to 100,000 miles before the air filters even need maintenance. Cleaning them is pretty easy too! AEM designed this intake's oil-free filter media to be washable and reusable. Less hassle, more driving!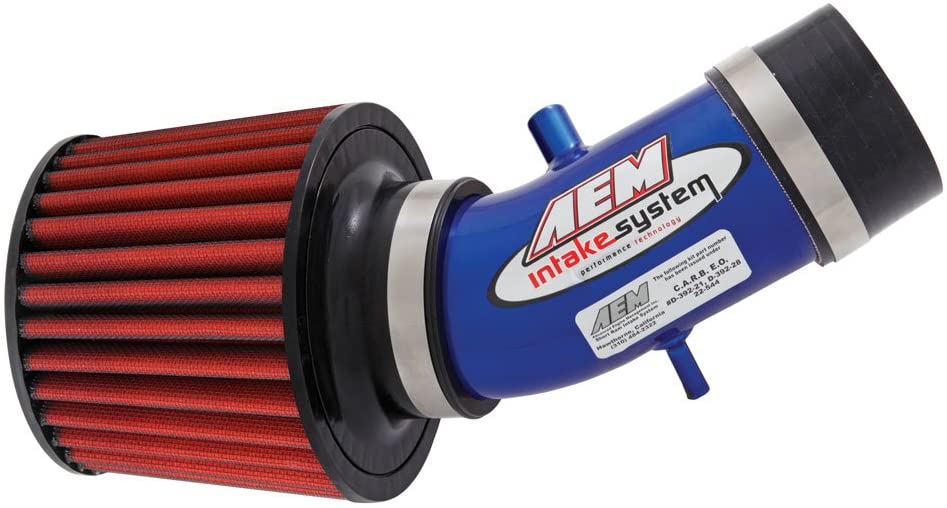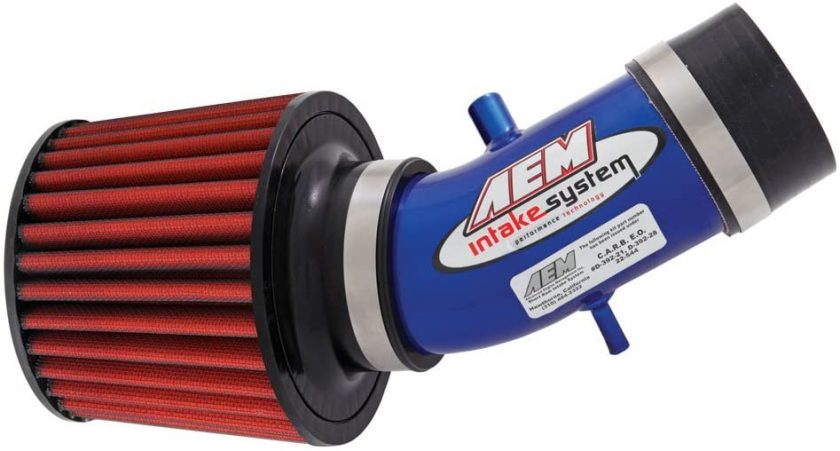 Manufacturer: AEM
Part Number: 22-544B
Horsepower Gains: N/A
Vehicle Fitment: Nissan Sentra B15 SE-R (2002-2006) – Nissan Sentra B15 SE-R Spec V (2002-2006)
Now, there's an easy alternative for those who want something cheaper than the typical aftermarket air intake. The truth is, cold air intakes are somehow expensive for some people.
This is totally understandable, especially if you just want a cheap and simple car modification. Luckily, this is where short rams shine the most.
As the name suggests, short rams are intake systems with much shorter tubing. Short rams, the AEM Short Ram Air Intake System, are easier to install and often come at a pretty affordable price tag.
On top of that, the sound quality that it makes is louder than the typical CAI, especially on full throttle. However, the caveat with short rams is that they generally produce less power than their cold air intake counterparts.
So how can you benefit from this short ram air intake? It's an affordable and pretty straightforward horsepower upgrade you can get for your SE-R or Spec V.
SE-R Spec V intake systems which are 33% cheaper than its true CAI version like this one, can get you some excellent benefits like improved throttle response, better air quality for the engine, and of course, more horsepower and torque.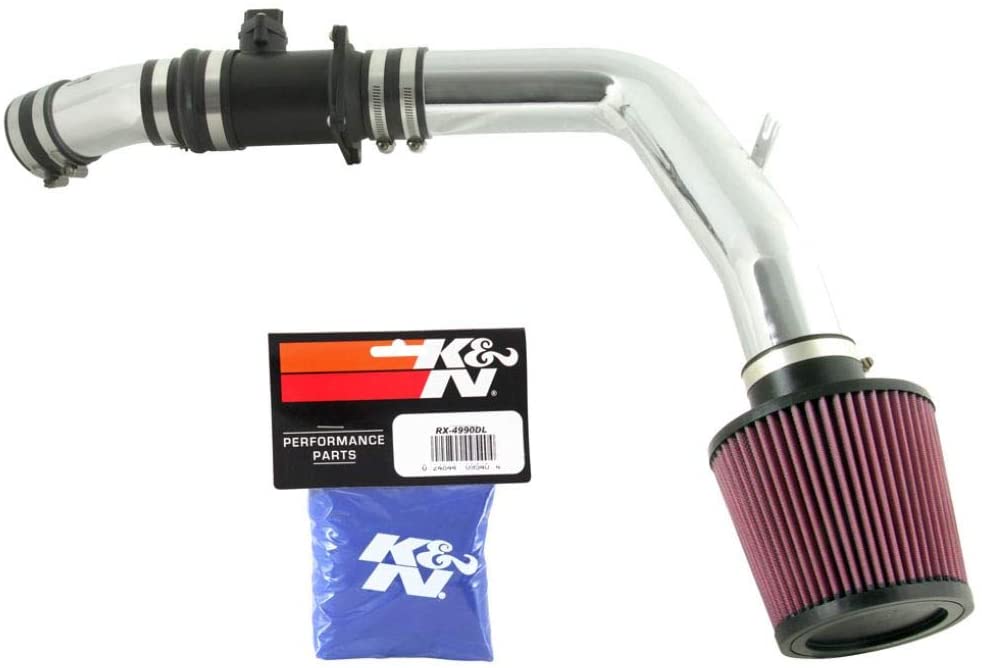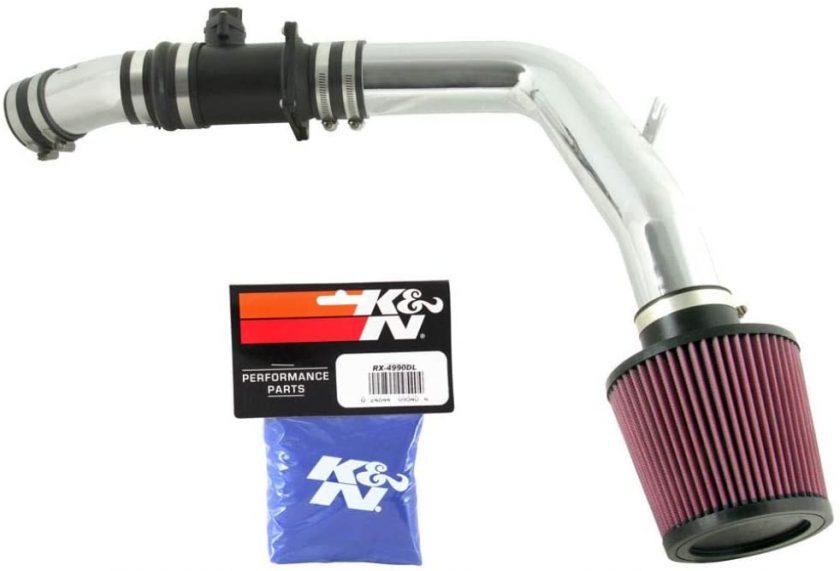 Manufacturer: K&N Engineering
Part Number: 69-7000TP
Horsepower Gains: 7.71hp
Vehicle Fitment: Nissan Sentra B15 SE-R (2002-2006) – Nissan Sentra B15 SE-R Spec V (2002-2006)
If you're looking for reliable and low-maintenance SE-R Spec V intake systems, then you've got to see what K&N Engineering has to offer. Most car enthusiasts recognize K&N's penchant for reliable and high-quality air filters.
Partner those air filters with some non-restrictive tubings, and you and your car is set for a very long time.
Many B15 Sentra SE-R Spec-V would consider getting their hands on K&N's intakes because they're low-maintenance and reasonably affordable. This intake's world-class air filters, partnered with free-flowing aluminum tubes, can produce an extra 7.7hp.
Such a performance gain is not bad if you think about it.
Perhaps the winning element in this intake system is its maintenance requirements. K&N Engineering designed its filters in such a way that cleaning is not much of a hassle.
Their filters are washable and reusable, and they last up to 100,000 miles under usual driving conditions before service is even required. And if ever this Performance Air Intake System fails you by some twist of fate, you're backed with K&N's Million Mile Limited Warranty.
Now that's reliability in the most unexpected places!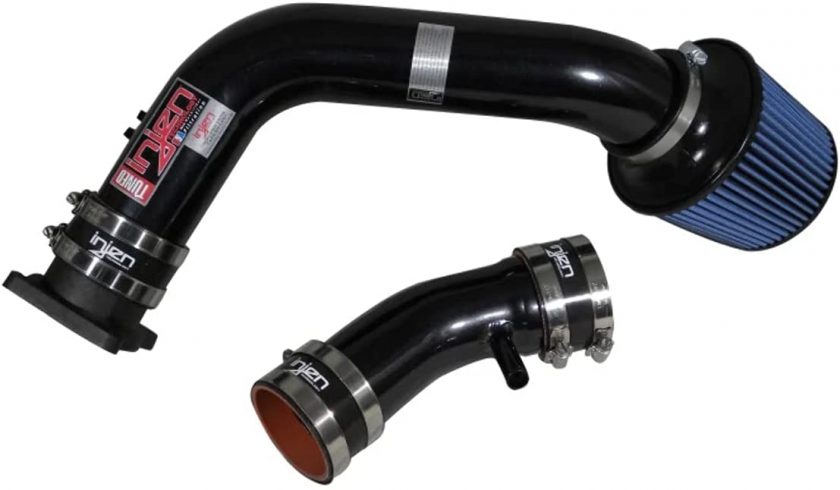 Manufacturer: Injen Technology
Part Number: RD1966BLK
Horsepower Gains: 7hp
Vehicle Fitment: Nissan Sentra B15 SE-R (2002-2006) – Nissan Sentra B15 SE-R Spec V (2002-2006)
Most Sentra B15 SE-R and Spec V owners would agree that the Injen RD Cold Air Intake System is one of the best CAIs available for the car. Many brands would profess how much power they can add to the B15 SE-R Spec V, but only some names like Injen would deliver real results.
Not only that, the RD Cold Air Intake System can produce an impressive level of sound quality too. Not to mention how perfect its fitment is and how good it looks under the hood.
So what's with the Injen RD Cold Air Intake System? It's a non-restrictive intake that consists of a 6061-T6 aluminum tubing and an innovative air filter that works hand in hand to supply as much cold and clean air to your car's engine.
The smooth-mandrel bent aluminum tubing has no interior imperfections that may tamper with airflow. Partner that with a highly efficient SuperNano-Web Dry air filter that's capable of filtering the air to the tee, and you'll get extra horsepower and torque gains of about 7hp and 7lb-ft, respectively.
What's more, this intake system comes with a hydroshield that can prevent water from entering the engine through the intake. This hydroshield can extend the service life of the SuperNano-Web air filter, thus making it function longer and better.
And in case you don't fancy the black powder coating finish, you're free to choose a polished version instead.
How to Choose an Aftermarket Intake System
Setting up a criteria to follow when shopping for any car component is a great way to ensure that you'll actually get what you want for your vehicle. Here are some valuable tips you can follow to ensure that you're getting the best aftermarket intake system out of your money.
Double-check the product if it fits your vehicle explicitly or not. Vehicle fitment is essential when shopping for any kind of aftermarket modification. Failure to do so will render your newly bought intake useless, and you'll probably get forced to dispose of or sell it soon enough.
Choose an intake system that's made from heat-resistant materials. The heat from the engine bay can be detrimental to the ambient air being supplied to the engine. Make sure that the intake of your choosing can repel all of those unwanted high temperatures away from the air.
Decide what type of intake system you prefer: a true cold air intake system or a short ram intake. Both have their benefits and drawbacks, so assess your goals before choosing what kind of intake system you want.
Consider getting an intake that comes with water protection. Water can enter through the intake system, especially if you drive through puddles or heavy rain. Hydrolocking can be a real pain in the butt, and it'd be in your best interest to avoid it as much as you possibly can.
Do You Need a Tuning After Installing an Intake System?
One of the most common questions beginner car enthusiasts ask themselves (and experienced ones, too) is whether to take a car with a newly installed aftermarket intake system to the shop for tuning or not.
To tell you the truth: No, you don't need a tune-up after installing an intake system on your car.
Why is that?
First of all, aftermarket intake systems are an affordable and straightforward upgrade that functions well without a tune. It was designed to operate smoothly without any tuning, and it will not cause damage to your car or its engine if you don't get one.
Secondly, tuning is a pretty expensive upgrade, and spending a handful of your hard-earned money only to squeeze out all of the potentials of such a cheap mod is not worth the time and the money.
Unless, of course, you're partnering it with some significant modifications like exhausts and forced induction devices like turbochargers.