Owning a Chevy Silverado is a pleasure that a very few people can appreciate. It has everything a truck lover can ever ask for strength, power, size, durability, and most of all, a massive payload.
The latest 2020 Chevy Silverado is known to have a 6.2L V8 engine and the power of 420 horses, enough to give the truck the towing power it needs. The payload the Silverado has when fully equipped is a staggering 13,400lbs – that's about the weight of a full-grown African bush elephant!
The Chevy Silverado can indeed tow a massive payload, but constant pulling and carrying can make its body sag. This is true for all pickup trucks. Trucks tend to sag a few several angles forward, making it look like a sad and tired horse.
Good thing there's a solution to that dilemma.
Good thing there's a solution for that. Leveling kits can level the drooping stance that a truck has by several inches. Here's a list of the best aftermarket leveling kits for the Chevy Silverado.
#1 MotoFab 3" Front and 2" Rear Leveling Lift Kit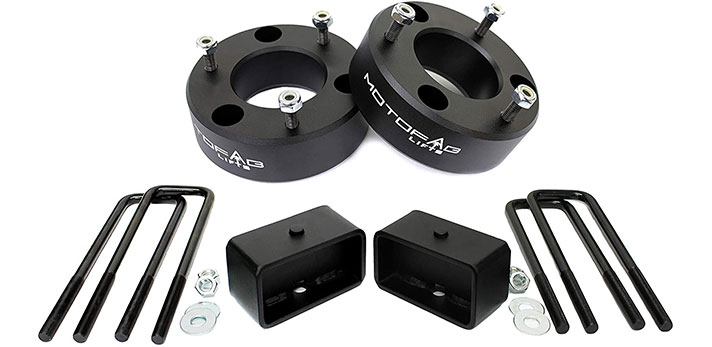 If you're looking for a leveling kit that doesn't require disassembling the struts or coils like other kits, then the MotoFab 3" Front and 2" Rear Leveling Lift Kit is something you should look at.
This leveling kit dramatically increases the aggressive style that a Chevy Silverado have by increasing the ground clearance and leveling it to the height of the rear.
This kit is far superior compared to your typical leveling kits. The front spacers are made from billet aluminum and then coated with a black powder finish to match the color of your suspension and to make it resistant to rust and corrosion.
What's great about this leveling kit is the fact that it's fairly easy to install: just allocate two to three hours to install this on your Silverado and you're all set!
#2 Maxracing 2″ Leveling Lift Kit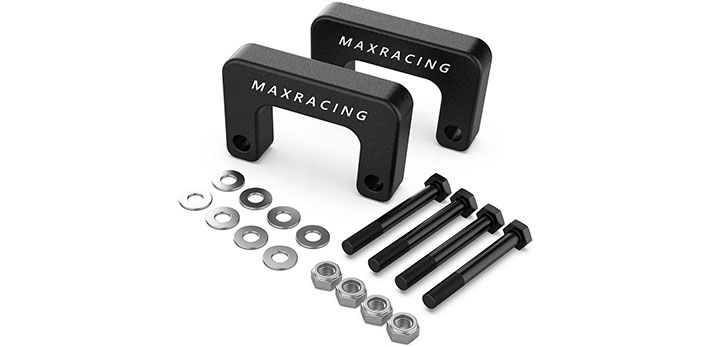 Level your Silverado by about two inches with the use of Maxracing 2″ Leveling Lift Kit. This is an ideal choice if you want your truck to look great and if you want to remove the factory rake that is still present in your vehicle.
The Maxracing 2″ Leveling Lift Kit is made from billet aluminum. After getting machined by a CNC, it is then anonized to make it look similar to the suspension fitted into the Silverado.
There's also no need to fuss about the installation: it's fairly easy! All the nuts, bolts, and washers are included in the package and there is no need to disassemble the struts.
What's cool about this kit is that it raises your truck's front by a significant 2 inches. That does your truck a lot of good, especially if you're planning to outfit it with bigger tires.
#3 Dynofit Leveling Lift Kits 2″ Front Strut Spacer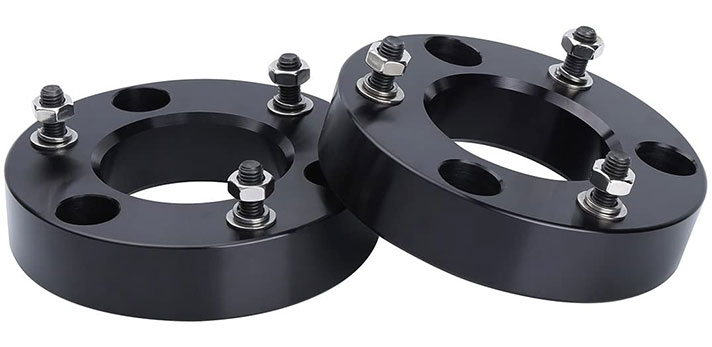 Now, since you like choices, you have to check out the Dynofit Leveling Lift Kits 2″ Front Strut Spacer. It's available in three different variants: 2", 2.5", and a 3". All of them are made from durable materials and are compatible with other vehicles like the GMC Sierra.
What's with this Dynofit Leveling Lift kit? It is made from aircraft-grade anonized billet aluminum, built to withstand corrosion and rust. Balance and great looks are guaranteed when you have this kit installed on your Silverado.
The installation is easy: no need for complicated tools. All you need is a one to two hour level of patience and that's it!
Just in case that your leveling kits are defective, you are entitled to a 2-year warranty, so don't hesitate to contact Dynofit and ask them for a replacement.
#4 Rough Country 2.5″ Leveling Kit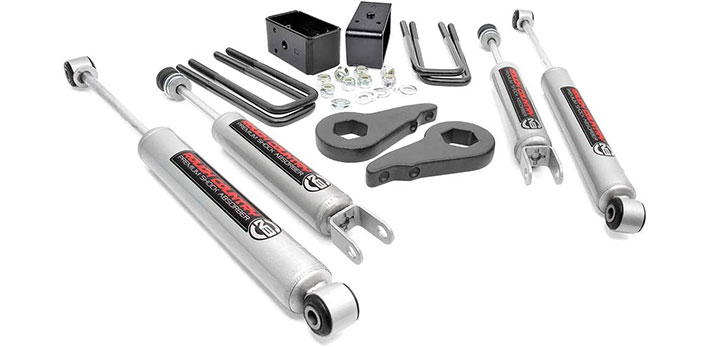 The oldies need some loving too! Introducing the Rough Country 2.5" Leveling Kit, compatible with Chevy Silverados with manufacturing yeards from way back 1999 to 2006.
By attaching this leveling kit to your truck, you introduce it to a new level of protection, performance, and style that it never had. Give your Silverado the upgrade it deserves.
What do you get from installing a Rough Country 2.5″ Leveling Kit to your Chevy Silverado? For starters, a more aggressive look. Having a leveled truck means no more sad drooping for the front of your truck.
Second is increased ground clearance. N3 shock absorbers can be used to amplify your truck's ability to go on both off and on-road more effectively.
What's awesome about this kit is that it has torsion keys forged by Rough Country themselves to make sure that it is more durable than its competition. The blocks are also fabricated to make it function longer than your typical blocks made from cast iron.
#5 KSP 2" Leveling Lift Kit
And finally, the last leveling kit to be featured is KSP Performance and their 2" leveling lift kit. This includes two front strut spacers that will raise the front of your truck and is compatible with Chevrolet Silverado under the manufacturing years 2017 to 2019.
Do you want to give your Silverado a crazy and aggressive look it deserves? Then pick this kit. Not only does it make your truck leveled, but it also makes your truck more capable of intense off-road activities.
What does a KSP 2" Front Strut Spacers Leveling Lift Kit has in store for your Chevrolet Silverado? First, safety. Whatever the riding condition is, the aircraft-grade billets made from aluminum, together with solid 12.9 bolts will make your Silverado safe.
Second, an aggressive style. Now that your truck isn't drooping anymore, you can now use the extra ground clearance to outfit it with bigger tires. Nice!
If you're not satisfied with the 2" variation, try out their 2.5" or their 3" leveling kits.
Outfitting your Chevrolet Silverado with a new set of leveling kits will give your ride a literal confidence boost.
From a lowered stance, now you can leverage a new leveled stance to succeed in many different purposes like clearing of roads from small debris, hauling your cargo on the back without worrying about how your truck would look, etc.