Chevrolet Corvettes are vastly popular for their use of leaf springs, an antiquated suspension technology far older than sliced bread. Surprisingly, it works incredibly well, and it functions nicely with the kind of driving the car was meant to do.
Even though driving a 'Vette, particularly the C5 Corvette, involves a lot of torque control, it still handles quite impressively well. In fact, many car enthusiasts consider the vehicle as 99% better than most American, Japanese, and Euro cars when it comes to handling.
There's no doubt that the car fares well in the handling department, but just like a video game boss, it'll always have a weakness. You see, the Chevrolet Corvette C5 does great on open road courses, but are terrible on courses similar to that of the autocross.
Due to this vulnerability, a lot of car enthusiasts would rather get rid of the existing leaf springs and replace them with coilovers instead.
A seasoned enthusiast would not oversee the potential of the C5 Corvette as a track menace, even if it's still equipped with an ancient suspension hardware. Because of this, coilovers are often put in high regard because they offer benefits the leaf springs can't: adjustability and track performance capability.
And since this car was received by the public with open arms back in the day, a lot of aftermarket coilovers are produced to satisfy the demand for a better performing track-dedicated C5 Corvette.
Below are what the car enthusiasts think are the best C5 Corvette coilover kits you should see this 2021.
#1 aFe Control PFADT Series Featherlight Coilover System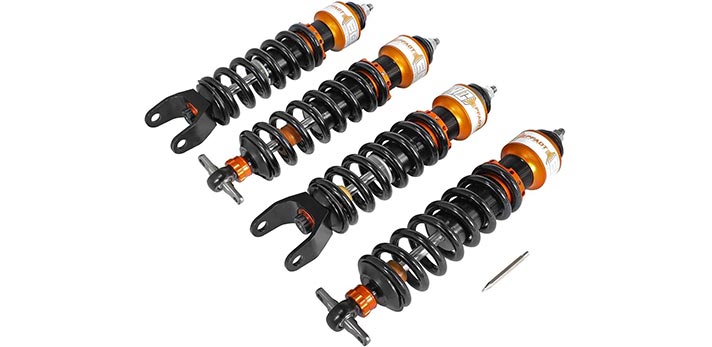 Manufacturer: aFe Power
Part Number: 430-401001-N
Vehicle Fitment: Chevrolet Corvette C5 (1997-2004)
If you're a big fan of street and track racing, then doing a coilover conversion using the aFe Control PFADT Series Featherlight Coilover System might be the best thing you can do.
PFADT coilovers are known for giving cars like the C5 Corvette a smoother, more predictable, and a more precise ride quality over the stock suspension.
It's a great option for car enthusiasts who want their cars to embody a "blue collar supercar"; a vehicle that's good for daily driving, and impressive on both race and street racing applications.
So what does this coilover bring on the table?
The aFe Control PFADT Series Featherlight Coilover System provides C5 Corvette owners both the handling and tuning that they can't ever get from their stock leaf spring suspension.
It eliminates the infamous "crosstalk" and rough ride the transverse leaf springs are known for by replacing the said leaf springs with coilovers with a solid build quality.
Made from 6061-T6 hard anodized aluminum, these coilovers make use of an inverted design, allowing the outboard components and control arms to react much quicker without being burdened by the weight of the coilover itself.
On top of that, these coilovers allow you to fine tune your car's height and damping. The other applied R&D on these coilovers are equally impressive too. Take for example the Concentric Integrated Remote Canister (CIRC) which allows you to operate over a vast temperature range.
Let's not forget the Ball on Axis (BOA) upper mount, which allows the quiet full articulation of the suspension.
Even though it comes at a pretty steep price, the aFe Control PFADT Series Featherlight Coilover System can, no doubt, give you the best of both worlds: daily driving, and spirited track/street racing.
aFe Control PFADT Series Featherlight Coilover System Features:
Single-adjustable coilover system
Utilizes an inverted coilover design
Jam-packed with innovations like Concentric Integrated Remote Canister (CIRC) and Ball on Axis (BoA) mounts
24 levels of damping adjustment
Backed by aFe Power 1-Year Warranty
#2 KW Coilover Kit V3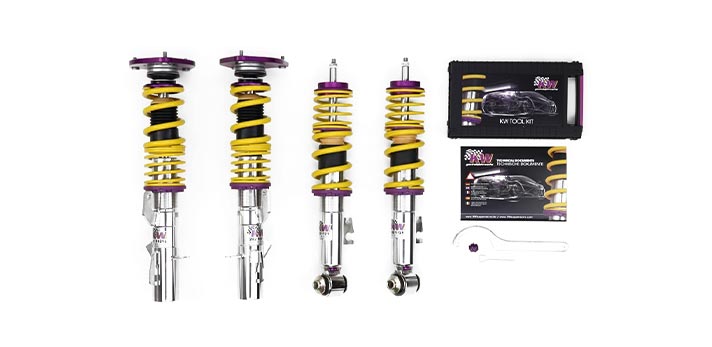 Manufacturer: KW Suspension
Part Number: 35261001
Vehicle Fitment: Chevrolet Corvette C5 (1997-2004)
KW Suspension is perhaps one of the biggest aftermarket suspension parts manufacturers present today. Because of their state-of-the-art suspension technology, a lot of performance-oriented car enthusiasts would flock to them in hopes of transforming their vehicles into something more sinister.
For cars like the Chevrolet Corvette C5, which is known for being an amazing platform, especially for performance modifications, KW Suspension has the Coilover Kit V3.
When we said that this C5 Corvette coilovers from KW Suspension are state-of-the-art, we weren't exaggerating. They've really integrated some astounding technology on these coilovers, making this kit a very practical kit to choose, especially if you want your car to perform at peak performance.
KW Suspension did put a lot of R&D into these coilovers to ensure that your track experience will be as memorable as possible.
Let's start with the Coilover Kit V3's build quality. Its components are integrated with KW's patented inox-line stainless steel technology, making it highly resistant to corrosion. It's also extremely durable; a crucial characteristic in the world of motorsports.
The inox-line's knack for high load tolerance makes it one of the best candidates for a C5 Corvette coilover conversion.
Performance-wise, the Coilover Kit V3 is on a different calibre. With its adjustment parameters okayed by the German Technical Control Board, you can be sure that all of the present adjustment settings will be as smooth, convenient, and useful as possible.
This coilover kit offers a lot when it comes to tuning too. Height is individually adjustable, compression has 14 levels of valving selection, and the rebound is infinitely variable.
This level of tuning freedom is perfect for car enthusiasts who've dedicated their C5 Corvette to the deities of the race track.
KW Coilover Kit V3 Features:
Inox-line stainless steel technology
Highly durable components
Height is individually adjustable
14 levels of compression dampening adjustment
Infinitely variable rebound settings
Backed by KW Suspension 2-Year Warranty
#3 LG G2 Coilover Kit
Manufacturer: LG Motorsports
Part Number: LGC5G2
Vehicle Fitment: Chevrolet Corvette C5 (1997-2004)
The LG G2 Coilover Kit is widely loved and accepted in the C5 Corvette community because of the practical benefits it can give to its users. You want your car to ride better than stock? How about lowering it to make it look like an exotic supercar?
Do you want uncompromising suspension technology that can make driving on either the tracks or the streets like a piece of cake? All of these demands can be easily fulfilled with this coilover kit.
These C5 Corvette LG coilovers are notorious for giving drivers a night-and-day handling difference. You'll soon realize that although it's 10% stiffer, it doesn't fall too far from the stock ride quality.
This feature attracts many spirited drivers who want to make their track experience 10x better without compromising the time they have driving their cars on a daily basis.
Since LG Motorsports know that the Corvette community wouldn't settle for less, they've decided to combine two suspension technologies: one from Bilstein and one from Hyperco.
By using the Bilsten's aluminum nitrogen-filled coilovers together with Hyperco's Hypercoil springs, LG Motorsports conjured a coilover kit that many C5 Corvette owners are thrilled to use.
The LG G2 Coilover Kit goes well with extensively modified cars that are usually driven on the track or the dragstrip. It's a great kit for those who want to modify their C5 Corvettes for specific use because by using the LG G2 Coilover Kit, you're taking advantage of LG Motorsports' 30 years of racing experience.
All the major components for high-performance driving are present in these coilovers: critical valving, competitive spring rates, and many more.
Overall, these kits provide a consistent road feel and are comfortable to drive, both on the track and the streets.
LG G2 Coilover Kit Features:
Uses aluminum nitrogen-filled coilovers from Bilstein
Uses Hyperco's Hypercoil springs
#4 Ohlins PSI Raceline TTX Kit
Manufacturer: Ohlins

Part Number: Z06TTX2.01
Vehicle Fitment: Chevrolet Corvette C5 (1997-2004)
There are coilovers made for all-around use like the PFADT Series and LG G2 Coilover Kit. They are also relatively cheap too, so getting your hands on one of them, if you have the budget, is not that big of a deal.
However, there are some coilovers like the KW Coilover Kit V3 and Ohlins PSI Raceline TTX Kit whose sole purpose is to deliver true racing performance. They may come at a very steep price, but the performance gains they provide are truly over the top.
Ultra high performance coilovers are specifically engineered and tuned for competitive applications. The Ohlins PSI Raceline TTX Kit in particular, is a mod that will bring your car's performance to new heights.
There's a good reason why exotic cars like Lamborghinis utilize coilovers from Ohlins: and that's because their optimized performance goes hand in hand with a car with an optimized geometry: like the C5 Corvette.
Let's talk about the specifications of these C5 Corvette Ohlins coilovers. These coilovers feature a twin-tube design, which provides positive pressure build-up, low internal friction, and astounding responsiveness, even at the slightest of stroke.
It may only be available at a standard two-way adjustment, but you can easily upgrade it into three, or even four way adjustable.
On top of that, you can re-clock the top eye without even opening the damper. Perhaps the winning ingredient with these coilovers is that they require very low gas pressure because of the absence of a reservoir valve.
And since the internal pressure can be kept at the minimum, the low gas pressure will inevitably improve your car's grip without compromising damping performance.
The only caveat with these coilover though, is that the springs are sold separately. If you're willing to spend a lot of cash just to see your C5 Corvette transform into a true track dominator, then the Ohlins PSI Raceline TTX Kit is for you.
Ohlins PSI Raceline TTX Kit Features:
Low internal friction
Direct damping response
Utilizes TTX36 piggyback reservoir for both the front and the rear dampers
Made from strong 6061-T6 stainless steel
22 levels of damping setting adjustment available
#5 Penske 8300 Series Coilovers
Manufacturer: Penske Racing Shocks
Part Number: 8300DA
Vehicle Fitment: Chevrolet Corvette C5 (1997-2004)
When you ask the C5 Corvette community on what they think are the best coilovers, there's a high chance that they'll say Penske. Their coilovers are no doubt a bang for the buck investment, and the performance gains you can get from them is downright impressive.
By using these coilovers, you're imbuing your car with the technology that helped Penske win countless races like the Indy Car, NASCAR, F1, and many more.
Let's cut to the chase and talk about what you can get from their coilovers, specifically the Penske 8300 Series. These coilovers are double-adjustable, meaning you can independently adjust the compression from the rebound setting.
A single-shaft rebound adjuster along with a high-speed compression adjuster is also integrated on the remote reservoir.
What's more, they've got what people call The Penske Advantage, where you get a CNC-machined aluminum coilover setup integrated with high-quality internal parts for superb damping quality.
What makes the 8300 Series Coilovers such a banger of a mod is how much care and attention you'd get from Penske. By getting your hands on one of these coilovers, you're also signing up for a suspension build that's specifically tailored for you.
Penske will ask you how you want your car to specifically perform, and they will help you achieve it. Most of all, custom builds are always available, like custom Hyperco or Eibach springs, non-adjustable regressive pistons, and more.
The best part of The Penske Advantage is you get to have your personal shock technician; someone at your disposal who will personally listen to your driving needs without any additional costs.
They are more than willing to share their own automotive experience to help you achieve the kind of performance you want your suspension to have. Now that's customer service done right!
Penske 8300 Series Coilovers Features:
Parts made from CNC-machined aluminum for durability, weight reduction, and optimal heat dissipation
Compression and rebound can be adjusted independently from each other
Comes with a single shaft rebound bleed adjuster

Comes with a high-speed compression adjuster
Hand-built coilovers made from the USA
What to Look For When Buying Coilovers
Buying coilovers is no easy feat, especially if you've got a Chevrolet Corvette C5 as a car. If you're not quite familiar with how Corvette suspensions works, then you'll have a pretty difficult time understanding the complexity of using coilovers on a Corvette.
Coilovers hold a lot of potential for better handling, especially on performance-oriented applications like track racing, street racing, and autocross duty.
Here are some things you should look out for if you're planning to buy coilovers for your C5 Corvette.
Spring Rates
Understanding what spring rates are is pretty simple. Spring rate tells you how much weight you'd need to compress a spring by one inch. The spring rate of a coilover will directly affect how well your car will handle and perform.
Generally, high spring rates are ideal for competitive racing because it handles better, at the price of a stiffer ride. On the other hand, low spring rates are favored for daily driving applications because it provides a softer ride, but you'll get more body roll whenever you corner.
So if you want a setup for highly-spirited driving, then it'd be best if you choose coilovers with high spring rate. If you want dual-purpose coilovers you can use for daily driving and the occasional track duty, then you should opt for mid-range spring rates.
Build Quality
Choosing the coilover with the best build quality is mandatory. You'd want something that'll set you up for a long time, whatever your preferred driving application is.
Whenever you shop for coilovers, consider how reputable the manufacturers of the coilovers are at question first. Suspension providers like KW Suspension, Öhlins, and Penske are popular worldwide because of their reputation when it comes to motorsports.
And also, you'd want to look at the material used to construct the coilovers too. Some of the best ones are made from anodized aluminum, which is highly resistant to rust and corrosion.
Steer clear of cheap run-of-the-mill knock-offs even if they come with a very attractive price tag. Remember: perfection comes at a price.
Adjustability
The level of adjustability will highly depend on how much you want to fine-tune your car's suspension. Most aftermarket suspension manufacturers offer different adjustable coilovers catered to suit the driver's needs.
Some are single adjustable, where compression and rebound can be adjusted simultaneously. Others are double adjustable, where both the compression and rebound are independently adjustable from each other.
There are even coilovers that are 3-way adjustable that includes high-speed rebound adjustment, and 4-way adjustable that incorporates high-speed compression control!
There's an abundance of high-performance coilovers available in the aftermarket, so it's best to identify what level of fine-tuning you want to do to your suspension first before you ultimately buy one.
Warranty
Since you're willing to spend a lot of your hard-earned money, then why not avail some security as well? A warranty will tell you the level of accountability in the design of their coilovers.
When a product breaks because of warranty-inclusive reasons, good manufacturers will offer to repair them for you, or even replace them with new ones. Most suspension manufacturers will usually offer 1 to 2 years of limited warranty to assure you that they've got your back when your purchase fails to perform.
Even if the C5 Corvette chassis wasn't built to support coilovers, most manufacturers still found a way to make them compatible with coilovers.
By doing so, many car enthusiasts would rather get rid of the existing transverse leaf springs in favor of some high-performance coilovers just to experience what it's like to drive a C5 Corvette with a very impressive handling on high-performance applications.