Most generations of the Chevrolet Corvette have had enormous success. Its power ratings and its performance can easily beat its European counterparts – for almost half the price. However, no matter how impressive the Chevrolet Corvette is, notably the C6 Corvette, it still has a somewhat controversial issue.
Most of you may already know this fact, but the Chevrolet Corvette C6 still uses an ancient suspension technology – the transverse leaf springs. No matter how feasible transverse leaf springs are, it still draws flak, especially for car enthusiasts who have owned or currently own one with a coil spring suspension.
There's no doubt that, yes, transverse leaf springs work impressively well. General Motors chose this type of suspension for several acceptable reasons. But no matter how viable the transverse leaf springs are, they still can't handle twists and turns effectively.
The C6 Corvette has problems with cornering and body roll, which are detrimental for competitive drivers who love track and street racing.
These are just some valid reasons why Chevrolet Corvette C6 owners opt for coilovers instead. Coilovers can compensate for the handling issues present with the C6 Corvettes with fiber-reinforced plastic transverse leaf springs.
Not to mention the freedom of tuning and suspension customization that these puppies can deliver to racing fans.
Below are some of the most popular C6 Corvette coilover kits for drivers who want to keep their cars on their competitive edge.
#1 aFe Control PFADT Series Featherlight Series Coilover System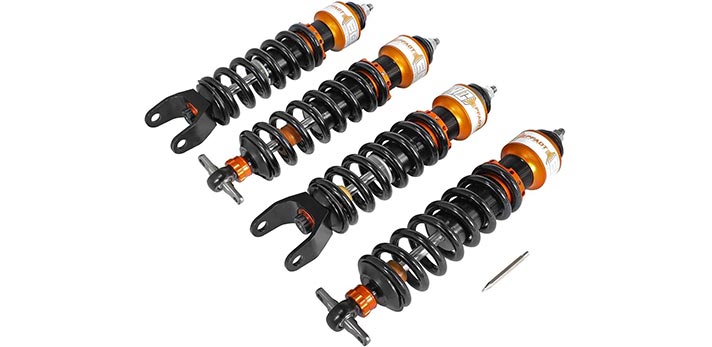 Manufacturer: aFe Power
Part Number: 430-401001-N
Cylinder Design: Monotube
Vehicle Fitment: Chevrolet Corvette C6 (2005-2013)
To start this list, we have one of the fan favorites for the best C6 Corvette coilovers. It's one of the few ones that have gained the attention of many C6 Corvette owners with its impressive performance and excellent ride quality.T
hese benefits are indeed an attractive proposition for 'Vette owners who want something decent to replace their leaf springs. Not to mention how relatively inexpensive they are when compared to other coilovers on this list.
So what's with these PFADT coilovers? The Featherlight Series coilovers provide C6 Corvettes with a truly independent suspension that gets rid of the infamous crosstalk and the harsh ride quality by which the leaf springs are known for.
It can provide you with a much better ride quality matched with a pretty quiet operation.
The construction of these coilovers is built for street performance driving. Made from hard-anodized 6061 T6 aluminum, the shock body is incredibly durable while maintaining a design that keeps it lightweight.
With these coilovers on your C6 Corvette, you can tune both the rebound and compression synchronously.
Overall, if you're a budget-oriented enthusiast who wants something decent yet practical for your car, then these coilovers are for you.
aFe Control PFADT Series Street|Track Coilover System Features:
Single adjustable
Ride height adjustability
Made from hard-anodized 6061 T6 aluminum
Utilizes an internal piston for more predictable handling
Employs the use of sealed monotube design
Backed by aFe Power 1-Year Limited Warranty
#2 KW Clubsport Kit Complete Coilover Kit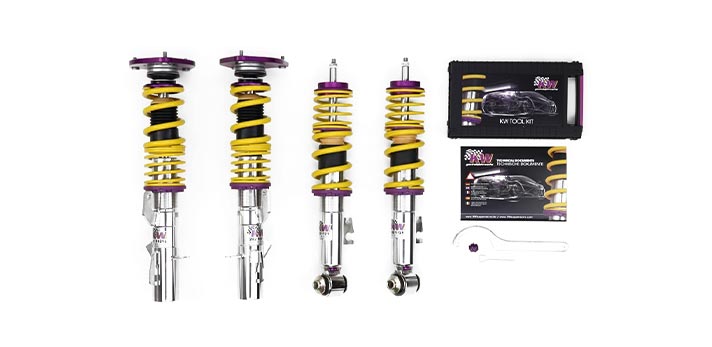 Manufacturer: KW Suspension
Part Number: 35261715
Cylinder Design: Monotube
Vehicle Fitment: Chevrolet Corvette C6 Z06 (2006-2013)
If you want premium-quality coilovers, then KW Suspensions should belong to your list. They are famous for providing proven-and-tested race-winning suspension systems that made countless performance cars perform even better.
For the C6 Corvette, KW Suspensions have the Clubsport Kit Complete Coilover Kit, a set of coilovers that can deliver you the superb handling and tuning that you've always wanted for your vehicle.
The Clubsport Kit is KW Suspension's direct answer to the demands of many car enthusiasts: a track-ready setup that could also be used daily. These coilovers utilize high-performance race springs made from tempered spring steel, which is highly favorable for rigorous driving styles.
As a result, the coilovers have more suspension travel, higher block loading, and less weight. These gains make the Clubsport Kit an ideal suspension system that can make your days on the track more fun and enjoyable.
What's more, this coilover kit also offers you an avenue for adjustability, both for the ride height and dampening. Being double-adjustable coilovers, you can independently reconfigure both the compression and rebound settings according to whatever driving style you have.
Height-wise, these C6 Corvette KW coilovers can lower your car by up to 1.2", both on the front and the back.
KW Clubsport Kit Complete Coilover Kit Features:
Independently adjustable rebound and compression
Stainless steel inox-line technology
Comes with high-performance race springs
Lowering adjustment range of 0"-1.2" (front and rear)
Backed by KW Suspensions 2-Year Warranty
#3 LG GT2 Adjustable Coilovers
Manufacturer: LG Motorsports
Part Number: LG6GT2
Cylinder Design: Monotube
Vehicle Fitment: Chevrolet Corvette C6 Z06 (2006-2013)
"We race, you win." This is the motto of LG Motorsports, and they take it pretty seriously. Their dedication to their craft is evident in the GT2 Adjustable Coilovers, arguably the most favored aftermarket coilover kit for the C6 Corvette.
This kit is an absolute ace of spades, for it helps drivers feel the road much better and improve the vehicle's cornering abilities. The positive improvements in cornering are observable, and that's usually the crucial factor that most aggressive drivers want for their cars.
What do the LG GT2 Adjustable Coilovers have in store for you? A lot of good stuff. Firstly, it can make spirited driving much more satisfying. It utilizes an innovative inverted shock design where unsprung weight is significantly reduced, resulting in the car being easier to control.
These coilovers also allow you to change both the compression and rebound in 12 ways simultaneously.
Additionally, this coilover kit has a benefit that is not usually present in most coilovers nowadays. The LG GT2 Adjustable Coilovers has a remote rear shock adjuster.
A slight gap located at the rear-side upper shock mount serves as a convenient way of fitting the cable of the shock adjuster. With this, you won't be needing to drill any holes just to get your hands on the adjusters anymore.
The LG GT2 Adjustable Coilovers is truly a bang-for-the-buck suspension system that you can have for your C6 Corvette. A lot of its previous and current users love it, and we reckon that you're going to love it too.
LG GT2 Adjustable Coilovers Features:
Simultaneous adjustment of the compression and rebound in 12 ways
Utilizes an innovative inverted shock design to cut down unsprung weight
Comes with a remote rear shock adjuster
Uses spherical bearings
Uses shock mounts made from aluminum billets
#4 Aldan American Phantom Series Coilover System
Manufacturer: Aldan American
Part Number: C6SB4
Cylinder Design: Monotube
Vehicle Fitment: Chevrolet Corvette C6 (2005-2013)
There aren't many details available about the Aldan American on the internet aside from its specifications. But from what we know, Aldan American coilovers, notably the Phantom Series, make C6 Corvettes rock stars on autocross duties.
These coilovers seem to be tremendously effective against the demanding tracks of the auto-x.
Autocross duties are notorious for emphasizing a car's handling and what track time it can accomplish. Driving through the sharp turns of the autocross track under immense time pressure is challenging beyond question.
Fortunately, this is where the Phantom Series coilovers excels the most, well, according to some of its previous users, that is. Some C6 Corvette autocross drivers claim that these coilovers have helped their cars feel more settled and more attuned to the immensely demanding tracks of the auto-x.
The Phantom Series performs so well because Aldan American used the compression adjustment present on the front shocks for tuning. The high rebound in the rear shocks helped as well.
The specific configuration of the front shocks, together with the rear, is responsible for keeping the car planted to the ground, hence its impeccable handling quality.
So what's with the Aldan American Phantom Series coilovers? It's an affordable American-made single-adjustable coilover kit that offers greater strength and better weight distribution for your C6 Corvette.
Seventeen ways of the damper setting adjustment are available; 6 clicks for the front compression and 11 clicks for the rear rebound. Moreover, this C6 Corvette coilover kit comes with upgrade options like thrust bearing upgrade and long shock options for those who want to customize their cars even further.
If it's true autocross domination that you want, then the Aldan American Phantom Series coilovers are the kit for you.
Aldan American Phantom Series Coilover System Features:
Proudly made in the USA
17 ways of damper setting adjustment
Can lower the front by up to 1.5" and the rear by 2.0"
Serviceable and rebuildable components
Powdercoated brackets for durability and longevity
If Leaf Springs Are Viable, Then Why People Convert Their C6 Corvettes to Coilovers?
It's fantastic to see an antiquated suspension technology still used up to this day. General Motors did see the potential of leaf springs when they used them in the first Chevrolet Corvette.
As a result, almost all of the generations of the Corvettes have fiber-reinforced plastic transverse leaf springs, except the latest C8 Corvette, which finally transitioned into coil springs.
There are two main reasons why General Motors chose leaf springs over coil springs for the Corvette, specifically the C6 Corvette.
Leaf springs function well. How many cars do you think can handle better than the Z06? This kind of suspension system can cope much better with vehicle damping, thus making the Corvette easier to control.
Leaf springs are far cheaper to manufacture than coil springs. One of the criteria that makes the Chevrolet Corvette such a blockbuster is that it's more affordable than its European sports car counterparts. It only makes sense to use a cheap suspension system effective enough to provide the exact top-tier handling that you can only find on sports cars.
Surprisingly, leaf springs are still a viable suspension system for a performance car, even though they're over a century older than sliced bread. However, there's a growing trend where many C6 Corvette owners decide to convert into coilovers.
Why do you think that is? It's because leaf springs have a fatal flaw: they're braindead when it comes to suspension tuning.
As a car enthusiast, you already know how vital suspension tuning is, especially for drivers who had dedicated C6 Corvettes made for the track and the streets. Manipulating a suspension setup is exceptionally crucial if you want to condition your car for various driving styles.
General Advantages of Coilovers
We've already stressed enough in this article how banger of a performance mod coilovers are, even for a Chevrolet Corvette C6. However, we still haven't given you the general advantages you can get once you've decided to get rid of those leaf springs in place of new aftermarket coilovers.
Here are the advantages you can expect to get once you've installed coilovers on your car.
Improved handling. Coilovers can help you plant your car to the ground more firmly than leaf springs. This is because the center of gravity of a lowered car is much closer to the ground. The lower the car's center of gravity is, the stable it gets while driving. Be sure not to drop it too low because it will have adverse effects on how your car handles.
Lower ground clearance. One of the aces of coilovers is its ride height adjustability. Most coilovers in the market offer a decent range of ride height adjustment, from stock height to a certain level, say -1.0" or more. There's nothing sexier than a sports car that has a lowered stance.
Adjustability. As stressed out multiple times earlier, coilovers offer car enthusiasts tuning freedom. With this mod, you can tweak your suspension's settings as much as you'd like, as long as it's within the range of what the coilovers are capable of.
Prestige. The fact that you've gotten rid of the stock leaf springs and replaced them with coilovers is more than enough to attract attention from your peers. This signifies that you're serious with your passion for racing, and you've chosen the C6 Corvette as your champion.
Why Should You Concern Yourself With Coilovers?
Coilovers offer the adjustability that leaf springs can't. Most coilovers offer dampening adjustability, which is an essential factor when you want a track-dedicated C6 Corvette. You'd like to make your car handle better through twists and turns, an ever-present feature in the topography of most race tracks (and even the streets).
There's a whole engineering suspension science concerning the differences between leaf springs and coilovers. Such discussion is concerningly tricky to understand for a typical car enthusiast.
Regular leaf springs like the ones present on a C6 Corvette are half as stiff as the coil springs to keep it short and straightforward. The leaf springs used by the Corvette can't provide the necessary spring rate for a driving style intended for peak performance in competitive racing.
Coilovers are the winning components you'd need if you want to dedicate your C6 Corvette to a track/street behemoth. C6 Corvette owners can provide damping and ride height adjustability, something leaf springs can't do.
However, keep in mind that even though coilovers can provide 'Vette owners tuning freedom, not all coilovers offer both dampening and height adjustability.
Some coilovers are single adjustable, while others are double adjustable. Single adjustable coilovers mean that you can change both the rebound and compression configuration of the coilover simultaneously.
On the other hand, double adjustable coilovers offer independent adjustability for both the compression and the rebound.
A Quick Note Before You Install A Coilover Conversion
After reading through this article, you now have a good grasp of what coilovers are capable of, particularly on a C6 Corvette. Now, let's talk about YOU deciding on purchasing a coilover kit of your choosing.
Do you need a coilover kit for your Chevrolet Corvette C6?
The Chevrolet Corvette showed the world that leaf springs can still give a performance car excellent handling. A lot of Corvette owners are mesmerized by how well these cars run on the streets.
For them, the transverse leaf springs present on their vehicles are enough. No more coilover conversions, no more head-churning labor costs – just leaf springs. Plain and simple.
Spirited drivers, on the other hand, prefer something that will cater to their specific driving style. That's why coilovers are good for them. It allows them to tune in their suspensions for the particular setting they want, and it gives them more road feel whenever they drive their cars aggressively.
Sure, coilovers are a tad bit expensive, but for car enthusiasts dedicated to having the best time while racing, coilovers are just a means to an end.
What's the point here? Please think twice before installing coilovers on your Chevrolet Corvette C6 because they're some serious modifications. It will drastically change the way you drive your car, and turning your back on your objective of improving the car's handling will cost you a lot, both time and effort.
If you're eager to make your Chevrolet Corvette C6 a dedicated track car (or a more tenacious street racer), then you should go for coilovers. However, if you're satisfied with how the leaf springs perform and you're not into competitive racing, then you might want to stick with stock leaf springs for now.