Most muscle car enthusiasts choose coilovers as one of the first upgrades to get for their car. Who can blame them? Coilovers are a great way to massively improve a car's appearance while giving it a newly enhanced handling.
Muscle cars are like wild horses: they may be free-spirited and all; yet they are powerful and challenging to tame. Being able to tame a car with such a massive amount of horsepower would be a challenging task. That's why you need something to improve the way you handle it; an upgrade like coilovers.
You might be a muscle car enthusiast or not, but the fact that you're here means that you're searching for the best coilovers you can get your hands on for your Dodge Challenger.
There's a bunch of coilovers available in many shops today, but it'll be in your best interest to get the best value for your money. The list below features some of the best coilovers for Dodge Challenger, so check them out and see what suits the best for your vehicle.
#1 Godspeed MonoSS Coilovers Kit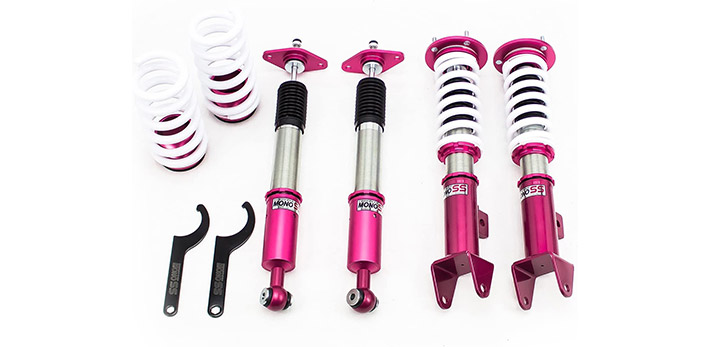 Manufacturer: Godspeed Project
Type of Construction: Monotube
Spring Rate (F/R, lb/in): 672 | 784
Compatibility: Dodge Challenger (2011-2020)
To start off with the best coilovers for Challengers, we have Godspeed MonoSS. Engineered to make cars look streetable and make them race-worthy, the MonoSS coilover suspension kit utilizes strong SAE9252 steel, capable of having an optimum balance between stability and comfort.
You gotta pick the MonoSS if you're looking for a cheap yet highly effective suspension upgrade that makes your Dodge Challenger look good and handle even better.
Godspeed MonoSS Coilovers Kit Features:
16 levels of damper adjustment
Utilizes 6204z Koyo bearings
Anodized shock body
Ride height and spring preload adjustment independent from each other
Can use polyurethane bushing (if applicable)
Uses shock oil with high viscosity index
Lower mounts made from lightweight aluminum
The unique feature that the MonoSS coilover kit has is its utilization of 6204z Koyo bearings. These kinds of bearings are of premium quality and can cater to demanding driving activities such as track racing, drag racing, offroad, and many more.
Aside from the Koyo bearings, the MonoSS coilovers are made from high-quality materials that clearly emphasizes performance, durability, and longevity.
#2 Megan Racing EZ II Series Coilover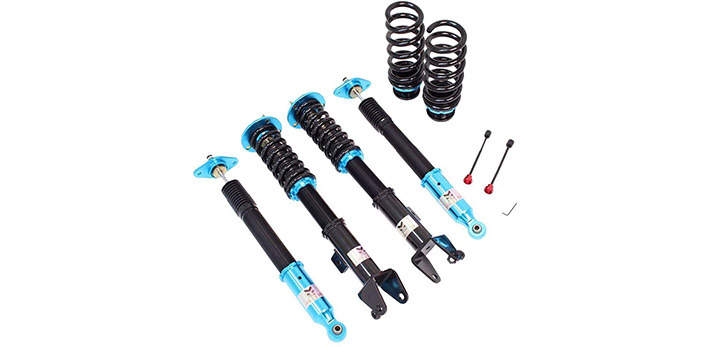 Manufacturer: Megan Racing
Type of Construction: Monotube
Spring Rate (F/R, lb/in): 672 | 784
Compatibility: Dodge Challenger (2011-2017) EXCEPT Scat Pack
Today, most tuned cars, Dodge Challenger or not, usually use popular coilovers like Megan Racing to satisfy their suspension system needs. Watch any car-centric Youtube channels, and you'll see how famous Megan Racing coilovers are.
For the Dodge Challenger's case, it's decent enough to make the car more assertive by lowering its stance and improving its handling by configuring the coilover's settings according to your liking.
Megan Racing EZ II Series Coilover Features:
15 levels of damper adjustment
Made from premium quality materials
Engineered with safety in mind
Comes with rubber dust covers
Spring rates are conservative enough
The Megan Racing EZ II Series is another cheap yet effective coilover you can get for your Dodge Challenger. Without burning massive holes in your pockets, you can get a coilover kit that can get you the basic suspension necessities a car enthusiast needs to make their car firmly standing.
The EZ II Series can make your vehicle capable of driving through intense road conditions and can make it competent enough to nail sharp turns with ease.
#3 Ksport Kontrol Pro Damper System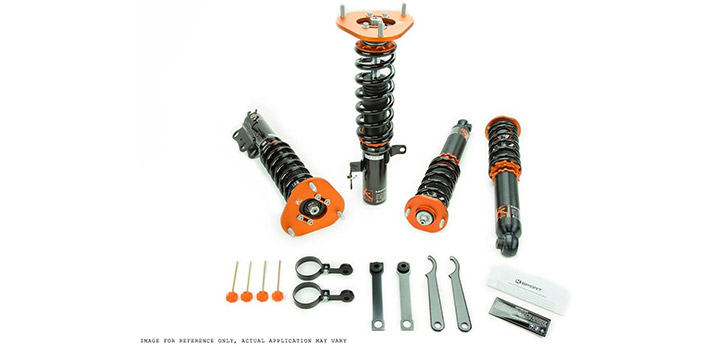 Manufacturer: Ksport

Type of Construction: Monotube
Spring Rate (F/R, lb/in): 674 | 1400
Compatibility: Dodge Challenger (2011-2020)
Quality indeed comes at a price. The coilovers mentioned above may be cheap, but they only provide the basics. If budget is not a problem for you and you want to get excellent value for your money, you need a coilover kit like the Ksport Kontrol Pro damper system.
It's the ultimate suspension technology you need to make your Dodge Challenger streetable and trackable. Its compression and rebound settings can be adjusted simultaneously, providing hard-to-satisfy car enthusiasts with a user-friendly configuration setup.
Ksport Kontrol Pro Damper System Features:
36 levels of damping adjustment
T6 6061 aluminum collars and upper mounts
Adjustable spring perch for extensive height lowering
Adjustable lower mount for max suspension travel
Pillowball mounts for better steering feel and response
Electroplated body for corrosion-resistance
Durable dust boots for damper seal protection
You may be asking yourself this: "1400 lb/in for the rear spring rate? Wouldn't it mess up the ride quality of my car?" On paper, yes, but the other components included in the Kontrol Pro takes care of that dilemma.
The Kontrol Pro employs shock valving that is matched accordingly to its spring rate. With this feature, you can get superior ride quality and reliability both on the track and on the streets.
The Ksport Kontrol Pro is a bang for the buck purchase for muscle car enthusiasts who want the best suspension system for their vehicles.
#4 ST Suspension Sport Coilover Kit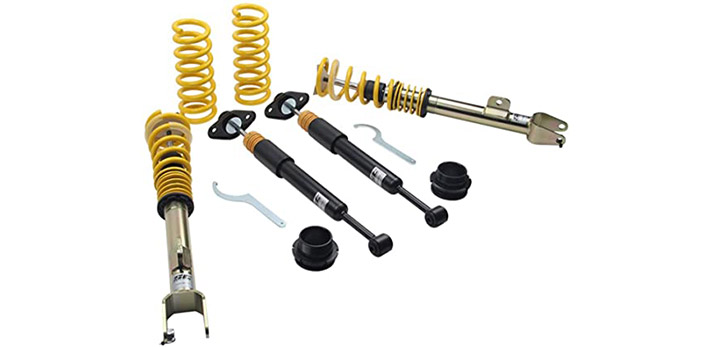 Manufacturer: ST Suspensions
Type of Construction: Twin-tube
Spring Rate (F/R, lb/in): N/A
Compatibility: Dodge Challenger (2011-2020)
ST Suspensions is known for producing coilovers that have proven themselves to survive and thrive in the heat of competitive racing. They also have a history of collaborating with KW Suspensions, one of the leading providers of premium racing coilovers.
With their obsession for racing and a knack for durable suspension upgrades, they've created a sport coilover engineered explicitly for the Dodge Challenger. It's got tons of sweet benefits that you'd love, including zinc-plated shock housing and matching damper and spring rates.
ST Suspension Sport Coilover Kit Features:
Matching damper and spring rates
Modest drop in height (fully adjustable 1"-2.5")
Zinc-plated shock housing for top-tier corrosion resistance
Elastomer bump stops with integrated rising rate
German TUV (Technischer Überwachungsverein) approved
German engineering can be considered as among the finest, and German standards are known to be pretty high. ST Suspensions have passed the popular Technischer Überwachungsverein, a self-explanatory testimony of their work quality.
The ST Suspensions Sport coilover kit for the Dodge Challenger is a great way to lower your car from decent to extreme, and the quality of this coilover perfectly justifies its price.
#5 H&R Street Performance Coilovers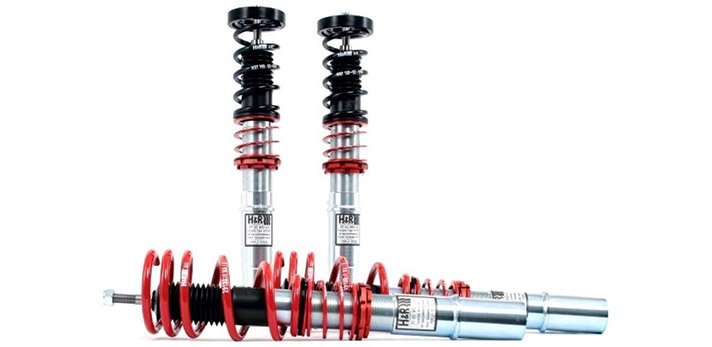 Manufacturer: H&R

Type of Construction: Monotube
Spring Rate (F/R, lb/in): Progressive
Compatibility: Dodge Challenger R/T/SE/SRT (2011-2016)
Lastly, we have the popular H&R and their Street Performance coilovers. When looking for coilovers for the Dodge Challenger, it's impossible to look over the creations of H&R. Their springs are pretty famous, and so are their coilovers.
The Street Performance coilovers have loads of benefits waiting to be enjoyed by your Dodge Challenger, like custom valves and fully-threaded shocks.
H&R Street Performance Coilovers Features:
Lowering range from 1" to 2.5"
Fine-tune lowering to whatever you want.
Fully-threaded shock body
Height adjustment that doesn't compromise with ride quality
100% Made in Germany
German TUV (Technischer Überwachungsverein) approved
The H&R Street Performance coilovers were ultimately made for the streets. This means that unlike most coilovers available today, this one has emphasized ride quality, comfort, and, most of all, reliability.
H&R's patented technology was applied to ensure that each of the shocks in this kit would work well with the coilover's progressive rate springs. The Street Performance coilovers may cost a lot, but it sure is a worthy investment for your Dodge Challenger.
Monotube vs. Twin-Tube: What's the Difference?
When choosing coilovers, you'll eventually end up with two options: a twin-tube or a monotube. There's a clear and significant difference between the two and why they are chosen for different purposes.
Aftermarket suspension upgrades manufacturers have made countless coilovers with varying types of "tubes," so it'll be wise to learn the difference between the two so you can have a better idea of what to purchase for your car.
The main difference between the two shock absorbers is the number of tubes they utilize, hence the monotube and twin-tube. Monotube shocks have a single shell case that acts as the cylinder itself and encloses the shock oil, piston valve, and other components.
On the other hand, twin-tube shocks use two concentric cylinders wherein the piston valve moves vertically inside the smaller cylinder.
So what type of shock absorber should you choose? It depends. If you're a regular driver and use your car under normal to moderate riding situations, twin-tube shocks are for you.
However, if you're somewhat of a daredevil and you drive your vehicle under more demanding situations, then monotube shocks would be the right fit for you.
There's nothing more satisfying than seeing a muscle car with an upgraded suspension system. With coilovers, a vehicle like the Dodge Challenger can experience better handling. When fitted with the right coilover, the vehicle can even have an excellent ride quality.
By choosing the best coilovers like the ones mentioned above, you're guaranteed to have a Mopar that has a superior ride quality matched with even more superb handling.