Dirty car air filters suck. For those of you who've had their stock air filters cleaned out once or twice, you probably know how inconvenient dirty air filters can be, especially for cars like the Toyota MK4 Supra.
The stock air filter may work out fine, but in today's day and age, where the air is full of contaminants that may damage your engine, it's better to throw out your stock filters and replace them with new ones.
Or better yet, why not replace your entire stock intake system and replace it with an aftermarket performance intake system? Whether you've got a naturally aspirated or a turbocharged Toyota MK4 Supra, you'll benefit a lot from replacing your stock intake with an aftermarket one.
Most intake systems available today are less restrictive and can provide cleaner and more oxygen-rich air than the stock.
Are you planning to get an aftermarket intake system for your Toyota MK4 Supra? Good for you! Let us help you with a list of the best MK4 Supra air intakes you can get your hands on.
Listed below are the most favored bunch of intake systems for the MK4 Supra in the enthusiastic car community, and they're guaranteed to make your car a bit more robust. Check them out and see what benefits they can bring to your Toyota MK4 Supra!
#1 K&N Cold Air Intake Kit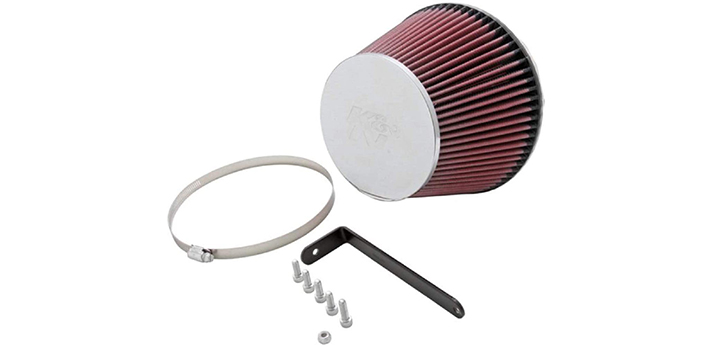 Manufacturer: K&N Engineering
Features: Oversized conical air filter
Power Increase: 8.29hp
Compatibility: Toyota MK4 Supra (1993-1995)
Ahh. The good ol' K&N is back at it again with their cold air intakes. Car enthusiasts love them because, just like Toyota cars, they are incredibly reliable. And they're pretty cheap too!
K&N cold air intakes have been the go-to performance mods of some gear heads because of how affordable, reliable, and effective they are. If you're a newbie car enthusiast and you want a bang for the buck cold air intake that won't burn a hole in your pocket, then K&N is your guy.
The K&N cold air intake boasts reliability and guaranteed performance gains at a pretty affordable price. This intake kit replaces your old restrictive air intake with one that's more effective in supplying 50% more airflow into your engine.
Their oversized conical air filter can last up to 100,000 miles without needing maintenance. Plus, this MK4 Supra cold air intake is easy to install too!
K&N Cold Air Intake Kit Features:
Guaranteed increase in horsepower output
Improves under-the-hood sound
Easy installation
Washable and reusable air filters
Backed with K&N Million Mile Limited Warranty
#2 HPS Performance Short ram Air Intake Kit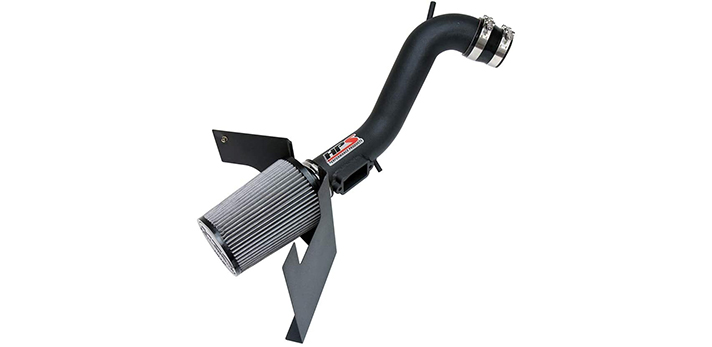 Manufacturer: HPS Performance
Features: HPS Air Performance Filter
Power Increase: N/A
Compatibility: Toyota MK4 Supra Non-Turbo (1997-1998)
Supra intakes don't always come in the form of a cold air intake; some come at short rams. Short rams differ from cold air intakes in the sense that they're, well, short.
Compared to cold air intakes, short rams like the HPS Performance short ram air intake kit increase your car's power output by eliminating all the devices between both ends of the intake system, thus the name short ram.
Short ram intakes like the ones made by HPS Performance are significant for car enthusiasts who like to keep their intakes short. Intakes like these produce louder sounds too.
The HPS Performance short ram air intake uses reinforced silicone hoses and industrial-grade stainless steel bolt clamps to ensure that there won't be any leaks coming out of the system.
HPS Performance Short Ram Air Intake Kit Features:
Guaranteed horsepower and torque increase
Improves throttle response
Comes with HPS silicone hoses
HPS Performance air filter
Easy installation
No tuning required after installation
#3 Injen Technology IS Short Ram Intake System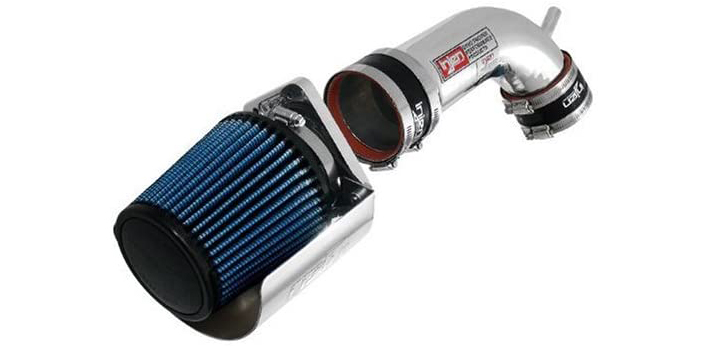 Manufacturer: Injen Technology
Features: SuperNano-Web dry air filter
Power Increase: 16hp
Compatibility: Toyota MK4 Supra (1995-1998)
Are you intrigued with short rams? Here's another one, and this time it's from Injen Technology. Short rams like these are an easy way to add dyno-proven horsepower gains to your car, and often they're cheaper than the standard aftermarket air intake system too.
The IS short ram intake system features a fully serviceable innovative air filter called SuperNano-Web dry air filter that uses Nano membrane for highly efficient air filtering.
The Injen Technology IS short ram intake system's soul is its mandrel-bent aluminum piping that is far less restrictive than the stock intake.
With this kind of piping partnered with a heavy-duty air filter, you should expect a loud and throaty engine sound that will capture the attention of everyone around you, and of course, leave you with a wide 16hp worth of grin.
The Injen Technology IS Short Ram intake system is arguably one of the best finds for the Toyota MK4 Supra.
Injen Technology Polished Short Ram Intake System Features:
Requires no tuning upon installation
Massive dyno-proven gains of up to 16hp
Serviceable SuperNano-Web dry air filter
Aggressive engine sound, especially under full throttle
Optional hydro shield
Backed with Injen Technology Limited Lifetime Warranty
#4 APEXi Power Intake Kit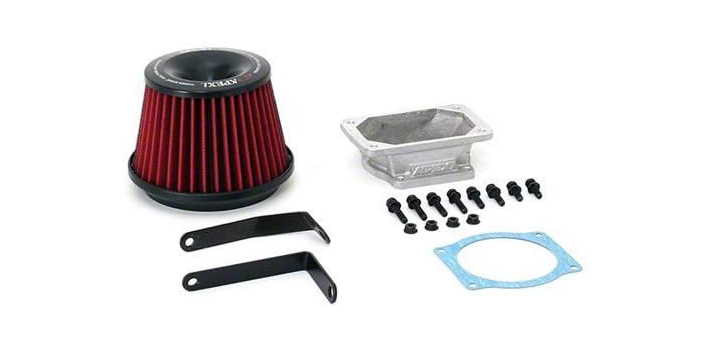 Manufacturer: APEXi

Features: Dual Funnel Design
Power Increase: N/A
Compatibility: Toyota MK4 Supra (1993-1998)
The typical intake funnels used by race cars usually use only the sides for air travel. This type of action leaves the middle part of the funnel virtually unused, leaving a lot of room for more potential airflow.
APEXi exploited this problem and devised a way to use up all of the space in the air intake funnel. After a while, they created the Dual Design. This innovation made the APEXi power intake kit one of the best air intakes to have for the Toyota MK4 Supra.
The APEXi Power intake kit exists to achieve one primary objective: to provide more horsepower to whatever car it touches. This intake system utilized the Dual Funnel design to better airflow characteristics than the stock, making it more efficient than the MK4 Supra's previous intake system.
What's more, the APEXi Power intake kit utilizes a filter media with dry density fibers that proves itself to be more efficient compared to stock air filters.
APEXi Power Intake Kit Features:
Dry-type filter element with minimal airflow restriction
Dual Funnel design
Filter that does not require oil and doesn't mess up the MAF
Backed with APEXi Standard Limited Warranty
#5 HKS Super Power Flow Intake Kit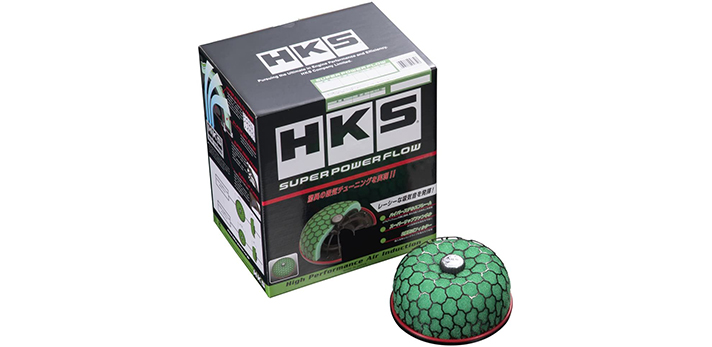 Manufacturer: HKS
Features: Hyper Stealth Frame
Power Increase: N/A
Compatibility: Toyota MK4 Supra (1993-1998)
If you've ever Googled "Supra HKS intake" and you saw a pretty weird-looking intake system, then don't worry: it's a legitimate intake system. They may look pretty weird, but the HKS knows what they're doing.
This weird-looking intake kit is the Super Power Flow intake kit, a world-renowned air intake kit that utilizes a one-of-a-kind stealth frame. This frame, particularly the Hyper Stealth Frame, increases the intake's surface area, therefore improving the air intake efficiency by up to 27%.
The HKS Super Power Flow intake kit features a boxless air intake system that produces an aggressive sound and effectively filters the incoming air. The air filtration part is done by the Super Power Flow filter, a culmination of three layers of polyurethane fibers supported by the Hyper Stealth Frame.
This type of innovation brings a lot more airflow to your Toyota MK4 Supra, and to be honest; its unique look is pretty cool too.
HKS Super Power Flow Intake Kit Features:
Hyper Stealth Frame
Super Power Flow filters
Super Inner Frame
Produces a sporty intake sound
Backed with HKS 1-Year Limited Warranty
Cold Air Intakes Vs. Short Ram Intakes: What's The Difference?
Searching for aftermarket intake systems will inevitably leave you with two options: a cold air intake or a short ram intake. There are apparent differences between the two, so let's discuss each of these differences further.
The cold air intakes' main goal is to capture as much cold air as possible, hence the name cold air intake. The placement of this type of intake is intended to be as far away from the engine as possible to catch cold air so it can produce more power for the car.
It may be slightly more expensive than the short rams, but the value you get for such an intake is worth the investment.
Short rams, on the other hand, are far cheaper and more popular than cold air intakes. They're pretty easy to install too. They replace your stock intake systems with a less restrictive pipe and an open-air filter.
However, there's a catch: short rams are notorious for sucking in hot air since they're too close to the engine. This is why short rams produce less horsepower and torque than the cold air intakes.
Do you agree with our list? Let us know in the comments below! If you like to learn more about the legendary 2JZ, check out this article to know which engine is better: the 2JZ or the BMW B58.