Owning a Chevrolet Corvette C6 is truly a delight for a lot of car enthusiasts. It looks fantastic with its angular and slender features, and the ride quality is equally as impressive.
The amount of attention you'd get from driving one is absolutely insane; the looks, power, speed, and all of that – except for the sound. For some seasoned car enthusiasts, the stock exhaust note of the car is mediocre, even borderline terrible.
If you've ever driven one or heard one going on the stock exhaust, then you know what we mean. It's too silent for the taste of many, and it doesn't really resonate with what the Corvette was initially made to be: an American take on European sports cars.
Good thing there's a straightforward solution to such a problem: aftermarket exhaust systems.
There are a plethora of exhaust options available in the aftermarket scene waiting for people like you: gearheads who want to improve how their C6 Corvettes sound.
Whether you like it loud, moderately loud, or even silent, there are aftermarket exhaust systems out there that would completely change how your car would sound like. Grabbing one for yourself will transform your exhaust's sound quality and make your engine breathe a little bit better.
Come check out our selection of the best C6 Corvette exhaust systems available in the market today.
#1 Borla ATAK® Axle-Back Exhaust System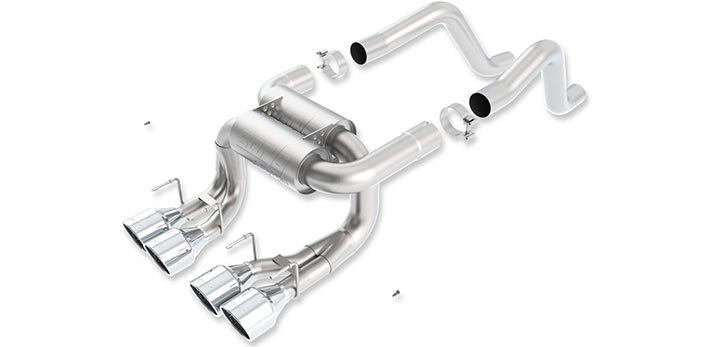 Manufacturer: Borla
Part Number: 11822
Some car enthusiasts want their cars to sound like proper performance cars. This usually means that they want it loud but not obnoxiously deafening. If you belong to this group, then you'd like what we have in store for you: the Borla ATAK® Axle-Back Exhaust System.
Borla is popular in the market scene for producing some of the best-sounding exhaust out there, and they will surely give your C6 Corvette the good makeover it deserves.
The ATAK® exhausts are notorious for providing cars with the iconic Borla sound that's just oh so eargasmic. ATAK stands for Acoustically-Tuned Applied Kinetics, a technology responsible for giving off the most desirable exhaust sound a Corvette can have.
Once you've fit this one on your car, you'll enjoy a loud and very aggressive exhaust tone that'll definitely tell the people around you that the car and the guy behind the wheels have some taste for aggressive vehicles.
On top of that, you'll also get to enjoy an engine that breathes better. This Borla exhaust is not just concerned with how aggressive it can sound, but it's also prepared to expel exhaust gasses much more efficiently than the stock.
This makes this C6 Corvette Borla ATAK® exhaust one of the most favorite aftermarket exhausts in the C6 Corvette community.
#2 Corsa Performance Xtreme Sound Level Axle-Back Exhaust System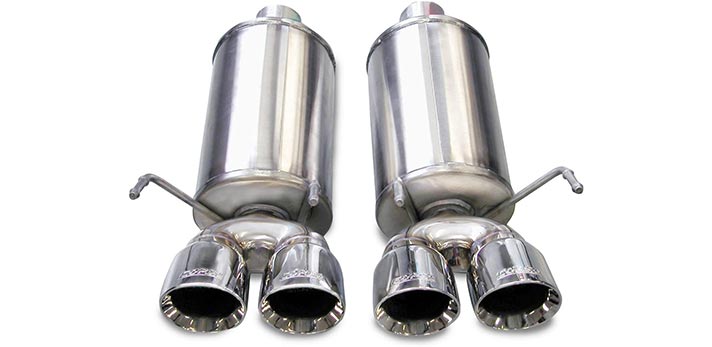 Manufacturer: Corsa Performance
Part Number: 14469
The Corsa Performance Xtreme Sound Level Axle-Back Exhaust System is for the men and women of culture who don't just want a loud exhaust note but a drone-free experience as well.
This is amongst the most favorable exhaust systems in the community because you won't hear any drone with it, especially on highway RPMs. An exhaust of this kind is very promising for C6 Corvette owners who are easily irritated by drones because let's admit it: drones suck.
So what can you gain from the Corsa Xtreme exhaust? First, a loud and aggressive exhaust grunt that's satisfying but won't be a reason for you getting a noise complaint (unless, of course, if you're intentionally annoying them).
Corsa's Reflective Sound Cancellation technology is responsible for the drone-free exhaust sound, which perfectly fits the personality of the C6 Corvette.
The build quality of this exhaust system is pretty impressive too. Made from 304 stainless steel, the Corsa Xtreme exhaust system is 10lbs lighter and flows 35% better than the stock.
It looks great with its dual-walled slash-cut exhaust tip, which is also polished to perfection. Overall, if you want something drone-free, has a solid build quality, and has an impressive impression on the car community, then this C6 Corvette Corsa Xtreme exhaust is your pick.
#3 SLP Performance "Loud Mouth II" Exhaust System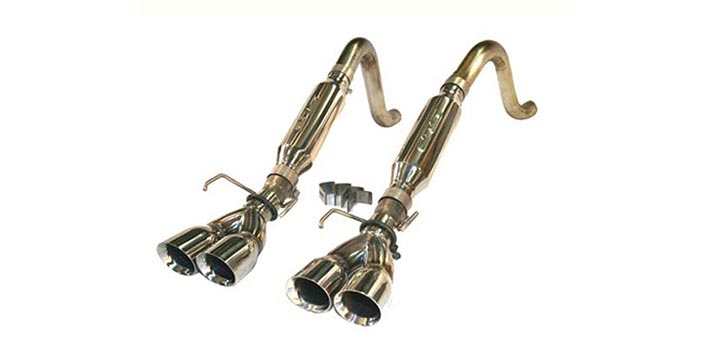 Manufacturer: SLP Performance
Part Number: 31078
Let's admit it: aftermarket parts for the C6 Corvette are costly, especially the performance mods. Purchasing any performance mod such as an exhaust system for a budget-oriented car enthusiast sounds like an earnest investment.
For starters, the typical C6 Corvette that rings loudly and aggressively and has an impressive build quality will cost you a grand or even more. Fortunately for you, perfection doesn't always have to come with a steep price tag.
Lads and lasses out there who are under strict budget restrictions and still want to make their C6 Corvettes sound like an actual sports car can now breathe easier. Check out the SLP Performance Exhaust System, dubbed the Loud Mouth II, one of the cheapest exhausts.
A definite bang-for-the-buck investment for enthusiasts looking for a wallet-friendly exhaust that sounds great.
What makes the Loud Mouth II a smoking deal? For starters, it's cheap, but it doesn't mean that its build quality is run-of-the-mill, no. The Loud Mouth II is actually pretty decent; sound, construction, performance, and all that.
It's made from 304 stainless steel with a natural finish and provides a beefier sound than the stock. Many previous owners have great opinions about the Loud Mouth II, signifying that it's an excellent exhaust even if it's priced like a budget meal.
#4 Bassani Pro Cat-Back Exhaust System
Manufacturer: Bassani
Part Number: Z06CS5
If it's sheer eargasm you're looking for, then you better strap into your seats as we give you arguably the best-sounding exhaust system on this list: the Bassani Pro Cat-Back Exhaust System.
Hearing one of these exhausts on a C6 Corvette Z06 is just pure ecstasy. It actually beats the mechanical crap out of the exhausts on this list with its very rich and deep exhaust growl.
So what's with this Bassani exhaust? It's a cat-back exhaust system that replaces the dual mufflers with a single center-mount muffler that incorporates an "X" design into the muffler itself.
The result? A superb sound quality that goes even better as the RPMs rise. The improved airflow done by this exhaust produces a deep, rich, and aggressive exhaust tone that would rival the ones from Akrapović.
What seems to be the cherry on top is the fact that the Bassani Pro Cat-Back Exhaust System is not priced at a premium. Clearly, the Bassani exhaust exists for drivers who want to experience what a C6 Corvette Z06 should genuinely sound like.
To hear is to believe, so check out Chase Moose's Bassani Exhaust preview on his 2007 C6 Corvette Z06.
#5 Akrapović Evolution Line Titanium Exhaust
Manufacturer: Akrapović
Part Number: ME-CO/TI/1
Are you a fan of hardcore performance mods that will guarantee a massive improvement on your car? Are you open to the idea of spending wads of cash just to get your hands on an exhaust system that can provide you with race-ready benefits?
If so, then you should check out the exhaust system that Akrapovič made for the Z06 and the ZR1 C6 Corvette: the Evolution Line Titanium Exhaust.
We get it; the Evolution Line Titanium Exhaust is incredibly expensive, but if you can make it rain, the benefits you'd get are actually worth the money. For starters, you'd get an exhaust system that's 33.7lbs lighter than stock.
That's ideal, especially if you bring your C6 Corvette to the tracks. The whole system is incredibly durable, too, thanks to its titanium construction. And also, you'd get as much as 14hp and 21lb-ft of torque from just an exhaust system.
On top of that, the kit comes with four black tailpipes made from carbon fiber, etched with an Akrapovič logo on them. To make things even more interesting, the exhaust system sounds absolutely amazing
The Evolution Line exhausts boast having the capability of transforming a bleak sounding C6 Corvette into an actual GT1 race car with its rich, deep, and very aggressive exhaust sound.
There's no doubt that the Chevrolet Corvette C6 is a fantastic all-American sports car. Still, it lacks a specific detail to make driving one even more satisfying: a deep and aggressive exhaust note.
The OEM exhaust present on the car is mediocre at best, and it'll be in your best interest if you replace them with a high-quality aftermarket exhaust system. Signing up for a new exhaust system will change how your car sounds, performs, and looks.
The exhaust systems mentioned above greatly complements the personality of a C6 Corvette: fast, classy, and powerful.