The Dodge Charger is a muscle car responsible for the huge success that made Dodge the ultimate king of the streets. This car is big, mean, and badass. It's got all the attributes that a muscle car enthusiast needs to satisfy their power cravings.
The sixth and seventh generations of the Dodge Charger are powered with HEMIs just like its predecessors, making it a great candidate for performance mods like aftermarket exhaust systems.
Aftermarket exhaust systems are notorious for transforming shy and silent rumbling cars into confident and aggressive alpha cars.
This mod is perfect for a rugged vehicle like the Dodge Charger simply because the car's raw power complements the deep, loud, and guttural sound that a performance exhaust system can potentially give.
Aside from a growling exhaust tone, performance exhaust systems can provide some extra horsepower and torque for your car too.
We did the work and scoured the internet's depths for the best exhaust systems that would fit on a Dodge Charger. The list below features various exhaust systems that are guaranteed to make your Dodge Charger sound louder and better.
Check these exhaust systems out to see what suits your tastes the best!
#1 SLP Performance Loudmouth Exhaust System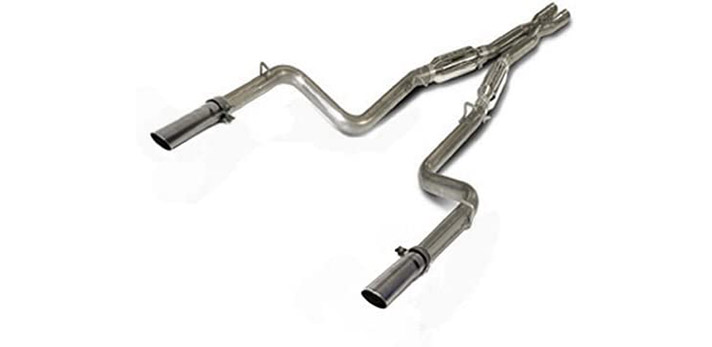 Manufacturer: SLP Performance
Weight: 48.2lbs
Part Number: D31040
Compatibility: Dodge Charger R/T (2011-2014)
A race-proven performance exhaust for a race-worthy car: the Loudmouth exhaust system from SLP Performance is an exhaust system capable of making your Dodge Charger sound as if it was a pro-racing car.
With its PowerFlo and Loudmouth II mufflers, the Loudmouth Exhaust outflows the Dodge Charger's stock exhaust, dramatically changing how your car would sound, especially on high revs.
This exhaust system utilizes a straight-through design with a perforated ceramic-coated core that beats what the Charger's stock exhaust can do.
SLP Performance Loudmouth Exhaust System Features:
SLP logo embossed polished resonators
PowerFlo-X crossover pipe
Innovative modular technology
PowerFlo and Loudmouth II mufflers
SLP's Limited Lifetime Warranty
Loudmouth's innovative modular technology gives you the freedom to alter both the exhaust's noise and performance level characteristics. Use the bullet-style resonators or the quieter mufflers: you get to decide whatever option you choose, depending on your driving preferences.
Such freedom in a performance exhaust system is the reason why the SLP Performance Loudmouth exhaust system earned its place among the best Dodge Charger exhausts out there today.

#2 Pypes Phantom Series Violator Dual Exhaust Systems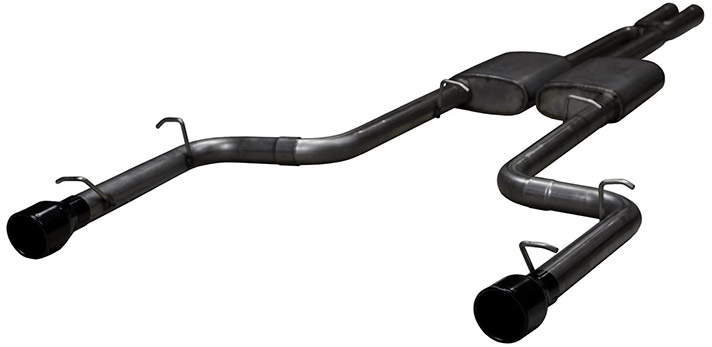 Manufacturer: Pypes Performance Exhausts
Weight: 50lbs
Part Number: SMC10VB
Compatibility: Dodge Charger SRT8 Magnum (2006-2010)
The term violator says everything you need about this exhaust. The Phantom Series exhaust from Pypes Performance Exhausts can make your Dodge Charger look more mysteriously stylish, thanks to its black exhaust finish.
This same black powder coating allows the Phantom Series exhaust to last longer, making your car look modern even after many years. With its aggressively loud exhaust note and its black finish, you'll have a Dodge Charger that looks better and sounds even more remarkable.
Pypes Phantom Series Violator Dual Exhaust Systems Features:
Black finish
Aggressive/Loud exhaust tone
Increase in horsepower output by up to 10-18hp
X-pipe assembly
Black 3.5″ exhaust tips
The color black embodies mystery, power, and sophistication. With the Phantom Series exhaust installed on your Dodge Charger, expect a good looking Charger matched with a loud and aggressive sounding exhaust.
The Charger was always meant to be powerful looking, and with the Pypes Performance Phantom Series exhaust, you'll get the best of both worlds.

#3 Flowmaster FlowFX Exhaust Systems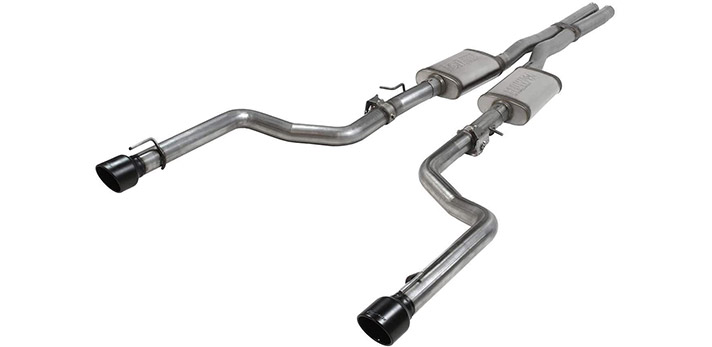 Manufacturer: Flowmaster
Weight: 70lbs
Part Number: 717935
Compatibility: Dodge Charger SRT Hellcat (2015-2020)
Aggressively loud exhausts are good, but if you're the type of muscle car owner that prefers the mild sounding ones instead of the obnoxiously loud ones, then the FlowFX exhaust system from Flowmaster is for you.
You can get many sweet benefits from this exhaust system aside from the mildly aggressive sound it offers. Once you see the gains that the FlowFX offer, Flowmaster will convince you that it's one of the finest Dodge Charger exhaust upgrades you can get your hands on.
Flowmaster FlowFX Exhaust System Features:
Performance output gains of up to 14.6hp and 18.7lb-ft
Ceramic coated stainless steel tips
Scavenger X-pipe for max power and deep exhaust tone
3″ 16-gauge tubings for better exhaust flow
Stainless steel construction
Utilizes factory exhaust valves
For a reasonably affordable price, you'll have an exhaust system that gives you a mild yet deep exhaust tone and power gains of up to 14.6hp.
Not all performance exhaust systems for Dodge Chargers can do that; that's why you can consider the Flowmaster's FlowFX exhaust system as one of the best exhaust systems for Dodge Charger Scat Pack, and all of the Charger trims this exhaust is compatible with.

#4 Borla S-Type Cat-Back Exhaust Systems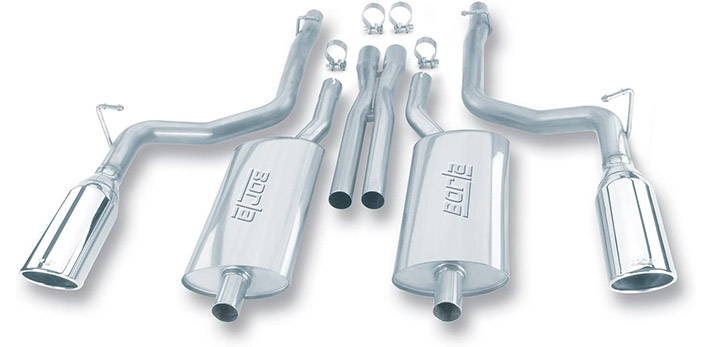 Manufacturer: Borla Exhausts
Weight: N/A
Part Number: 140125
Compatibility: Dodge Charger R/T (2005-2010)
It's pretty impossible to go over Borla Exhausts, one of the pioneers of performance exhausts in the U.S. Their exhaust systems are highly-favored in the car enthusiast community.
For the Dodge Charger, they've created the S-Type cat-back exhaust system, an exhaust riddled with distinct features that only Borla has.
Borla S-Type Cat-Back Exhaust Systems Features:
Distinctive Borla exhaust tone
Made from aircraft-grade T-304 stainless steel
S-Type Muffler
Patented straight-through and multi-core technology
Million-Mile Warranty
Borla has three primary types of mufflers: ATAK, S-Type, and Touring. The engineers chose to fit in an S-Type muffler for the Dodge Charger to deliver an intoxicating and aggressive exhaust sound that Borla is very well-known for.
Their patented straight-through and multi-core technology are also worthy of praise because it's responsible for unleashing the hidden horsepower in your car.

#5 Corsa Xtreme Sound Level Exhaust System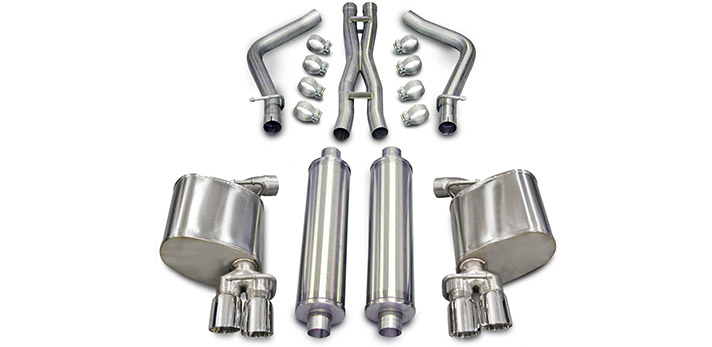 Manufacturer: Corsa Performance
Weight: 87 pounds
Part Number: 14522
Compatibility: Dodge Charger R/T (2011-2014)
If you want to transform your Dodge Charger into the loudest roaring beast in the hood, then you have no choice but to go to the extreme. Corsa Performance can help you out with that problem with their Xtreme Sound Level exhaust system.
The Corsa Xtreme Sound Level exhaust can emit a distinctly deep rumble at idle and a thunderous roar at certain revs. The Xtreme Sound Level exhaust system is the loudest exhaust Corsa Performance has on their shelf, so if you're planning to wake up your neighbors with your car, you have to get your hands on this one.
Corsa Xtreme Sound Level Exhaust System Features:
Performance output gains of up to 10hp and 13lb-ft
Reflective Sound Cancellation (RSC®) Technology for drone elimination
Dual 3″ Pro-Series tips
Clamp-On Tip Design
Weight reduction (-9lbs)
With Corsa's RSC Technology, you can completely hear how loud the Xtreme Sound Level can roar without that annoying drone you've always hated. The RSC Technology is such a win for car enthusiasts who don't want any drone in their car while driving, because let's admit it: hearing any drone is pretty annoying.
What's more, this exhaust system's components are made from premium quality stainless steel, making sure that no element will be a victim of wear and tear anytime soon.

#6 Flowmaster Outlaw Cat-Back Exhaust System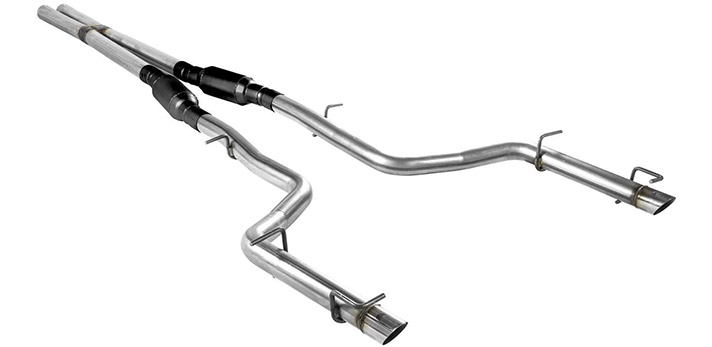 Manufacturer: Flowmaster
Weight: 45lbs
Part Number: 817774
Compatibility: Dodge Charger R/T (2015-2016)
Driving a powerful 4-door muscle car like the Dodge Charger often means that you're different from the vehicles around you. This car looks deadly and sinister, just like an outlaw.
Flowmaster knew that; that's why they've created another exhaust system for the Dodge Charger, and this time it's the Outlaw cat-back exhaust system.
Flowmaster Outlaw Cat-Back Exhaust System Features:
Scavenger X-pipe for max power and deep exhaust tone
Deep and Aggressive interior and exterior sound

Outlaw mufflers
Made from durable material 409S stainless steel
Limited lifetime warranty
You're probably wondering: "What's the difference between the Flowmaster FlowFX and the Outlaw?" The answer to that is straightforward. The FlowFX sounds mild, while the Outlaw is loud (very loud!).
It's like a comparison between the regular looking kid with normal friends vs. the loud yelling kid who's always full of energy. The Outlaw mufflers exist for racing purposes; that's why it won't hold back its loudness so it can demonstrate how powerful a car the Dodge Charger is.

There's a massive market for Dodge Charger exhaust systems. That's why if you think that it'll be hard for you to find aftermarket parts for your muscle car, don't worry; it won't be.
Just remember that when looking for an excellent performance exhaust system, you have to factor in the sound quality, how durable the exhaust is, its price, and if the exhaust system of your choosing would fit on your car.
Always remember to do your homework first before purchasing a performance exhaust system, especially if it's for a Dodge Charger.