Cold air intakes are one of the banger mods you can get for any car. Sure, there are other performance mods like exhausts, headers, or even superchargers. Still, none of them can really beat the simplicity of an intake system, especially on a car like the Chevrolet Corvette C6. This modification supplies ambient air to the engine, making it burn the fuel much more efficiently – as simple as that.
The Chevrolet Corvette C6 is one of the platforms that respond well to aftermarket performance modifications like an intake system. For starters, the stock intake prevents your engine from receiving the ample amount of air it deserves. It's restrictive, and it definitely needs an upgrade. Aftermarket intakes are important because they provide a more free-flowing passage for the air, making the car breathe a little better than before.
If you've just recently bought a C6 Corvette on stock, or a car enthusiast looking to pimp your ride performance-wise, then intake systems should undoubtedly be on the top of your list. They're cheap, not difficult to get your hands on, and provide some promising benefits that'll make your car perform better. More horsepower and torque, better acceleration, drone elimination, and many more – tempting, right?
Come check out the list of what we think are the best C6 Corvette air intake systems that'll give the best value for your hard-earned money.
#1 Vararam "Snake Charmer" Cold Air Intake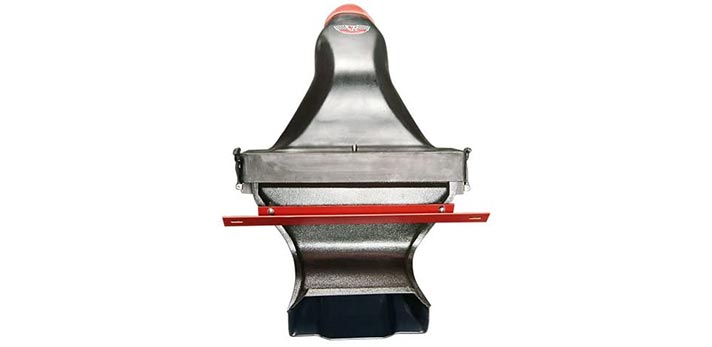 Manufacturer: Vararam Industries
Air Filter: Vararam filter
Performance Gains: +40hp
Vehicle Fitment: Chevrolet Corvette C6 (2005-2007)
If you're familiar with your intake systems, then you probably know that you can only get as much as 20hp to 25hp, or possibly even more. But 40hp? An intake system that can give this much horsepower sure does sound sketchy, like snake oil that won't do you any good. But the Vararam "Snake Charmer" Cold Air Intake begs to differ.
The name of this CAI in itself is pretty cool, but the benefits it can give you are way more remarkable – a street-ready ram-air intake that'll add up to 40hp to your car. Vararama claims that the "Snake Charmer" has an efficiency of over 108% to 123%, depending on the filter being used. These bold statements came from the research and development they've come up with the data they've gathered from 12 of their dedicated race cars.
It's safe to say that this C6 Corvette Vararam intake is no snake oil, but different opinions from previous users would help, right? Check out this forum discussion and decide for yourself.
Vararam "Snake Charmer" Cold Air Intake Features:
Provides up to +40hp
Adds 3.5-4mph to the mile trap speeds
Increases the C6 Corvette's top speed by up to 7-10mph
Claims to outflow K&N filters
#2 Corsa Performance Carbon Fiber Intake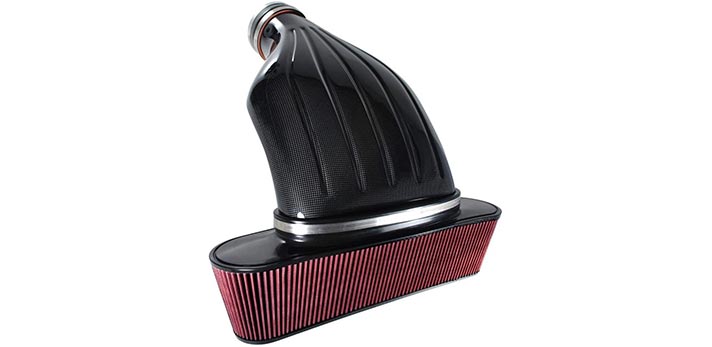 Manufacturer: Corsa Performance
Air Filter: DryTech filter
Performance Gains: 21hp
Vehicle Fitment: Chevrolet Corvette C6 Z06 (2006-2013)
Insulation is an integral factor to consider when it comes to choosing air intake systems. The goal of intakes is to keep the incoming air as cool as possible to burn fuel more efficiently. This element is just one of what the Corsa Performance Carbon Fiber Intake focuses on – to feed the 7.0L LS7 V8 engine with as much cold air as it can take.
As the name suggests, this C6 Corvette Corsa intake is made from carbon fiber. If you're not familiar with carbon fiber, it's an aerospace-grade material used by many performance auto parts manufacturers to deliver superior strength and weight.
So what do you get from this carbon fiber intake system? An extra dose of 21hp and 30lb-ft of torque. On top of that, this intake utilizes the DryTech filter, which far outflows the stock. With this CAI on your car, you can expect noticeable improvements in gas mileage, acceleration, and under-the-hood sound, which is truly exhilarating.
Corsa Performance Carbon Fiber Intake Features:
Provides additional 21hp and 30lb-ft of torque
Utilizes DryTech air filter
100% made from carbon fiber
Comes with a machined MAF mounting bracket
Backed by Corsa Performance Limited 1-Year Warranty
#3 aFe Power Magnum FORCE Stage-2 Performance Intake System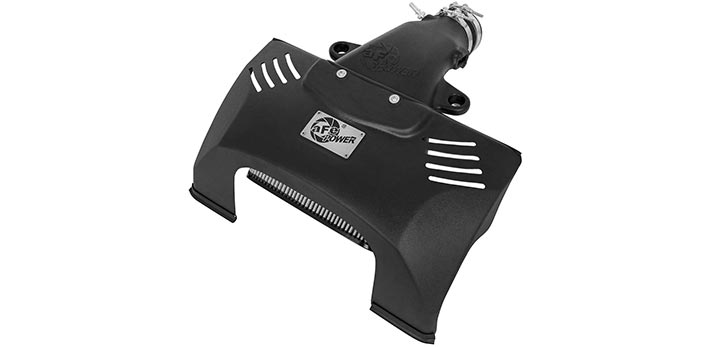 Manufacturer: aFe Power

 

Air Filter: Dry-S Filter
Performance Gains: 22hp
Vehicle Fitment:

Chevrolet Corvette C6 (2008-2013)
Chevrolet Corvette C6 Z06 (2006-2013)
aFe Power has been around for quite some time now, and their intake systems are something to really consider. This sentiment holds true, particularly to the variant made for the C6 Corvette. Behold the aFe Power Magnum FORCE Performance Intake System, a reasonably affordable solution that'll provide you with everything you need from an intake. You want more power? More torque? Something that outflows the stock?
So what the Magnum FORCE can provide you and your 'Vette is a solidly-built intake system capable of delivering an extra 22hp and 19lb-ft torque. That'll come in handy, especially if you want more push on the seats whenever you accelerate. A CAD-designed roto-molded intake tube is responsible for achieving what the Magnum FORCE can do: to supply extra horsepower and provide an impressive fitment.
What's more, the Magnum FORCE makes use of a 5" tall elliptical performance air filter. This filter has 3 layers, which gets progressively finer. On top of that, these layers are all oil-free. This is a convenient solution for car enthusiasts who don't fancy messy oiled filters. Overall, The Magnum FORCE Stage-2 Performance Air Intake System is truly a bang for the buck investment for your lovely C6 Corvette.
aFe Power Magnum FORCE Stage-2 Performance Intake System Features:
5" elliptical Dry-S filter
Uses a CAD-designed roto-molded tube
Comes with a lightweight vacuum plastic cover for air filter protection
Backed by aFe Power 2-Year Warranty
#4 Volant Closed Box Air Intake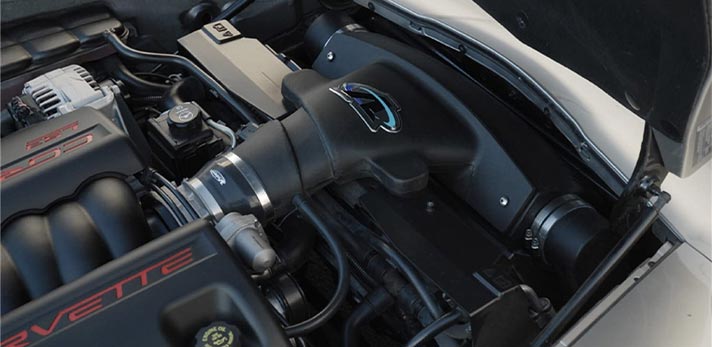 Manufacturer: Volant
Air Filter: Pro 5 filter
Performance Gains: N/A
Vehicle Fitment:

Chevrolet Corvette C6 (2006-2013)
Chevrolet Corvette C6 Z06 (2006-2007)
More oversized intakes usually mean more capacity to deliver air to the engine. Considering that the stock intake is too restrictive to the taste of many car enthusiasts, an extensive air intake system will be a great deal of investment. That is what Volant has in store for the Chevrolet Corvette C6: a large CAI that promises a more free-flowing path for the cold ambient air to the engine. 
The Volant Closed Box Air Intake System makes use of a venturi filter adapter that makes sure that the air will have a smooth transition from the MAF sensor to the intake tube. This means that you get faster volumetric airflow, which the OEM rubber tubing and resonator box can't provide. Aside from that, the whole system is enclosed, so you won't ever have to worry about hot air tampering with the quality of the incoming cold air. 
And also, Volant used an impressive material that's perfect for keeping air cold: XPLE. Cross-linked polyethylene, or more commonly known as XLPE, has excellent moisture and thermal properties. And since the innards of the intake system are enclosed with this material, your car's risk of hydrolocking is significantly lower. It's an ideal fail-safe measure just in case you have to drive over puddles or damp areas around your neighborhood.
Volant Closed Box Air Intake Features: 
Utilizes the Pro 5 filter
Made from XLPE (Crosslinked Polyethylene)
Comes with an easily accessible insulated lid
Comes with high-temp silicone connectors
Backed by Volant Lifetime Warranty
#5 K&N AirCharger Cold Air Intake Kit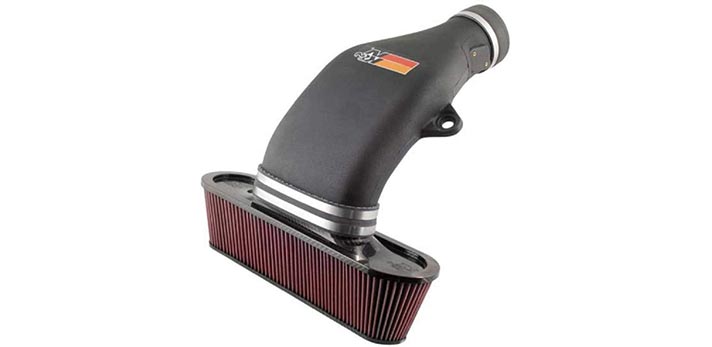 Manufacturer: K&N Engineering
Air Filter: K&N filter
Performance Gains: 27.22hp
Vehicle Fitment: Chevrolet Corvette C6 Z06 (2006-2009)
Since we're talking about intake systems, we've included the most popular air intake and air filter manufacturer of them all: K&N Engineering, better known as K&N. They're celebrated for making some of the most reliable air filters known to man in the 20th century. Their intake systems are notable too. This time, we'll discuss the AirCharger.
So what's the K&N AirCharger Cold Air Intake System? It's K&N Engineering's proposition to make your car a bit more powerful and capable of accepting more cold air, which the engine adores, aside from premium gasoline and some good o'l maintenance. With this intake system on, you can get as much as 27.22hp, which is not too bad if you think about it.
On top of that, this C6 Corvette K&N Intake also comes with K&N's world-famous cotton gauze filters. These filters last up to 100,000 miles before cleaning is required. So if you want something low-maintenance, reliable, and will give you decent horsepower ratings, then this intake system is definitely the one for you.
K&N AirCharger Cold Air Intake Kit Features:
Guaranteed horsepower gain of up to 27.22hp
Utilizes a free-flowing carbon fiber intake tubing
Filters last up to 100,000 miles before maintenance is required
Specially designed to provide better engine sound and improved throttle response
Backed by K&N Million Mile Limited Warranty
And there you have it! These are what we think are the best intake systems you can fit into your Chevrolet Corvette C6. Our selection was based on the opinions of C6 Corvette owners as well as product reviews. Of course, there are other intake systems out there that might cater to your tastes. If you think so, let us know down below!