The Jeep Wrangler is the ultimate off-road machine. They're tough, have lots of suspension articulation, and will go nearly anywhere you want. After you install a lift kit, larger tires, and maybe some lockers, it may be time for aftermarket lighting.
If you live in the desert like we do, you probably prefer off-roading at night time. Off-roading at night time without an LED light bar can not only be obnoxious, but it can also be very dangerous.
There are countless different options for aftermarket lights, making it difficult to decide what's right for you. In this short guide, we will cover the best LED light bars for your Jeep Wrangler.
We'll cover everything from YJ, TJ, and JK/JL. We will also cover the best LED light bar brackets and best LED headlights.
Best Roof Mounted Light Bars for Jeep Wrangler
Roof mounted light bars help eliminate shadows on the trail, and they look awesome. If you haven't noticed, Jeeps Wrangler use straight windshields. This means using a curved light bar will look somewhat out of place.
For this reason, we will focus on straight LED light bars, which is what you'll see on the majority of Wrangler. You can use a curved LED light bar if you really want to, but it'll look very strange.
If you use the brackets that come with your new light bar you must drill holes in your roof/windshield frame. This will majorly damage your roof or windshield frame.
Because of this, we're going to focus on LED light bars you can get vehicle specific brackets for. With proper brackets, you won't have to drill into your roof and you'll have a much cleaner looking setup.
#1 Rigid Industries 50" E-Series Midnight Edition

We absolutely love Rigid Industries products. Not only will they outshine every other product out there, but they're also tough. Unfortunately, Rigid Industries products are expensive and for many Jeep owners, the price outweighs the benefit. If you're looking for something for budget friendly, we've listed much cheaper options below.
The 50" E-Series puts out an impressive 23,000 lumens at 275W. We chose the midnight version of the E-Series because the blacked out look if much more stealthy than the standard chrome version.
One of the best features of any Rigid Industries light bar is the superb beam pattern. The focused projectors really put the light on the trail instead of letting it spill where you don't need it.
On top of the superb beam pattern, this light bar is dust, water, and shockproof so you won't have to worry about it breaking on you. Plus, if you break it, it's covered by a lifetime warranty!


Warranty: Lifetime
Power: 275W
Output: 23,000 lumens
#2 Rigid Industries 50" SR-Series Midnight Edition

One of the great things about straight LED light bars, is how good they look in a single stack form. A single stack light bar will also create less drag, resulting in better fuel economy compared to a standard double stack LED light bar.
If you're regularly going on long trips, the additional fuel savings can add up to a significant mount. This light bar outputs 18,750 lumens at 200W, which is less than the full-size E-Series listed above.
Just like every other Rigid Industries product, this 50" SR-Series is water, dust, and shockproof so you won't have to worry about it failing on you. If you can break it, it's covered by a lifetime warranty.
If you want a high-quality Rigid Industries product but don't want to spend insane amounts of money, this light bar is for you. It's cheaper than the full-sized E-Series light bars.


Warranty: Lifetime
Power: 200W
Output: 18,750 lumens
#3 Rough Country 50" Black Series (Editor's Choice)

Although we absolutely love Rigid Industries' products, we know how hard they can hurt your wallet. We think this 50" Black Series from Rough Country is the best bang for buck LED light bar for Jeep Wrangler.
t outputs an impressive 23,040 lumens at 288W, which is just as much as the E-Series, except at a much lower cost! It's also water and dust resistant with its IP67 rating. Unfortunately, it only has a 3-year warranty compared to Rigid's lifetime warranty.
We chose the Black Series because of it's stealthy and sinister looking, but you can also purchase this light in the standard version if that's your style. If you're on a budget, but still want an LED light bar with decent quality, this is the one for you.
Although you can get a cheaper light bar, we wouldn't really recommend it. This LED light bar is the perfect balance between quality and price.


Warranty: 3 Years
Power: 288W
Output: 23,040 lumens
#4 Auxbeam 50" Philips

Last, but not least is the Auxbeam 50" Philips. We've used Auxbeam product in the past with great success, but they don't have the best build quality. If you're on a very tight budget, Auxbeam definitely offers the best product out there.
We chose the Philips light bar because of its high powered LEDs and decent "pencil beam" projectors. This light bar outputs an approximate 48,000 lumens (questionable) and 480W. It's likely that the lumen count is just an estimation and far from the real light output.
This is a budget-minded product, so it unfortunately only has a 1-year warranty. If you're on a tight budget but still want an awesome light bar, this is the one. Just know that the lower cost will bring slightly lower build quality.


Warranty: 1 Year
Power: 480W
Output: Approximately 48,000 lumens (Questionable)
Rough Country Jeep Wrangler Brackets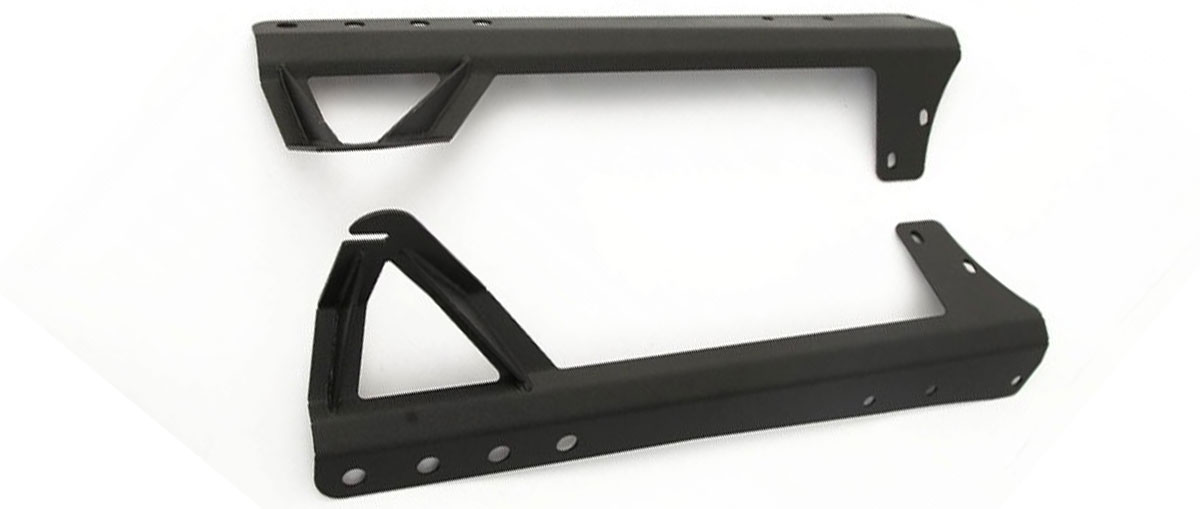 Like we mentioned above, you must also purchase vehicle specific brackets for your new LED light bar. Rough Country makes excellent brackets we've used in the past and loved. They design these specific brackets for TJ Wranglers, but they also make brackets for YJ Wranglers, JK Wranglers, and the latest JL Wrangler.
They make their brackets from high-quality steel so you won't have to worry about them bending or breaking with use.
They even make brackets that will allow you to run multiple 50" or larger light bars above your windshield. These utilize the factory bolts in your windshield frame, so there is no drilling or custom worked requires in mounting the brackets.


Best Hood Mounted LED Light Bars for Jeep Wrangler
One of the cool things about Jeep Wrangler is how easily you can run a hood-mounted LED light bar. We're not massive fans of how they splash light onto the hood, but we love how they look.
#1 Rigid Industries 20" E-Series Midnight Edition

Unfortunately, hood mounted LED light bars will light up your hood. Without a tight beam to focus the light forwards, some of it will inevitably splash on the hood. We featured a Rigid Industries light with a tight beam pattern to decrease the amount of light the hits the hood.
We also picked a Rigid Industries product because we love high-quality parts. To keep the look stealthy, we're featuring the Midnight Edition which uses a blacked out design.
This light bar outputs an impressive 9,200 lumens at 110W. Just like other Rigid products, this one is water, dust and shock proof. This is important since your hood will probably vibrate more than your roof since it's mounted on a hinge.
Plus, if you can break this light bar, you'll have a nice lifetime warranty to back you up.


Warranty: Lifetime
Power: 110W
Output: 9,200 lumens
#2 Auxbeam 22" RGB

Although we're not massive fans of RGB light bars because they're kind of gimmicky, we know a lot of Jeep owners love them. For that reason, we picked this 22" Philips RGB light bar.
Not only does it feature RGB accent lighting, it also features nice Philips LEDs, and it outputs an impressive 12,000 lumens at 120W. It's a less budget-oriented than some other Auxbeam products, but it's still relatively cheap, especially when compared to a Rigid Industries LED light bar.


Warranty: 1 Year
Power: 120W
Output: Approximately 12,000 lumens (Questionable)
Features: Full RGB
Rigid Industries 20" Straight Brackets
Funny enough, these brackets from Rigid and the brackets from Auxbeam share a nearly identical design. They design these brackets for a 20" E-Series light bar but should fit any standard 20" straight LED light bar.
Just like the Auxbeam brackets, they design these to mount directly to your hood. They construct the brackets from high strength steel and powder coated black to match the powder coating of a Rigid Industries light bar.


If you're still unsure about what LED light bars you should buy, check out our full Light Bar Buying Guide
Can I Install a Curved LED Light Bar on my Wrangler?
In case you didn't already know, the Wrangler has a flat windshield. Most trucks or SUVs have of a curve on the windshield. This helps improve efficiency by reducing drag and also helps minimize rock chips.
Earlier we mentioned that most Wrangler owners buy straight LED light bars to match the straight design of the windshield.
The problem is, straight light bars provide a narrow beam of light. This is great if you plan on driving fast in the desert, but Jeeps aren't good at going fast. A curved LED light bar provides a wide beam, which is great for simple trail riding.
Can you put a curved LED light bar on a Wrangler? Yes, but it will probably look out of place.