For the past decade, affordable and sporty sedans have always been consistently in demand. In a world where cars like the Honda Civic Si and Hyundai Elantra saturate the market, there exists a notable player that is as equally as impressive too, albeit less popular: the Nissan Sentra B15 SE-R.
It's a reliable and practical compact sedan that works well as a daily driver and a project car. And although it wasn't as popular as its competitors, seasoned car enthusiasts would generally agree that the car is not only a decent car, to begin with, but it's also an excellent lego car to tinker with.
An underrated car such as the Sentra B15 SE-R, particularly the Spec V, is undoubtedly an impressive platform for modification. With some upgrades such as intakes and exhausts, you'll see how well this car can bring you to a level of fun that you've never experienced in your life as a car enthusiast.
Sure, it's almost two decades old, but it can still drive like crazy, once fitted with the proper aftermarket performance modifications.
If you own a Nissan Sentra B15 SE-R or a Spec V trim, and you're wondering what the best performance modifications you can get for it are, then you're in for a treat. Come check out the list of what we think are the best bang-for-the-buck mods for your car.
Performance Mods
The correct performance modifications can boost a car's performance ratings up a notch. Some can give you a decent increase in horsepower and torque, while others can tremendously help the car handle.
The list below consists of the general performance upgrades that can drastically improve the performance of your Sentra B15 SE-R Spec-v.
#1 Cold Air Intakes
If you want the easiest way to introduce some helpful horsepower and torque to your car, then you should grab yourself some cold air intakes. They're usually picked because of the amount of power it provides to the vehicle.
An excellent cold air intake system can give you around 5 to 10hp, but the performance-oriented ones can offer you more. Sure enough, you can make an intake system yourself using some tools, parts, and filters, but it can only give you as much horsepower depending on how well you've created your DIY intake.
What intake systems do to your car is it gives it a much more free-flowing pathway for the air to get into the engine. The stock intake could only do as much, as it's too restrictive for the taste of many enthusiasts.
Its air filters are long due for an upgrade, too, considering how old the B15 SE-R Spec V is. A non-restrictive airflow combined with some innovative air filters that can siphon the smallest of debris doesn't seem half as bad, don't you think?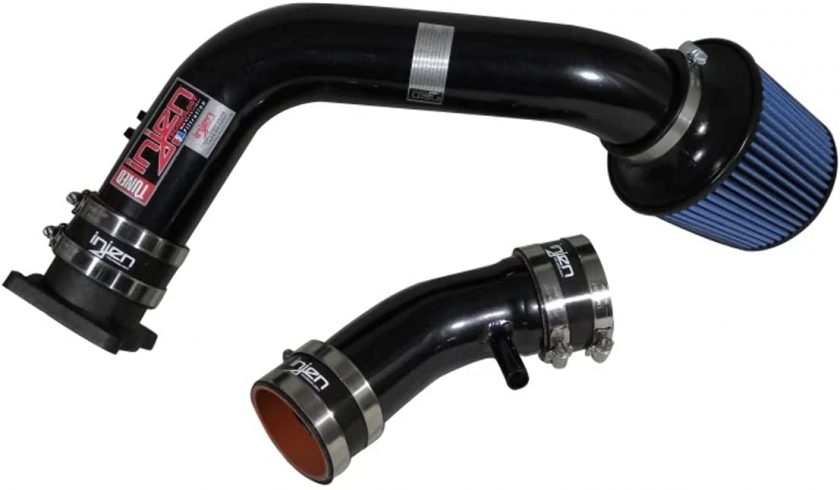 Manufacturer: Injen Technology
Part Number: RD1966BLK
Horsepower Gains: 7hp and 7lb-ft of torque
Vehicle Fitment: Nissan Sentra SE-R (2002-2006) – Nissan Sentra SE-R Spec V (2002-2006)
The RD Cold Air Intake System is an easy way to add horsepower and torque to your car. With this intake, you can get up to 7hp and 7lb-ft of torque for a relatively low price.
It consists of an intake tubing made from 6061-T6 aluminum matched to a fully serviceable air filter dubbed the SuperNano-Web dry air filter. Installing it won't require you any additional tuning, as it provides power while maintaining the optimal air-fuel ratios your car needs to operate.
#2 Exhaust Systems
Now, we can all agree as car enthusiasts that our cars should sound eargasmic, or at least decent enough to grab the attention of passers-by. It doesn't have to be obnoxiously loud; as long as it is deep, rich, and aggressive, then we're satisfied.
Some would like their cars to sound like a V8-powered Chevy Camaro, and that's okay too! Whatever your preference is regarding how you want your car to sound, everything will fall down to what kind of exhaust system you have.
The exhaust system is not only accountable for how your car sounds, but it's also responsible for guiding the exhaust gasses made from fuel combustion out of the engine. Most aftermarket exhaust systems can reduce the backpressure, thus boosting your engine's performance.
The improved sound quality is just a bonus, but to be honest, it's the most prevailing reason why many car enthusiasts would even want to get their hands on an aftermarket exhaust system.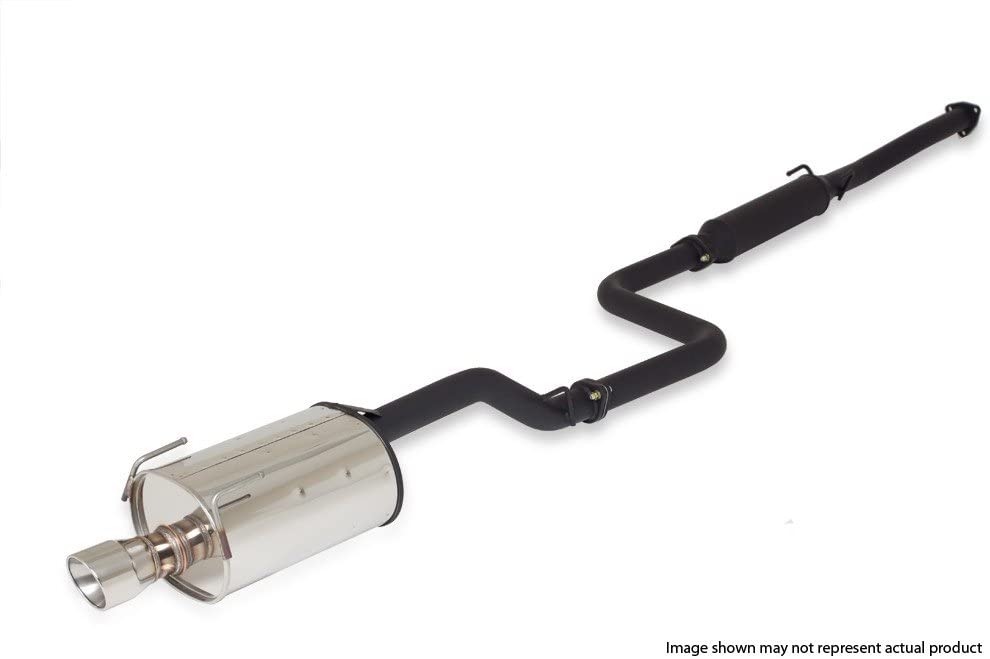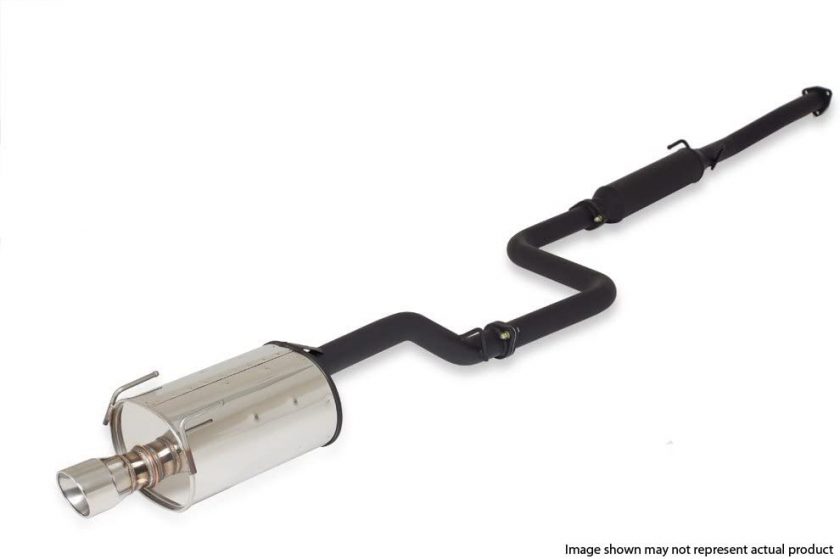 Manufacturer: APEXi
Part Number: RD1966BLK
Vehicle Fitment: Nissan Sentra SE-R Spec V (2002-2006)
There are exhaust systems out there that sound great but are so loud that you're going to risk yourself getting stopped by the police, and we don't want that. Avoiding that kind of attention is what the APEXi WSII Exhaust System is good at.
With this upgrade on your car, you're only going to get good engagement, mostly from other car enthusiasts complimenting how good your vehicle sounds.
It's got a design specifically made to deliver impressive low and mid-range power without emitting any excessive noise. Plus, it's got a sporty yet elegant look that'll improve the overall aesthetics of your car.
#3 Performance Headers
Another easy bolt-on solution for your performance needs are aftermarket headers. The main objective of headers is to assist the engine in pushing all of the exhaust gasses out of the cylinders more efficiently.
Many car enthusiasts are big fans of headers because the exhaust gas flow rate it offers is much better than what the OEM exhaust manifolds can do.
Manufacturers design their manifolds with the intention of taking up as little space as possible, with performance characteristics being pushed off to the side. And as an enthusiast that wants more power, you know that the idea isn't a good one in any shape or form.
In the case of headers, you can actually buy some from eBay if you want to, especially if you're just using your Nissan Sentra B15 SE-R or Spec V as a daily driver. Most people who used or are currently using eBay headers don't seem to have any problems with it at all.
However, if you want some sort of assurance and you want real performance gains (and budget is not a problem), then you should definitely go shop for some quality headers from a reputable brand.
#4 Turbo Kit
While the performance gains that intakes, exhausts, and headers provide are great, they're usually not enough for people who are looking for some serious amount of boost.
Often, these same people would buy those three mods and then match them with a turbo kit of their choice. Generally, turbos are the gateway to the over-the-top power and acceleration most car enthusiasts want for their vehicles – and the Nissan Sentra SE-R Spec V is not an exception.
Turbochargers are the no-brainer way of getting that excessive amount of horsepower to that naturally-aspirated QR25DE engine living under your car's hood.
Turbochargers are forced induction devices that force compressed air into the combustion chambers. It can drastically improve your engine's efficiency and as well as increase its performance.
A good turbo kit can rack up to 70-150 horsepower, but you can further maximize that power by matching it with other upgrades like performance intakes, exhausts, headers, and of course, an ECU tune.
RECOMMENDATION: 2J Racing B15 Treadstone Turbo Kit
Manufacturer: 2J Racing
Vehicle Fitment: Nissan Sentra B15 SE-R Spec V (2002-2006)
2J Racing has a special turbo kit explicitly made for the Nissan Sentra B15 SE-R Spec V: the B15 Treadstone Turbo Kit. This kit makes use of 6061 aluminum charge piping, a 304 stainless steel downpipe, some aerospace-grade aluminum fittings, and other exemplary components that'll go well with your car.
What's more, they'll offer you some tuning options like SAFC delete, SAFC NEO, UpRev/Osirus Flash, and UpRev/Osirus Flash with SAFC NEO delete.
Most importantly, they're cheaper than most turbo kits out there. So if you want some affordable yet top-tier quality turbo kit, then the 2J Racing B15 Treadstone Turbo Kit is for you.
#5 Suspension Mods
Performance mods don't always have to be about engine upgrades; the suspension needs some love too! Upgrading your suspension is the key to making your car handle better in various driving conditions.
Not to mention how it can lower your car to make it look more aggressive.
Whether you use your car as a daily driver or as a track weapon, a suspension upgrade is an investment that can significantly improve your car's driving quality and make the ride more appealing, convenient, and comfortable.
Lowering Springs
Any car would look ten times better when it has a lowered stance. The good ol' Nissan Sentra B15 SE-R or the Spec V is not an exception. That's why many would grab the opportunity of slamming it to the ground whenever they can.
A lowered vehicle doesn't only look impeccable, but it also sports some valuable benefits because of its newfound lowered center of gravity. With the right amount of ride height reduction, a vehicle with a lowered suspension can have much better handling, better gas mileage, and many more benefits that any car enthusiast would love.
Among the best options to consider when performing such tasks are lowering springs. As the name suggests, it's a bunch of springs designed to lower a car by a few inches. Its simplicity, straightforwardness, and affordability are why many people opt for this choice instead of any other alternative.
If you want to lower your vehicle for the sole purpose of making it look good without expecting obvious changes with the handling, then lowering springs is definitely the upgrade for you.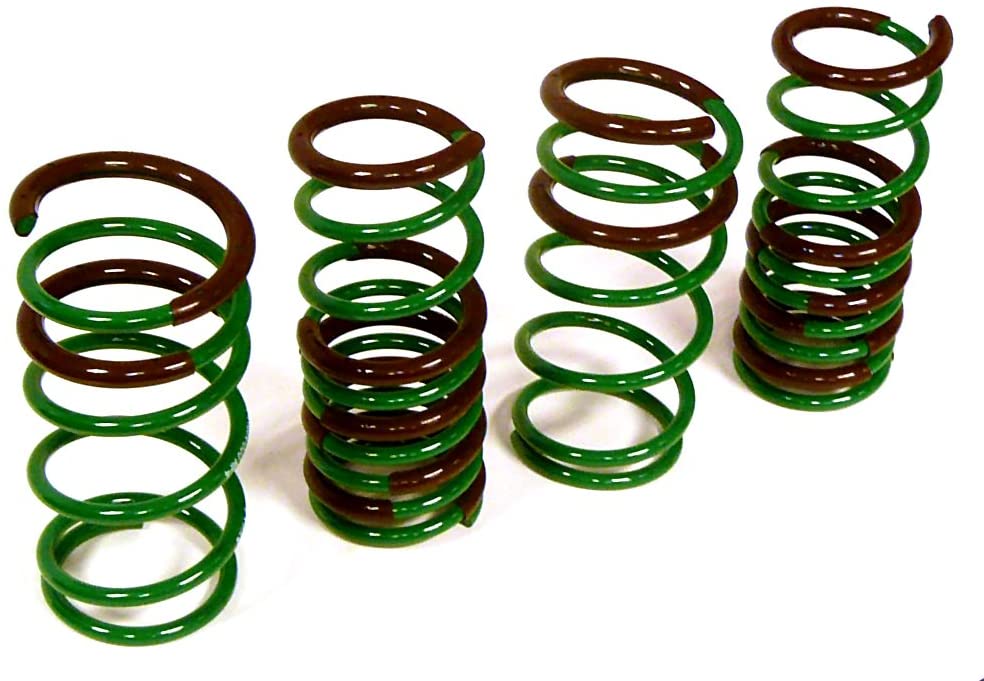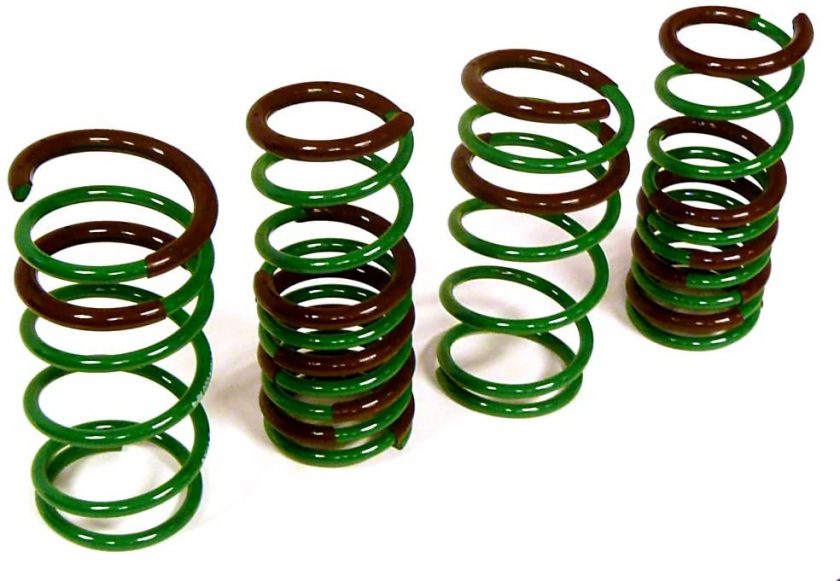 Manufacturer: Tein
Part Number: SKP02-AUB00
Ride Height Reduction: 1.5"
Vehicle Fitment: Nissan Sentra B15 SE-R Spec V (2002-2006)
When it comes to JDMs, only a few manufacturers can beat the type of suspension upgrades Tein has in their selections. For the B15 SE-R and Spec V, Tein has the S.Tech Spring Kit, a set of lowering springs guaranteed to give SE-R owners like you a car that has a more aggressive stance and improved road holding capability.
It's made from chrome vanadium, a material known for its resistance to sagging. This set of lowering springs can lower your car by up to 1.5", giving it a predatory posture suited for such a conservative yet sporty vehicle like the Nissan Sentra B15 SE-R Spec V.
In addition to that, it comes with a green powder-coating finish, which adds more points to the car's aesthetics.
Coilovers
Coilovers are derived from the term "coil over shocks". They can simultaneously lower your car's center of gravity and improve its handling. Unlike lowering springs that are only used to lower a vehicle, coilovers offer adjustability, both for the ride height and the compression/damper settings.
This feature is what attracts most car enthusiasts who are looking for a more customizable suspension setup.
There's just a lot of good reasons why coilovers on a Nissan Sentra B15 SE-R Spec V are so great. You can experience better handling, for starters, which will come in handy when you have to drive on roads that'll require cornering and going through sharp turns.
Adjustability, as mentioned earlier, is available in most coilovers too. A custom suspension that can alleviate the pain of harsh cornering is a good investment in the long run.
Coilovers can give you some level of prestige too. Telling your gearhead friends that you've got some rad coilovers installed on your car would probably gain you some compliments.
Coilovers, in general, are helpful aftermarket modifications, and having one on your car signifies that you're taking your project car pretty seriously (and not planning to just leave it in the garage to rust).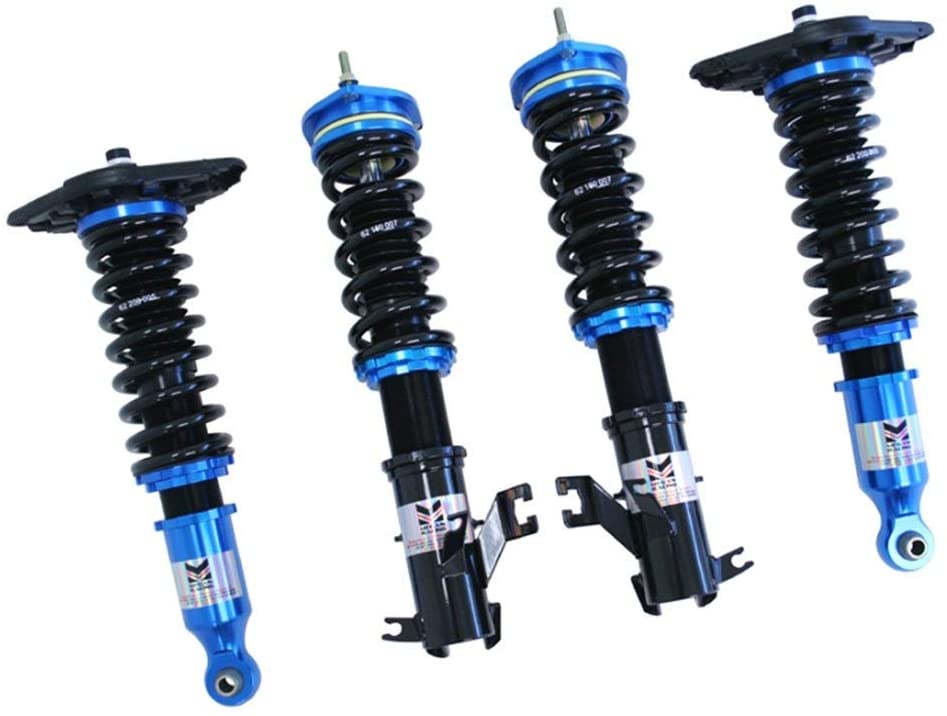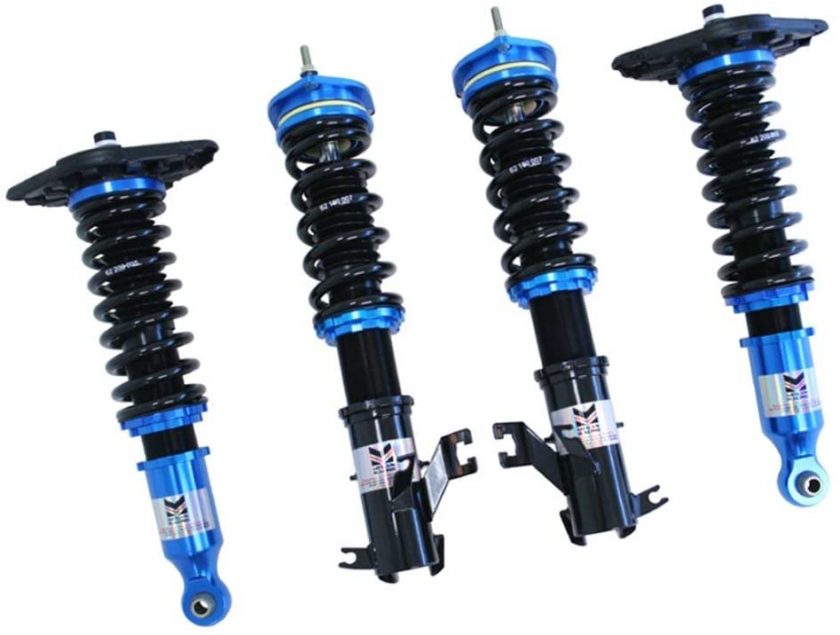 Manufacturer: Megan Racing
Part Number: MR-CDK-NS02-EZII
Spring Rate (F/R, lb/in): 392/280
Vehicle Fitment: Nissan Sentra B15 SE-R (2002-2006) – Nissan Sentra B15 SE-R Spec V (2002-2006)
If you're new to coilovers and you just want something decent to pimp your suspension without boring a hole in your pocket, then you should check out the Megan Racing EZII Series Coilover Kit.
Pricewise, it's pretty affordable, especially for budget-oriented enthusiasts who're just looking for a basic coilover setup.
Yes, it may be cheap, but don't underestimate it! You can use it for daily driving as well as spirited driving. Ride height is adjustable, and you can configure the damper strength by 15 levels.
It also has some conservative spring rates, which won't severely affect your car's ride quality as much.
Sway Bars
We can all agree that body rolls can be a real pain. Body roll is a phenomenon where the weight is transferred unevenly to the side of a car whenever you corner. For example, when you hard turn your vehicle to the left, your own body is thrown to the right, and vice versa.
This is a big issue, especially if you're transforming your car into a track machine. To combat such a problem, many car enthusiasts would get their hands on some sway bars.
Depending on their stiffness, sway bars act as a deterrent to the centrifugal force that causes body roll. They connect a side of the suspension to the opposite side, with the attachment spots usually located right on the lower part of the A-arms and the chassis.
The right sway bar will reduce your car's body roll just directly. In addition, it will dramatically improve its handling, which is a massive gain for most people.
Recommendation: Progress Rear Sway Bar
Manufacturer: Progress
Part Number: 62.1511
Vehicle Fitment: Nissan Sentra B15 SE-R (2000-2006) – Nissan Sentra B15 SE-R Spec V (2000-2006)
By minimizing the body lean your car experiences, the Progress Sway Bar can dramatically improve your car's handling. It's sport-tuned and replaces the thin stock bars and rubber bushings with a bar with a larger diameter and bushings made from polyurethane.
Equipped with the right stiffness for the Nissan Sentra B15 SE-R and Spec V, it can drastically reduce the body lean your car will experience. Overall, the Progress Rear Sway Bar will provide you with more grip and a higher degree of control.
Miscellaneous Performance Mods
Some mods aren't generally necessary, but for the sake of peak performance, you'd need. These miscellaneous performance mods have their own parts to play in reshaping your car into something more capable of performance-oriented driving.
Pulley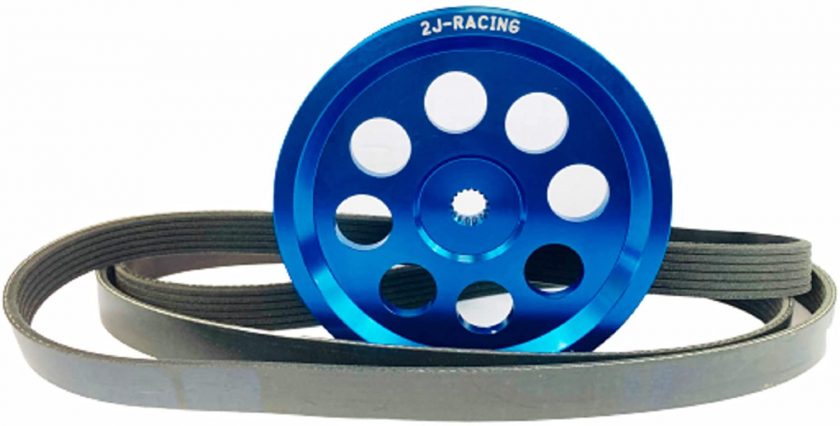 Pulleys are one of the oldest machines mankind created to radically simplify lifting heavy objects. In a nutshell, a pulley is just an apparatus composed of a wheel, an axle, and a rope (or any kind of strap, as long as it's strong enough to carry the load.)
It's used to ease lifting loads, with only a fraction of the initially needed force to be applied.
In the case of cars, pulleys are slightly different. Cars use them to transmit power from one point to the engine and to another point. It's much better than chains or a pile of gears because they're lighter and far quieter.
Upgrading your car's pulley will significantly increase your engine's output. This is because the horsepower needed to draw the engine's accessories is decreased and slowed down.
Clutch Kits
Clutches are one of those parts that wouldn't immediately pop into mind whenever you're modifying your car. Nevertheless, it still serves a critical function in transferring power from the engine to the wheels.
Considering that the Nissan Sentra B15 SE-R Spec V has a few years on its name, it's high time that you get its clutch upgraded.
There are a few good reasons why you should upgrade your clutch.
The first is heat management. You see, whenever a clutch disengages and re-engages, a decent amount of friction is produced as the clutch components take care of mismatched speed, which inevitably results in the production of heat.
A high-performance clutch can take on the heat produced by friction, as it's usually made from materials that have excellent heat resistance properties. The metallic and ceramic compounds used in these clutches have a higher coefficient of friction than the OEM.
The second is more friction. You may ask: "Hey, didn't you say too much friction in the clutches produces too much heat?" Well, you're right! However, more friction also means that the torque transfer is quicker at lighter clamping forces.
The caveat with high-performance clutches, however, is it makes driveability less pleasing. But don't worry; most clutch designers these days have done such a tremendous job of making clutches that are incredibly livable.
Camshaft Upgrade
Upgrading into performance camshafts isn't advisable for people who use their cars as daily drivers. However, if you're seeking performance and are working on your lego car for the ultimate performance limit testing, then yes, a camshaft upgrade is for you.
A performance-oriented camshaft is indeed a great way to gain access to extra power and torque. It's usually the next step after installing an intake and exhaust system. The stock camshaft present in your car was designed by its manufacturer for standard driving conditions.
It doesn't really put into mind the car speeding like a track demon.
Performance cams work by increasing the timing and duration of the valve openings on an engine stroke. By installing one on your car, you're bound to get increased horsepower and as well as more torque.
Summary
There's just a lot of ways you can further improve the performance of your Nissan Sentra B15 SE-R Spec V. If you want more horsepower and torque, you can get your hands on some intake, exhausts, headers, or even turbochargers.
Components like lowering springs, coilovers, and sway bars can reconfigure your suspension so you can experience benefits like lowered center of gravity and better handling. Some modifications can also bolster your car's operations, such as pulleys, clutch kits, and a camshaft upgrade.