Even after almost two decades since its initial release, the Nissan Sentra SE-R Spec V still continues to be a decent platform for modification.O
vershadowed by its competitors back in its glory days, the car, for some reason, has caught the eyes of present-day car enthusiasts who are looking for a Japanese project car.
And frequently, these enthusiasts would prioritize lowering the car's suspension using aftermarket components like the SE-R Spec V coilovers available in the aftermarket.
Lowering a vehicle can be achieved using various means. Some options like lowering springs are capable enough to get the job done, but they lack what most drivers want to begin with: suspension tuning freedom.
Most coilovers these days offer both damping and ride height adjustability for a reasonable price. These features are enticing for drivers who want more control over their car's handling and posture.
Some coilovers are cheap, while others are far more expensive than usual. Whatever the price may be, car enthusiasts are often gifted with the tuning freedom they won't ever get from other suspension mods like lowering springs.
If you own a Nissan Sentra SE-R Spec V and you're having a difficult time finding the best coilovers for your car, then this is your lucky day. To help you out, we decided to scour the depths of the interwebs to give you a list of the best 2002 to 2004 Nissan Sentra SE-R Spec V coilovers you can get your hands on.
The coilovers in the list below vary in price, spring rates, construction, and build quality. Check them out!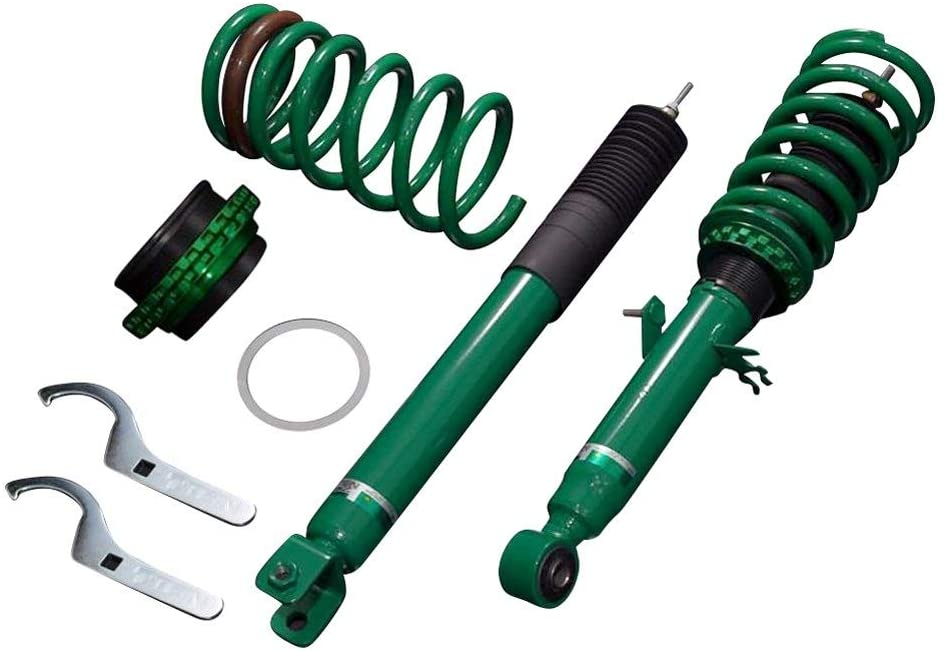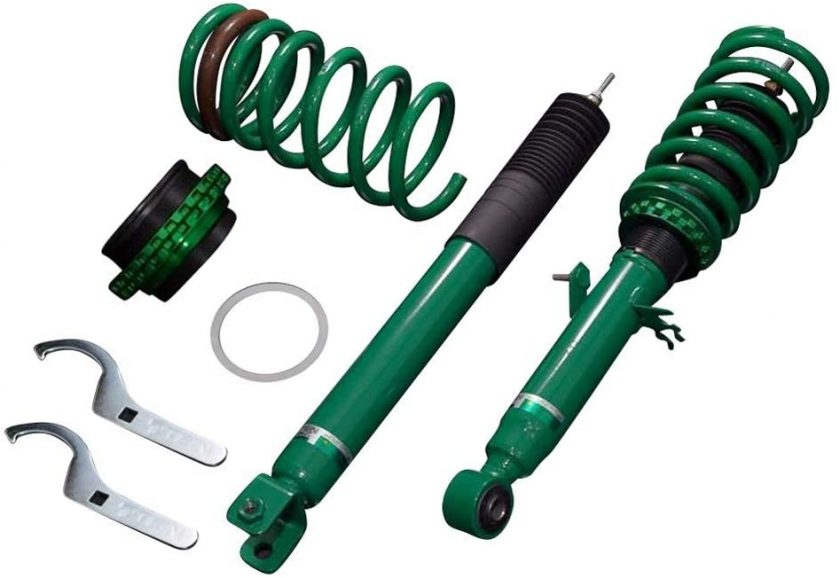 Manufacturer: Tein
Part Number: GSP02-8USS2
Spring Rate (F/R, lb/in): 336/280
Vehicle Fitment: Nissan Sentra SE-R Spec V (2002-2006)
If you're familiar with aftermarket suspensions, then you may already be familiar with Tein. They been delivering high-quality coilovers for Japanese car enthusiasts for many years now.
And they've got the Street Basis Z for the SE-R Spec V. It's a great starter coilovers for drivers who want a decently lowered vehicle without boring large holes in their pockets. Saying that these coilovers are decent is an understatement. For its price, you can get more than what you pay for.
The Street Basis Z is by far the most affordable entry-level coilovers you can get from Tein. It utilizes a twin-tube design that accomplishes longer strokes with minimal repulsive force, which translates to a decent level of driving comfort.
And also, the shock absorber these coilovers uses have copious strokes that operate pretty smoothly. Because of Tein's innovation with their shocks, you can steadily go over gaps and bumps on rough roads.
There are many more awesome features present in this car, like the use of no-sag springs, shock oil with stable viscosity, and many more. You may already be enticed with such an affordable bargain, but there's a catch.
The caveat with the Street Basis Z coilovers is you can only adjust the ride height and not the damping settings. All the Street Basis Z is control over your car's height. Not to mention that you'd need to use the OEM mounts for its installation.
The Tein Street Basis Z is a great starter kit for those who want to experience some improvement over their car's handling while controlling how low or how high you want its height to be.
Tein Street Basis Z Coilover Kit Features:
Thread-type ride height adjustment
Twin-tube construction
Uses OEM mounts
Uses high-performance damping oil
Unique ZT Coating Surface Treatment
Compatible with EDFC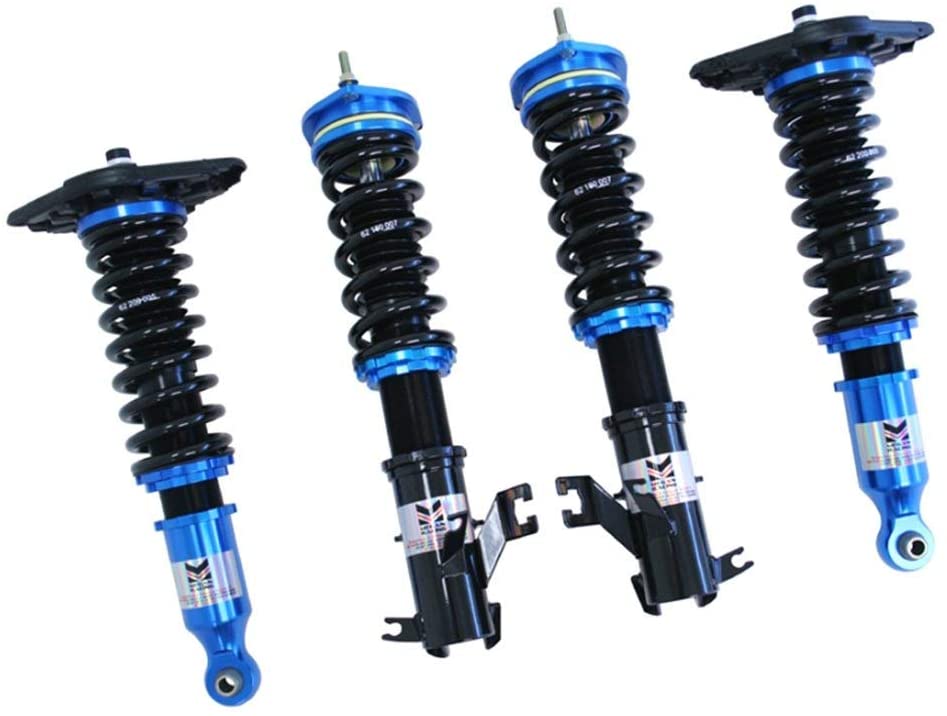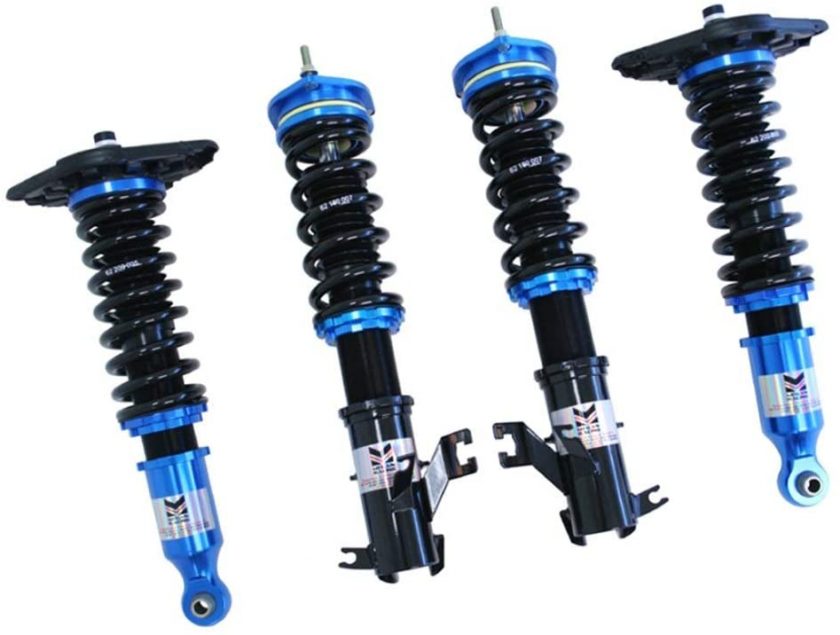 Manufacturer: Megan Racing
Part Number: MR-CDK-NS02-EZII
Spring Rate (F/R, lb/in): 392/280
Vehicle Fitment: Nissan Sentra SE-R Spec V (2002-2006)
The caveat with coilovers, though, is that they make daily driving a nightmare. They usually make your ride super stiff and highly uncomfortable. However, before the thought of grabbing some coilovers for your car turns you off, you might want to take a look at Megan Racing's EZ II Series coilovers first.
These coilovers, according to its users in the community, are impressive enough for daily driving, as they're not too stiff.
So what does the Megan Racing EZ II Series coilovers can bring to the table? Some superb experience while driving daily on the streets and a memorable time on the track during the weekends. It's got pretty conservative spring rates and can give you impressive handling, even on chaotic streets.
On top of that, it can lower your car decently, giving it a nice aggressive lowered look without sacrificing handling and ride quality.
And if you're worried about damping, then don't. You can adjust the damper strength of these coilovers by 15 levels, depending on your preference. The ride height is adjustable too! What's more, it also includes all of the miscellaneous parts necessary for installation.
These SE-R Spec V coilovers are genuinely made for budget-oriented enthusiasts who want to play around the fine line between quality and performance.
Megan Racing EZ II Series Coilover Kit Features:
Damper strength is adjustable by 15 levels.
Comes with aluminum brackets mated with rubber inserts
Ride height is adjustable
Spring rates are conservative
Good for daily driving
Monotube design
All hardware necessary for installation is included
Backed by Megan Racing 1-Year Warranty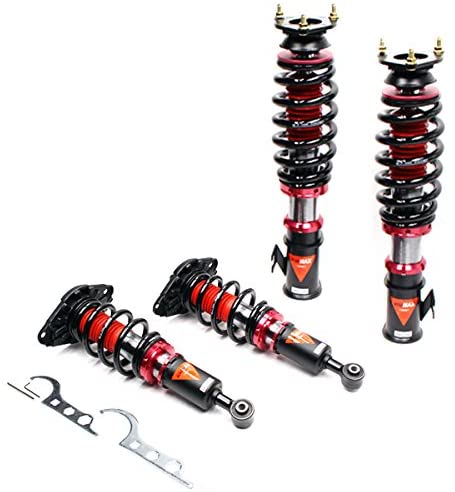 Manufacturer: Godspeed Project
Part Number: MMX2980
Spring Rate (F/R, lb/in): 448/308
Vehicle Fitment: Nissan Sentra SE-R Spec V (2002-2006)
Sometimes, the veil between daily driving and track duty can be too thick. The temptation to modify your car into a track monster while foregoing its street driving capabilities is something difficult to resist. But what if you can find the middle ground between them?
Just like the previous suspension upgrade, we've got a daily-driving friendly set of coilovers. But this time, it's more capable of turning your car into a serial track behemoth.
The coilover kit we're talking about is the Godspeed MonoMAX Coilover Kit. It's a suspension upgrade that can offer you a wide range of damping adjustability while not hurting its ability to drive easily on the streets.
You can alter its adjustable dampers within 40 levels, from soft to firm. Plus, the spring pre-load adjustments are independent of each other, making suspension tuning more refined.
Perhaps the best feature of this coilover kit, aside from its adjustment capabilities, is its construction. The monotube design integrated into these coilovers offers far superior damping compared to its twin-tube counterpart
The shock body is made from carbon steel for extra strength, while its components are made from aluminum for some serious weight reduction.
Add to that the fact that these coilovers use shock oil with a high viscosity index for consistent shock performance and road feel.
Godspeed MonoMAX Coilover Kit Features:
Damper strength is adjustable by 40 levels
Uses 52mm anodized shock body made from carbon steel
Utilizes aluminum shock components for significant weight reduction
Uses shock oil with high viscosity index
Backed by Godspeed Project 1-Year Warranty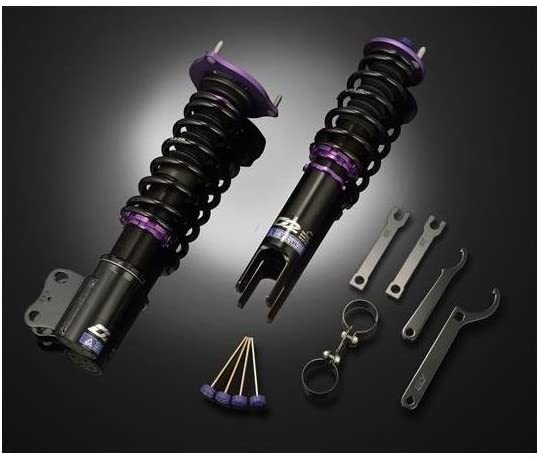 Manufacturer: D2 Racing
Part Number: D-NI-30-RS
Spring Rate (F/R, lb/in): Custom
Vehicle Fitment: Nissan Sentra SE-R Spec V (2002-2006)
The RS Series Coilover Kit is D2 Racing's most popular coilover package for a reason. Spec V owners usually pick this kit up because it offers them a higher tier of upgradability compared to the typical coilovers provided in the market today.
At first, it may look like a standard coilover kit, but wait until you see what it's capable of, especially the upgradability we're so eager to talk about.
These coilovers can offer you fine-tuning in the damping strength department by around 36 different levels. The shock body and its components are made from 6061 aluminum, making it more than capable of running through rain and snow without experiencing rusting.
It also uses springs made from silicon-chromium steel, a type of material resistant to deformity. What's more, the ride height can go from 2.4" to as low as 4.0" from OE. Not to mention the carefully matched spring and damper rates.
D2 Racing knows how to spoil car enthusiasts; that's why they offered the RS Series with some add-ons.
Firstly, they have the Vera V-Ack air cups, which allow on-demand height adjustment that can raise the height of a vehicle up to 2 seconds with just a push of a button. Secondly, the Vera V-Ack with Silver Control System, which comes with a pneumatic push action valve that can be easily incorporated into your center console.
Thirdly, the Vera V-Ack with Gold Control System. It uses a 3-way e-valve with an LED-lit button which can be installed on your center console. If the button is engaged, the vehicle will rise to its full height. Once disengaged, it will drop back to its original standard height.
Lastly, the coilover kit offers the Vera V-Ack with Gold Tankless Control System. It's virtually the same as the third one, but the compressor upgraded with the tank gone.
D2 Racing RS Series Coilover Kit Features:
Damper strength is adjustable by 36 levels
Utilizes SAE9254 spring material for sag resistance
Shock body and components made from 6061 aluminum for rust resistance
Maintains OE comfort level
Ride height can go from 2.4" to 4.0" low
Custom springs rates
Comes with highly practical add-ons
#5 BC Racing BR Series Coilovers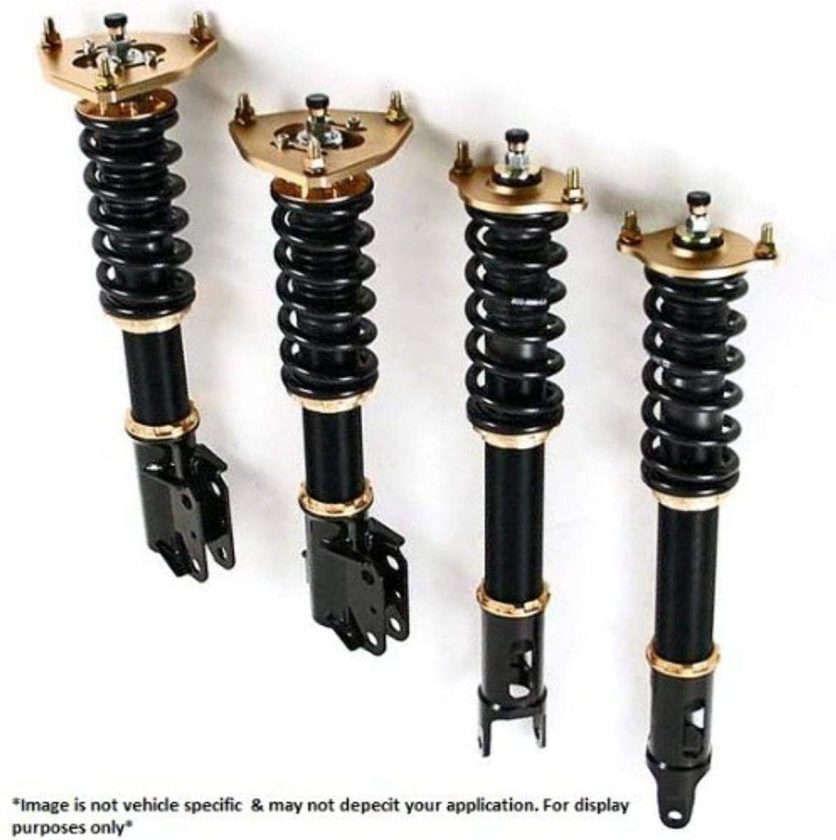 Manufacturer: BC Racing
Part Number: D-02-BR
Spring Rate (F/R, lb/in): N/A
Vehicle Fitment: Nissan Sentra SE-R Spec V (2002-2006)
The BR Series coilovers from BC Racing are perhaps the most recommended set coilovers in the SE-R Spec V community. Many enthusiasts love it because it allows them to cruise the street pretty smoothly and be weekend track warriors simultaneously.
And although these coilovers can be considered entry-level, they won't fail to provide you at least the decent level of ride comfort and handling that you desire for your car.
Altering the damper configurations on these coilovers is convenient, thanks to adjustment knobs that are relatively easy to access. It also has no preset ride height like most of the generic coilovers out there.
With the BR Series, you can go as low as you want it to be without having to mess up the settings you've arranged for the dampers. And also, these coilovers come with pillowball mounts to help you sharpen your steering response.
There are also front and rear camber plates included in the package to ensure that you get the perfect alignment.
These entry-level benefits may be enticing enough, but what if you learn that the parts of the BR Series coilovers are rebuildable? That's right! BC Racing made their coilovers rebuildable, so you can repair them by using new components instead of throwing the coilovers in the trash.
The BC Racing BR Series coilovers may be an entry-level setup, but they sure provide the best value for your money.
BC Racing BR Series Features:
Damper strength is adjustable by 30 levels.
Comes with pillowball mounts for greater suspension feedback
Adjustable front and rear camber plates for perfect alignment
Ride height adjustment is independent of damping strength adjustment
Parts are rebuildable
Backed by BC Racing 1-Year Warranty
Nissan Sentra SE-R Spec V Coilovers: What Comes Next?
Once you're done installing coilovers on your car, you have to bring them over to a shop of an alignment. Whenever you dismantle or reassemble your suspension components, you inevitably mess up with their tolerances too.
Alignment after installing coilovers is crucial. Fail to do so, and you risk alignment troubles, which may result in you spending an unnecessary amount of money covering up for avoidable problems.
Since you've added coilovers to the roster of your car's upgrades, why not get your hands on some aftermarket wheels and tires too? Those two are the perfect pair to acquire once you slam your car to the ground.
Truly, these two complements the new lowered look of your vehicle; some rad wheels and tires are enough to make the car look good and perform much better.
(PRO-TIP: Try not to bother with 15" wheels unless you're into road/drag racing or autocross duty).