Let's face it: the first thing we consider when we get to choose the pickup truck that we want is how good it looks. The style, the angled details, the rough design – whatever it is that hooked us at our favorite truck, it's more or less because of its aesthetics.
However, there's one problem that all pickup truck owners face when it comes to looks: an uneven suspension. Your truck may look as badass as it can, but when the front of it is drooping down like a sad person, it loses some attraction points.
Luckily for truck owners, especially people like you who own a Toyota Tacoma, this problem can be easily solved by a leveling kit. Not only does it solve the problem of an uneven suspension, but it also gives your truck enough ground clearance for bigger tires.
We've created a list of the best aftermarket Toyota Tacoma leveling kits that you might like. Ranging from different year models, these leveling kits will surely help you out on alleviating the pain of having an uneven suspension. Do check it out!
#1 YITAMOTOR 3″ Front and 2″ Rear Leveling Kit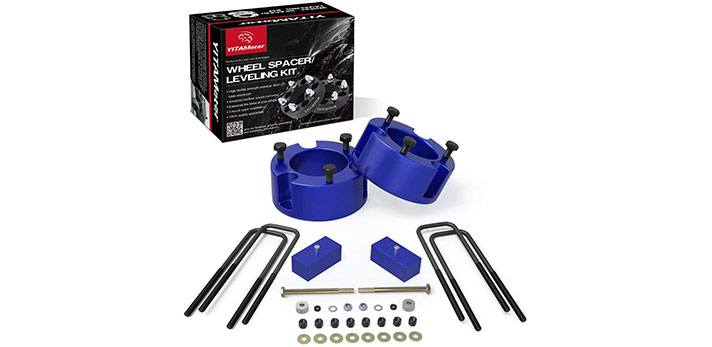 The first one to introduce itself is the 3″ Front and 2″ Rear Forged Strut Spacers Leveling Kit from YITAMOTOR. This company offers the most affordable and safest way to remove the rake from your Toyota Tacoma.
Experience more stability and larger ground clearance by installing this kit on your truck.
Aside from the obvious solution to the rake problem your Toyota Tacoma has, it also gives your truck noticeably aggressive features that will surely grab everyone's attention. The materials are made from aircraft-grade aluminum with attachable bolts. It's light, strong, and more affordable compared to its competition.
Some reviews may shed some light on what this kit is capable of. A review says that the installation instruction that comes with it can be pretty difficult to follow. Some problems may arise but you have to take the good with the bad, especially with a leveling kit as cheap as this.
#2 Rough Country 2″ Leveling Kit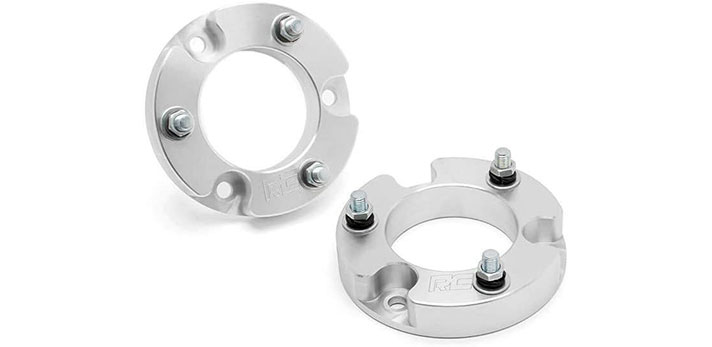 The Rough Country gives you their leveling kit that gives you the ability to raise your truck's front by up to two inches for Toyota Tacomas under the manufacturing years 2005 to 2020.
This company has many reviews, both positive and negative, but it is worth taking note that they still make high-quality leveling kits, and they deserve a spot on our list as well.
Purchasing this leveling kit wouldn't be the recommended first choice, but hey, the quality of this product aligns with its price. Overall, this decent leveling kit can make you feel comfortable as you drive using it.
Although you should prepare yourself when, in the worst-case scenario, is you have to cut off a little piece of your old studs to fit this kit in. If you have no problem with these issues, then try this one out.
#3 Supreme Suspensions 3" Front Leveling Kit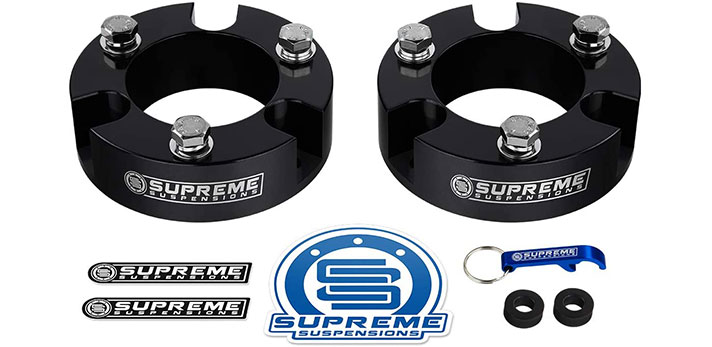 The Supreme Suspension's name does speak for itself. Considerably, this is a highly recommended leveling kit for Toyota Tacoma with manufacturing years of 2005 to 2019.
The leveling kit is fairly easy to install even for seasoned mechanics, it has a ton of good customer reviews, and is made to be durable – thanks to its aircraft-grade aluminum billet make.
Once you get a Supreme Suspensions 3" Front Leveling Kit, you'll get the following: two pieces of aluminum front strut spacers, the necessary installation kit (hardware and manual), and the Supreme Pro pack, which includes some awesome decals and Supreme Suspension bottle opener. Nice!
The instruction included in the package may be a bit confusing though, so try to take your time as much as possible before you go ahead and get right into the installation phase. If you're nervous, you can ask your local mechanic to do it for you.
Always trust the professionals.
#4 KSP 2" Front Leveling Kit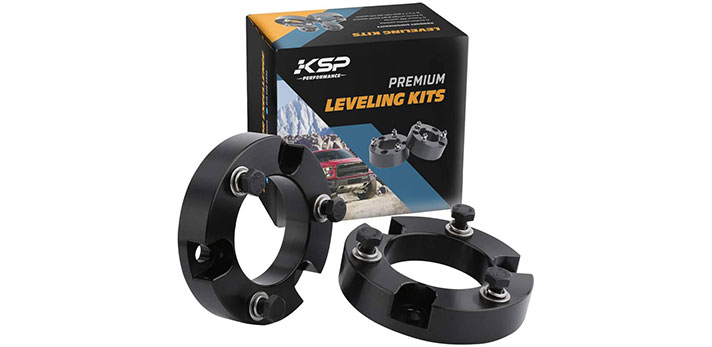 For the fourth one on our list, we have the KSP 2" Front Leveling Lift Kits, compatible with Tacomas manufactured around the years 2005 to 2019. Just like every leveling kit on this list, it's also made from aluminum billets durable enough that airplanes fly around using it.
It may raise your truck's front by about 2 inches, but they won't tell you how to do it; unless you contact them for instructions or you're an expert at leveling trucks. No installation instructions are included, but the kit is simple enough to be installed. You just have to do enough research, and it'll be as quick as a breeze.
This is a highly recommended leveling kit for your Toyota Tacoma. The only complaint about this is how confusing it is to install. This is an isolated case, so go ahead and place the order.
#5 MotoFab Lifts 3″ Front and 2″ Rear Leveling Kit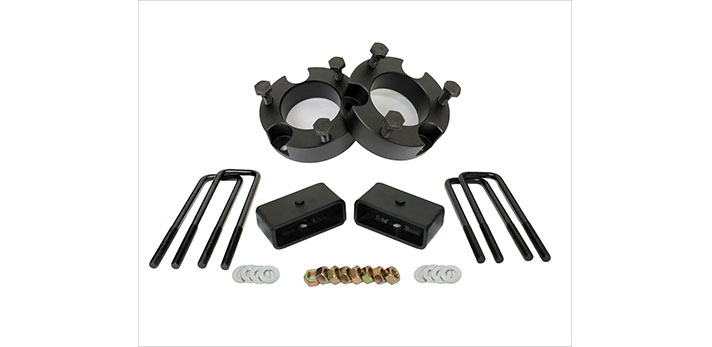 Before heading on to the last entry, do you know that you can simultaneously level both the front and the rear parts of the truck? The more you know! The last spot on our list is the MotoFab Lifts 3″ Front and 2″ Rear Leveling Lift Kit.
This is compatible with our elderly Toyota Tacomas manufactured from 1995 to 2004.
If you have trust issues, MotoFab can help you with that by giving you a lifetime warranty for this leveling kit. Eliminate the rake and raise both the front and the rear by 3 inches and 2 inches, respectively.
Even for something as old as this one, it still has a lot of good reviews, so rest assured that you're getting the right leveling kit for your old buddy.
Every leveling kit on this list can add value to your beloved Toyota Tacoma. By choosing the right leveling kit, you not only give your truck a leveled stance and a more aggressive look; you also alleviate yourself from the avoidable troubles when you get the wrong leveling kit for your vehicle.