The Toyota Tacoma is by far one of the most popular pickup trucks on the road. It's reliable, it's durable, and most of all, it does its job pretty great. You can use it to carry payload and even tow around heavy equipment.
But of course, like any other vehicle, this pickup truck has its limits.
If you want to upgrade your Toyota Tacoma so you can use it more effectively, then you should install a lift kit on it. Why? It can lift your truck by several inches, allowing it to fit larger tires.
When your Tacoma has larger tires, it can handle off-road activities with more ease than ever before.
Are you interested in modifying your Toyota Tacoma? Do you want to fit in larger tires so you can tread on gravel and dirt roads more effectively? Do you want a more aggressive-looking truck?
Then check out this list of the best Toyota Tacoma lift kits. It will help you out in picking the best kit that will suit your needs.
#1 Fabtech Spindle Kit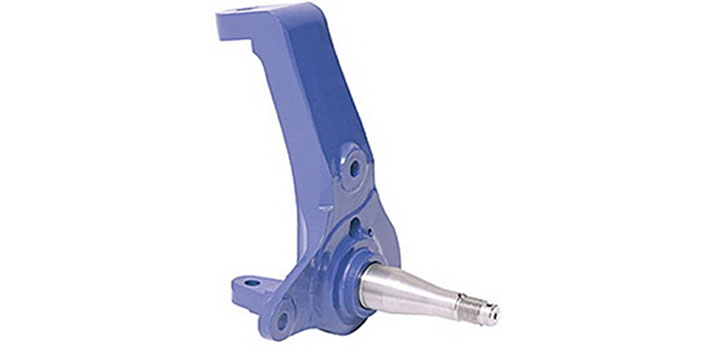 It's time to give some love to the old Toyota Tacoma models. If you're looking to upgrade your Toyota Tacoma from the manufacturing years 1990 to 2004, then this lift kit is a viable kit for you.
As you can see, this is different from the spacers that are common today. But don't worry, it will still lift your old Tacoma a few inches upwards.
The Fabtech Spindle Kit lifts your suspension by up to three inches. With the additional ground clearance, you can now fit in 30" tires for a better look and effectivity. This kit gives you a single piece of a spindle that will replace the factory-made equipment currently attached to the Tacoma.
This kit may not be the cheapest of all the lift kits in this list, but it will certainly give your truck the benefits it needs to perform more effectively.
By installing this, you maintain OEM handling, increases the ground clearance by a significant three inches, and the kit fits perfectly with the other factory components currently installed.
#2 TORCH Full Lift Kit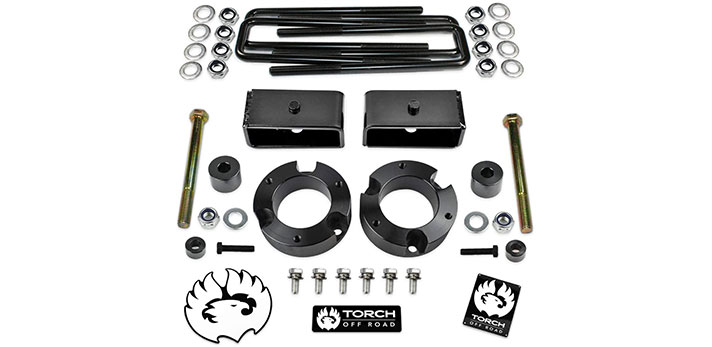 If you have a 2018 Toyota Tacoma and you're looking for the best specific fit for your truck, then this is it: The Torch Full Lift Kit. This kit is compatible with 4WD SR5 TRD Toyota Tacoma six-slugged models from the manufacturing years 2005 to 2020.
It is fairly easy to install, especially if you're someone without extensive knowledge about suspensions.
Why should you even consider buying the Torch Full Lift Kit? Well, aside from the three-inch lift that it can give to your truck, the kit includes some nasty premium components.
These parts include two front strut spacers, two tapered lift blocks, a differential drop kit, some U-bolts, some necessary installation hardware, and some cool decals!
The only complaint about this kit is some kits tend to have missing components. But other than that, the Torch Full Lift Kit is the best pick for people who has a restricted budget and wants an easy-peasy installation.
They also provide great customer support!
#3 Supreme Suspensions – Full Lift Kit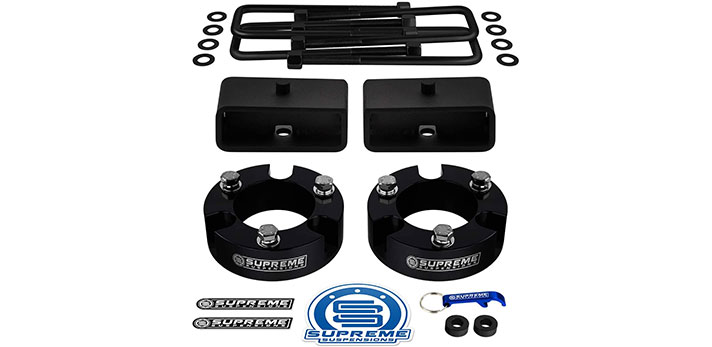 The third one on our list is the Supreme Suspensions Full Lift Kit, compatible with Tacomas manufactured in the years 2005 to 2020. The Supreme Suspensions is notorious for creating premium quality lift and leveling kits that mostly outshines the competition.
After all, they're called Supreme Suspensions for a reason.
The full kit includes two pieces of strut spacers for the front lift, two tapered blocks for the rear lift, some U-bolts, the necessary installation hardware and instructions, and some pretty sick decals that come with their very own bottle opener. Nice!
It lifts your suspensions by up to three-inch in the front and two-inch on the back.
What makes the Supreme Suspensions be a great deal? It's cheap, it's a customer favorite, it offers quick installation, and finally, you'll get a limited lifetime warranty. Just be careful of the vibrations that may arise once this lift kit is installed.
Other than that, you can consider this pick as highly recommended.
#4 Firestone Ride-Rite Kit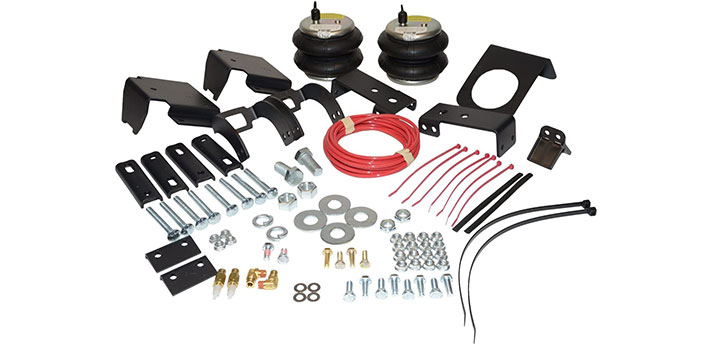 And finally, the one to close the curtain: featuring the Firestone Ride-Rite Kit. Although this is compatible with Toyota Tacomas manufactured from the years 2005 to 2017, this can be considered as the best lift kit in this list to perfectly fit in a 2013 Toyota Tacoma.
Don't expect it to lift your truck like the others on this list would do: it simply just levels it. The great thing about this kit is that you can adjust the pressure depending on your needs.
The kit also includes components that you will need to "lift" your truck, such as air springs, fasteners, brackets, airlines, inflation valves, and other parts.
Overall, the Firestone Ride-Rite Kit is fairly easy to install, has components durable enough to do the job, comes with all the necessary components needed for the installation, and is relatively cheap.
But as we've said earlier, it doesn't lift the truck; it just levels it.
Buying a lift kit for your Toyota Tacoma is no easy task, but it doesn't need to be too complicated. Just do your research so you can understand everything that you need to know about purchasing a lift kit.
To help you out in picking the suitable lift kit for your truck, try to identify these things:
The purpose of the lift kit for your truck
The type of lift you want
The tires that will be compatible with your chosen lift kit
How difficult it is to install
Your truck's model and the production year
Other modifications you want your truck to have
Making sure that you buy the best lift kit that will fit your Toyota Tacoma is important if you want to enjoy a more satisfying driving experience, especially if you use your truck to drive off-road.