The automotive industry has been constantly evolving, manufacturing new and improved cars and auto parts whenever they can. New models of vehicles come with new different unique features.
With new unique features comes a brand new unique riding experience.
Unfortunately, there will always be problems that will show up on your vehicle, no matter how new or old it is. Take for example the rake problem that most pickup trucks have.
No matter how new or old it is, when you first buy it from a dealership, you can see how the front of the truck seems to be drooping forward.
Luckily for you, you can fix that using a simple solution: installing a leveling kit. Getting your truck outfitted with a leveling kit not only improves its stance, but it also grants you perks that a normal unmodified pickup truck doesn't have.
We've created a list of the best aftermarket leveling kits for your Toyota Tundra. These kits are highly favored by customers, and it should also give you enough satisfaction once you buy it. Check them out!
#1 Rough Country 2.5" to 3"
Leveling Lift Kit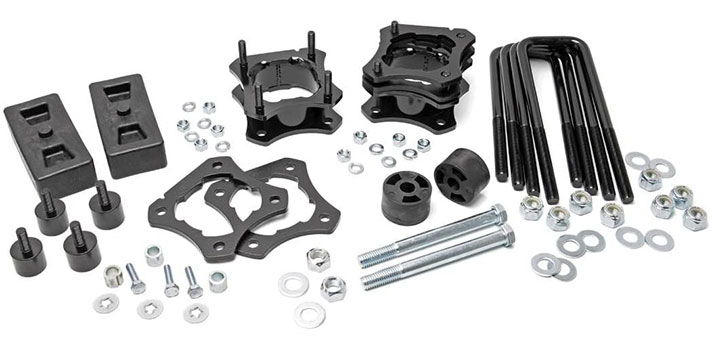 The first one to show off their product is Rough Country and their 2.5 inches and 3 inches suspension leveling lif kit. Introducing their 87000 2.5-inch to 3-inch Suspension Leveling Lift Kit fit for 4WD Tundras from 2007 to 2018.
This kit raises the front of your truck by up to 2.5 inches to 3 inches, leveling it to the height of the rear of your truck. Once you have enough ground clearance, you can now install larger tires.
It has three key features that you will like. One, it has two additional spacer shims included, fit for people who tow their trailers around or transporting heavy items. Two, the rear blocks are made from metal.
And three, it fixes the Tundra's rake by lifting the front of your truck by up to two-and-a-half to three inches.
Although this may be easy to install and can allow you to easily attach trailers to your truck, it is not very wallet-friendly and is not as durable as you may think it is.

#2 SDT Full Lift Leveling Kit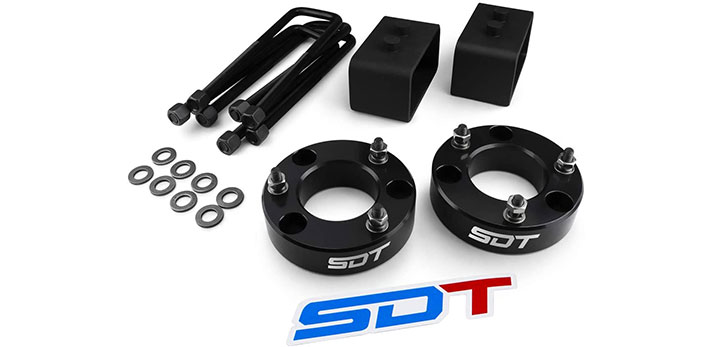 Coming up as second on the list, we have the Street Dirt Track Full Lift Leveling Kit, capable of lifting both the front and the rear of your Toyota Tundra by three inches and one-and-a-half inches, respectively.
This leveling kit is specially made for hardcore track racers who want their truck to handle as much off-road punishment as possible.
The key features of the SDT Full Lift Leveling Kit are its ability to lift the front of your truck by up to three inches, and the rear by one-and-a-half inches. This gives your Tundra a more stable stance compared to the typical leveling kits that you can find in the market.
If you want a leveling for your truck that is highly durable, made from high-quality materials, has a fairly decent price, and is a perfect fit for off-road activities, then we highly recommend this product to you. The only downside is it's usually used by professionals, so you have to step up with to their driving skills too!

#3 Tuff Country
2″ Leveling Kit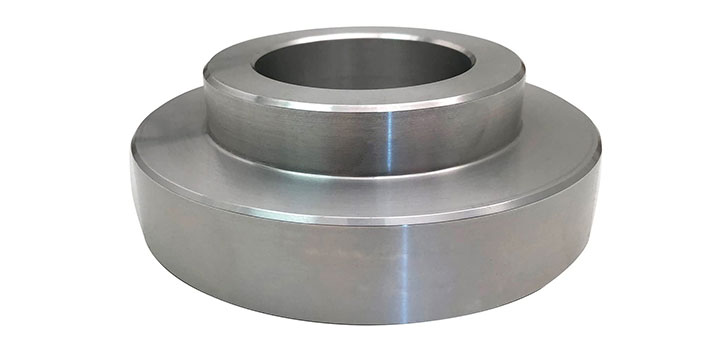 At first glance, the Tuff Country 52070 2″ Leveling Kit may look simple, but it can reap decent benefits for your beloved Toyota Tundra. If you want a durable leveling kit that will equate the levels of the front and rear of your truck while keeping the OEM experience, then this kit is for you.
The Tuff Country 52070 2″ Leveling Kit is crafted from aluminum durable enough to withstand typical harsh treatments that a normal Tundra could have. It's easy to install: just allocate two to three hours of your free time to install this and you're all set! It also allows bigger tires to fit it to your truck.
What benefits can you reap from using this kit? Let's enumerate: first, easy installation. Second, a comfortable OEM riding experience. Third, the opportunity to use bigger tires. Keep in mind though, this leveling kit is subject to 1986 California Proposition 65, meaning it has carcinogens. Just be careful!

#4 AIR LIFT
Series Rear Air Spring Kit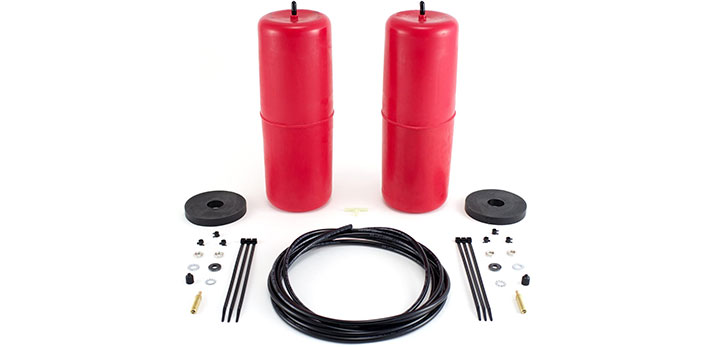 If you're kinda tight on the budget yet you still want a leveling kit decent enough to do the job, then you should consider buying the AIR LIFT Series Rear Air Spring Kit. This is by far the has the best for your tight budget, and can do an impressive amount of work, just like its spacer counterparts.
Using this means you get to utilize its pneumatic springs to raise the height of your truck, especially for towing trailers and heavy equipment. It also eliminates vibrations that can potentially harm your truck in the long run.
It's easy to install, distributes the weight of your truck equally to all the tires, gives you better braking, and reduces tire wearing.
Keep in mind though: just like the previous entry, this is subject to the 1986 California Proposition 65 and contains potentially toxic substances that may harm your health.

#5 RTZ 2.75″ Leveling Lift Kit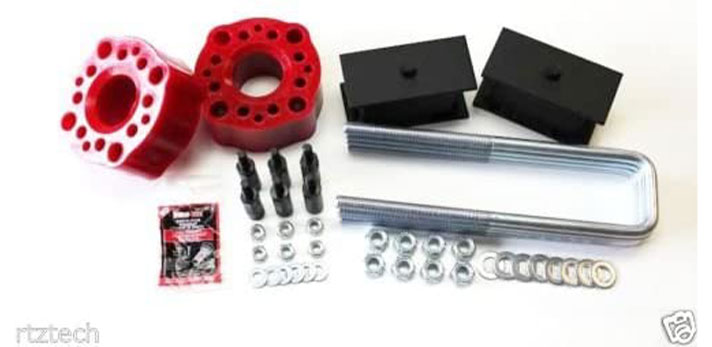 And lastly, we have the RTZ Leveling Lift Kit. The package includes a 2.75 inches front spacers made from polyurethane, and one inch fabricated steel blocks to raise both the rear and the front of your Toyota Tundra.
When you have this kit installed, forget about it breaking down and failing to function: it won't. The material used to craft the spacers is polyurethane, a material designed to be durable and supportive.
Overall, you get to enjoy a smooth ride with this leveling kit installed. It is also fairly easy to install because the package includes instructions. And quite frankly, it has no cons. This is by far the best leveling kit for your Toyota Tundra.

Keep in mind that choosing the right leveling kit for your Toyota Tundra is not an easy task, so make sure you do your homework and learn as much as possible before deciding to purchase one.