The Toyota Tundra has been roaming the streets ever since the early 2000s, making it one of the most popular full-size pickups made by a Japanese manufacturer. It has proven itself to be a great choice, both for on and off-road purposes.
If you want your Toyota Tundra to be more capable and effective when it runs off-road, then it is in your best interest to outfit it with a lift kit. Unlike leveling kits, the lift kit will raise the height of your truck significantly higher, thus allowing it to perform even better off-road.
By installing a lift kit in your Toyota Tundra, you're not just improving its appearance; you also allow it to use bigger tires. With the added ground clearance made by the lift kit, you can now use bigger tires to get over debris and obstacles quicker than ever.
Aside from that, you also protect the belly of your truck from potentially damaging objects.
This list features the best lift kits that you can install on your Toyota Tundra. Check them out to see the best pick that you can find!
#1 ReadyLift 69-5276 Lift Kit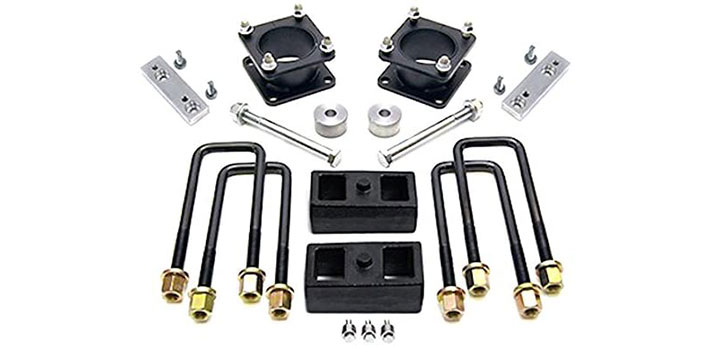 The first one to introduce themselves itself is the ReadyLift 69-5276 Lift Kit. If you're in search of a lift kit that guarantees the OEM riding experience and assures you that their kit will never fail, break, or wear while you're using it, then the ReadyLift 69-5276 Lift Kit is the kit for you.
The price tag for this lift kit may be a bit surprising at first, but once you realize the premium features that you'll reap from installing this to your Toyota Tundra, then you'll soon realize that this kit is worth every penny.
It lifts your suspension by up to three-and-a-half inches, offering you more ground clearance for larger tires.
If you want a lift kit from a company with a reputation for creating top-tier lift kits, includes premium components in the package, offers superior OEM riding experience, and offers a limited lifetime warranty, then you should check this out.
This kit may be difficult to install and can be quite expensive, it'll be worth it.
#2 Dynofit Lift Kits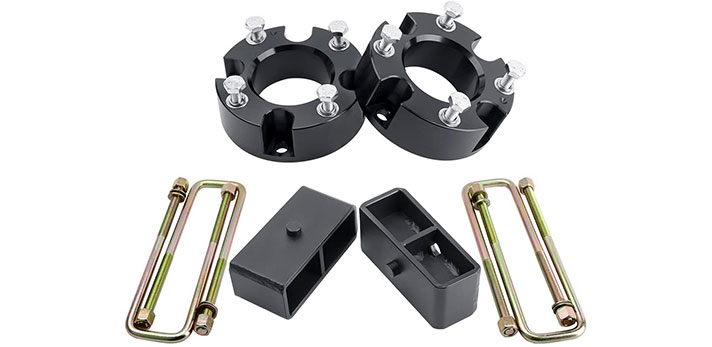 Another highly recommended lift kit for your Toyota Tundra is the Dynofit 3″ Front Lift Spacer and 2″ Rear Suspension Lift Kits. This is compatible with 2WD and 4WD Toyota Tundras from 2007 to 2019.
They offer some pretty solid benefits that can potentially upgrade your truck into the off-road monster it's destined to be.
This lift kit will raise the front of your truck by up to three inches and the rear by up to two inches. These spacers, as well as the U-bolts, are made from durable material that can withstand loads of punishment.
There's also no need to bring in any special tools – just follow the instructions, and in less than two hours or so, you'll have it installed.
Buying this lift kit will lift and level your truck at the same time. It is fairly easy to install, it includes quality components, and gives you more options to help you decide the best pick for your truck.
Keep in mind though: it only has a two-year warranty.
#3 Supreme Suspensions Full Lift Kit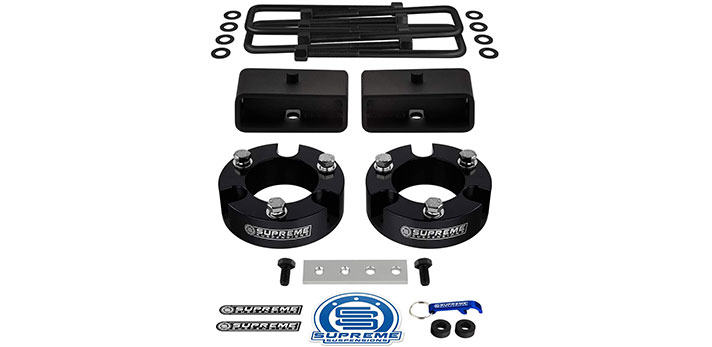 What makes the Supreme Suspensions better than the rest? The freebies! Just look at those decals and the cool bottle opener! Kidding aside, the Supreme Suspensions Full Lift Kit is one of the most highly recommended lift kits for your truck among these choices. Do you wanna know why?
Supreme Suspensions have a reputation for being, well, supreme. The quality of their products is well acknowledged, which can be seen on this lift kit.
This kit includes two pieces of strut spacers that will lift the front of your truck by up to three inches and two tapered blocks that will lift your rear by up to two inches. It also includes U-bolts and a brake line relocator bracket.
For a high-quality lift kit, it has a reasonable price. Aside from the fact that the company is well trusted by truck owners, they give you a lot of options and a limited lifetime warranty.
The only downside to this lift kit is that it takes time before it is fully installed, but hey, patience is a virtue, right?
#4 Rough Country 3.5″ Lift Kit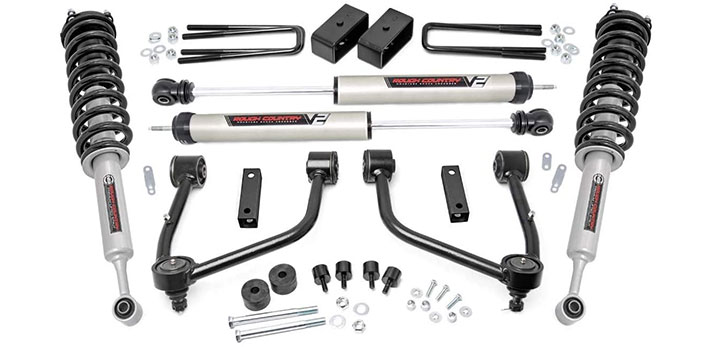 And lastly, we have the Rough Country 3.5″ Lift Kit. It is compatible with Toyota Tundras from the years 2007 to 2020 and includes a lot of awesome components that will give your truck the height and ego boost that it needs.
There are a few companies that do it right when it comes to making lift kits. One of those companies is the Rough Country. The price tag on this lift kit may be intimidating, but that's because of all the premium items included in the package.
Aside from lifting your truck by up to three-and-a-half inches, the lift kit also includes the following premium components: premium N3 coil springs and V2 monotube shock absorbers.
This assures you that you can bring your Toyota Tundra for an off-road ride like you have never experienced before.
So why should you buy a Rough Country 3.5″ Lift Kit? First, it came from a pretty reputable company. Second, it includes a lot of premium components. And third, it ensures a thrilling ride quality.
The only cons for this lift kit are how long it takes for it to be installed and its hefty price.
When choosing the right lift kit for your Toyota Tundra, you need to answer the following questions:
Why do you want get your truck lifted?
What type of lift do you want?
What tires are compatible with the lift height?
How easy it is to install?
What is the model and production year of your truck?
What other modifications can you get that can complement a lift kit?
Buying the right lift kit is not an easy task, but it doesn't need to be too complicated! Just make sure you do your research and choose the right lift kit for your truck.